Whilst we may be in the middle of a cold winter here in New Zealand, it won't be long before spring comes around and we can all start to think about long, lazy summer's days spent sitting on the beach, swimming in the sea and enjoying BBQs with friends. Of course summer is about much more than that. It's about getting out and exploring our beautiful country. Discovering new places. Experiencing new things. Summer is also a time when we welcome thousands of visitors to New Zealand. We welcome them with open arms!
Whilst there are hundreds of tips out there for planning your big trip to New Zealand, we wanted to keep things pretty simple. If you are toying with the idea of a visit to New Zealand but you have not yet booked, here are 23 images that will have you reaching for your phone and calling that travel agent and saying 'I'm off to New Zealand and I may not be coming back!':
Abel Tasman National Park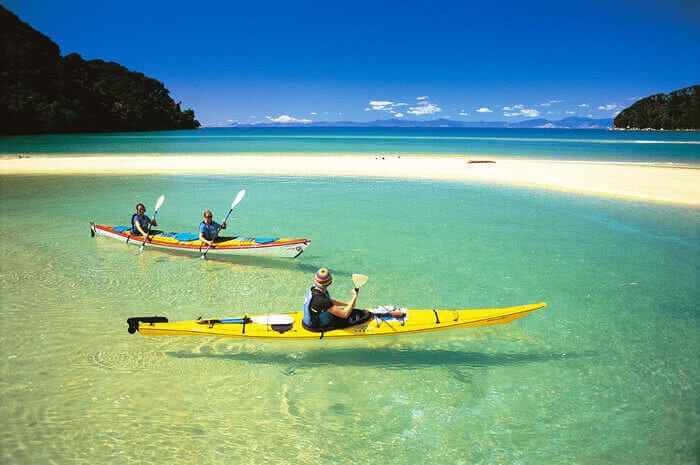 There are few better places in New Zealand to kayak on crystal clear waters and explore this stunning National Park.
Nelson and Marlborough Complete Guide
Aoraki McKenzie Stargazing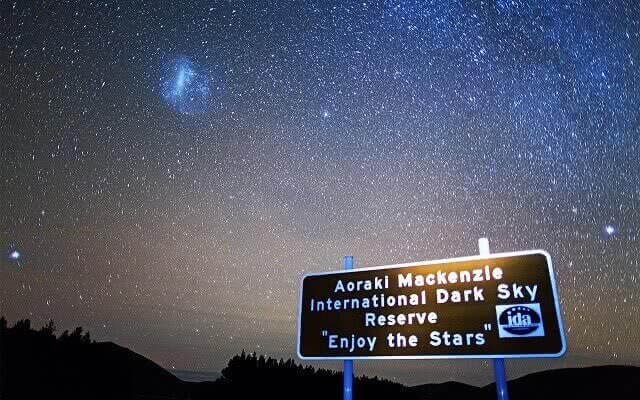 Recognised as one of the best places in the world to stargaze, the Aoraki McKenzie International Dark Sky Reserve is a must.
Arthur's Pass, Canterbury
Crossing the Southern Alps by road or rail is a great way to see some diverse landscapes in the South Island. Arthur's Pass is a great drive with some amazing scenery along the way.
Blue Pools, Makorora
The Blue Pools are a must for anyone exploring the South Island. Found along the Haast Pass which separates Queenstown and Wanaka from the wild West Coast, these waters are truly mesmerising.
Bridge to Nowhere, Whanganui
The iconic Bridge to Nowhere is found in the Whanganui National Park and has no roads leading to it. It's a popular spot for walkers and mountain bikers.
Cape Reinga Lighthouse, Northland
Head to the very northern tip of New Zealand's North Island and you will find the lighthouse at Cape Reinga. It's also one of the few places in the world where you can see two oceans collide as the Pacific meets the Tasman.
Cathedral Cove, Coromandel Peninsula
It is a bit of a trek to get there but it is worth every step. Cathedral Cove found on the Coromandel Peninsula is simply stunning and a must for any visitor to New Zealand.
Coromandel Peninsula Complete Guide
Champagne Pools, Wai-o-Tapu, Rotorua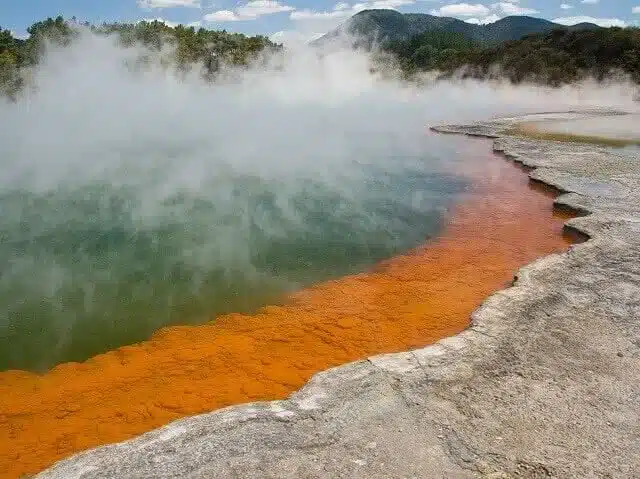 Rotorua is New Zealand's geothermal capital and one of the jewels in the crown is Wai-O-Tapu where you will find the mesmerising Champagne Pools.
Church of the Good Shepherd, Lake Tekapo
Another great spot for stargazers, the iconic Church of the Good Shepherd is found on the shores of Lake Tekapo and enjoys legendary status in New Zealand.
Curio Bay Petrified Forest, Southland
Located right on the south coast of New Zealand's South Island is Curio Bay and the wonderous petrified forest – fossilised remains of an ancient forest.
Franz Josef Glacier, West Coast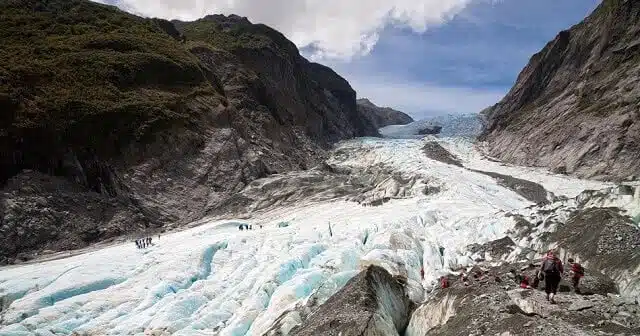 New Zealand has its fair share of glaciers but one of the most accessible is Franz Josef. A short helicopter flight will take you up high onto the glacier where you can marvel at the blue ice and caves.
Kawau Island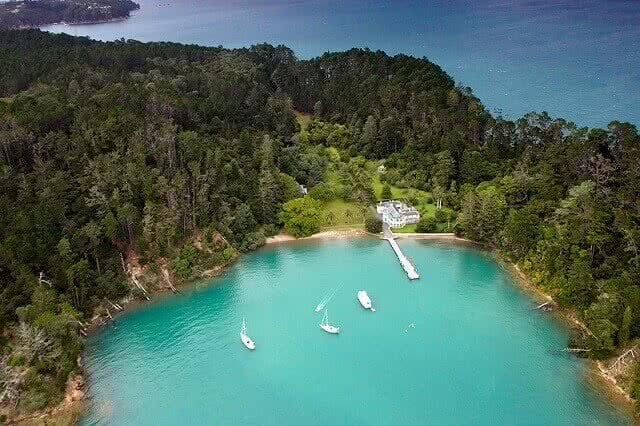 Head north out of Auckland and there are some real gems to be found within short driving distance. One of them is Kawau Island which is not only stunning but a great place for diving and fishing.
Lake Tekapo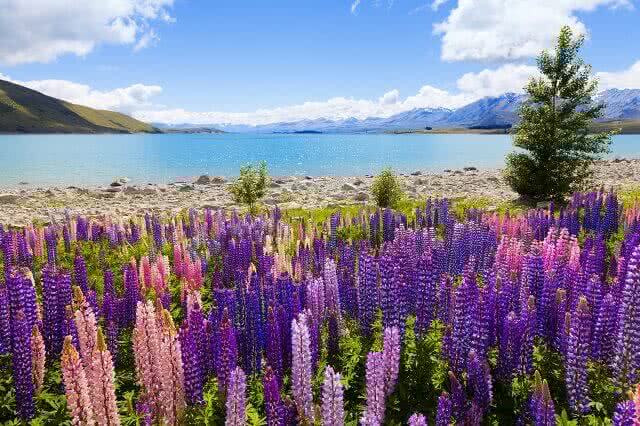 Lake Tekapo is one of New Zealand's must visit destinations. As well as the Church of the Good Shepherd, the turquoise waters of the lake have been wowing visitors and locals alike for centuries.
Larnach Castle, Dunedin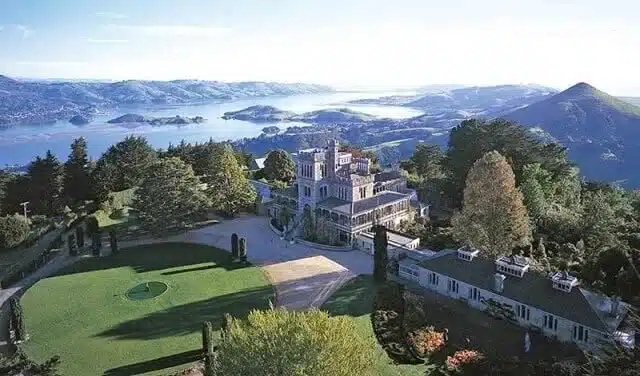 As New Zealand's only castle, Dunedin's Larnach Castle has a pretty cool claim to fame. Located on the beautiful Otago Peninsula, this castle has everything you would expect from a fairytale and more.
Milford Sound, Fiordland National Park
Often coming in at number one on people's New Zealand bucket list is Milford Sound. This stunning body of water carved out by the melting of glaciers thousands of years ago is a truly remarkable place and the drive to get there is just as stunning.
Moeraki Boulders, Dunedin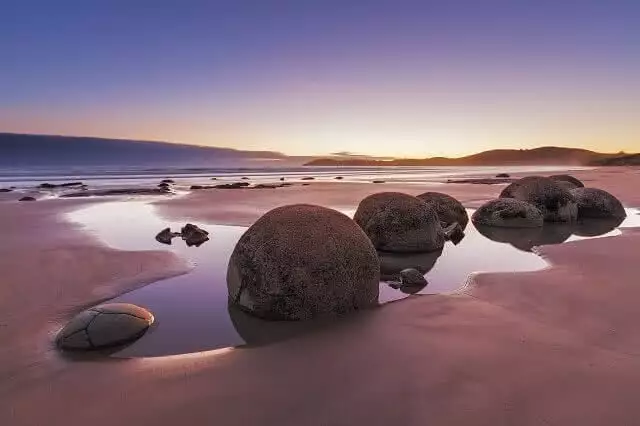 These magical, mystical boulders are one of New Zealand's most remarkable sights and a must on any trip down to Dunedin.
Mount Taranaki, New Plymouth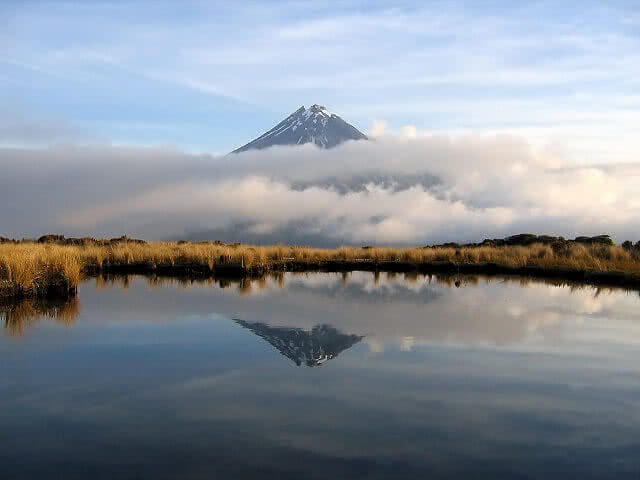 Located in the Egmont National Park, Mount Taranaki is one of the most iconic volcanoes in New Zealand. With its perfect conical shape which is often capped with snow, this magnificent mountain forms the spectacular backdrop to the whole Taranaki region.
Punakaiki Pancake Rocks, West Coast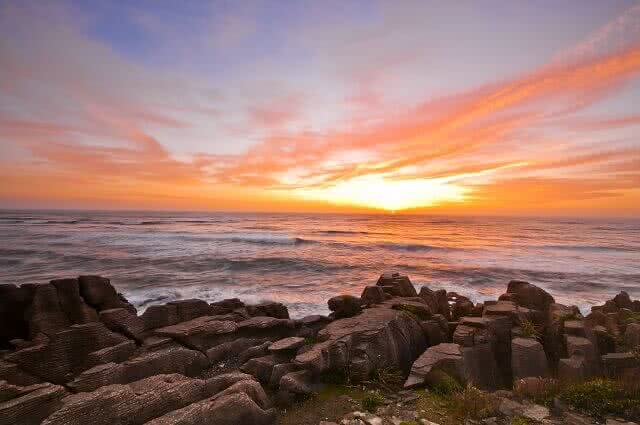 Just north of Greymouth you will find this unusual rock formation which have been carved out of limestone by the pounding seas and they now look like giant pancake stacks. Stick around long enough and you will also get to see water erupt through the blowhole.
Kapiti Coast, Lower North Island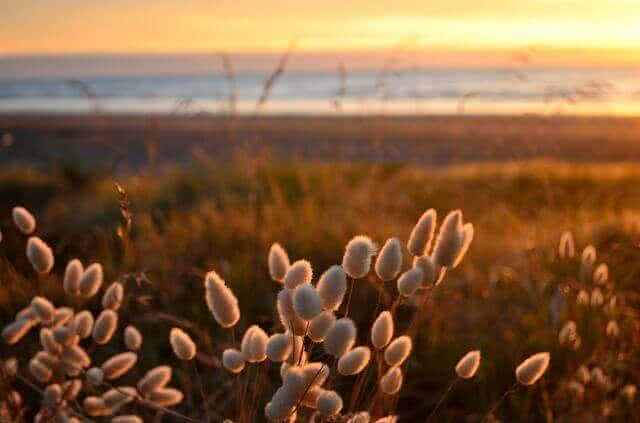 The Kapiti Coast in the lower North Island is one of New Zealand's most beautiful stretches of coastline. This stunning image was taken from Queen Elizabeth Park.
Queenstown
A trip to New Zealand is not complete without a visit to the world's adventure capital, Queenstown. Whether you are into adventure sports or you want to kick back with a nice glass of wine, Queenstown has it all.
Roy's Peak, Wanaka
If you are looking for a walk that will blow you away, a trip up Roy's Peak near Wanaka is just the ticket. It's a pretty steep climb to the top but the rewards far outweigh the efforts of getting up here. One of New Zealand's best views awaits.
Waiheke Island Vineyard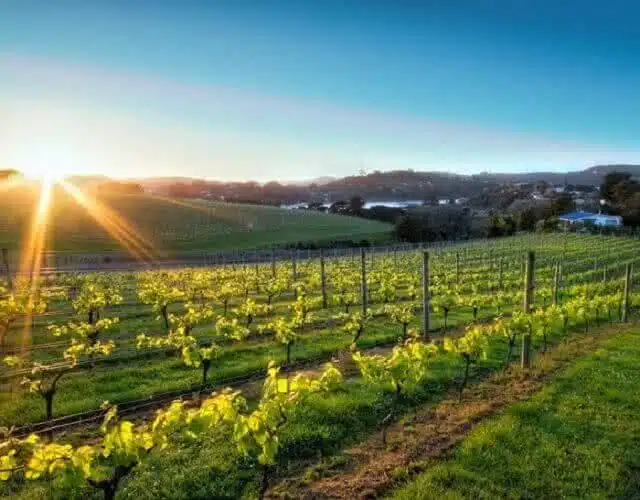 Just a short hop on the ferry from Auckland is Waiheke Island. Voted as one of Lonely Planet's best places to visit back in 2015, this place is a great mix of fantastic vineyards and beautiful beaches and has a very laid back feel.
Bonus: In late June 2022, we opened our latest car rental branch on Waiheke. As well as bringing our award-winning customer service and modern fleet of rental cars to Waiheke, we are also offering bike and e-bike hire on the island – a great way to get around. Check out our all-new Waiheke car rental branch today.
Waikawa Beach, Kapiti Coast
Located along the Kapiti Coast, Waikawa Beach is one of our favourites and as you can tell from the picture, it is the site of some epic sunsets!
Related Posts
So there you have it, our 23 reasons why you need to book your trip to New Zealand today. If you need any more convincing, make sure you check out our awesome Trip Planner tool, our Complete Guides and keep up to date with our Travel Blog. You can also follow us on Facebook and Instagram and get more inspiration for your trip of a lifetime.