Updated: 15 March 2021
Autumn is without a doubt one of our favourite times to head out on an adventure in New Zealand. The days are still pretty warm (depending on whether you are in the North or South Island of course), there is still plenty of sunshine and best of all, the beautiful deciduous trees start to put on their show.
For those based up in the North Island or planning a trip in the north, there's not going to be as much for you to see in terms of autumnal colours, a lot of the North Island and indeed New Zealand, in general, is covered with evergreens. But, pick up an Auckland car rental and take a short drive north out to Matakana or Warkworth, and you'll find yourself a few gems.
Autumn Leaves NZ
If you truly want to explore the autumnal colours and check out the autumn leaves that make you go 'wow', then you are going to have to head south. The South Island has some absolutely cracking places to see autumn at its best. Yep, it's going to be a bit colder down there, especially when you get as far south as Queenstown and the Central Otago but it's so worth it!
The autumn leaves in the South Island are a sight to behold – just check out some of the amazing images from Instagram below. The Central Otago wine region is one of the best places to explore in the autumn months and the colours of the autumn leaves are magical  – from yellow-gold to yellow-red to orange-red – the landscape paints a truly beautiful picture.
When is autumn in NZ?
Down here in the Southern Hemisphere, the autumn months are classified as March, April and May, although for many of us, March and some of April can still have a very summery feel to them. If you are planning a trip specifically to see the autumn fall, then the middle of April is usually the best time to see the leaves in full colour. May will usually be a little bit late to catch the vibrant colours and many of the leaves will have turned brown by then so try and plan for early to mid-April.
So, if you are a big fan of the changing autumn leaves, here are the top 5 places we recommend you visit.
1.      Arrowtown and Queenstown in autumn
Perhaps one of the most photographed places in the autumn months is Arrowtown. This place is pretty special all year round, however, it truly comes to life in the autumn months of April and May.  Wherever you look there are trees in Arrowtown and they put on a truly magical show in the autumn. Walk along the river, or get up high for a bird's eye view of the colourful landscape. Wherever you go, you won't be disappointed.
Queenstown is also an awesome place to visit in the autumn. The trees around Lake Wakatipu and up into Queenstown Gardens are absolutely beautiful. Head out on the Queenstown Trail towards Arrowtown on foot or bike and you will get some stunning views of the autumn colours.
If you are planning a trip to Queenstown, check out our great deals on car rental in Queenstown and find out why we're one of New Zealand's favourite rental car companies.
Here are some of our favourite autumn pics from Arrowtown and Queenstown in autumn:
View this post on Instagram
View this post on Instagram
View this post on Instagram
2.      Wanaka
View this post on Instagram
Staying pretty close to Queenstown and Arrowtown, head over the Cardrona Range to Wanaka and you're in for more autumn loveliness! All around the shores of the lake, but particularly around Roys Bay, you will find golden yellow poplars which looking stunning set to the backdrop of the lake with the lovely autumn sunlight shining down. Take a drive out around the Cardrona Valley and you will find more of these beautiful poplars – a stunning sight and part of a great South Island road trip.
3.      Lake Tekapo
View this post on Instagram
Lake Tekapo is the gift that keeps on giving. No matter what time of year you visit, this place is truly stunning. From the bright and vibrant lupins in the spring, to the turquoise waters in the summer months to the stunning yellow trees that line the lakeside in the autumn. Surrounded by the Southern Alps, there is a certain calm to Tekapo at this time of year and the reflective waters showcase the autumnal colours perfectly.
4.      Central Otago
If you're down in the Queenstown/Arrowtown area, we definitely recommend taking a drive out towards Alexandra and Roxburgh. As you drive out beyond Arrowtown, the roads are windy and treelined and the beautiful shades of orange you saw in and around Arrowtown continue on into the Central Otago district. Then there are the vineyards. The Central Otago is one of New Zealand's best winegrowing regions, famous for the delicious pint noir that has made the region famous. The vines start to change colour around April time and this really adds to the colour palette of the region. A drive up to the Clyde Dam lookout will give you some spectacular views out over the region down towards Clyde and Alexandra.
View this post on Instagram
5.      Christchurch
The final place on our list is the Garden City of Christchurch. As you would expect from a city that carries the nickname of the Garden City, Christchurch is not short on trees, all located in the beautiful gardens and parks. A must is a visit to Hagley Park right in the heart of Christchurch. The trees here are beautiful in the autumn and create a really nice feel to the city. You can also try a bit of punting down at the Antigua Boatsheds where the treelined River Avon looks spectacular at this time of year. The Christchurch botanic gardens are also a must-visit.
If you are planning a trip to Christchurch, check out our great deals on car rental in Christchurch and find out why we're one of New Zealand's favourite rental car companies.
View this post on Instagram

So there you have it. Our top 5 places to see the best of New Zealand this autumn. If you fancy checking out some of these places, make sure you check out our Christchurch to Queenstown 4 day itinerary which will actually take you to all the places listed above – how good is that?!
We'd love to find out if you have any other great tips for places to visit in the autumn in New Zealand. You can either send in your best pics in the comments below or post them on Instagram using the hashtag #goexplorenz and we will update this blog with the best ones we see.
If you need to rent a car to go off exploring these awesome autumnal locations, make sure you check out our website where we have deals running throughout the year.
Happy autumn everyone!
Frequently Asked Questions
When does autumn start in NZ?
As we've already touched on, the traditional months of autumn in New Zealand are March, April and May, so autumn starts in March, however, the weather can still feel very summery still at that time of year and is not as autumnal as places like the UK and USA until mid to late April.
What are the best autumn trees in New Zealand?
Whether you are looking for trees to plant in your own garden or just wondering which New Zealand trees deliver the best colours, here are a few of the most colourful autumn trees found in New Zealand:
– Maples – whilst they are not native to New Zealand, imported maples from Canada and Norway give us some truly stunning colours in the autumn months.
– Beech – imported from England, the English Beech turns to brilliant golds and then copper in the late autumn months.
– Sweet Gum – mostly found in the Otago region, these smaller trees are often found on long sweeping driveways, especially around the vineyards, providing a vibrant welcome to visitors during the autumn months.
– Flowering Cherries – this is a great all-rounder, displaying attractive blossom in the spring months and vibrant autumn colours as we head into April and May.
What is the weather like in autumn in New Zealand?
Autumn can often be one of the most settled months throughout New Zealand. Long sunny days and cooler nights make it the favourite time of year for many Kiwis, happy to escape the humid summer weather, especially at night when sleeping can be difficult. The South Island tends to start to see temperatures dropping before the North Island and you can expect temperatures anywhere between 7-21 degrees celsius.
Book a vehicle for this trip
We recommend: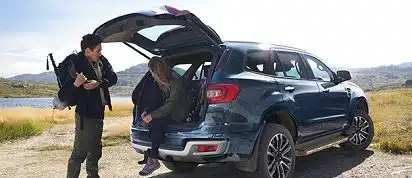 4WD SUV
Ford Everest Titanium
Seats

5 seats

Large Bags

4

Small Bags

6

Transmission

Auto trans