Updated 16 October 2017
New Zealand has some pretty iconic things: sheep, bungee jumping, stunning scenery (mountains, lakes, coast…we've got it all!) but right up there with the best of these icons is skydiving. If you happen to follow anyone on social media that has ventured to New Zealand, the chances are at some point their profile and cover picture will have been updated to a photo of them throwing themselves out of a perfectly reasonable aeroplane! That is one cool picture by the way. New Zealand may have witnessed the birth of bungee jumping but skydiving seems to take things to the next level.
Best places to skydive in New Zealand
Once you have decided that you are going to take the plunge (usually after considerable peer pressure!) your next big decision is where to skydive; New Zealand is literally packed with amazing destinations from which to chuck yourself out of an airplane so we thought we'd pick out some of our favourite places to help you decide. You're welcome!
Cheapest Skydive – Taupo
Taupo seems to be one of the most popular places in New Zealand to skydive and they market themselves as the 'cheapest place to skydive' which is a big attraction for the thousands of backpackers that venture to our shores every year. Whether or not it is the cheapest is up for debate but one thing that isn't up for debate is that Taupo is an absolutely stunning place to skydive. With Mount Doom in the background, there is a certain sense of 'safety' as you fall out of the plane knowing you are over water! The lake makes for a fantastic view on your way down and the photos you get are definite social media winners – watch your like count go through the roof! Good news for you is that we have two awesome Skydive companies who are part of our awesome GO Play programme in Taupo – Skydive Taupo who will offer you a 10% discount off any camera package and Taupo Tandem Skydive who will offer you a  5% discount on any skydive. Options are great when it comes to saving money!
Highest Skydive – Franz Josef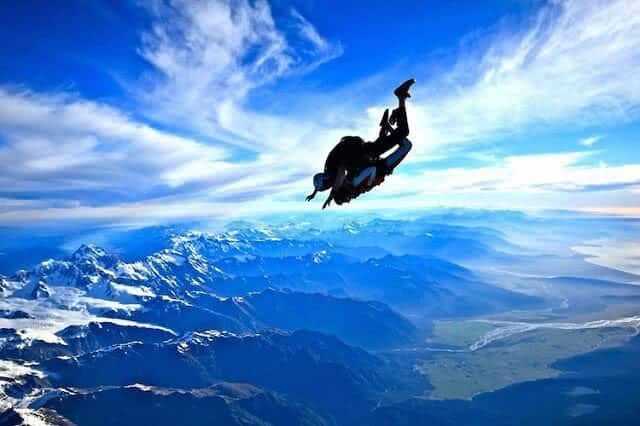 If you want to win the 'I did the highest skydive in New Zealand' competition with your friends then you are going to have to head over to West Coast. At 19,000ft, Skydive Franz lays claim to the title of New Zealand's highest skydive but according to Lonely Planet, it could also claim to be the most scenic skydive in the world. Now that's a claim. This is a truly spectacular skydive right over the Franz Josef glacier with Mount Cook in the backdrop. Whether you go in the summer or winter, the scenery and backdrop for your skydive will be truly stunning. The company pride themselves on their customer service and only deal in small groups, making this a pretty personalised experience. Another of our awesome GO Play partners, save $30 when you book your car rental with GO Rentals.
If you are not venturing down to the South Island, you could always tackle the highest skydive in the North Island up in Auckland. Skydive Auckland will take you up to 16,500ft from where you will be able to see New Zealand's east and west coasts. It's a pretty cool experience to try in Auckland and the good news for you is that Skydive Auckland are another exclusive GO Play partner, offering you $20 off their 13,000ft skydive and $30 off their 16,500ft jump.
Best Views Skydive – Abel Tasman
OK. So pretty much any skydive in New Zealand is going to give you amazing views. So what makes a skydive at Abel Tasman so special? Well, it's the only place in the country where you can see both islands as you freefall from 16,500ft which is pretty impressive. As well as that, you get a pretty stunning view over turquoise oceans, snow-capped mountains and quite frankly some of the most beautiful scenery on earth. If you want to know what makes this even better, then look no further than our awesome GO Play programme.  Book direct with Skydive Abel Tasman and save $30 on any photo and video package – then you will be able to send back those high res pics to all your friends and family and make them even more jealous of your amazing trip!
Bay of Islands
Competing with Abel Tasman for the title of 'Skydive with the best views' is the Bay of Islands. Arguably one of the most picturesque skydiving destinations in the world, you will be blown away by the amazing scenery as you freefall over the 144 islands that make up the Bay of Islands. Skydive Bay of Islands are one of our awesome GO Play partners and they make a few of their own claims – 'Warmest and sunniest drop zone in New Zealand' and 'Best beach location' are just two of them! When you rent your car with GO Rentals, you will save $30 with Skydive Bay of Islands as well and they have a number of heights available for your big drop!
Prettiest Skydive – Wanaka
OK so this one is definitely up for debate but this is just our opinion. Having taken the leap of faith in Taupo, Franz and Wanaka, the prettiest location goes to Wanaka! As you plummet from up to 15,000 feet you can see up to six lakes, the rugged Southern Alps, Mt Cook and the South Island's longest river, the Clutha. Not too shabby at all. We actually prefer to do this dive in the winter months when the snowcapped mountains really create the most stunning backdrop for your skydive. Wanaka also seems to have the most reliable conditions for skydiving all year round making this a great option if you are looking to plan ahead. With free transport from Queenstown and Wanaka, Skydive Wanaka is our favourite place to skydive and one we think you need to tick off your list! Plus you've guessed it, they're also one of our rather cool GO Play partners and will offer you a lovely $20 off the 12,000ft dive of $30 off the 15,000ft dive. Sweet!
So there you have it – our top five tips for the best places to skydive in New Zealand. We'd love to know what you think – we haven't tried every place around New Zealand (yet!) so we always love to hear from our GO Explorers about your experience and if you've been somewhere even better! Send in your comments below or on our Facebook page!
And don't forget, if you're looking for an awesome car rental to get you to some of these amazing skydiving destinations, we've got great deals out of all five of our branches nationwide – check them out today!
Book a vehicle for this trip
We recommend: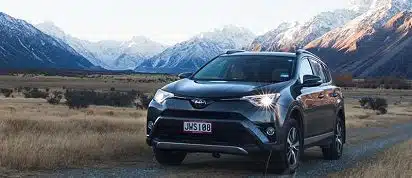 Intermediate 4×4
Toyota Rav 4
Seats

5 seats

Large Bags

3

Small Bags

4

Transmission

Auto trans