We always love it when we hear from our happy customers! A regular Explorer recently got in touch to say his parents were out visiting from the UK and they were pretty excited about their trip and could we share their story.
Absolutely we can!
We already knew about these two. They are always checking out our Facebook posts and seemed to love our trip planners, guides and all the snaps from our road trips. They wanted a piece of the action!
Without further ado, it's over to the intrepid travellers, Judith and Geoff!
Day 1 – Christchurch
Hi there! This is the story of our nine-day tour of the South Island taking us from Christchurch to Queenstown. We've been following the GO Explore Facebook page for a while now and have used it to plan our whole trip to New Zealand! We love to see the amazing pictures and sit at home making a list of all the places we wanted to visit – it was pretty exciting to finally be heading off to explore these amazing places!
After landing late the night before, we were up early on Friday morning to explore Christchurch. Our accommodation was only a short walk from the city so we took a stroll into the CBD which was both beautiful but also a little sad. It was such a shame to see so many missing gaps in the skyline where the buildings came down but the river and the main Cathedral Square were still very picturesque.
We decided to take a trip out in our shiny GO Rentals car in the afternoon as the sun was out so we decided to head to the coast. First stop was Lyttleton which was a very picturesque little port and definitely worth a drive. After that, we headed to the beach at Sumner where it was amazing to see the damage caused by the latest earthquake and the debris on the beach. Sumner was a stunning beach and it was nice to enjoy an afternoon drink in the sun.
A great end to a great first day!
Day 2 – Christchurch to Tekapo via Akaroa
We had a big driving day ahead of us so we were up and out of our accommodation early as we had decided to take a detour on the way to Tekapo and head down to Akaroa. The drive was beautiful (although the road down into the town was a bit windy if you suffer from car sickness!) and it was well worth the detour as the views looking down to Akaroa were simply stunning. We were super impressed with our hire car – a Toyota Highlander which was spacious and really comfortable – ideal for this road trip!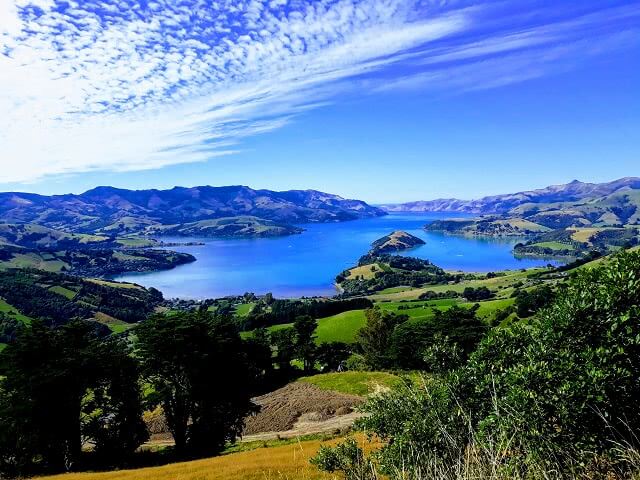 The temperature was once again soaring so we stopped off at the French Bakery for a morning coffee and a pastry to get out of the sun before taking a stroll around the markets and down onto the waterfront which was really pretty. Akaroa is a great place for people watching; kids jumping off the pier, people out learning to paddleboard, people heading out on trips to swim with dolphins – there's a lot going on! We could have stayed here longer and would definitely come back to stay here in the future.
It was time to hit the road again on the drive to Tekapo. We were really glad we had upgraded our rental car to the Hyundai Santa Fe – it had loads of room and lots of power for getting us up and out of Akaroa and on our way south.
Arriving late afternoon in Tekapo, we took a walk out and headed down to the Church of the Good Shepherd which was just as impressive as we had seen in all the pictures. We then took a stroll around the lake which was very beautiful and the views out to Mt Cook were very impressive. That night we headed to the Tin Plate for dinner (a top tip in the Tekapo Complete Guide) and it didn't disappoint – a delicious pizza, scrummy pasta and a nice juicy steak ticked all the right boxes! The boys were also happy with local ales on tap.
Day 3 – Tekapo
We awoke to another beautiful day and the perfect day to head up Mt John. We decided to take the car up to the top – our son walked up but it was a bit too hot and way too steep for us so we took the easy option. It's $8 per vehicle but it's well worth it as the views are amazing. We grabbed a coffee at the top and then headed out to walk around the top of the Mount, taking in the 360-degree views of the area. The lake looked amazing and we had a clear day so we could make out Mt Cook which was pretty special.
Heading back down into town and it was so hot we decided to take a dip in the lake. We had heard that the water is usually freezing but with all the warm weather this year, it was not too bad and we managed a short swim to cool off. The town itself is pretty quiet so we enjoyed a lazy afternoon on the 'beach' enjoying watching the water skiers and paddle boarders out on the lake.
Day 4 – Tekapo to Wanaka
Another early start as we had to pick up our son's partner in Queenstown at lunchtime. The drive down was really nice and we managed to stop off in Cromwell, Roaring Meg and the Kawarau Bridge bungy site on the way to the airport which was pretty amazing to see. Geoff loved Roaring Meg and we couldn't believe the colour of the water. After the pick-up, the boys had an afternoon golf game at Millbrook and we decided to walk around Lake Hayes and up into Millbrook to join them. Lake Hayes was very pretty and the path around is perfect for those looking to get out for a walk.
After enjoying an afternoon drink at the golf course, we headed back over the Crown Range to Wanaka which would be our base for the next three nights.
Day 5 – Exploring Wanaka
Another early start and from our base, we were able to get straight onto the Mt Iron track so we took an early morning trip to the top which was really amazing. The views down over both Lake Wanaka and Lake Hawea were stunning and it was worth the tough climb to the top. We would definitely recommend it to anyone visiting Wanaka and it's a lot easier than the Roy's Peak climb (more of that later!).
After a morning coffee, we headed for a lakeside walk to check out the famous Wanaka Tree and it was another thing that was really nice to see with our own eyes as we have seen so many amazing photos of the tree. In the afternoon, we decided to rent some bikes and took a trip around the lake to Dublin Bay – the path made for really easy cycling and offered different views of the lake.
That night we decided to head to Big Fig for dinner, another recommendation from one of the Guides and this place was really great. The food was delicious and the atmosphere was really good. It was busy and everyone was really enjoying the food.
Day 6 – Wine Tasting or Mountain Climbing – you decide!
Our son gave us an option for day six – climb up a mountain or go off for the day wine tasting. It didn't take us long to decide! We sent the kids off to climb Roy's Peak and we headed off on a wine tasting tour with the fantastic Funny French Cars. We were picked up by Julie in a beautiful old Citroen DS and off we went on our own personalised tour of the Central Otago vineyards.
Julie was so knowledgeable about the region and the drive was spectacular as we headed back around to Cromwell. We headed to three different vineyards and the tours were excellent. We stopped off for a delicious cheese platter at one of the vineyards and even managed an ice cream stop. The tour lasted for six hours and was worth every penny – it's a great way to explore the region, sample some wines and get to find out more about the history and heritage of Otago. The car was very cool as well.
Meanwhile, over on the mountain…
Roy's Peak is one of the most iconic walks in New Zealand and definitely one of the most Instagrammed locations. We headed off bright and early and hit the trail at 8.00am. They recommend allowing 4-5 hours to get to the top and back and it's easy to see why. The path is steep in parts and super-steep everywhere else! It is totally worth it though once you make your way to the very top (all those beautiful pictures you see are not actually from the top!). The walk down is pretty tough too as it's so steep but it was really rewarding and highly recommended.
That night we headed back to Big Fig as we had all (well, some of us) had earnt a hearty dinner!
Day 7 – Wanaka to Queenstown
After a lazy morning wandering around the shops in Wanaka, we took the short drive over the Queenstown, the last stop on our trip. We had used our GO Play card to book an afternoon cruise on Lake Wakatipu with Southern Discoveries and it was great to get out on the water and see Queenstown from a different angle. The cruise took us to Bob's Cove which is found on the Glenorchy road and was absolutely stunning. The lake is absolutely huge and the two-hour cruise gave us a good chance to enjoy the beautiful landscape.
We stopped off for a nice drink on the waterfront before joining the throngs of people queuing for a 'world famous' Fergburger – we had been told by friends back home not to miss out and they were certainly worth the wait! They were huge and very tasty!
Day 8 – Milford Sound
This is the one we had been waiting for. Milford Sound came up time and time again when we were planning our trip – a 'must visit' destination and the eighth wonder of the world. We knew we had a big drive ahead of us – they recommend allowing 4.5 hours so we were off bright an early at 6.30am as we were booked on a 12.30 cruise with Go Orange.
The drive down was simply beautiful and we were glad we set off early as it meant we had time to stop for photos all the way down! First stop was at Te Anau for a coffee and then the stops came thick and fast as the views got better and better! The highlights were the Mirror Pools and the Chasm and we would definitely recommend taking your time getting down to Milford Sound to enjoy these amazing stops along the way.
We arrived in good time and were able to wander around, taking in the views. We had what people told us was a 'one percent' day – barely a cloud in the sky and no wind at all. It really was picture perfect. The cruise with Go Orange, another GO Play partner, meant that we got free fish and chips and the driver went half price – a good deal! The cruise itself was amazing and we enjoyed the 'dunking' in the waterfall as it cooled us off!
The drive back was not too bad and we arrived back in Queenstown in time for drinks and dinner. We headed to Tao Restaurant and Bar which scored great reviews on Google and we were not disappointed – the Kung Pao Chicken was a big hit and the homemade dumplings were simply delicious!
Day 9 – Queenstown to Auckland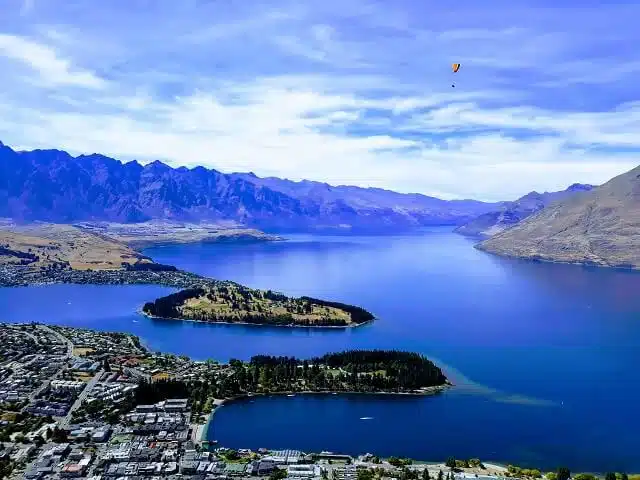 We spent the final day of our South Island adventure exploring Queenstown which started with a trip to the top of the Skyline Gondola. The views from up here are amazing and well worth the ride up in the gondola. We were tempted by a go on the luge but decided to leave it to the youngsters and just watched them whizzing by instead. The rest of the day was spent wandering around the shops in Queenstown and soaking up the sun – it was another scorcher of a day with the dial topping 30 degrees yet again! Queenstown is a really beautiful place and somewhere we would definitely come back to visit next time.
That brings us to the end of our amazing adventure. We would like to thank all the team at GO Rentals – without them, our trip wouldn't have been possible and we wouldn't have squeezed so much in. They were fantastic both when we picked up our car in Christchurch and dropped off in Queenstown and couldn't have been more helpful in ensuring we had everything we needed for our trip.
Hopefully, you find this useful – we read so many posts from GO Explore that it seemed only fair to give something back after we had used so many of their guides to help plan our trip.
Happy travels everyone and we will be back!
Inspired by Geoff and Judith's trip? Make sure you check out the latest deals on car rental in Queenstown and car hire in Christchurch and find out why we're one of New Zealand's favourite rental car companies.