Check out some of the most famous filming locations from the Kiwi TV show that has taken off
Please note: some of the recommendations made in this post will not be possible when we are in various alert levels during the COVID-19 pandemic. Please continue to follow official guidance when it comes to activities that can take place under the different levels.
If you're a fan of the hugely popular New Zealand detective drama, The Brokenwood Mysteries, then you will want to read this post.
Launched on Prime in 2014, The Brokenwood Mysteries currently has seven seasons available to watch and all of the seasons are available on TVNZ On Demand. It has not only become one of New Zealand's most popular detective dramas, but it has also gained huge popularity around the world. The drama is filmed in locations all across the greater Auckland region and the main fictional town of Brokenwood is set in Warkworth.
Warkworth is, of course, no stranger to filming crews. The town, which is about an hour's drive north of Auckland is also the base for the fictional town of Weld in another of New Zealand's extremely popular TV shows, 800 Words.
The Brokenwood Mysteries filming is pretty intense. Initially, each episode in the four-part series was two hours long which helps to cut down on the overall time taken to film the show but involves some long days, however, Season 7 episodes were slightly shorter at 1.5 hours.
With Auckland currently in a state of lockdown due to the COVID-19 pandemic (Level 3 at the time of writing), this could be a good time for Aucklanders looking to get out and discover some pretty cool locations around the city.
If you are interested in taking a driving tour of the most popular filming locations for The Brokenwood Mysteries, here are some of the locations that will be used in the upcoming fourth series which can all be visited in a day.
1.      Warkworth (fictional town of Brokenwood)
Let's kick things off with the biggie. Warkworth is once again used as the central town used to represent the fictional town of Brokenwood. As well as shooting many of the scenes on Warkworth high street, there will also be some familiar landmarks for anyone who has visited Warkworth, including the historic Establishment Hotel on Queen Street.
Warkworth is located about an hour's drive north of Auckland and is a lovely town to stop off at on your way north and beyond. Located just before the turnoff to the coastal destinations of Omaha, Snells Beach and Tawharanui Regional Park, there is a lovely riverside walk and some quaint shops to explore. Warkworth is also just a short 15-minute drive from Matakana, a great place to spend an afternoon.
2.      Helensville (Brokenwood Police Station)
Whilst the fictional town of Brokenwood may be set in Warkworth, the police station that is a central part of the show is actually located out in Helensville. It was important to select an authentic building to represent the police station and so the 1911 built Post Office in Helensville was selected. The building is a distinctive landmark for all those that drive through Helensville and is well worth the trip if you are a fan of the show.
Helensville is located around 40 minutes north and west of Auckland and can be visited on the way out or on the way back from Warkworth. It's a beautiful drive out to Helensville that will take you out to Kumeu and skirts on the Waitakere Ranges. You can tie a trip to Helensville with a drive out to Auckland's wild west coast.
3.      Parakai and Riverhead (rural scenes)
Located just a short drive from Helensville is Parakai where quite a lot of the rural scenes for The Brokenwood Mysteries are filmed. Parakai is a great place to head out and is also home to one of New Zealand's natural geothermal wonders – Parakai Springs.
The springs feature large indoor and outdoor pools and two thrilling hydro-slides which make this a great place for the whole family. If the kids aren't into The Brokenwood Mysteries, this should keep them happy whilst you're touring the filming locations!
Another location where some of the rural scenes are filmed includes Riverhead. Home to New Zealand's oldest riverside tavern, the small town is a popular spot for locals and tourists alike and the tavern is a great place to grab a drink after a day of touring The Brokenwood Mysteries filming locations.
Obviously, at this time, cafes, restaurants and bars are all currently closed due to the ongoing restrictions so you may want to pack up your bubble and pack up a picnic and enjoy some of these amazing locations with a lot fewer people around.
Touring The Brokenwood Mysteries filming locations
If you are a fan of The Brokenwood Mysteries, you can pick up a rental car from our Auckland City branch and head out for the day. We recommend taking the trip north to Warkworth first. Once you have visited the town, head out to the Tawharanui Regional Park where you can head for a swim in the beautiful waters or head for a picnic.
On the way back down towards Auckland, head off to check out Parakai and then Helensville. If you have time, head out to the west coast beaches of Piha or Muriwai or go for a walk in the Waitakere Ranges regional park.
Finish your day off with a pint at the Riverhead Tavern before dropping your rental car back off in the city.
Updated: 15 October 2021
Book a vehicle for this trip
We recommend: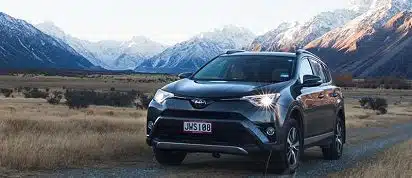 Intermediate 4×4
Toyota Rav 4
Seats

5 seats

Large Bags

3

Small Bags

4

Transmission

Auto trans