If you were looking for an excuse to visit the Central Otago region this spring then look no further as Eat.Taste.Central is back from the 20th September – 28 October 2019. This great campaign, organised by Tourism Central Otago (TCO), will once again showcase the region's best produce and ingredients in the trusted hands of some of the best culinary talent in the country. It'll give you the chance to try new and exciting dishes at some great venues with flavours that'll excite the taste buds.
That's just the start of what's on offer however and we've got all the details here so you can get the most out of this awesome experience.
What is Eat.Taste.Central?
If the buzz of Eat.Taste.Central has somehow passed you by since it was first launched 3 years ago, we're here to fill you in.
As we've briefly mentioned, Eat.Taste.Central is an annual campaign that celebrates the very best in food and wine that the region is renowned for. The good people behind Eat.Taste.Central work with local cafés, restaurants and cellar doors to create a fantastic regional menu for visitors to enjoy.
Each year the menu is given a new theme and this year's theme is 'Heritage flavours, inspired by tradition'. The creativity and the interpretations that come from this are nothing short of incredible and this year will be even better with a record number of dishes to try. The dishes themselves are regularly paired with beautiful wines, beers, juices and special cocktails too adding another layer of fun.
A fantastic programme of events
On top of the amazing menu on offer throughout the region, there is also a great programme of events that runs throughout the campaign.
Some of the highlights include the Pie & Pint night at Highlands in Cromwell, a 'Central Mexico' three-course meal at Amigos in Alexandra and a special exhibition highlighting the history of the Nevis Valley at the Courthouse Café.
The campaign also takes place at a time of year when loads of other great festivals and events are taking place like the Alexandra Blossom Festival, Across the Bridge in Bannockburn, Cromwell Street Party and Fireworks, Cromwell Half Marathon and the Alexandra New Release Wine event.
It makes your great little food adventure, even better knowing there are plenty of things going on in between meals to keep you busy.
Voting for your favourite dishes
As well as all of the above, one of the best things about Eat.Taste.Central is that you get to vote online for your favourite dishes as part of the journey.
The dishes are spread across the following five great categories:
● Tapas and Shared Plates
● Burger and Sandwich Challenge
● Pie Challenge
● Main Meal
● Sweet and Dessert
Each category will then have five finalists based on the number of votes and from that, a star-studded panel of judges (soon to be announced) will ultimately decide the winner of each. GO Rentals will be supporting the event by providing the rental cars for the judges to get to all of the worthy finalist restaurants!
There are also prize packs up for grabs for the voters too so you've got even more reason to participate and support the campaign.
Start planning your trip today!
As you can see, Eat.Taste.Central gives you a great reason to start planning your trip to Central Otago today. With its own organised events, other annual events and the natural and recreational attractions that the region is blessed with, you'll be setting yourself up for a fantastic spring adventure that might even have you returning, year after year.
Related Posts
Book a vehicle for this trip
We recommend: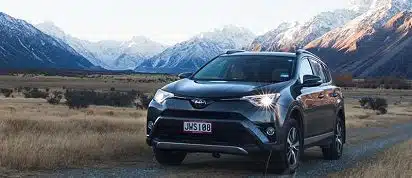 Intermediate 4×4
Toyota Rav 4
Seats

5 seats

Large Bags

3

Small Bags

4

Transmission

Auto trans