Dunedin is a pretty unique city. Known as 'the Edinburgh of the South', Dunedin has a rich and diverse heritage and some pretty unique attractions which make it a great destination for visitors to New Zealand as well as Kiwis who may not have ventured that far south before! The city is littered with fantastic architecture from the beautiful railway station to the striking town hall but perhaps the jewel in Dunedin's crown is Larnach Castle – New Zealand's only recognised castle. As well as some amazing buildings and a rich heritage, Dunedin also sits right on the Otago Peninsula which is home to some of New Zealand's most amazing wildlife from the rare yellow-eyed penguins to the soaring albatross to the sea lions – this place is brimming with amazing sights and sounds.
If you're still in the planning stage of your trip, make sure you check out the great deals on car rental in Dunedin – we're not one of New Zealand's favourite rental car companies for no reason!
Larnach Castle Tours
Dunedin is definitely a place you should add to your 'must visit' list. Many people bypass Dunedin in favour of Queenstown or Christchurch but those who do make it down as far as Dunedin are never disappointed and leave raving about the place. The highlight of many people's trip to Dunedin is a visit to Larnach Castle. The castle is situated on the picturesque Otago Peninsula and as well as the striking castle, the surrounding gardens are known as some of the finest in New Zealand. With a history dating back to 1871 (that's pretty old!), a tour of the castle will reveal a rich history.
Named after William Larnach, the guy who commissioned this awesome castle, Larnach Castle has been at the centre of many people's stories over the past 140 years and the best way to learn more is by taking a tour of the castle. Lucky for you, we've teamed up with Headfirst Travel, a GO Play partner to offer GO Rentals customers a 10% discount on a castle and city tour. Alternatively, you can book on a direct tour with Larnach Castle and another 10% discount will come your way – two discounts – one awesome attraction- can't say fairer than that!
Exploring Larnach Castle
As well as taking a guided tour, you can also explore the grounds yourself. The gardens are a big draw for many and they have been recognised by The New Zealand Gardens Trust as a 'Garden of International Significance'. No matter when you visit, the castle is a spectacular day out. In the summer with the gardens in full bloom and all set to the backdrop of the Otago Peninsula, it's a great place to come for a picnic and a full day out. In the winter, this place looks like a magical wonderland and something straight out of a Disney movie with snow all around.
History
Larnach Castle has quite a history and story to tell. We won't spoil all the surprises for those who take the tour but we can tell you that William Larnach was a hugely successful merchant. His brilliant career also included banking, farming, shipping, landholding and politics. He travelled extensively and was a cabinet minister in the New Zealand Government. In today's era, Larnach would be known as 'a player'. He was married three times and had six children. He took his own life in the New Zealand Parliament Buildings in 1898. Told you there was a lot of history behind this place!
After his suicide, there was even more drama over the property and the castle was eventually sold in 1906. From there the Castle was bought by the Government and used as a hospital for mental patients and shell-shocked soldiers. Between 1927 and 1967 there were a further four owners of the Castle but the final owner, Mrs Empson (purchased Larnach Castle in 1959) let the castle go into a state of true disrepair. The ballroom was used to pen sheep for goodness sake! Anyway, The Barker family bought the castle in 1967 and still own it to this day. Over the past 50 years, they have brought the castle back to its glory days whilst also living in the property. They wanted to make sure it was something that was shared with the general public and they rely on the entry fees to maintain the Castle and grounds.
There is much more behind this remarkable place but we don't want to spoil all the fun!
Visiting Larnach Castle
Hopefully this has convinced you to take the road less travelled to Dunedin and to explore Larnach Castle. As well as the amazing castle and gardens, the spectacular ballroom has been converted into a beautiful café where you can grab yourself a traditional English/Scottish Cream Tea or a full on afternoon high tea with sandwiches and cakes. Larnach Castle is also a spectacular place for weddings and big events so if you are looking for somewhere a bit different to get married, give them a shout! We have some great deals on car rental in Queenstown and car hire in Christchurch – both of which are only a short drive from Dunedin – go on, get our Exploring!
*All images courtesy of Larnach Castle website – https://www.larnachcastle.co.nz/
Book a vehicle for this trip
We recommend: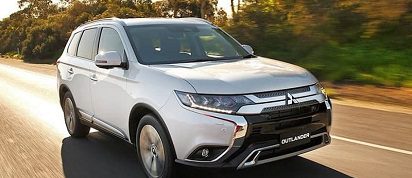 Large SUV
Mitsubishi Outlander
Seats

5 seats

Large Bags

1

Small Bags

2

Transmission

Auto trans