To have the ultimate Kiwi experience there's nothing quite like throwing yourself into one of our great New Zealand events. There are hundreds to choose from so we thought we'd come up with a list of our favourites so you can have the ultimate Kiwi experience.
1. Waitangi Day Festival
View this post on Instagram
The Waitangi Day Festival celebrates one of the most important days in our nation's history, Waitangi Day, which itself commemorates the signing of the Treaty of Waitangi.
The festival is hosted on the actual Waitangi Treaty Grounds and begins with a dawn service, followed by a day of festivities. This includes cultural performances, entertainment, food stalls and more!
When: February
Where: Waitangi
Cost: Free!
2. Otaki Kite Festival
View this post on Instagram
For a spectacular, fun, family-friendly event it's hard to beat the Otaki Kite Festival on the beautiful Kapiti Coast.
Over 10,000 people make the trip every year to the stunning Otaki Beach to see the colourful and creative kites on display. New Zealand's always been a great place for a bit of kite flying with its fair share of sea breeze. The enthusiasts there are great and the kite stunt demonstrations are a real highlight.
When: February
Where: Kapiti Coast
Cost: Free!
3. Napier Art Deco Festival
View this post on Instagram
An interesting and unique New Zealand event to experience is the Napier Art Deco Festival in the Hawke's Bay.
The origins of this festival date back to the 1930's and the Napier Earthquake which destroyed much of the city. It was rebuilt in the Art Deco style during a period of glitz and glamour which the festival celebrates in a big way. Over 200 events take place with parties, concerts, car/food and fashion shows. An awesome festival to be a part of.
When: February
Where: Napier
Cost: Varies for individual events
4. Burt Munro Challenge
View this post on Instagram
Burt Munro is a Kiwi folklore legend who, at 68 years of age, set a land speed record for an under-1,000cc bike at the Bonneville Salt Flats in 1967.
This achievement is celebrated in an annual event known as the Burt Munro Challenge. The Challenge hosts a number of exciting races at a variety of locations in Invercargill including Oreti Park Speedway. It's a thrilling watch for spectators who share Burt's passion for speed.
When: February
Where: Invercargill
Cost: Varies for individual races, $99 for all races
5. New Zealand Festival
View this post on Instagram
We've always had a strong connection with the arts in this country and the New Zealand Festival is one of the most successful events on the scene.
Held in Wellington, the 3-week festival has a great programme of multi-art works from New Zealand and abroad. Music, dance, theatre, visual arts – you name it, you'll find it and be able to appreciate it up close. Easily one of the most highly anticipated arts festivals on the calendar.
When: February
Where: Wellington
Cost: Varies for individual performances
6. Auckland Lantern Festival
View this post on Instagram
Auckland is a culturally diverse city with a large Chinese community who celebrate the Chinese New Year in spectacular fashion with the Auckland Lantern Festival.
This popular event features hundreds of handmade lanterns that illuminate the evening sky at the iconic Auckland Domain. The craftsmanship is exceptional and the effect is nothing short of magical. There are also plenty of food vendors with delicious dishes to enjoy as well!
When: February
Where: Auckland
Cost: Free!
7. Taihape Gumboot Day
View this post on Instagram
A great community event that typifies the innovative Kiwi spirit is the Taihape Gumboot Day in the Manawatu region of the North Island.
The Gumboot Day revolves around the World Boot Throwing Championships, its showpiece event. This is only the start of the fun however as there are other events like egg throwing, human dog barking, three-legged races and more. As the Gumboot Capital of the World it's the best place to be for this memorable event.
When: March
Where: Taihape
Cost: Gold Coin Donation
8. Godzone
View this post on Instagram
New Zealanders are a generally pretty active group of people which is why we host a lot of endurance events like Godzone.
The event is one of the most epic around with the main course around 530 km, yes 530 km long, completed by teams across a maximum of 7 days. The beautiful scenery of the South Island is partly what keeps the athletes going in what can only be described as the ultimate physical test. If you wonder whether you've got what it takes, there's only one way to find out!
When: March
Where: Canterbury
Cost: From $8,500 per team
9. Balloons Over Waikato
View this post on Instagram
Another great event is Balloons Over Waikato, a fantastic spectacle to enjoy when visiting Hamilton.
Balloonists from New Zealand and all over the world converge on the City of the Future to showcase their amazing hot air balloons. The event goes for 5 days and draws thousands of people with cameras in hand. There Zuru Night Glow party on Saturday is a huge amount of fun as well.
When: March
Where: Hamilton
Cost: Free!
Book a vehicle for this trip
We recommend: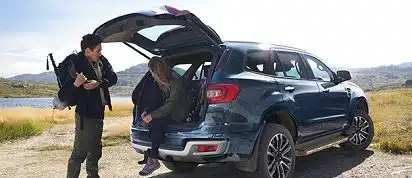 4WD SUV
Ford Everest Titanium
Seats

5 seats

Large Bags

4

Small Bags

6

Transmission

Auto trans
10. ID Dunedin Fashion Week
View this post on Instagram
New Zealand has had some great talents in Fashion over the years and Dunedin Fashion Week is where they, and lovers of Fashion, converge.
The event, which has been running for 20 years now, also attracts emerging talent from abroad with a great programme of different categories and styles covered. It's not just runway shows either with designer talks, exhibitions, films and other great events to attend.
Great news if you are planning on visiting Dunedin – in May 2019, we opened our brand new branch out at Dunedin airport making car rental in Dunedin a whole lot better!
When: March
Where: Dunedin
Cost: $45 – $199
11. Warbirds Over Wanaka
View this post on Instagram
We're a country known for our flightless birds but we also love our birds that take to the skies. In this instance, we're talking about the Warbirds Over Wanaka, our very own international air show.
A practice day is followed by two full days of continuous flying by some of the best pilots, in some of the most unique planes in the world. The aerobatic displays are always breathtaking as are the parachute display team and skydivers. From Flying Falcons to Spitfires, it's an enthusiasts dream and one the newcomers can enjoy too.
When: April
Where: Wanaka
Cost: From $85 (single day pass) – $180 (three day pass)
12. Anzac Day
View this post on Instagram
Anzac Day is another important day for New Zealand as a day of national remembrance that commemorates all those who served and died in wars and conflicts throughout our history.
Across the whole of New Zealand, people will gather for the dawn services in their towns and cities. With the laying of wreaths, readings and many veterans in attendance, it is a moving experience to be a part of.
When: April
Where: Nationwide
Cost: Free
13. International Comedy Festival
View this post on Instagram
Us Kiwis absolutely love our comedy and in recent times have had a few great representatives like the Flight of the Conchords, Rhys Darby and Rose Matafeo achieving international acclaim.
The International Comedy Festival is a great place to see the best of our established and emerging talent as well as a number of awesome international stars as well. There's a diverse range comedy too from stand-up to improv, sketches to musical comedy and so on. Hilarity at its best.
When: May
Where: Auckland and Wellington
Cost: Varies per show
14. Matariki Festival
View this post on Instagram
Matariki is the start of the Maori New Year in New Zealand, connected to the rising of the Matariki star cluster, and is celebrated through a number of great events all around the country.
Auckland's Matariki Festival is just one of the great examples of these events and is a fantastic cultural celebration that honours the unique culture and traditions of the place in which we live. Events in the festival include a dawn ceremony, markets, hangi, short films, a kite day and more.
When: June
Where: Auckland
Cost: Varies per event
15. WOW (World of Wearable Art)
View this post on Instagram
As we've already touched on, there's a lot of passion for Fashion and another great Kiwi event to attend is the World of Wearable Art Awards Show.
It's an event that started small, no less than 30 years ago, and has grown to become an important internationally respected event. The WOW celebrates the original, creative, innovative, sometimes avant-garde side of fashion. A fantastic show that always guarantees you'll see something you haven't seen before.
When: September
Where: Wellington
Cost: $50 – $189
16. Waitaki Victorian Fete
View this post on Instagram
One of the more unique events in New Zealand is definitely the Waitaki Victorian Fete hosted in Oamaru's Victoria Precinct.
It's a great community affair that attracts fans from far and wide. Attendees get involved in a big way, dressing up in elaborate Victorian Era clothing, perfectly matching the style of the buildings around. With market stalls selling crafts and food and a full day of entertainment to enjoy you can't go wrong with this one.
When: November
Where: Oamaru
Cost: $10
17. Hororata Highland Games
View this post on Instagram
Last but not least, the Hororata Highland Games is another awesome community event that celebrates the Scottish heritage of the town of Hororata.
The event, which has been running since 2011, attracts over 300 competitors every year. They compete in competitions like the Highland Dancing, Piping and Drumming, Small Bore Shooting, Tug-o-war and more. With over 100 stalls and a good amount of additional entertainment, it's a great day out for all.
When: November
Where: Hororata
Cost: $25
Some fantastic New Zealand events!
So there you have it! Our list of 17 New Zealand events that will give you the ultimate Kiwi experience. We hope you've enjoyed the read and are inspired enough to attend a few yourself, whether you're a local or a friend from afar!
Related Posts