New Zealand is a beautiful country, known throughout the world for its picturesque landscape and stunning natural scenery. What some people don't realise is that New Zealand is also home to some wonderful gardens which come to life in spectacular style every spring.
We thought we'd show you just what we mean by featuring the best 13 New Zealand gardens you should visit during your spring holiday here.
1. Auckland Botanic Gardens
We start with one of the biggest and best in New Zealand, located in the City of Sails and known as the Auckland Botanic Gardens. Based in Manurewa, South Auckland, the Auckland Botanic Gardens covers 64 hectares and attracts nearly a million visitors every year. There are some great gardens to wander through and experience including the Rose Garden, Children's Garden and the Native Forest (with a 2 hour loop track). Another crowd-pleaser is the Edible Garden which has growing examples of some of our favourite fruit and veg.
Just 15 minutes from our Auckland Airport car rental branch!
View this post on Instagram
2. Ayrlies Garden and Wetlands
The Ayrlies Garden and Wetlands is another horticultural gem in South Auckland that is recognised as a 'New Zealand Garden of International Significance'. This garden is like an expression of art, thoughtfully put together where every detail has meaning and purpose. At 50 years old, the garden is nearing maturity which basically means now is the best time to see it. Wonderfully well-maintained and presented you'll enjoy its sweeping lawns, beautiful ponds and tranquil waterways.
View this post on Instagram
3. Christchurch Botanic Gardens
A big reason why Christchurch is known as the "Garden City" in New Zealand is because of the glorious Christchurch Botanic Gardens. Situated right in the heart of the city with the lovely Avon River around it, the gardens are the must-see attraction in Christchurch. It's a beautiful space, especially when the sun's out, but even when it isn't you can retreat to their cosy conservatories or the great cafe. Founded in 1863, it's lined with some spectacular old trees that are incredibly charming, appreciated by locals and visitors alike. Grab a car from our Christchurch Airport rental branch and take an easy 20 minute drive in towards these beautiful gardens.
View this post on Instagram
4. Dunedin Botanic Garden
The Dunedin Botanic Garden is steeped in history as New Zealand's first botanic garden at over 155 years old. Landscaped in and around the gentle hills of North Dunedin, the garden has so many highlights you almost don't know where to start. The extensive Rose Garden and the internationally recognised Camellia Collection should be near the top of your list during a visit there. The Rhododendron Dell that covers four hectares and contains over 3,000 rhododendrons is also not far off. If you're travelling with kids they'll get a real thrill from feeding the ducks at the Duck Pond (with food for the ducks also provided). The Bird Aviary is also a real treat with the little ones in mind.
View this post on Instagram
5. Hamilton Gardens
Hamilton hasn't been seen as a first-choice tourist destination, but its reputation is slowly changing thanks in no small part to the wonderful Hamilton Gardens. Rated as the No.1 attraction in Hamilton by TripAdvisor with a stellar 5.0 rating (3,000 votes and counting), the Hamilton Gardens are nothing short of a triumph. Free to the public, it's known for its spectacular themed gardens, spanning a wide variety of cultural influences and time periods. These include the Italian Renaissance Garden, Indian Garden, English Garden, Tudor Garden, Japanese Garden, Chinese Garden and more. It's a huge amount of fun for people of all ages and interests and has done a wonderful job attracting visitors to the city.
View this post on Instagram
6. Larnach Castle Gardens
The only castle ever built in the country also has one of the finest gardens in New Zealand. Larnach Castle, in Dunedin, is a fantastic attraction for both these reasons and is a great place to go when visiting. Built by a wealthy businessman (William Larnach) in 1871, no expense was spared in its creation which includes its exquisite gardens. They are truly lovely in every sense of the word and have several elevated vantage points with exceptional views. There's plenty to see and appreciate here and the High Tea served in the main ballroom is a tasty tribute to its past as well.
View this post on Instagram
7. Pukekura Park
In the heart of the city of New Plymouth, you'll find Pukekura Park, a wonderful scenic sanctuary considered one of the premier botanical gardens in the country. Founded over 100 years ago with the help of a gift of 2,000 trees from Christchurch, the park features a beautiful lake, formal gardens, fernery and display houses, bush walks, children play areas and more. They even have their own lakeside tea house that also serves ice cream for those warmer days. With the sight of the stunning Mount Taranaki in the background, you'll cherish the picture-perfect views at every turn.
View this post on Instagram
8. Ohinetahi
Another South Island gem not far from the Garden City itself is Ohinetahi, an incredible garden that sits before a beautiful 19th century homestead. The individual who was largely responsible for creating Ohinetahi was Thomas Potts, one of New Zealand's first botanists. Since those early years, it has changed hands several times, grown and expanded to include a woodland walkway, garden rooms, art galleries and over a dozen sculptures throughout the property. There are great views to enjoy here too out across Lyttelton Harbour towards Quail Island adding that finishing touch to an already magical experience.
View this post on Instagram
9. Te Kainga Marire
Te Kainga Marire translated to English means "the peaceful encampment" – a fitting way to describe this private garden when you visit. Built around the Poletti-Clarkson family home in New Plymouth, the garden has a very natural feel which is exactly the way it was intended to be. With plant pairings placed from what's been observed in the wild, it's become a wonderful haven for birds which means visitors get some great birdwatching. The garden has some other fascinating features too including rustic fences, a colonial bush hut and fern-filled Maori whare (house).
View this post on Instagram
10. The Giant's House
For something incredibly unique and completely different, The Giant's House in Akaroa, is a fun and imaginative experience that all can enjoy. With Gaudí-esque flair, its creator Josie Martin, has brought this amazing garden to life with some outstanding mosaics. It draws influences and styles from all over the world and is full of colour and surprises at every turn. Tales of its offerings have travelled far and wide with the Giant's House featuring in countless international magazine articles and TV shows from around the world. Akaroa is a wonderful place to visit on its own merit, but the Giant's House makes it a must.
View this post on Instagram
11. Trott's Garden
Another Garden of International Significance is Trott's Garden, 2 hours' drive south of Akaroa in the town of Ashburton. One of the younger gardens on this list, work began properly in the 1980s when its current owners started an extensive planting project. Defined by its immaculate macrocarpa hedges, the garden is home to a splendid array of floral wonders. The main herbaceous borders are stunning and with 650+ rhododendrons and 250+ roses, the vivid colours are like an amazing canvas to the eye. Has often served as a popular backdrop for weddings and events and it's easy to see why.
View this post on Instagram
12. Wellington Botanic Gardens
Visitors to our nation's capital will be pleased to know the city has its own fantastic botanical garden to enjoy. The Wellington Botanic Gardens is a magnificent jewel of the city covering an area of 26 hectares. It's a great place to go to in combination with another popular Wellington attraction, the Wellington Cable Car, which you can take to get there. There's so much for visitors to enjoy from the award-winning Lady Norwood Rose Garden to its exciting sculpture trail. They also have their own Duck Pond and the highly-rated Begonia House which hosts some great exhibitions.
Need some wheels? Grab a car rental from our Wellington car rental branch.
View this post on Instagram
13. Whangarei Quarry Gardens
Last but not least, the northernmost gardens featured in this list are the Whangarei Quarry Gardens. This community-led endeavour is an amazing restoration project built out of the old remnants of a former quarry. Quite how they've created this sub-tropical oasis is almost beyond belief and reflects 20 years of hard work by locals and volunteers. The site covers 60 acres of land and includes a number of fascinating gardens, a walk through the quarry's industrial ruins and a native forest to explore too. It's an easy and enjoyable way to spend a few hours and its Quail Cafe has a great place for refreshments too.
View this post on Instagram
Some Stunning New Zealand Gardens to Discover
As you can see there are some incredible New Zealand Gardens to see no matter where your adventures happen to take you. Spring is an amazing time of year to visit as many as you can when you'll be able to enjoy the plants and flowers at their very best.
Related Posts
Book a vehicle for this trip
We recommend: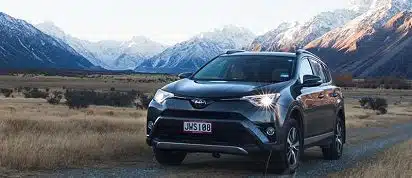 Intermediate 4×4
Toyota Rav 4
Seats

5 seats

Large Bags

3

Small Bags

4

Transmission

Auto trans