One of our GO Explorers recently got in touch to tell us they were heading on a South Island road trip so we asked them if they wanted to tell us all about it – we're really glad they did because it sounds like they had an awesome adventure! Let's hand over to GO Explorer Carly who took a trip in January to the South Island with her Dad and partner – here's her story!
Day 1 – Queenstown
Hi there! So, this is the story of our 10 day adventure to New Zealand's South Island. We live up in Auckland and moved here from the UK a couple of years ago so we were pretty excited about my Dad flying out to visit us for a month. A big part of the trip was planning a 10 day tour of the South Island – my Dad loves the Lake District back in the UK so we thought this would be right up his street. It was pretty stressful sorting out all our accommodation for three people in the high season but one thing that was super easy was sorting out our car hire (shameless plug!!) with GO Rentals. They were pretty awesome to be honest and they are definitely not paying me to say that! We were flying in late from Auckland on a Thursday night, catching the last flight into Queenstown and we called in to the Auckland Airport branch to sort out our drivers licences and check in before we headed down there. They had very kindly arranged an out of hours pick up for us and after the two hour flight, it was really easy to find the branch just a short walk from the terminal and all the instructions we needed were in the car.
The first couple of nights in Queenstown we were staying in Lower Shotover which is a short 5 minute drive from the airport and around 15 minutes from the city centre. We booked the place through Bookabach and to be honest it was perfect. It was in a new build housing estate and the place had all the finishing touches – they even left us milk and bread as they knew we were getting in late that night. If you are looking for a place to stay and you're not bothered about being too central, I can highly recommend Shotover Gold Apartment.
Day 2 – Arrowtown
Although we were down there in the middle of the New Zealand summer, the forecast had not looked too promising for our 10 days and it was a bit chilly when we headed out that morning. We decided to walk from our apartment to Arrowtown – we had read that it was possible to take the Queenstown Trail all the way from downtown Queenstown and we were already halfway there so we thought 'why not?'
We had a perfect start from our little house as we could hook straight into the Queenstown Trail without hitting the main road. This took us on to the next estate, the Lake Hayes Estate before we crossed the main road and walked around the stunning Lake Hayes. By this time the sun had come out and all was well in the world. The trail then took us up through the beautiful Millbrook Golf Resort which was a bit hilly but the place looked really nice and it was a lovely place to walk. Arrowtown was a welcome site as we headed down the hill and straight to the pie shop for one of the world renowned venison pies from the Arrowtown Bakery – it didn't disappoint! We decided to take a shorter route back but still clocked over 16 miles for the day – not a bad start to the trip!
That night we hit the town and were pleased to find that all the bars seemed to be running a happy hour to cater for all the backpackers in town. There was a nice mix of bars and we headed to 1876 for a couple of drinks and then decided to give Caribe Latin Kitchen a whirl for dinner as it scored really well on Trip Advisor – neither place disappointed and we sat out in the sun and enjoyed an awesome burrito.
Day 3 – Queenstown to Wanaka
Day three was moving day but we still wanted to explore Queenstown before we headed off so decided to rent some bikes for a few hours and head back out on the Queenstown Trail towards Frankton before hooking a right and looping back around to the Kelvin Heights around the Frankton Arm. It was a great cycling track with not too much traffic and some great views. I particularly enjoyed the goats at the tip of Kelvin Heights!
After a quick bite to eat we headed off over the stunning Crown Range with some truly breath-taking views over to Wanaka. This time we booked our accommodation through Wanaka Holiday Accommodation and we weren't disappointed. Our home for the next three nights would be George's House – a cute little two bedroom house just a short 5 minute walk from the town centre. We took a leisurely stroll around the lake to check out the famous Wanaka Tree before heading to the Speight's Alehouse for a happy hour drink. A bit of research led us to Big Fig whose motto was slow food served fast. We loved the premise – pick a plate size, pick some meat, pick some veggies and pick some salad – whatever would fit on your plate! The food was amazing – slow cooked lamb, delicious meatballs, chicken, Moroccan salads and veggies and local ale on draught to boot. Highly recommended!
Day 4 – The Blue Pools
We had been blessed with some amazing weather considering the forecast and today was no different. We decided it was the perfect day to go and check out the Blue Pools which we had read about on the GO Explore itineraries before we headed off on our trip and they sounded amazing. It took us about an hour and 15 minutes to get there but the drive was stunning around Lake Hawea and then the far tip of Lake Wanaka. The Blue Pools were also well worth the drive – I have never seen water like it and the colour was mesmerising and made you want to jump in! We took an extended walk beyond the pools which wound its way down the valley – a good leg stretch and time in the sun!
That afternoon we wandered around the left side of the lake, past the famous tree which was a nice walk if you are looking for something to do close to the town.
Day 5 – Wanaka
After a couple of days in the car, we decided she needed a rest. We haven't even talked about the car yet but it was a lovely new Hyundai Tucson with all the bells and whistles including reversing camera, Bluetooth audio so we could play our Spotify and lovely leather seats. She had performed admirably so far and we decided it was time for a day off.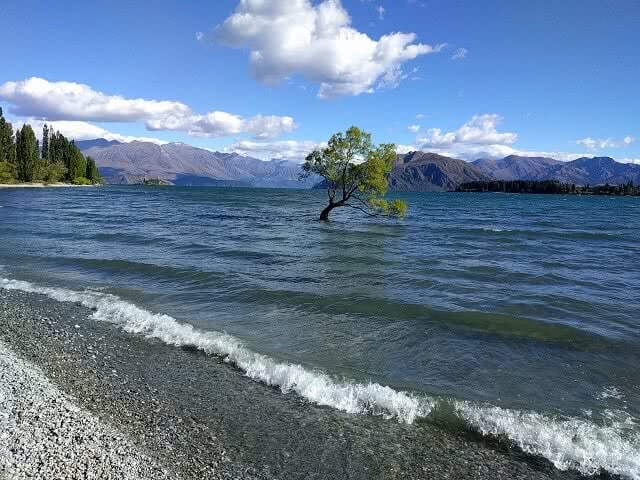 We love a good walk and decided this time to head off around the right side of the lake around Roys Bay and out towards Dublin Bay – this is another lovely walk and we probably clocked around 10 miles – we had wanted to head up the famous Roy's Peak that day but Dad wasn't feeling the love for it – it's a bit of a beast of a walk which I have done before but it's not for the feint hearted that's for sure! Instead we decided to take a wander up Iron Hill which is a short walk out of the town opposite Puzzling World and I would definitely recommend it for the amazing views.
We headed back to Big Fig that night to finish off our time in Wanaka but it's definitely a place I would put on your list for your next visit to the South Island.
Day 6 – Wanaka to Tekapo
Moving day number two! With a biggish drive ahead of us, we were up and out early from Wanaka as we only had one night up in Tekapo so wanted to make the most of it. One thing about driving in New Zealand is that it's definitely part of the adventure. In the UK, driving is just a means to an ends – something that gets you from A to B but here it is much different. The drive through the Lindis Valley and over the Lindis Pass was stunning. We stopped off in Omarama for a cheeky pie and a coffee before heading on north to Tekapo. On the way we passed Lake Pukaki which gave us a little taste of what we could expect – the colour of the water was like nothing I have ever seen before and it was pretty mesmerising.

Shortly after we hit Tekapo and the same stunning blue water. After a leg stretch around the right side of the lake and an opportunity to check out the famous Church of the Good Shepherd, we decided to take a hike up to the top of Mt John to check out the observatory. It was another beautiful day but it was blowing a bit of a gale so we had to hold on to our hats at the top! It took us around an hour to walk up, taking a path which is found just behind the Tekapo Springs complex. The climb was worth it for the amazing views and I would definitely recommend it!
Tekapo was the only place we had booked in to a motel rather than a bach and we were really chuffed as it was just perfect. We booked into the Lake Tekapo Village Motel and had a lovely ground floor suite with two bedrooms and a little kitchenette which was perfect for breakfast. After enjoying a drink on our patio, we headed out for dinner at Tin Plate Kitchen and Bar. The pizzas here were amazing and they also had some tasty looking pasta dishes too. Another top tip for your trip!
Day 7 – Tekapo to Queenstown
For the first time on our trip, we awoke to the wet stuff falling from the sky. We had a day planned down in the Mt Cook National Park and hoped to walk up the famous Hooker Valley Track. Despite the rain, we thought we would give it a go anyway and hope the rain cleared off. We took a right turn and drove up the side of Lake Pukaki to Mt Cook Village where the rain had got worse – it was the longest toilet stop detour of all time! It was such a shame as we were really looking forward to the walk but it will have to wait for another day. We got back in the car and headed back off to Queenstown.
This time we were staying a bit closer to town in the suburb of Fernhill. We had booked a place through Goodstays and although the place was pretty nice, it needed a bit of a freshen up as it was dated – still, the views were stunning looking down on Lake Wakitipu so we couldn't complain too much! The rain finally subsided so after a day spent in the car, we decided to walk into town. We stumbled across a great path that took us down through the woods into town instead of tackling the big hill so that was a winner!
Day 8 – Wine Tasting and Arrowtown
It got pretty cold in the night and as we awoke, we could see there had been a sprinkling of snow on the tops of the mountains – what happened to summer?!! The rain was still falling so we decided it was the perfect day for a spot of wine tasting. We headed out to the Gibbston Valley and headed to a couple of vineyards for some delicious tasting. It would be rude not to visit this region without trying on the amazing Central Otago Pinot Noirs so we gave it a whirl (we had a designated driver to me and my Dad filled our boots!). After a spot of wine tasting and lunch, the clouds cleared away and we headed back to Arrowtown for a lovely walk along the river.
Day 9 – Milford Sound
This was the day we had all been waiting for and we judged the weather to perfection. We had been monitoring the forecast since we set off and identified this as the best looking day for the trip and we weren't wrong! We were up and out of the house at 6.30am to join the rat race of people heading out on a day trip to the world famous Milford Sound. It was a beautiful sunny morning but cold so it felt like a winter's morning but as soon as the sun got high in the sky, it warmed up quickly for our arrival at Milford Sound. The drive here is honestly unbelievable. I was just a passenger so could take it all in but the scenery all along the way was stunning. We stopped off at the Mirror Lakes on the way down which offered up perfect reflections of the surrounding mountains before heading to check out the Chasm which is around 30 minutes before your arrival at Milford Sound. We had read all about the time it takes to get to Milford Sound on the GO Rentals blog so we knew we should leave plenty of time – we were booked on a 12.30pm cruise and we were glad we didn't have to rush as we got the chance to see lots of cool stuff on the way down.
We booked our Milford Sound cruise with Go Orange – they are a GO Play partner so we booked on the lunchtime cruise which meant that the driver went for half price and we got fish and chips included in our price – awesome! The Go Orange guys were really nice and friendly and the captain and crew were super knowledgeable, giving us loads of history about the formation of Milford Sound and pointing out all the highlights as well as the wildlife out on the water. The highlight was perhaps a dunking under one of the waterfalls that tumbles into the Sound – refreshing! The cruise is 2 hours which was just about perfect and it wasn't too packed so there was plenty of room. The place was pretty magical and it was a tough one when we had to leave – we will be back! The drive back was not as bad as expected and we were back in Queenstown in good time to enjoy our last night out and a lovely dinner.
Day 10 – Queenstown to Auckland
We were on a lunchtime flight out of Queenstown so took the morning to explore the gardens in Queenstown before heading off to drop off the car. The GO Rentals team were once again awesome to deal with, making sure we had had a great trip and genuinely seeming interested in what we had been up to – so many tourism operators seem to treat customers as just another number but we didn't get that with GO Rentals and there were personal touches every step of the way.
Well, that brings to an end our 10 day South Island adventure. Hopefully you find some of the tips in here useful for planning your own trip. I love to use sites like Trip Advisor, Facebook and even Google's reviews to plan my trips and that's why it was nice when the GO Explore guys asked if I would like to write up my trip to help others plan their trip – it's good to give something back after all the tips I have stolen from other people!
Happy travels everyone!
Feeling inspired by these epic adventures? Make sure you check out the latest deals on car hire in Queenstown and find out why we're one of New Zealand's favourite rental car companies.
Related Posts
Book a vehicle for this trip
We recommend: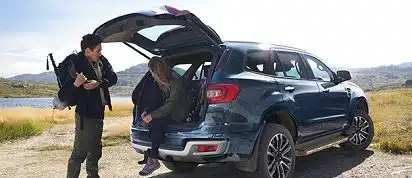 4WD SUV
Ford Everest Titatnium
Seats

5 seats

Large Bags

4

Small Bags

6

Transmission

Auto trans