Updated November 9, 2017
Now here is a date for your diary. Sunday 19th November 2017. Booked it in there? Great stuff as this is one not to be missed.
Toast Martinborough is a wine, food and music festival set in the beautiful town of Martinborough, South Wairarapa and is an event that attracts thousands of people from around the world to celebrate all things good about New Zealand food and wine.
Following on from last year's hugely successful event, at which Toast Martinborough turned 25, the organisers are planning on following up with another huge event in 2017!
Toast Martinborough is one of New Zealand's biggest Wine and Food festivals and tickets have once again been selling like hot cakes. If ever you needed an excuse to get yourself down to the capital, this is it!
Where is Martinborough?
Martinborough is one of the most picturesque wine growing villages in New Zealand and possibly the world. Situated just over an hour's drive north and east of Wellington in the South Wairarapa, Martinborough's reputation for producing world-class wines and delicious cuisines has been rapidly growing over the past few years and it is now recognised as the culinary capital of the lower North Island.
What makes the food and wine so special we hear you ask?
Well, the village and the restaurants have an amazing relationship with the local farmers, vineyards and producers. Everything you see has been locally sourced so you know exactly where it is coming from and you know the passion and dedication that has gone into ensuring you get the highest quality produce to make the stunning dishes the chefs are able to create.
Sounds good, tell me more…
First-time festival goer tips
If you've never been to Martinborough before then shame on you! Seriously though, this is a stunning part of New Zealand and there is no better time to visit than the Toast Festival. Here's a little bit about what you get for your money.
Your $88.50 festival ticket (it's gone up 10c from last year!) includes:
Wristband entry to the 2017 Toast Martinborough Wine, Food and Music Festival
A tasting glass
A festival programme
Access to hop on the free shuttle buses that circulate continuously around the festival circuit
Live music from over 20 of NZ's best live entertainment acts at all festival sites, including in the Town Square.
About the vineyards
As always, this is an event that involves the whole of the Martinborough wine community.
This year's event will be set over 8 sites with 9 wineries, 13 restaurants and 20 live music acts. As well as the Toast festival regulars, there are a couple of new vineyards in the lineup for 2017.
In additions, there are going to be some very special festival wines for you to sample including the vintage table and bubbles bar at Margrain Vineyard, 100% vegan wines at Tirohana Estate, organic wines at Vynfields, Apres at Muirlea Rise, Toast chardonnay at Ata Rangi, limited new release  syrah and pinot noir at Luna Estate, and the rose and vintage bar at Te Kairanga/Martinborough Vineyard.
The vineyards involved in Toast Martinborough 2017 include:
Ata Rangi
Dry River
Luna Estate
Muirlea Rise
Margrain Vineyard
Martinborough Estate and Te Kairanga
Murdoch James Estate
Vynfields
Sampling is available at all festival sites giving you the opportunity to try a whole host of world-class wines from the region.
Getting there
As this is obviously an event that features a fair bit of alcohol consumption, we recommend you either allocate a designated driver for the day or you look at public transport options to Martinborough. There is a train that leaves Wellington at 8.30am on the Sunday morning which takes just over an hour but space is expected to be limited on board. There is also no parking available at the Square and other festival sites so there will be some walking involved for your group but it's well worth it.
We always think the best plan is to make a weekend of it. Hire some accommodation close by and enjoy the area – we would also recommend taking the Monday off work so you can really enjoy yourselves and not have to worry about the 6.30am alarm call the next day!
Tickets for the event are available through Ticketek but they are selling like hot cakes so don't miss out! Book your Toast Martinborough experience today and give yourself something to look forward to.
To find out more, make sure you visit the Toast Martinborough website where you can find details of the amazing entertainment which this year will include festival favourite, Steve Carlin, NZ School of Music band, Jimmy & The Jets and the ever-popular Jedi Nights plus many more great acts.
Book a vehicle for this trip
We recommend: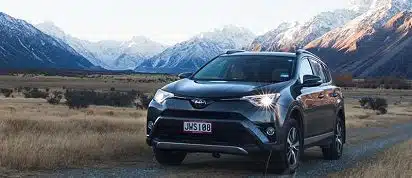 Intermediate 4×4
Toyota Rav 4
Seats

5 seats

Large Bags

3

Small Bags

4

Transmission

Auto trans