Updated: 22 June 2017
Visa Wellington on a Plate (or WOAP as the event is affectionately known) is not your ordinary food festival. It laughs in the face of one day festivals as Wellington celebrates everything great about the region's amazing food. Taking place from the 11-27 August, Visa Wellington on a Plate is two full weeks of food related fun. With over 100 events, 100+ special menus, 100+ burgers and 40+ cocktails, they have all the ingredients for a truly awesome event.
This is an event for food lovers and if you were thinking of a winter break to Wellington, we reckon you should make sure you arrange your plans around these two weeks.
Let's take a look at some of the highlights:
DINE Wellington
One of the highlights for the thousands who descend on the capital is DINE Wellington where more than 100 of Wellington's finest eateries set up lunch and dinner specials akin to Auckland's restaurant month where you can grab yourself a tasty two course lunch from as little as $15, most including a glass or regionally produced wine or beer. Can't say fairer than that!
Other events taking place during the two week food festival include the Garage Project presents Burger Wellington – a true kiwi burger-off where restaurants can enter their best burger to be judged by locals and matched with a local beer. Sounds pretty tasty to us! You can of course visit any of the awesome venues and sample on these tasty burgers yourself and enjoy burgers like braised wild boar or Horopito spiced fish – find out more here.
One for the party goers out there is Capital Cocktail where mixologists will come together to showcase their best cocktails and match it with some tapas. We love all these competitions because everyone tries something original and new and it's at events like this where new cocktails are born – make sure you get down to Wellington to join the fun so you can say "I was one of the first to try the new 'Kiwifruit Jerry Collins'!
Wellington on a plate events

As well as lots of great offers at over 100 restaurants throughout the city, there is also a whole bunch of events taking place across the two weeks from Beach Parties to Truffle Hunting to Street Eats and Beats. There's a bit of something for everyone and things conclude with the Visa WOAP Festival Awards evening on the 31 August where the victors will be crowned and a good time will be had by all! This is the first time organisers have included an awards night to celebrate all those who have put themselves forward in the Burger Wellington, Cocktail Wellington and Dine Wellington events. It should be a great end to the festival. Find out more about the events taking place at WOAP.
Fun for the whole family
The events are not just for food loving adults. There are loads of events that are family friendly and one of the best promises to be 'The Ultimate Family Feast' which is held on Sunday 20 and 27 August from 9.30am to 7.30pm. Children aged 10-14 are invited to complete the ultimate dining experience, culminating in a scrumptious midwinter feast for their family and friends. You can easily filter the events on the WOAP website to see which are best for families.
Explore the Wellington region
Whether you live in Wellington or you are just visiting for the weekend, make sure you get down to one of the many events taking place throughout the two weeks all across the region. It's not just the CBD where events are being held so take the opportunity to pick up a rental car from our Wellington branch and head out to enjoy the beautiful surroundings from the Wairarapa to Kapititi and everything in between. The Wellington on a Plate website has all the information you need to plan your culinary voyage of discovery so be sure to check them out and see what events are taking place across the whore region. If you are looking for ideas for things to do or places to stay, make sure you check out our Complete Guide to Wellington which has loads of great ideas to help you plan your trip.
Bon appetite!
Book a vehicle for this trip
We recommend: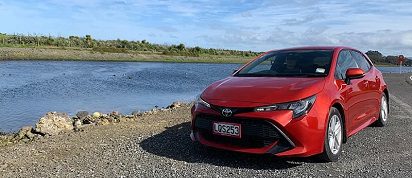 Compact Auto
Toyota Corolla
Seats

5 seats

Large Bags

2

Small Bags

1

Transmission

Auto trans