Updated: 30 July 2018
It's that time of year again – the World of WearableArt Awards Show in Wellington and one we look forward to each year. This year is the 30th anniversary of the event which combines fashion and art with dance, music and lighting. The World of WearableArt was first held in Nelson in 1987 and later moved to Wellington in 2005, attracting audiences of over 60,000 people per season.
According to the WOW website, the Awards Show is 'where fashion, art and theatre collide' and the results are truly spectacular. If you have never made it down to Wellington for the event, this is definitely the time to book your tickets and prepare to be enthralled.
When does it all take place?
The show runs for approximately 1 hour 45 minutes for all shows other than the awards night and it all kicks off on Thursday 27 September running right through until Sunday 14 October. The event is held in the impressive TSB Arena in Queens Wharf and is expected to draw bumper crowds once again to Wellington.
What to expect
If this is all sounding a bit out there for you, let us give you a bit more information about this iconic New Zealand event. The show selects around 150 garment entries from designers in New Zealand and from across the world and those garments have been designed with the moving body in mind, allowing them to be included in a beautifully choreographed two-hour show. The performance includes original music, dance, lighting and drama and people come back year after year to see the amazing designs but more than that, to immerse themselves in the whole experience.

*All images courtesy of @WOWAwardsShow
Be WOWed in Wellington
Kiwis and travellers alike should not miss out on an opportunity to go along to one of the 15 shows running across nearly 3 weeks. A trip to the WOW Show is like stepping down the rabbit hole in Alice in Wonderland where "nothing is normal and everything is extraordinary". You will be astounded to see the costumes that are created and they are all truly works of art – the fact that you can wear them elevates them to a new level.
It's a definite favourite in the GO Rentals calendar and you will see most of the Wellington team down at the event at some point over the two and a half weeks.
Of course, it's also a great excuse to get yourself down to Wellington and get out and enjoy some of the fantastic areas within an hour or two's drive from the city centre. Treat yourself to a pre or post show dinner in one of Wellington's fantastic restaurants or take a drive out to Martinborough and sample some delicious wine and gourmet food.
If you are planning a trip, make sure you check out the latest deals on car rental in Wellington and find out why we're one of New Zealand's favourite rental car companies.
Book your tickets and find out more
Tickets always sell out fast so make sure you book yours today as this is an event not to be missed. If you're in the Nelson area, the WOW Museum there is also worth a look to see some of the amazing designs from years gone by. You can find out more about the event on the official World of WearableArt website.
Book a vehicle for this trip
We recommend: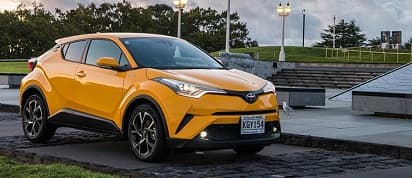 Zippy Auto
Toyota CHR
Seats

5 seats

Large Bags

1

Small Bags

1

Transmission

Auto trans