Next week kicks off the start of one of New Zealand's largest FREE festivals and one that has become a popular addition to many people's calendars over the last 18 years. Balloons over Waikato is a truly spectacular event that will this year be celebrating its 18th year. The event runs for 5 days from Wednesday 22 March through to Sunday 26 March and is spread over a number of sites including Innes Common, Hamilton Lake and the University of Waikato. If you've never seen it before, then get this marked in the diary as 'Busy' and get on down to Hamilton for what promises to be an awesome 5 days.
New Zealand's premier hot air balloon festival
Balloons over Waikato is without a doubt New Zealand's premier hot air balloon festival. Now in its 18th year, the event has grown each year, attracting more and more people and this year, they are expecting over 130,000 people across the 5 days to enjoy the sights and sounds of the festival. Pack your binoculars and your alarm clock and head to Hamilton from the 22-26 March – it's going to be a cracker.
Set your alarm, they start early!
The weather plays a huge part in the festival and the windy conditions that often hit the Waikato into the afternoons mean that early starts and late finishes are the order of the day. It all kicks off at 7.30am on Wednesday 22 March and the opening of the festival where there will be a mass inflation and lift off from the stunning lakeside at Innes Common.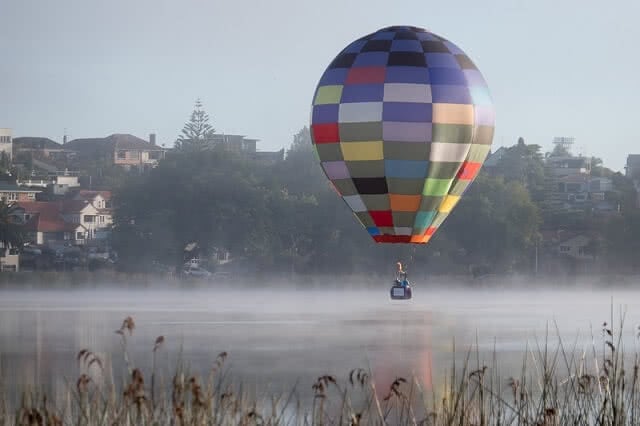 They start even earlier the next day at 6.30am with a sunrise flight and the Wel Enegery Trust Breakfast event will also be putting on a FREE breakfast for the first 2,000 people thanks to McDonalds Hamilton. After the early breakfast flight the balloons head off to 18 schools around the Waikato thanks to Credit Union who will get to see the balloons close up. Friday sees the balloons heading to South Waikato and Te Kuiti where there will be stalls, entertainment and the spectacle of the Special Shaped Balloons. That night will also see a City Burn and market taking place in Hamilton city so lots going on.
One of the highlights of the festival takes place on Saturday night (25 March) – the Zuru Nightglow. Dubbed as 'Hamilton's Big Night Out', this is a spectacle not to be missed and attracts people from across New Zealand. The 5 hour show kicks off at 4.00pm with live music from local and national bands and ends with the stunning Balloon Glow Show and spectacular fireworks finale!
Sunday is the last day of the festival and again it's an early start as the balloons once again set off from Innes Common for one last time for another year.
You can find a full programme of events on the official Balloons over Waikato website.
Get involved
If you like the sound of all of this and fancy doing more than just watching, there are a number of opportunities to get involved and into the heart of the action. The festival is always on the lookout for crew members, volunteers and vendors so if you have got a spare 5 days in your calendar and fancy doing something a bit different, then make sure you drop them a line and don't just watch it, live it! More details can be found here.
Whether you can commit to 1 or 5 days, it doesn't matter. This is one of the Waikato's biggest events of the year and something that is a highlight of New Zealand's event calendar so if you can, make sure you head on down to Hamilton and prepare to be wowed!