In New Zealand, the Climate Change Commission has recommended phasing out imports of fossil-fuelled cars by no later than 2035. At GO Rentals, we are committed to this electric future and have already taken the first steps towards a fleet that is environmentally sustainable.
Not only are we a three times carbon neutral business, but in 2021, we introduced our first electric vehicle to the fleet – the Tesla Model 3. The Model 3 is a major step towards building a greener, electric and carbon-neutral fleet.
But just how green are electric vehicles?
Are electric cars better for the environment?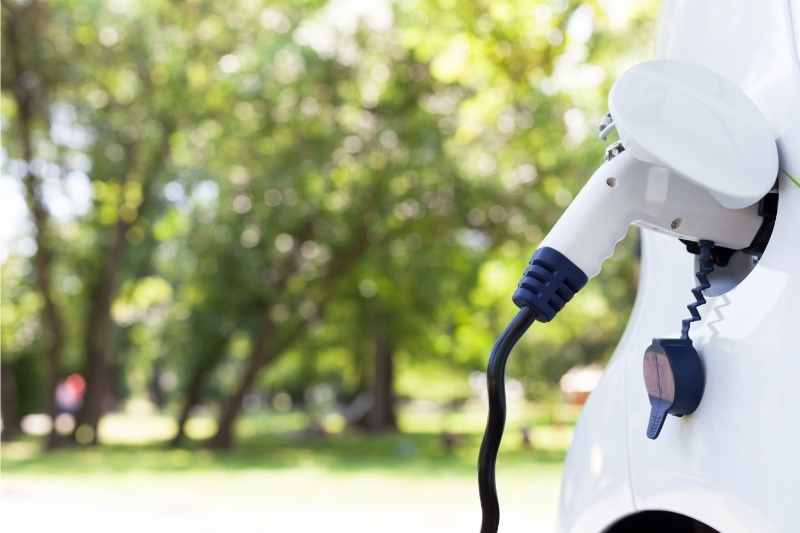 Whilst there is a lot of positive media around the environmental benefits of electric vehicles, there have also been some concerns raised about the sustainability of the batteries that power EVs.
Let's first talk about the benefits, however. The major benefit of electric vehicles is the contribution they can make to improving the air quality in towns and cities. This is one of the reasons so many cities around the world have committed to going electric including Los Angeles, New York, and London.
With no exhaust pipe, pure electric cars produce no carbon dioxide emissions when driving. This has a considerable impact on reducing air pollution.
According to My Climate, just one electric car on the road can save an average of 1.5 million grams of CO2 in one year.
In a study conducted by The International Council on Clean Transportation, they found that "a typical electric car today produces just half of the greenhouse gas emissions of an average European passenger car.
"Furthermore, an electric car using average European electricity is almost 30% cleaner over its life cycle compared to even the most efficient internal combustion engine vehicle on the market today."
Electric vehicles emit fewer greenhouse gases and air pollutants than petrol or diesel cars and this takes into account their production and the electricity generation to keep them running.
The ICCT study found that, despite concerns over the sustainability of the batteries needed to power electric vehicles, an electric vehicle's higher emissions during the manufacturing stage are paid off after only 2 years compared to driving an average conventional vehicle, a time frame that drops to about one and a half years if the car is charged using renewable energy.
Here in New Zealand, we are already developing ways to refurbish, repurpose and recycle EV batteries and members of the Motor Industry Association of New Zealand (MIA) have committed to a code of practice to have suitable systems in place for the use, capture, return, refurbishment, reuse, recycling or disposal of EV and hybrid batteries, with the aim that no batteries end up in landfills.
The rise of EVs
The addition of 10 Tesla Model 3s to our fleet in 2021 was just the first step towards an electric future, not only here in New Zealand, but around the world.
EV sales rose by 41% worldwide in 2020, despite general car sales being down 16% due to the COVID-19 pandemic that year.
Whilst Tesla is widely regarded as the leading manufacturer of EVs – breaking down a number of barriers when it comes to the production of electric vehicles – many of the world's leading car manufacturers are following suit, with 18 out of the world's top 20 manufacturers stating their intention to increase their range of electric vehicles, as well as increasing production.
In New Zealand, according to data from the Ministry of Transport, there were 27,925 electric vehicles in New Zealand in June 2021 out of a total of 3.3m light vehicles so we still have some way to go to meet our goals of going electric.
Meeting our emissions reduction targets
According to the Energy Efficiency & Conservation Authority in New Zealand, "By the end of this decade, more than 50% of monthly vehicle sales in New Zealand need to be electric in order to meet our emissions reductions targets. This requires a jump from about 6000 electric vehicles (bought in 2020) to annual sales of 150,000 electric vehicles (NZTA)."
In 2019 alone, light vehicles were responsible for almost 11MtCO2e emissions.
Hybrid vehicles also bring some environmental benefits, however, it depends on how much of a journey is driven in electric kms versus petrol. It also depends on how the vehicle is charged. If you are an environmentally considerate driver, then consider using a renewable form of energy for charging your hybrid vehicle to help to have a bigger impact on the environment.
How will New Zealand cope with the increase in EVs?
The EECA estimate that even if all New Zealand's light vehicles were electric, this would only increase the total electricity demand by 20%. This could be accommodated within our current electricity grid, providing the majority of EVs are charged during off-peak periods.
Most owners currently charge their EVs at home overnight and this is not expected to change, even with the growth in EV owners. The government also has a range of programmes underway to ensure the electricity network can support the uptake in EVs.
There are public chargers available every 75km on the country's highways and the EECA is working with MOT, NZTA and MBIE to develop a strategic roadmap for New Zealand's future EV charging network to ensure public funding support is well-targeted and delivers the coverage, density and capacity required as the electric vehicle fleet increases.
The future is electric
We are excited at GO Rentals to be playing our part in the electric vehicle revolution and providing our customers with a carbon-neutral rental car experience here in New Zealand. Whilst we know the Tesla Model 3 will not be for all our customers – the practicalities of transporting a big family and luggage don't extend to the Model 3 – there are other options to make your rental car experience carbon neutral with GO. When you book your rental vehicle, simply tick the option to offset your carbon emissions and you can travel around New Zealand knowing that you are doing your bit for the environment at the same time.
Of course, there is no more stylish way to travel carbon neutral than in the Tesla Model 3. Whether you are thinking of buying one, have always wanted to drive one, or you have travelled away from home and can't stand to be without your Tesla, renting a Model 3 is an amazing experience and one that we hope many Kiwis will take the opportunity to try this year.