New Zealand is not short on thrill-seeking, adventure activities. From bungy to whitewater rafting, skydiving to zorbing, jet boating to canyon swinging…there's something for even the most hardened adventure enthusiast.
If you're looking to try something a bit different then canyoning is really taking off. Canyoning lets you get up close and personal with New Zealand's most amazing scenery and landscapes, taking you to places that otherwise would not be accessible.
We're delighted to have partnered up with Canyoning New Zealand, based down in Queenstown and Wanaka who have joined our exclusive GO Play programme. These guys offer the most amazing canyoning trips in and around Queenstown and Wanaka, two of New Zealand's most picturesque destinations.
What is canyoning?
Canyoning is a great way to discover some of New Zealand's most beautiful landscapes. It's also one of the most thrilling. Canyoning New Zealand has some amazing trips in both Queenstown and Wanaka which will let you explore the stunning Kawarau River, Black Spur, Gibbston Valley and Mt Aspiring National Park.
On any of Canyoning New Zealand's trips, you will get a bit of everything; climbdowns, big jumps, slides, swimming, abseiling, zip lines and waterfalls. That's a lot of action for one activity!
Canyoning in Queenstown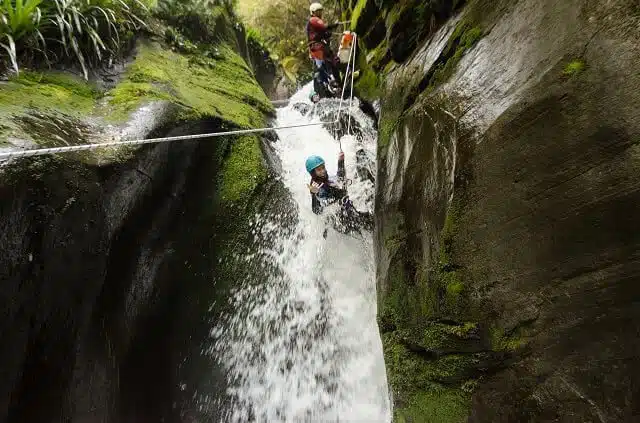 Canyoning New Zealand has a number of different options for canyoning in New Zealand depending on your budget and how much time you have to spare. Here are some of the amazing canyoning activities in Queenstown:
Queenstown Half Day Canyoning
If you only have half a day to spare, this canyoning trip is perfect. Head out to the Gibbston Valley where you will get to abseil through waterfalls, whizz down natural water slides and down climb your way into the canyon below.
Times: 9am and 1.30pm
Duration: 4 hours return
Queenstown Full Day Canyoning
If you do have a little bit more time, the full day canyoning trip is pretty special. You will be taken by private boat transfer to an exclusive location, across the beautiful Lake Wakatipu. This full day canyoning trip includes down climbs, rope ziplines, abseils, slides and a jump.
Trip departs: 8.30am
Duration: 7 hours return
Heli Canyoning
If you want to take your canyoning experience to the next level (and you have the budget!), then add in a helicopter flight to your full day canyoning experience. You heli canyoning experience will include a 10-minute scenic flight over the stunning Remarkables mountain range before you join the full day canyoning trip and transfer back to Queenstown by water taxi across Lake Wakatipu.
Trip departs: 9am
Duration: 7 hours return
Canyoning in Wanaka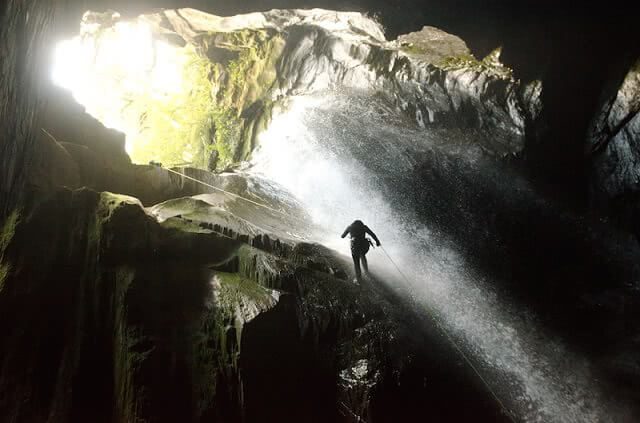 If you fancy getting out of Queenstown for the day or you're based over in Wanaka, Canyoning New Zealand also offer a great full day canyoning experience over in Wanaka.
Hidden in the stunning Mt Aspiring National Park, a UNESCO World Heritage area, this full day canyoning trip is action packed. Enjoy climbdowns, a 10-metre jump, slides, swimming and abseiling down pumping waterfalls. Oh yeah!
Times: 8am from Queenstown or 9am from Wanaka
Duration: 8 hours from Queenstown or 6 hours from Wanaka
Canyoning Combos
If you still want to get involved in some of the most popular adventure activities, you can tag on some great combos to your canyoning experience.
QT Rafting and Kawarau Canyon
This is an awesome summer package down in Queenstown. Spend a half day canyoning on the Kawarau River and the other half white water rafting down either the Shotover or Kawarau River. You can redeem on the same day or split it out over two separate days.
K Bridge Bungy and Kawarau Canyon
If you really want to do a bungy jump whilst you're in Queenstown but you also fancy some canyoning, then this combo is a cracker. Kawarau Bridge is the site of the world's first bungy and continues to be one of the most popular. Combine this with a half day canyoning down the Kawarau River and you're in for an awesome day.
Glacier Heli and Kawarau Canyon
If you have the budget to splurge then this glacier heli trip is an awesome add-on to the half day Kawarau canyoning trip. Take a 50-minute scenic helicopter flight which also includes an amazing glacier landing. This could be the trip of a lifetime!
To find out about all the special canyoning combos, check out the Canyoning New Zealand website.
Summary
We're delighted to have Canyoning New Zealand as one of our exclusive GO Play partners along with 170+ of New Zealand's best activity and accommodation providers. Make sure you check them out the next time you are in Queenstown and Wanaka and give something new a try – you won't be disappointed. If you're after a set of wheels so make the trip, pick up a Queenstown car rental.
Save $30 on any trip when you book with your exclusive GO Play card – only available when you hire your car from GO Rentals.