Christchurch is one of New Zealand's most scenic cities, boasting a generous array of lush parks, historical collections, and stunning river views. Many locals endearingly call Christchurch the Garden City—and they're right! Christchurch is a nature lover's paradise.
No matter what you're into, you can spend days exploring and taking in the seemingly-endless list of famous tourist spots in Christchurch. And what better way to experience Christchurch's best sights than hand-in-hand with your special someone?
Grab your car keys and head out on an adventure. By the end of this article, you'll be itching to create unforgettable memories with your partner with these things to do in Christchurch for couples!
1. Botanic Gardens
No trip to Christchurch is complete without stepping foot in its majestic botanic gardens. All year round, there's always something blooming in this garden found in the central city district.
Besides the vast collection of endemic and foreign flora on the garden grounds, you can also breathe the same air as Nobel-prize-winning scientists in the Magnetic Observatory. Eager couples may also join the garden's occasional events, whether it's floral photography or a class on plants.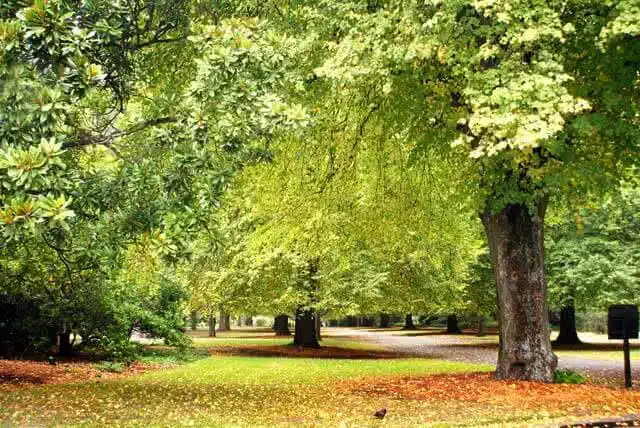 2. Isaac Theatre Royal
Interested in seeing Christchurch's most popular building? Revel in the wonder of the Isaac Theatre Royal building—a 100-year-old building designed by Sidney and Alfred Luttrell in 1908.
Fun fact, this theatre is the last Edwardian-style theatre in New Zealand. It's been damaged during the 1908 Canterbury and 2011 Christchurch earthquakes, but has since been restored and reopened for public use.
Nowadays, many world-famous performances take place within this building. If your date is into theatre and acting, stopping by this establishment is a no-brainer!
3. New Regent Street
Spoil your partner with accessories, jewellery, and glasses galore! New Regent Street is a 40-shop pedestrian mall that's oozing with soul and culture. If there's one place where you should spend your holiday funds in Christchurch, it's this one.
Besides boutique shops, this street houses a handful of fine-dining restaurants and intimate cocktail bars. It's also the home to the Christchurch Town Hall, where inside you can find the grand Douglas Lilburn Auditorium.
4. Avon River
Also known as the Ōtākaro in Māori, the Avon River is an iconic river that slices through the middle of Christchurch.
You can admire the river in three ways. One, you can walk the course of the river via the Te Ara Ōtākaro Avon River Trail. You can also cycle your way through. But one of the best things to do in Christchurch for couples is drifting through the river together on a punt tour and taking in the city sights from a whole new perspective.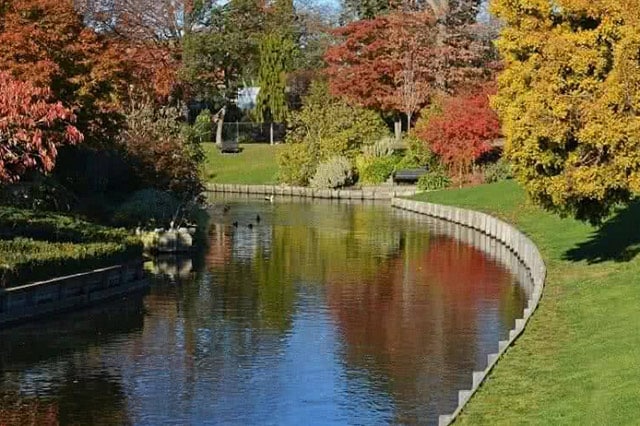 5. Christchurch Arts Centre
Love exploring the city's artistic side? The Christchurch Arts Centre is one of the best Christchurch attractions, filled with artworks, events, and cultural exhibitions.
Explore the Great Hall and Rutherford's Den, two recently reopened buildings within this acclaimed centre. The Great Hall is a Gothic-style building dating back over 130 years, featuring a window with 4,000 individual pieces of glass.
Rutherford's Den is a budding scientist's paradise, hosting a plethora of hands-on activities and other educational opportunities. And when you or your partner's stomachs are growling, grab a bite or a drink in one of the centre's many food spots.
6. Banks Peninsula
Just an hour away from the bustling city lies Banks Peninsula—a landmass formed by two contiguous volcanic cones situated southeast of Christchurch.
Couples can explore this peninsula in more ways than one. Aside from the scenic road trip down the area showcasing magnificent rolling hills, you'll also find the vast Pacific Ocean teeming with wildlife to your east.
Natural wonders aside, within this peninsula also lies the historic heritage town of Akaroa. With a tonne of things to do, Banks Peninsula is arguably one of the greatest Christchurch day trips you can go on with your date.
7. Riverside Market
Hungry for a good, local dish? Want to eat somewhere that the locals frequent?
A few blocks east of the Botanic Gardens is the Riverside Market, one of Christchurch's most busy indoor markets. Here, you can savour Christchurch's gastronomy with locally-sourced produce, meats, and delicacies.
Besides that, many restaurants, cafes, and bars speckle the interior of this high-roofed building. Many international gastronomy options are also available, from Greek souvlaki to Japanese sushi.
8. Christchurch Art Gallery
First things first, don't mix this up with the Christchurch Arts Centre—they're two different places. Also known as the Te Puna o Waiwhetū, this gallery holds one of the largest public art collections in New Zealand.
The gallery holds a variety of permanent and temporary exhibitions from both local and international artists. The best part? This place requires no payment. Yes, that's right: this place is one of the best things to do in Christchurch for free.
So if you find yourself extra time on your hands, go ahead and enjoy the world-class works of art on display here.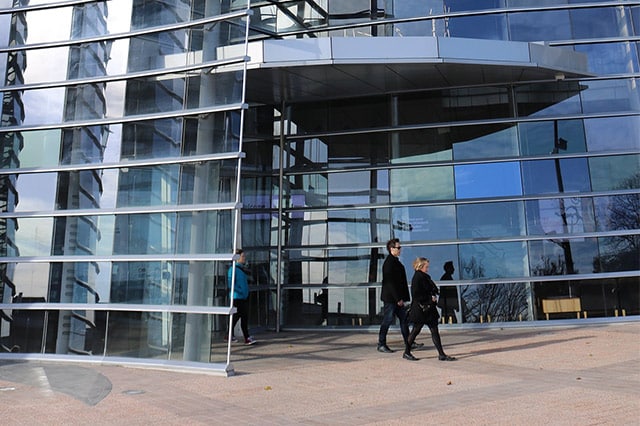 9. Arthur's Pass National Park
If city life is weighing you down, take a breather and enjoy a scenic road trip in Arthur's Pass National Park.
This national park is approximately two hours from Christchurch and is home to many jaw-dropping sights: verdant vegetation, snow-capped mountains, and cascading waterfalls are some things to expect when you make your approach to this world-class park.
If you're feeling frisky, you can choose to hike the many trails in this park, from easy ones like the Devil's Punchbowl Lookout Trail to the more challenging ones like the Avalanche Peak route.
10. Victoria Park
Want to watch the cityscape with your partner from up above? Don't want to go on an hour-long road trip just to get your nature fix?
We've got the perfect spot for you. Victoria Park is a 15 to 20-minute ride from the city where you can enjoy a stunning panoramic view of Christchurch with your partner. You could take a drive to the mountaintop to find the ideal lookout spot, or embark on a hike alongside your partner on the various trails.
Besides the walking trails, there's also an abandoned 19th Infantry Battalion near the park's information centre.
11. Have An Intimate Dining Experience
Christchurch is renowned for its plethora of cosy eateries and intimate dining spots. Here are three great food spots to take your date: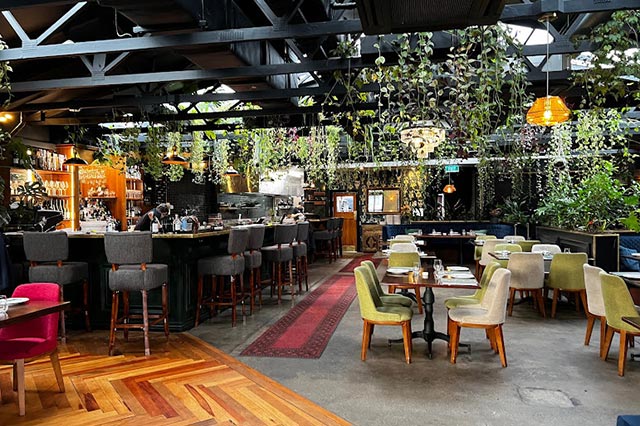 Tramway Restaurant
Ever wondered what it's like to eat a fancy meal on a tram?
In the Tramway Restaurant, you can make it happen. The food here is delicious and the staff are accommodating. You also get to enjoy a unique culinary experience since the tram moves around Christchurch as you dine.
5th Street
5th Street is a fine-dining restaurant with fantastic food and a charming atmosphere. No other fancy restaurant has as many plants as this one, we'll tell you that much. The cocktails are also heavenly.
Aikmans
Aikmans is a go-to restaurant regardless of the season. With a charming outdoor courtyard and a cosy louvred lounge, this restaurant won't have any trouble accommodating you and your date. The pizza, burgers, and wine are also crowd favourites.
12. Go To A Rooftop Bar
There's no better way to enjoy the city lights at night than by heading over to a rooftop bar. Thankfully, Christchurch has some options for couples looking to enjoy the sights.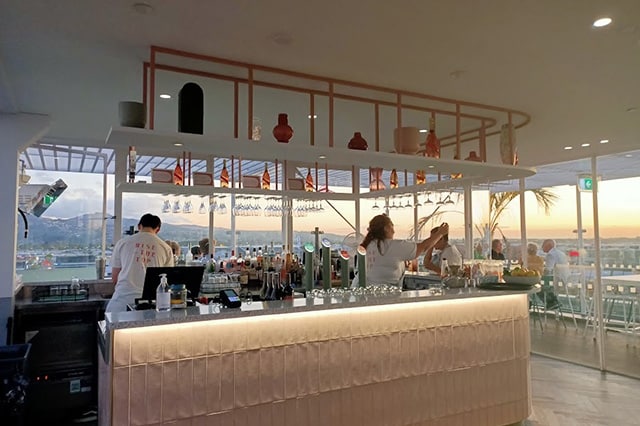 Pink Lady Rooftop
This small, 360-degree rooftop bar is a local favourite for drinks and bar chow. It's also open-air, so you'll get to enjoy the night breeze on your skin as you sip their delicious homemade cocktails.
Mr. Brightside Rooftop Bar
Kissed with a red light at night, this rooftop bar is a great choice for couples who prefer a chic atmosphere. The food served in this bar is also phenomenal, with diverse options like cauliflower tacos and mini-crab burgers.
13. Live Music
Make no mistake: Christchurch's live music is alive and thriving. Here are three great live music spots you can go with your date during date night.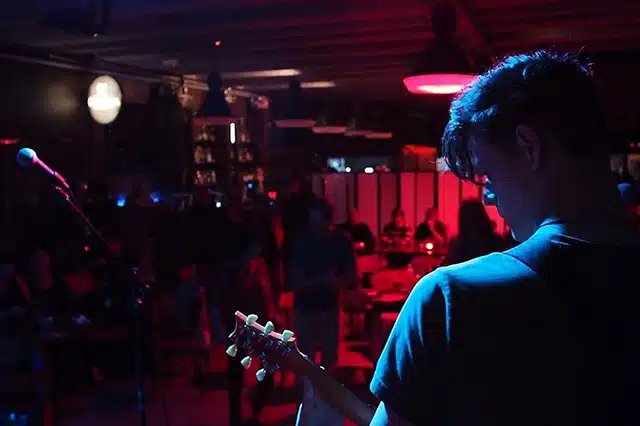 darkroom
Christchurch's darkroom is a cosy performance venue for live music and private events. It also offers great beer and has a constantly-rotating selection of live local performers every Friday and Saturday, made for your entertainment.
12 Bar
12 Bar not only offers great live performances, but it also boasts a free-flowing beer tap and a food truck right outside. You can also enjoy some good, old-fashioned fun with its in-house video game arcades. It's also larger than darkroom, making it a fun place to get lost in the crowd.
A Rolling Stone
Experience genuine Irish hospitality by visiting A Rolling Stone. This live music venue has a great selection of food and drinks; in particular, their Guinness pie has been praised extensively by many. The atmosphere and staff are also excellent.
14. Waipara Valley
One of New Zealand's premier wine regions known for its excellent pinot noir and riesling grapes, Waipara Valley is just an hour's drive from Christchurch.
Take your time and explore some of the wineries in the area. Besides the wineries, the location itself is quite beautiful. If you happen to swing by the area, be sure to visit the Iron Ridge Quarry Park to see the picturesque hills and the gorgeous metallic sculptures.
15. Lyttelton Harbour
Lyttelton Harbour is a large bay situated on the northern coast of Banks Peninsula. It's a picturesque port with plenty of parked sailboats, making it a scenic and unique place to stroll around. Further inland is the town of Lyttelton, a lively town with plenty of shops and cafes to explore.
The town also has two must-see shopping districts—London Street and Lyttelton Market—that are rich with various foods and trinkets. Feel free to grab a hearty lunch at a local cafe or get a souvenir for your date in either of these locations!
16. Sumner Beach
If your date is a beach person, don't hesitate to bring them to the iconic, black-sanded Sumner Beach. 
Nestled in the southeast of Christchurch, this spot takes only 20 minutes to get to by car and is great for sunbathing, swimming and people-watching to your heart's content!
Most days, you'll see many families and pets enjoying their time on the beach. But if you're lucky or arrive in the early mornings, you and your partner can share the beach all to yourselves.
17. Hot Pools
New Zealand is one of the few places in the world with naturally occurring geothermal pools. Fortunately for Christchurch natives, one particularly famous pool exists just a drive away.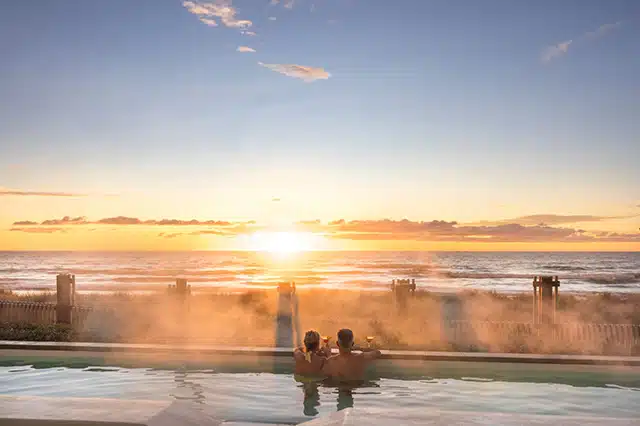 He Puna Taimoana Hot Pools
Looking for a luxurious escape from the bustle of city life? Why not relax in a steaming hot pool with your partner?
A 15-minute drive away from Christchurch's CBD, the He Puna Taimoana Hot Pools is a resort that offers five heated saltwater pools ranging from 26°C to 40°C. These pools are clean, constantly maintained, and affordable.
The resort also has a cold plunge pool, a sauna, and a steam room. A cafe is also situated within the premises in case you and your date go hungry.
Get Around With GO Rentals
Even if you plan to knock out just three or five of these places, you'll definitely need a mode of transportation to move you around.
If comfort is your priority, consider getting a vehicle from a Christchurch car rental service from one of the city's award-winning car rental facilities, GO Rentals.
By renting a car, you and your partner can enjoy Christchurch without relying on public transportation. You'll also get to cherish more time together exploring the sights, which is a must when exploring the grandness of South Island.