New Zealand is often referred to as the adventure Capital of the world, and this is true all year round. With natural beauty on both the North and South Island, you can explore incredible lakes, snow capped mountains and hot springs in summer and winter.
The Taupo region has all the winter activities; from Skiing to hot thermal parks and hiking trails for all levels, you can get both adventure and relaxation in Taupo in the cold season. So don't miss this beautiful town and region out of your chill North Island road trip, the outdoor activities are worth it just to warm yourself up after in a natural geothermal park with stunning views.
Situated in the middle of Auckland and Wellington, it is the perfect stop to make on a one way rental road trip. But for now, let's get GOing with all we love about Taupo!
What does Taupo mean?
Taupo's full name in the Māori language is Taupō-nui-a-Tia, which has been translated by Maori people as "The Great cloak of Tia". Lake Taupo and the Volcanic cliff surrounding was discovered by a Maori Arawa chief explorer called Tia.
What is Taupo known for?
Taupo is known for having the largest freshwater lake in Australasia which was created by volcanic eruptions two thousand years ago. The region now has many geothermal areas to relax in and incredible mountains to explore.
Taupo is also known for fishing, the Turangi region has the biggest natural trout fishery in the world, producing large brown and rainbow trout. However, in New Zealand trout cannot be commercially sold or bought so the only way to experience the delicious fish is to cast your net and catch one yourself.
Things to do in winter in Taupo (Summary)
Hot Springs

Taupo Bungy

Ski Fields

Huka Falls Adventures

Lake Taupo

Craters of the moon

Craft Beer Scene

Tongariro National Park

Taupo Museum

Mt Tauhara

Lava Glass Sculpture garden

Sky Dive over Taupo

Trout Fishing
---
13 Fun Things To Do In Winter In Taupo
1. Warm up in the Hot Springs
Starting off this article by comforting you that you will not be freezing cold in Taupo. Even though it is known as a winter wonderland for adventure, you can rest easy knowing you can relax in one of these thermal parks after any activity: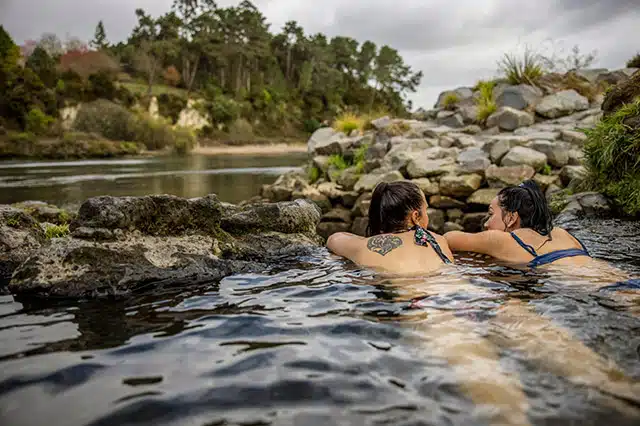 Taupo DeBretts Hot Springs
Trust us, Debretts is a spa thermal park you will want to explore. With geothermal pools both public and private, spa treatments, an interactive children's warm water playground, a dragon hydro slide and racing slides, this is a place the whole family can enjoy.
Otumuheke Stream & Waikato River
A natural beauty right in the Waikato river, you can truly float your stress away in the hot pools whilst admiring the stunning views. The springs here are referred to as healing mineral waters and you can soak it all up by immersing yourself under the waterfall or crystal clear water.
Wairakei Terraces
An adults only haven, you can completely rest your body and mind at Wairakei terraces. Known as a Health thermal park as the water is drawn from silica terraces, carrying an abundance of minerals to heal and make your skin feel silky smooth. Add this spa thermal park to your list and you won't regret it.
2. Try New Zealand's highest water touch Bungy jump
We know what you're thinking, you can't go bungy jumping in winter! Well, you can and it's still exhilarating! Don't let the cold stop you from experiencing this famous New Zealand adventure. Just wrap on a few extra layers, be brave and feel the adrenaline rush as you jump from the highest point. Don't worry, you won't be fully submerged in the water and you can always warm up in the hot springs after. That's the beauty of Taupo in the cold season.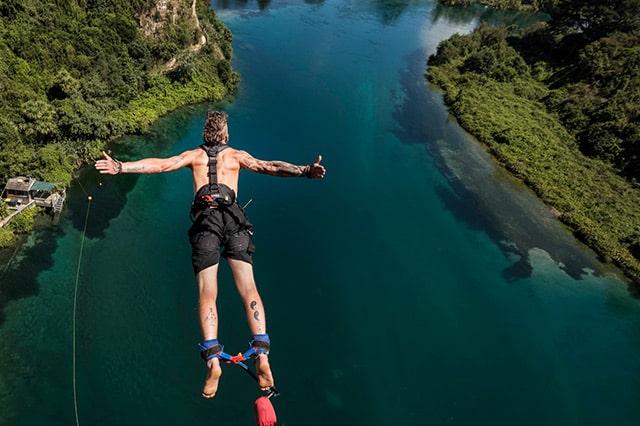 3. Take to the slopes
Taupo is surrounded by ski resorts for all skill levels. So whether you are a complete novice family or an expert on the slopes, Taupo has the mountain for you.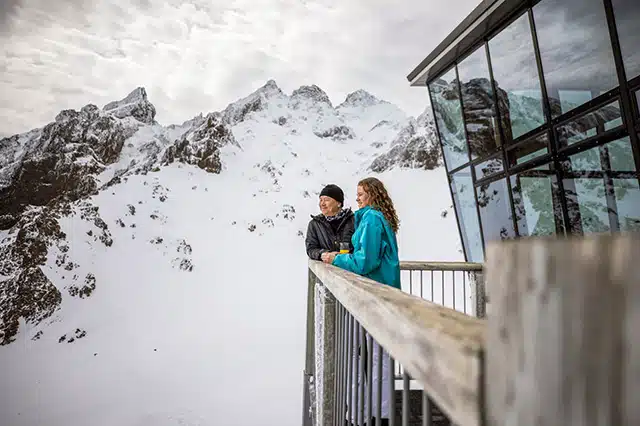 Mt Ruapehu
Just a 2 hour drive away from Taupo on the State Highway sits Mt Ruapehu in Tongariro National Park and it boasts New Zealand's highest dining eatery at 2,020m high. Ride the unique gondola up over magnificent waterfalls and volcanic lava flows and then have a thrilling ski down Mt Ruapehu.
Whakapapa
One of New Zealand's largest ski areas is only a 1.5 hour drive from Taupo. This is the place to visit for family fun, with a Happy Valley beginner facility and advanced trails. If you are holidaying with small kids, Happy Valley has many family friendly activities and all ages can start learning to ski or snowboard.
If you get a buzz from skiing then let us tell you that New Zealand is not short on exciting ski resorts. Why not plan a skiing road trip and hit up 7 of the best ski resorts?
4. Try a Huka Falls Adventure
Huka Falls is a natural wonder you have to see. 220,000 litres of water plummets over a 11 meter high waterfall per second, creating a powerful hydro force you will be in awe of. Huka Falls leads in Waikato river (New Zealand's longest river) and Lake Taupo, giving way to many adventures everyone can enjoy, even in the cold season.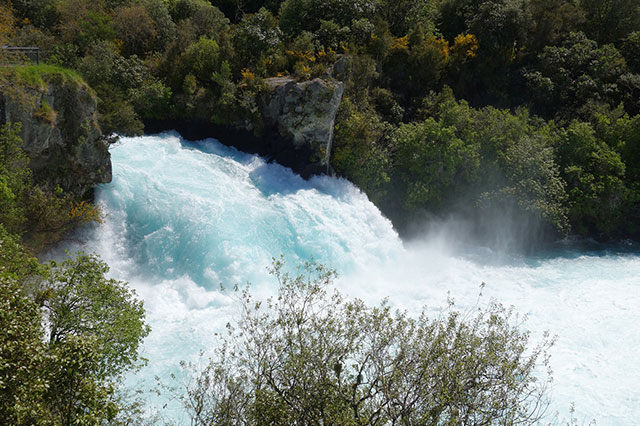 Huka Falls river cruise
Jump aboard the leisurely Huka Falls river cruise and marvel at the crystal clear waters of Waikato river and surrounding bush forests before arriving at the magnificent Huka Falls. Feel the spray on your face right from the top deck of the boat.
Hukafalls Jet boating
Wrap up warm and plummet into jet boating in winter. Remember you can warm up in a hot spring after so it is well worth the adventure. Hukafalls Jet speeds right into the spray of the falls and over the rafts so you can enjoy 30 minutes of water fun.
It even appeared on our best places to go jet boating, so you know it's worth the chill for that adrenaline rush.
Huka prawn park
A family friendly theme fun park which is great in the midwinter cold as all water activities are sourced by geothermal waters. Soak in the foot bath, try water biking or trout fishing before checking out the world's only geothermal prawn farm.
Huka Honey hive
Head up Huka Falls road to taste scrumptious New Zealand honey, learn how it's made and support the sustainability approach at Huka Honey hive. Great for the whole family to learn about the importance of bees.
5. You can't miss the Stunning Lake Taupo and Maori rock carvings
It would be silly to visit Taupo town and not take in the phenomenal beauty of Lake Taupo right? The lake is almost as big as Singapore so even in midwinter you should absolutely jump onto the Lake Taupo cruise and marvel at the ancient Maori rock carvings only accessible by water.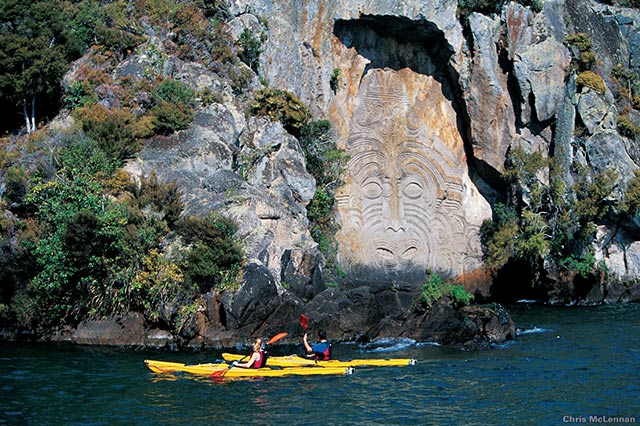 6. Be amazed by Craters of the Moon
Craters of the moon is an area in North Taupo that suddenly started to emit hot steam in the 1950's creating craters of boiling mud, geothermal activity and natural wonders. Today you can walk over wooden walking trails and get up close to the cool eruptions and clouds, it really is amazing to see.
7. Check out the Craft Beer Scene
There's nothing better than sinking into a warm cozy armchair with a great beer in winter, we think. Taupo has an awesome craft beer scene that just keeps growing. From an Austrian Alps style Bier Kafe to the world's first automatic brewery, there is so much to check out!

8. Must see, Tongariro National Park
Tongariro National Park offers unforgettable views of emerald lakes and volcanic hidden valleys. During winter, it is advised that only the most advanced hikers attempt the top of the volcano hike; Tongariro alpine crossing, however, there are many smaller trails and walks open to explore. Try your hand at Tongariro river rafting, the fast heartbeat and exhilarating feeling will be enough to warm you up as you bound down the Tongariro river.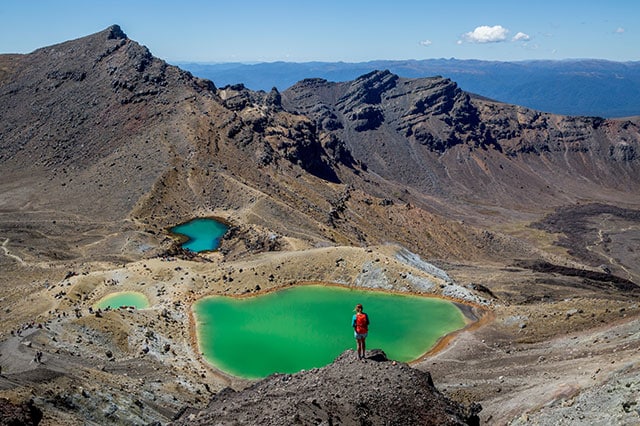 9. Taupo Museum
Soak up the history and culture of the area at Taupo Museum located in the beautiful town. With art galleries, seasonal exhibitions, Maori history, a shop and the award-winning Ora garden, you could spend a morning or afternoon here with the family.
10. Hike Mt Tauhara
If you are a keen hiker then you should tackle the challenge of Mt Tauhara summit for the jaw dropping views of Lake Taupo and Mt Ruapehu snow capped mountains. The track is more advanced with unmarked trails that can be a little muddy in the rain so be prepared, wear hiking boots and get to the top in one piece for that rewarding scenery.
11. Lava Glass Sculpture garden
Even in winter, you can stroll through this New Zealand "Garden of Significance" and marvel at over 600 unique hand-crafted pieces of lava glass art. It is a kaleidoscope of colours featuring a rainbow, lava glass 2.7m tall tree and large tulips amongst native plants and bush. Not only that, the studio is the world's first carbon-neutral glass blowing studio in the world, really inspiring!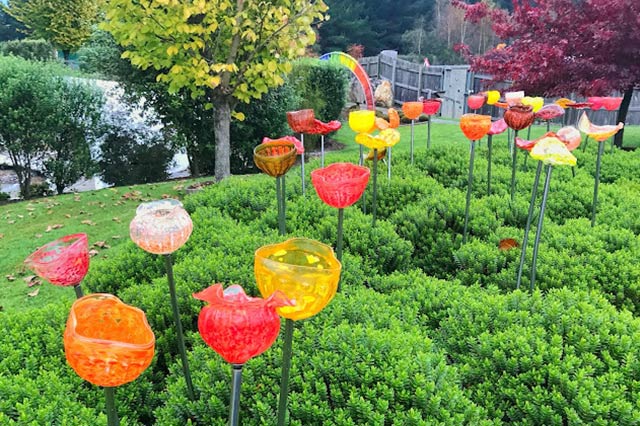 12. Sky Dive over Taupo
Sky diving in midwinter has its benefits, you'll be able to marvel at the truly spectacular winter wonderland snow mountains from a unique birds-eye view. As Lake Taupo is slightly elevated, you could be skydiving 20,000 ft above sea level which is a crazily high altitude giving you 75 seconds of free falling followed by smooth cruising where you can see both coastlines of New Zealand.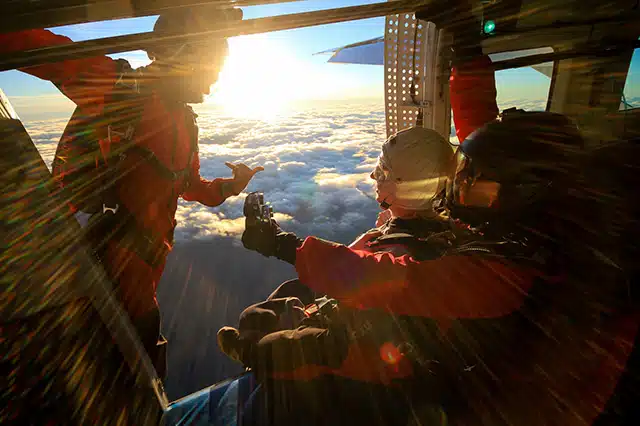 13. Trout Fishing
Known for its world-renowned trout fishing, it would be a shame to visit and not try wouldn't it? As you cannot buy or sell New Zealand trout, the only way you can get your hands on one is to catch it. Book onto a group tour or hire the equipment and try your luck yourself. Either way, trout fishing is an awesome winter sport as you can, if you're successful, warm up on a roasted whole trout after.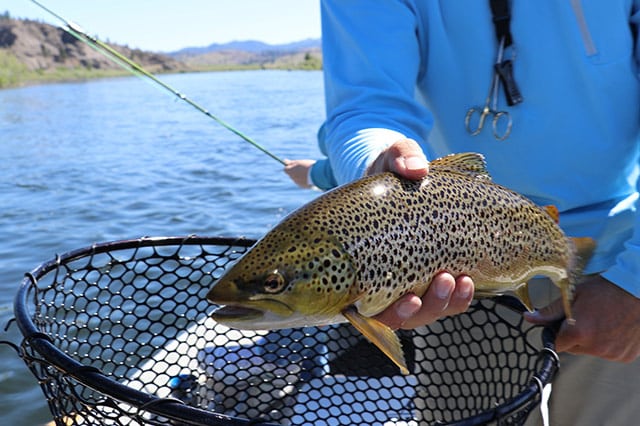 So, when will you visit Lake Taupo?
We hope after reading our enthusiastic article, you will be ready to put on that hat and boots and take off for a winter holiday in Taupo! From skiing to jet boating, National Parks to snow tubing, we think Taupo is the perfect destination for travellers, families and couples. Did we mention that you can warm up in a stunning natural hot spring after?
With even more activities open in Summer, you can add things to do in Taupo to your itinerary all year round.
---
FAQs
1. How big is Lake Taupo?
Lake Taupo has a surface area of 622 km², it is 30 km wide and 40 km long. Created by the largest volcanic eruption the world has ever seen in the last 5,000 years, Lake Taupo is the largest freshwater lake in Australasia.
2. How deep is Lake Taupo?
The deepest point in Lake Taupo is 160m deep. To truly understand how deep that is, let's compare this height:
The Statue of Unity in Gujarat India is 182 m tall. If built on the bottom of this lake, only the statue's head would be peeping out the water.

London's Big Ben would be fully submerged if built in this lake. It is 96 m tall.
If the Eiffel tower was built here, around half would be underwater and half would be poking out the lake. The tower is 324 meters high.
3. How far is it from Rotorua to Taupo?
It only takes 1 hour to drive the 81 km (50 miles) from Rotorua to Taupo, depending on the weather and traffic. It would take you just over 4 hours to cycle and 16 hours to walk, but why would you when GO Rentals exists? Explore our amazing trip planner to plan your epic North Island road trip to Taupo today.