As summer fast approaches, one of the most popular destinations for visitors and locals alike is Southland. Well, to be more precise, Milford Sound. It's up there with the most popular destinations in New Zealand and for good reason.
Exploring Milford Sound can be done in lots of different ways. Cruise, scenic flight or simply taking a stroll and enjoying the majesty of the place. Getting there is part of the adventure too. Whether you self-drive, take a scenic flight from Queenstown or hop on one of the many guided bus tours that leave from Queenstown each day, the drive or flight to Milford Sound is truly spectacular.
With so many options available, it can be difficult to know how best to explore Milford Sound. When you book with GO Rentals, things become a bit more straight-forward. Thanks to our awesome GO Play programme, we have some amazing discounts available on a huge range of Milford Sound Adventures.
If you are planning on a trip to Milford Sound, make sure you check out the latest deals on rental cars in Queenstown and find out why we're one of New Zealand's favourite rental car companies.
Here are some of the best:
Cruise Milford
Don't read too much into the name! These guys do everything. From cruise only trips that will take you out onto the water onboard the Milford Adventurer to Heli-Cruise-Heli trips that include a flight by helicopter from Queenstown to Milford Sound followed by a cruise on the Sound, they do it all! They guarantee an uncrowded cruising experience with up-close viewings of the local wildlife and breath-taking waterfalls.
Find out more here: https://rtbslive.com/obl/goplay/listop/1616
GO Play savings: 10%
Go Orange
Go Orange is one of the most popular partners in the GO Play programme. With three different options to choose from, they cater for people who want to make the drive down to Milford Sound themselves. One of our favourite activities is to head out on a kayak to explore the magnificent Sound. Glide alongside the towering vertical cliffs and get up close to the stunning waterfalls that are dotted around the Sound.
If kayaking sounds like too much hard work, take one of Go Orange's two cruise options. If you're down to Milford Sound early (you will need to stay at Te Anau or Milford Sound overnight to make it in time), take the early cruise where you will be treated to a free bacon sandwich. If you set off early from Queenstown, you can hop on board the 12.30pm cruise that includes a free fish and chip lunch. Yummee!
Find out more here: https://www.goorange.co.nz/
GO Play savings: 10% or half price for the driver on the lunchtime cruise
Southern Discoveries
The original Milford Sound cruise company, Southern Discoveries have been exploring the Sound for over 50 years and they are still one of the leading tour operators in Milford Sound. They specialise in nature cruises and all their cruises have a nature guide on board with commentary provided. Their small boats are perfect for exploring and offer an intimate Milford experience. When you book using your GO Play card, you can save 15% on cruises that depart before 11.30am and after 2.00pm.
Find out more here: https://southerndiscoveries.co.nz/milford-sound-cruises
GO Play savings: 15%
Exploring Milford Sound never looked so good! Of course, when you book with GO Rentals, your GO Play card will give you access to discounts at 100+ attractions and activities throughout the country. If you are planning on exploring Southland, you can also use your GO Play card to save 10% on accommodation in Te Anau at the Bella Vista Motel, save a further 10% with Real Journeys and go and explore the magical glow worm caves in Te Anau or maybe take on one of the two Great Walks based down near Milford Sound with Trips and Tramps. You will save 10% on a guided tour on the Milford or Routeburn track.
Getting around
If you are looking for inspiration for places to visit when you are down in Southland, make sure you check out our awesome Road Trip itineraries. You can pick up an awesome rental car in Queenstown and away you go. Southland is a truly wonderful part of the country which is often missed by many who come to visit. One of our favourite itineraries is a 10 day round trip itinerary that starts and ends in Queenstown and will take you to Wanaka, Mt Cook, Christchurch, Dunedin, Invercargill, Stewart Island and Milford Sound via the Southern Scenic Route.
Book a vehicle for this trip
We recommend: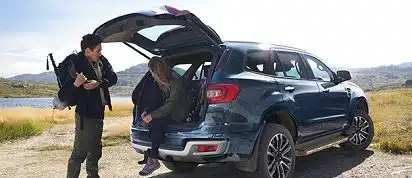 4WD SUV
Ford Everest Titanium
Seats

5 seats

Large Bags

4

Small Bags

6

Transmission

Auto trans