The thought of taking to the road in a foreign country can be overwhelming. Thankfully, your experience of driving in New Zealand should be a pleasant one. Drivers tend to be relaxed, roads are often sparsely populated, and the nation's scenic routes are some of the most stunning in the world.
That said, there's plenty to familiarise yourself with before driving in New Zealand. We've assembled a comprehensive guide including key road rules, rules for driving with overseas licences, road conditions and more.
Once you're well-informed on New Zealand roads, you're ready to begin planning your epic trip. Browse our fleet of vehicles to find the perfect car for your self-driving holiday.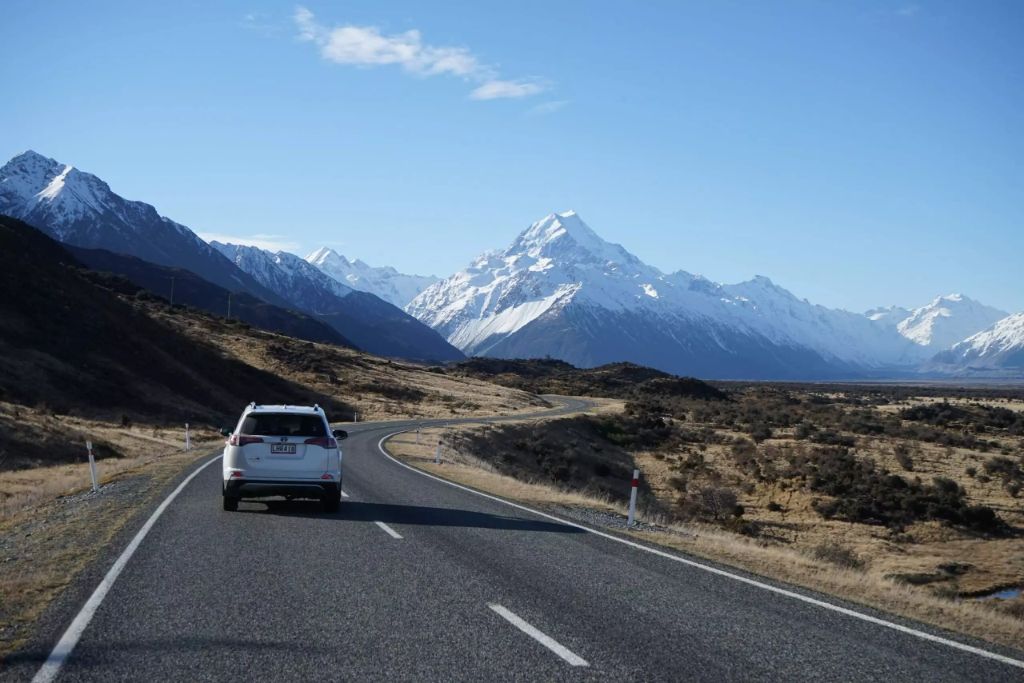 New Zealand road rules
While we can't cover every single rule that applies to driving in New Zealand, here are some of the most important rules for travellers to be aware of. For a more comprehensive overview, check out our complete guide on New Zealand driving rules for tourists.
All vehicles drive on the left-hand side of the road.

If a New Zealand police officer requires you to stop your vehicle, they will drive behind you with their lights and siren on. You must then stop your vehicle in a safe location as soon as possible and wait for them to exit their vehicle and come to you.

Most roads have just one lane in each direction. If there is a solid yellow line on your side of the road, it is illegal to attempt to overtake vehicles in front of you.

Look out for speed limit signs when driving. You must not exceed 90km/h if you're driving a vehicle that weighs over 3,500kg or is towing another vehicle.

Everyone must wear a seatbelt or child restraint when inside a moving vehicle.

You must not use a handheld mobile phone when driving. All phone usage must be hands-free.

Pedestrian crossings are marked by large, white, vertical lines in the road. When approaching a pedestrian crossing, slow down and prepare to stop for any pedestrians.

All drivers under the age of 20 must have a blood alcohol content of 0. Drivers over 20 must not have a BAC in excess of 50mg per 100ml of blood. This limit is so low that it is safest to not drink at all when driving.
---
Can I drive in New Zealand with an overseas licence?
If you have a current driver licence or International Driving Permit (IDP), you can drive in New Zealand for 12 months. After 12 months, you will need to transfer to a New Zealand licence. If you are driving with an IDP, you must also carry your licence.
Generally, you are legally allowed to drive in New Zealand with an overseas provisional licence, provided you adhere to the conditions of your licence in New Zealand. However, most rental companies will not allow you to hire a car with a provisional licence, including GO Rentals.
You must carry your licence with you whenever you're driving, including if you have an IDP. You must also have an accurate English translation of your licence or IDP if the original document is not in English.
We have complete guides for driving in New Zealand with licences from the following countries:
---
What are the roads like in New Zealand?
Here are some things to know about New Zealand roads before you begin your travels:
New Zealand roads can be narrow, winding and hilly.

Some New Zealand roads can be subject to snowy and icy conditions in winter, especially on the South Island. It's a good idea to carry snow chains if you are going on a South Island winter road trip.

You can find live updates on road conditions and closures on the

New Zealand Transport Agency

website.

New Zealand features very few motorways compared to other countries. You may drive for many kilometres with only a single lane heading in each direction.

The maximum speed limit found on any road in New Zealand is 110km/h.

If you are travelling in rural areas, you may find yourself driving on unsealed gravel roads. When driving on these roads, slow down and drive with caution.

You may find New Zealand rainier or foggier than your home country. Slow down and drive with caution or stop driving if you feel conditions are unsafe. For example, if you find yourself in a large rainstorm, pull over in a safe location and wait for conditions to ease.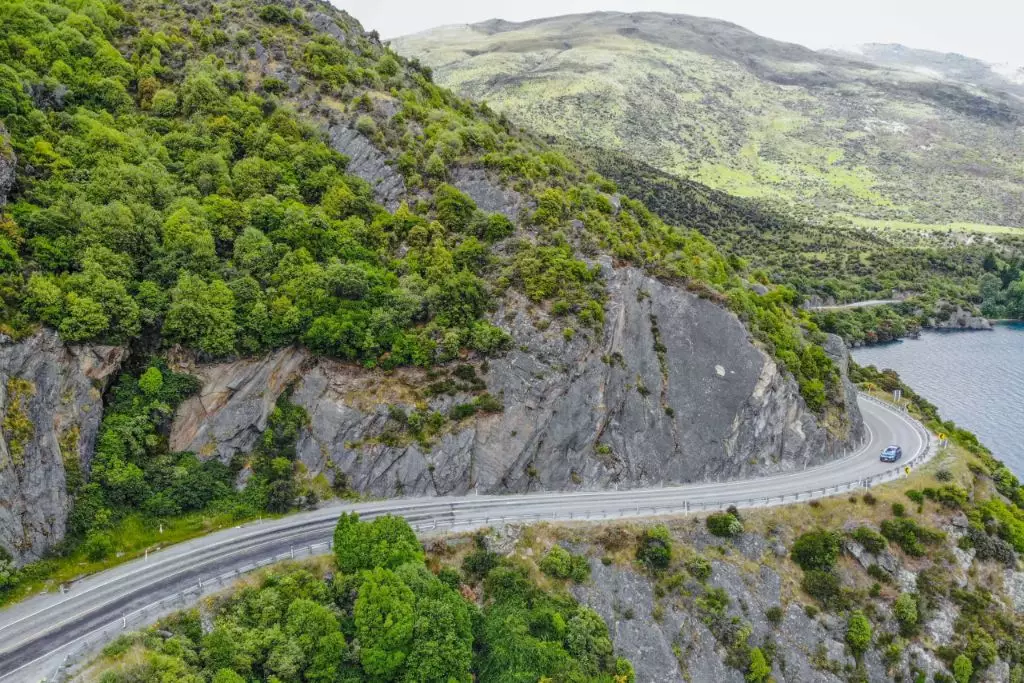 Types of roads in New Zealand
Roads in New Zealand can be divided into 2 categories:
State highways:

State highways are roads built with a national purpose of moving goods or people around the nation. They are managed by the New Zealand Transport Agency on behalf of the federal government. As of 2020, New Zealand's state highway network was valued at $52.2 billion. State highways in total make up 11,000km of road.

Local roads:

Local roads are roads built for usage in local communities. As such, they are managed by the local government of the area. Local roads make up 83,000km of road. 39% of this length consists of unsealed roads.
---
Toll roads in New Zealand
There are 3 toll roads in New Zealand, all in the North Island:
Northern Gateway Toll Road:

This 7.5km stretch of State Highway 1 is north of Auckland, beginning just before Ōrewa and ending after the Johnstone Hills near Pūhoi.

Tauranga Eastern Link Toll Road:

This road is a 15km tolled section of State Highway 2. It begins near the Domain Road interchange near Pāpāmoa and ends at the Paengaroa roundabout.

Takitimu Drive Toll Road:

This 5km toll road bypasses the Tauranga city centre via State Highway 29, taking drivers to State Highway 2 towards Port of Tauranga and Mt Maunganui.
How to pay for toll roads in New Zealand
If you take a toll road in your rental vehicle, you'll have 5 days to pay the toll. The easiest way to do this is on the NZTA website. You'll need your vehicle licence plate number to pay for the trip online.
After 5 days, you may be penalised by the NZTA. In this situation, GO Rentals will pay on your behalf, and charge the cost of the toll fee, any infringement fees and our own $30 administration fee. These fees will be charged to the security card you've provided.
---
Scenic New Zealand roads
When planning out your New Zealand itinerary, you'll want to squeeze in some of the nation's stunning driving routes. Here are some of the most scenic roads you can drive on in New Zealand.
Remember that driving is not the time for sightseeing. To get a good look at these views, pull over at a suitable lookout, which is a common feature on roads like these.
Arthur's Pass
The Arthur's Pass Highway cuts through Arthur's Pass National Park, one of the most incredible locations in New Zealand. It's both a scenic and convenient way to travel towards the West Coast of the South Island.
You'll take in everything from the green plains of Canterbury to the endless Pacific Ocean on this drive. Along the way, you'll have your breath taken away as you slice through the Southern Alps.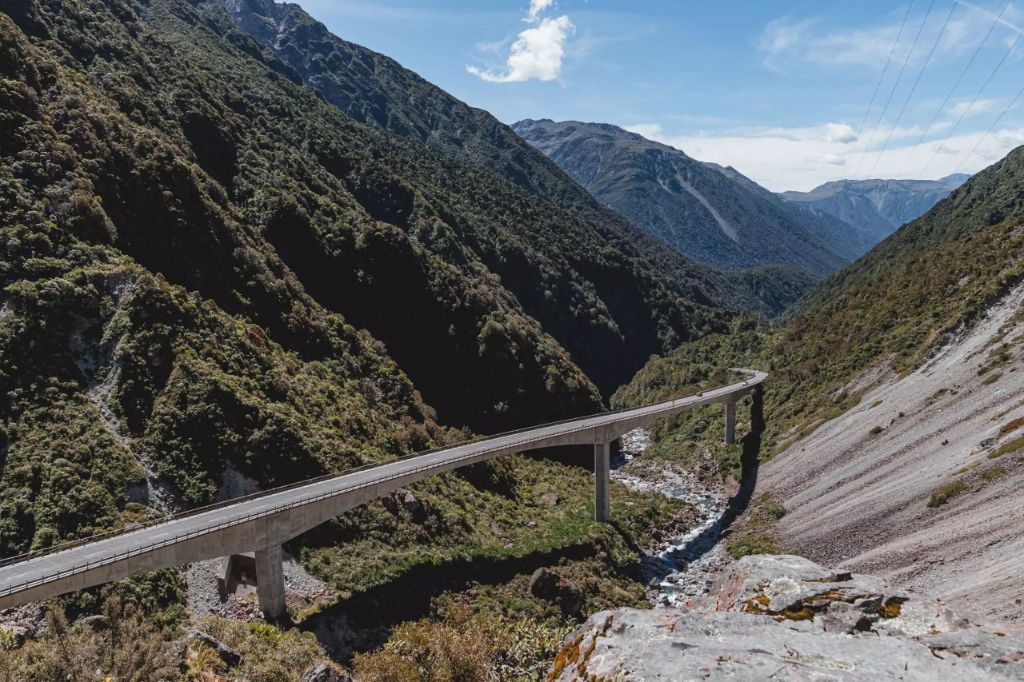 Milford Road
The only road to Milford Sound is one of the most eye-popping in New Zealand. You'll travel through the Fiordland National Park and across the Main Divide of the Southern Alps. Drink up stunning landscapes including glaciers, lakes, rainforests and more.
You'll feel like you've seen it all along Milford Road, but your final destination is likely to take the cake for the most beautiful location you'll find in your travels.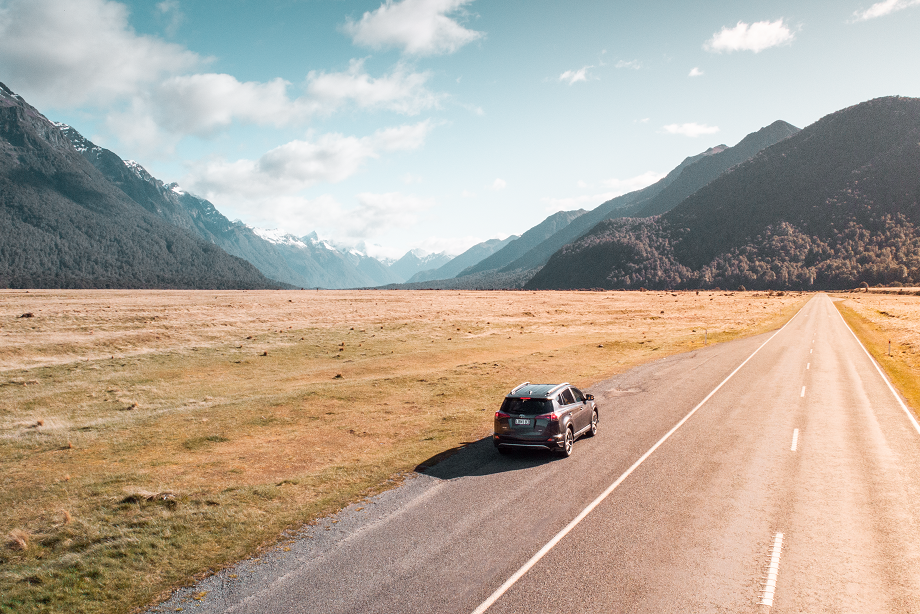 Haast Pass
Yet another road to take you through the Southern Alps, Haast Pass follows the river of the same name through to the rugged West Coast of New Zealand. It takes around an hour to pass through this area, and it's sure to fly by.
You'll find a number of charming cafés to stop in at, as well as some lovely natural features to check out. Haast Pass is an amazing way to see much of what the South Island has to offer.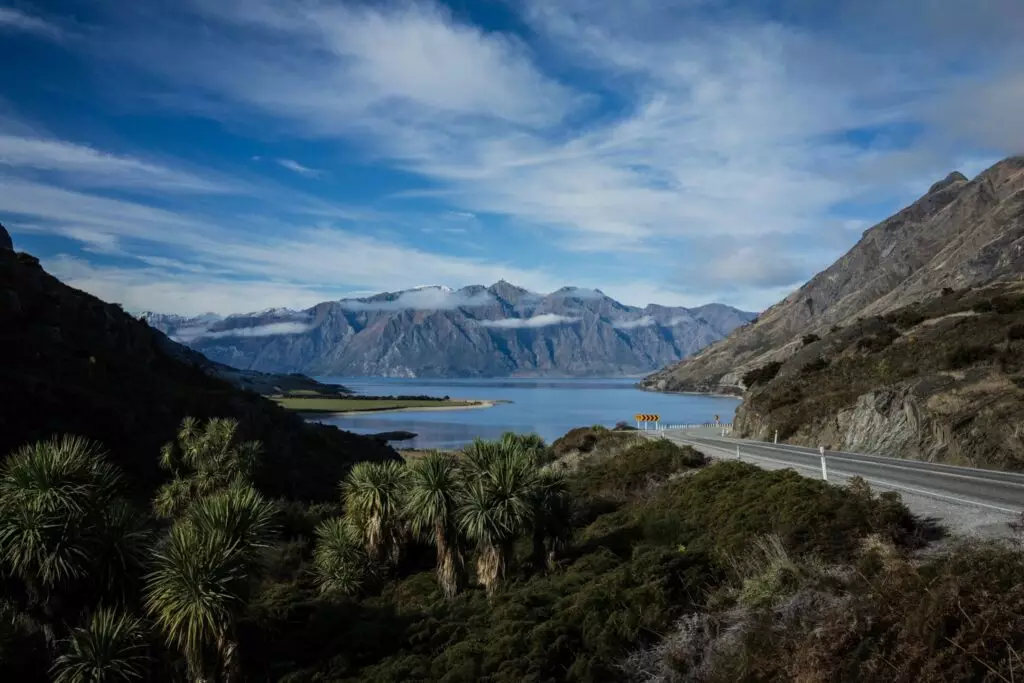 Great Coast Road
While Arthur's Pass and Haast Pass offer just a taste of the West Coast, the Great Coast Road is the ultimate way to see it. Sitting between Westport and Greymouth, the Great Coast Road is a 90-minute journey at full speed, but we bet you'll find plenty of reasons to stop over.
9 Mile and 17 Mile beaches are the perfect place to stop for a rejuvenating swim. This drive is the perfect way to find out why the South Island's West Coast is one of the most vaunted locations in all of New Zealand.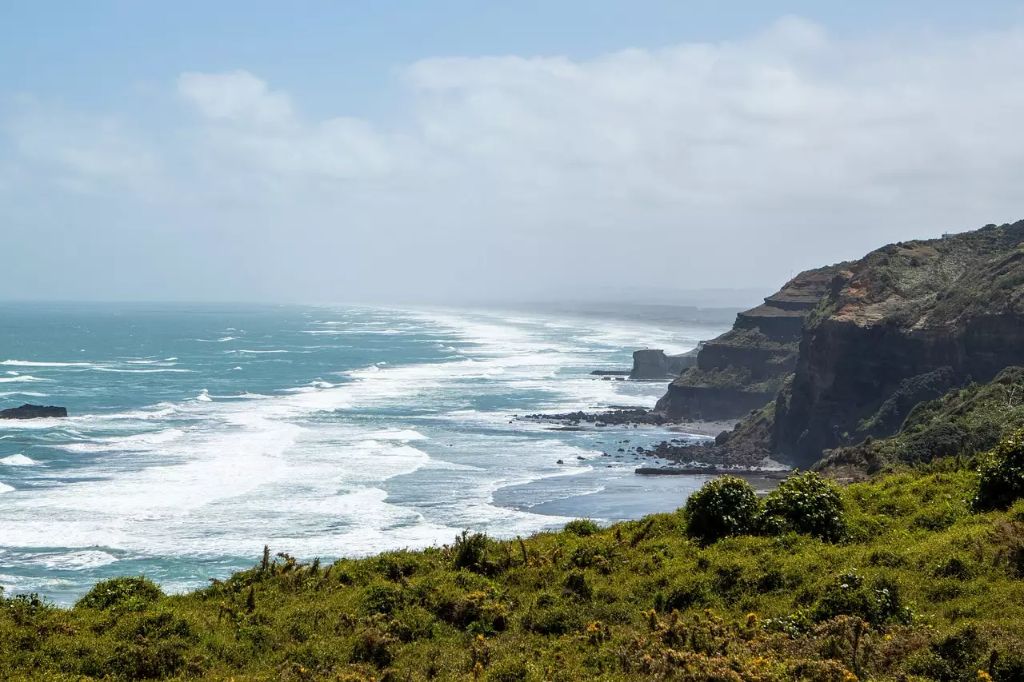 Forgotten World Highway
Heading up to the North Island, the Forgotten World Highway is a 3-hour scenic drive covering a whopping 155km. From the Tarangakau Gorge to Strathmore Saddle, New Zealand's oldest heritage trail is a mouthwatering trip through the North Island.
Be sure to make a detour to check out the Makahu Tunnel for a taste of pioneering adventure. You'll also want to take some time in Whangamōmona, a unique township that went as far as declaring itself a republic in 1989.
The Forgotten World Highway is a wild and wacky taste of everything that makes New Zealand incredible.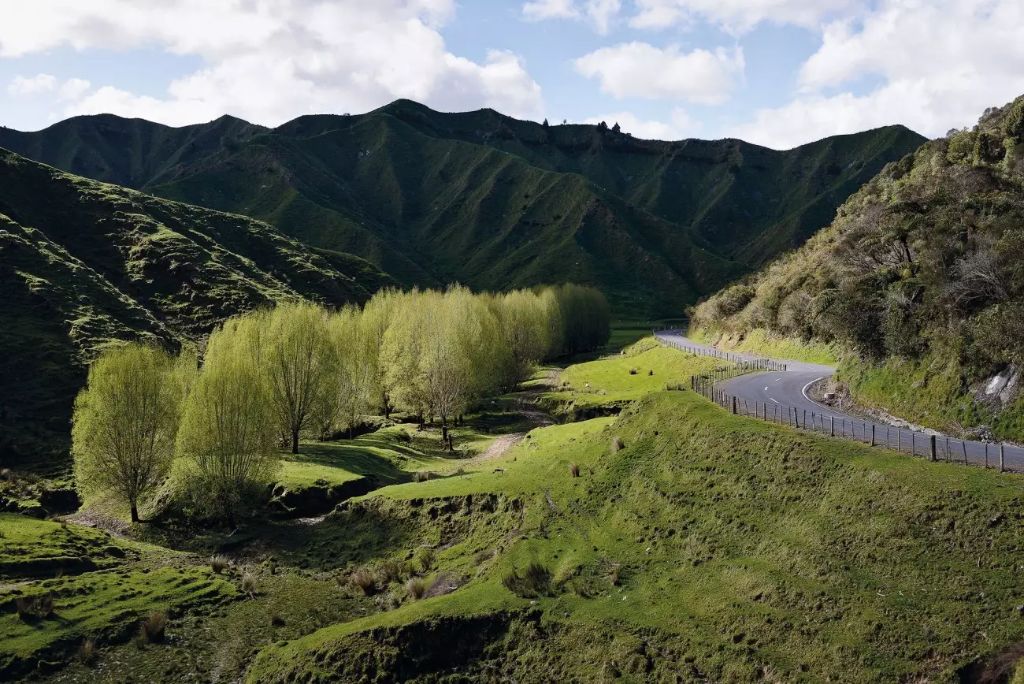 Twin Coast Discovery Highway
You can set out on the Twin Coast Discovery Highway as soon as you touch down in Auckland. From there, begin a circular trek showing off the very best of the Northland's east and west coasts.
Some of our favourite stops include the Matakohe Kauri Museum, Waipoua Forest and Paihia in the heart of the Bay of Islands. This drive really shines in summer, when you can jump into some of New Zealand's most appealing bodies of water.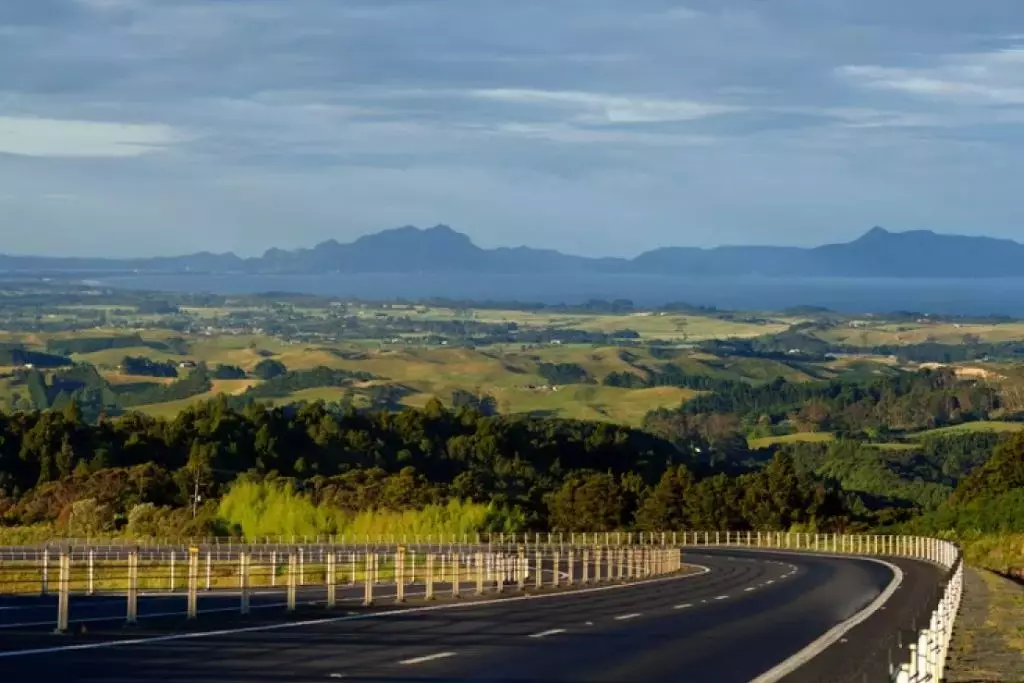 Pacific Coast Highway
While the Twin Coast Discovery Highway showcases the best of the top end of the North Island, the Pacific Coast Highway shows off what its central coastal region has to offer. From the Bay of Plenty to Gisborne to Hawke's Bay, you'll never get tired of seeing the waves of the Pacific Ocean crash against rugged granite cliffs.
Along the way, you'll check out the unforgettable Coromandel Peninsula, a gorgeous region of pristine beaches, lush forests and rich history.
Frequently asked questions
Does New Zealand have toll roads?
Yes, New Zealand has three toll roads: the Northern Gateway Toll Road, the Tauranga Eastern Link Toll Road and the Takitimu Drive Toll Road.
Are New Zealand roads dangerous?
New Zealand is home to some dangerous roads, particularly in mountainous areas. For example, Skippers Canyon Road near Queenstown is so dangerous that you need a special permit to drive it. Milford Road is also often considered to be a dangerous undertaking as the area can be prone to avalanches.
According to WHO data, New Zealand has the 127th highest road fatalities per 100,000 people among 183 analysed countries. On a global scale, New Zealand roads are not especially dangerous, but it does have more road deaths per capita than Australia and most of Europe. Be wary of particularly rugged, mountainous areas, and check the NZTA website for updated conditions and closures.
What is public transport like in New Zealand?
Buses form the bulk of public transport in New Zealand. Only Wellington and Auckland have suburban rail systems. There is limited tram usage in Auckland and Christchurch.
Outside of Wellington and Auckland, train services exist primarily for the purposes of scenic tours. Whilst these journeys are beautiful, they aren't designed to efficiently transport you around the country.
Whatever towns or cities you're planning to travel to in New Zealand, chances are a public bus will stop there. If you don't like the sound of relying on buses to get you all over the country, and you plan to check out more remote locations, renting a car is your best option.
---
Renting a car for your dream New Zealand holiday
If you've decided that renting a car is the right option for your New Zealand trip, GO Rentals is a great choice for you. We have 8 car hire locations around New Zealand, allowing you to jump off the plane in Auckland or Queenstown and start off your epic scenic road trip.
With no hidden fees, basic rental insurance coverage and 24-hour roadside assistance included in our pricing, you could be completely confident to hit the New Zealand roads in a GO Rentals car. We have an unlimited kilometre policy so you will not be charged for going that extra mile, and seeing as many incredible landscapes as you can fit into your rental period. 
This beautiful country is just waiting for you to come and explore it, so what are you waiting for? Book your GO Rentals vehicle and start your planning! 
Book a vehicle for this trip
We recommend: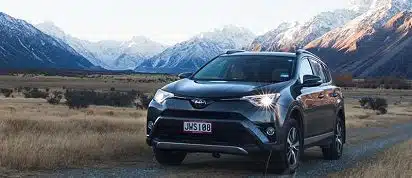 Intermediate 4×4
Toyota Rav 4
Seats

5 seats

Large Bags

3

Small Bags

4

Transmission

Auto trans