Here at GO Rentals, we like to make your trip around New Zealand as easy and as much fun as possible. From our awesome road trip itineraries to our informative blog posts (like this one!), we like to give you as much information as we can to make planning your trip of a lifetime as easy as possible. That's also why we created our GO Play programme. We've partnered with over 100 of New Zealand's best attractions to give all our GO Rentals customers exclusive discounts no matter where you are travelling.
If you are in the South Island, one of the big tour operators down there is Real Journeys. These guys run some pretty incredible tours to some of New Zealand's most beautiful locations from the thrills and spills of Queenstown to the serene beauty of Milford Sound to the unspoilt magic of Stewart Island. That's why we were pretty stoked when they joined our GO Play programme and that's why you will be pretty stoked if you rent a car from us.
If you are planning a trip to Queenstown and still need to sort out a vehicle, make sure you check out the latest deals on car hire in Queenstown and find out why we're one of New Zealand's favourite rental car companies.
Let's take a closer look at some of the tours you can take with Real Journeys:
Walter Peak Horse Treks – Queenstown
This is a super popular activity down in Queenstown as not only do you get to go on a stunning 40 minute horse trek through the Walter Peak Country Park, you also get a cruise on the historic TSS Earnslaw. Two for the price of one! You will start your adventure in downtown Queenstown where you will catch a ride on the magnificent TSS Earnslaw. Head out onto the beautiful Lake Wakatipu for a scenic cruise before arriving at the Walter Peak Country Park. Here you will head out on a leisurely 40 minute horse trek before enjoying a morning or afternoon tea with fresh scones, cakes and slices (this trip keeps getting better!). Then enjoy the cruise back to Queenstown with a full belly and a camera load of amazing photos.
Find out more: https://www.realjourneys.co.nz/en/experiences/horse-treks/walter-peak-horse-treks/
Glowworm Caves – Te Anau
If you're down in Southland, the chances are you're planning a trip to the beautiful Milford Sound. On your way, you will pass through the quaint little town of Te Anau and if you've got time in your itinerary, we definitely recommend a stop over here. One of the best activities down here is to go and check out the glowworm caves. New Zealand has a few of these dotted around but the trip at Te Anau is pretty special as you will first head out onto Lake Te Anau before arriving at the Cavern House. From here you will head underground to discover a magical place, sculpted by the force of the river that flows down there. Explore the twisting limestone passages, discover swirling whirlpools and be wowed by the roaring underground waterfall. All this before you enter the grotto which is inhabited by thousands of glowworms, unique to New Zealand. This is definitely a trip not to be missed.
Find out more: https://www.realjourneys.co.nz/en/experiences/glowworm-caves/te-anau-glowworm-caves/
Ferry or Cruise to Stewart Island
If you are planning a trip to Stewart Island as part of your New Zealand itinerary, then look no further than Real Journeys. Whether you are looking to catch the ferry across to the main settlement of Oban for a day trip or you want to head out on a cruise for a few days, these guys have got you covered. Real Journeys have been tourism pioneers since 1954 – they are family owned and they are local experts. All perfect traits for ensuring you have an awesome experience down on Stewart Island. They run a number of cruises down there from the Paterson Inlet Cruise which is done in a day to the 5-6 day Discovery Expeditions. They also run a ferry service across to New Zealand's third island which is perfect if you are happy to find your own way.
Find out more: https://www.realjourneys.co.nz/en/destinations/stewart-island/
Book a vehicle for this trip
We recommend: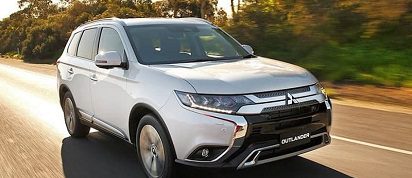 Large SUV
Mitsubishi Outlander
Seats

5 seats

Large Bags

1

Small Bags

2

Transmission

Auto trans
All images courtesy of Real Journeys