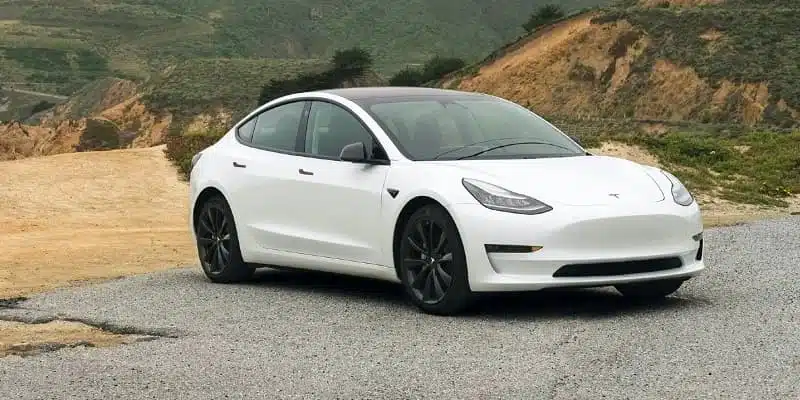 Back in May, we were very excited to add a brand new car to our expanding fleet – the Tesla Model 3.  As you might imagine, this was a pretty exciting addition to the fleet and many of the team have been lucky enough to take one of the 10 Tesla Model 3s in the fleet out for a test drive – the car does not disappoint.
The Model 3 is the first fully electric vehicle (EV) we have introduced to our fleet, and we are proud to be able to offer a completely carbon neutral travel option for our customers. This is just part of our drive to be as green as we can within a sustainable business model.
Our offices have been carbon neutral for three years and counting and we hope to expand our EV fleet over time as well as make more changes to make our offices and branches more sustainable including installing solar panels at our Auckland base.
Whilst the environmental benefits were a large driving factor behind our decision to introduce an EV to our fleet, there can be no denying that we chose the Telsa Model 3 because of the driving experience.
We wanted to provide our customers with something different – an exciting option that was not available anywhere else in New Zealand and the Tesla Model 3 ticked all the boxes and more.
The Tesla Model 3 driving experience
Getting behind the wheel of a Tesla for the first time is like getting into no other car. It feels more like you are sitting in the cockpit of an aeroplane or a spaceship rather than a luxury car. It can be quite intimidating at first as it is like nothing you have ever seen before in a car – no speedo, no fuel gauge, no clock – just a 15-inch media, navigation and control centre which resembles an iPad on the dashboard.
All our staff in all six branches have tested the Model 3 and will take the time to talk you through everything you need to know before you set off. We've also got some great educational videos on our website that show you how to use the key card, how to select gears and crucially, how to charge.
Once you have got the basics, it's time to hit the road.
Perhaps one of the first things you will notice when driving a Model 3 is how the Tesla brakes when you take your foot off the accelerator. This can take a bit of getting used to and the driving experience can be a bit jerky until you do as the regenerative braking kicks in every time you lift your foot off the accelerator.
Once you get your head around this, however, the Model 3 is an absolute joy to drive. The acceleration is so smooth and there is no need to worry about gear changes as there are none. The Model 3 can go from 0-100 kmph in around 3.3s and it does so in one smooth acceleration that can take your breath away.
The power of the car is surprising when you drive one for the first time but again, you quickly get used to it and settle back to enjoy the smooth ride.
For those that are interested in how the car handles beyond the acceleration and braking, all the feedback from the team and many online reviews are that Model 3 handles superbly well. The steering is precise, and the car has great stability and plenty of grip on the road thank to a low centre of gravity and quality tyres. This makes the Model 3 a great option for New Zealand's windy roads.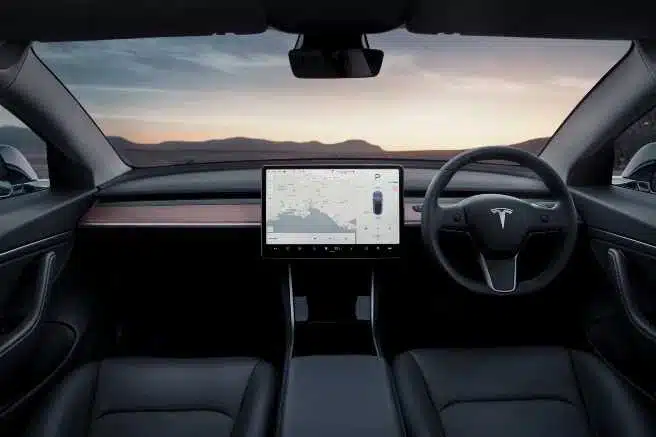 The visibility in the Model 3 is also superb thanks to the large expansive glasshouse and full-length panoramic roof, all of which provide a great sense of spaciousness.
Interior of the Tesla Model 3
Taking a step away from how the Model 3 drives on the road, let's talk about the interior as this has a huge impact on the driving experience of most cars.
The Model 3 is really well thought out. There is so little clutter in and around the driver's seat that all you have to think about is where you are going. The Model 3 features luxurious leather seats that are comfortable for long or short journeys.
Another feature that was a favourite of a lot of the team is the natural light in the Model 3 from the expansive glass roof. The glass is tinted to avoid getting too hot in the summer months, however, it makes a refreshing change from the usual closed roof. It also offers more headroom which taller people will certainly appreciate.
As you might expect, the 15-inch display is also packed with features, and these are continually improving thanks to automatic updates that are performed on a regular basis. You can connect your favourite music streaming service direct to the display and listen to your favourite soundtracks as you explore New Zealand in comfort and style.
The navigation is simple to use and features automatic routing that automatically adjusts to real-time traffic conditions. The climate control can be tailored to you and your passengers, and the sound system will ensure that no one misses a beat on an epic New Zealand road trip.
Safety features of the Tesla Model 3
As well as luxury and style, the Model 3 is also packed with safety features that make it one of the safest cars in the fleet. The Model 3 achieved a 5-Star ANCAP safety rating both overall and on every category, earning the highest score awarded for the Safety Assist category through its advanced passive and active safety features including Seatbelt Reminder, Lane Assist, Lane Support Systems, Speed Assist and Automatic Emergency Braking.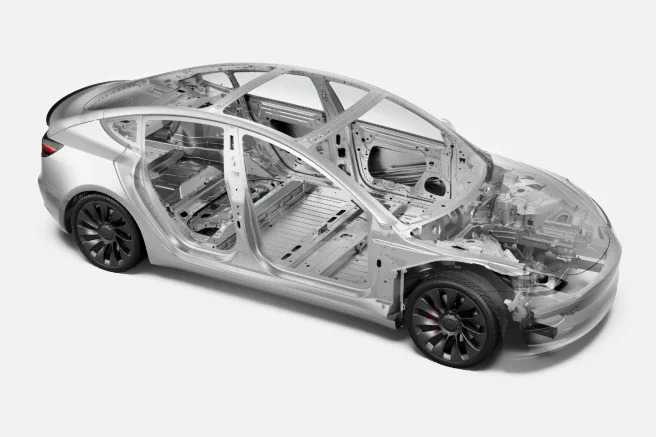 The metal structure is a combination of aluminium and steel, for maximum strength in every area. In a roof-crush test, Model 3 resisted four times its own mass, even with an all-glass roof: that's the same weight as two full-grown African elephants.
Range of the Tesla Model 3
A big part of the driving experience when it comes to the Model 3 is the range. You might read various figures when it comes to the range of the Model 3, however, real-life testing reveals a range of approximately 350 kms which gives you plenty to work with when it comes to exploring our beautiful country.
The charging network is ever-expanding as well so there are lots of options when it comes to keeping the Model 3 fully charged and ready to go.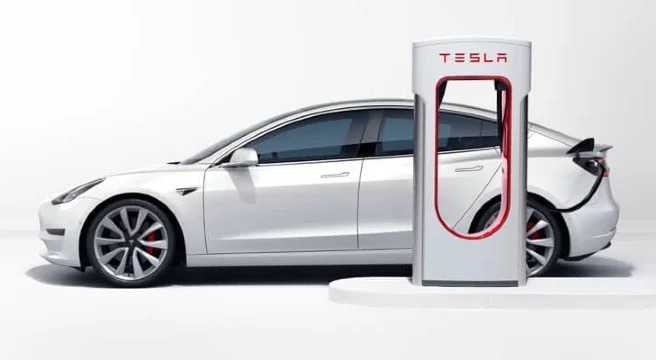 We've pulled together a couple of handy itineraries for exploring both the North and South Islands that include suggestions on where to charge based on the distance between destinations. The in-car display is really handy for identifying charging locations in close proximity and you can also visit our Tesla charging page where you will find handy links to charging stations throughout New Zealand.
Renting a Tesla Model 3
With 10 Tesla Model 3s in our fleet, we have spaced these evenly throughout our branches, with cars available at all six of our branches including Dunedin and Queenstown.
When we added the Model 3 to our fleet, we considered who would be most likely to rent one. Whilst the Tesla Model 3 will undoubtedly be a popular rental car with overseas visitors once our borders open up once more, the ability to rent a Model 3 appeals to lots of Kiwis right now.
From those thinking of buying one who want to "try before they buy" to those who have never experienced the joy of driving a Tesla and want to try one out for a few days – the Model 3 appeals to lots of different people.
Then of course you have the environmentally-conscious customers who are keen to experience New Zealand and go carbon neutral whilst enjoying one of the most comfortable cars to drive in our fleet.
Renting a Model 3 is also a great option for existing Tesla owners heading to different parts of New Zealand this summer. Imagine dropping off your own Model 3 in Auckland (or any Tesla model for that matter), flying to Queenstown and jumping straight into a Model 3 rental car when you arrive – a pretty cool option right there.
Round-Up
If you really want to find out more about the Tesla Model 3 driving experience, you really have to come and experience it for yourself. We are excited to bring that opportunity to Kiwis and international visitors alike with our fleet of Model 3 rental cars, giving everyone the opportunity to experience the joy of driving a Tesla here in New Zealand.
As you might expect, demand for the Model 3 is pretty high so we urge you to plan ahead and book in advance, especially if you are planning an epic roadie this summer and you really want to explore New Zealand in style. You can book a Model 3 at any of our branches right now so head over to our Vehicles page, enter your itinerary dates and keep your fingers crossed for availability. You can also pick up the phone and talk to one of the team and they can let you know a little bit more about availability to help you plan your trip.