New Zealand is known as one of the best countries in the world when it comes to adventures and adventure activities. We have written heaps of posts about all the amazing things there are to do right here in New Zealand, from bungy and skydiving to tramping and cruising. Everyone loves an adventure – whether that means doing something crazy or just going out for the day with no real plan.
We love to read about all the great adventures people have had right here in New Zealand but also find out what's going on overseas. We're always reading travel blogs and so we thought we would share with you some of our favourite bloggers from around the world who just love an adventure.
If you're looking for travel inspiration, make sure you follow some of these awesome adventure travel bloggers.
1.      A World to Travel
Sustainable travel is a hot topic and for all the right reasons. Travelling sustainably is important to so many people so when you can combine sustainable travel with outdoors adventures, you've hit the golden ticket! Inma and Jose have done just that. Their blog, A World to Travel, focusses on unique experience in out of this world places. Their blog is high energy and full of amazing tips for sustainable adventure travel. It's also got an awesome New Zealand road trip itinerary which is packed full of adventure activities. Check them out and follow them on social media.
2.      Uncornered Market
Daniel Noll and Audrey Scott are the storytelling team behind Uncornered Market. Originally from the USA, they now call Berlin home and their blog focusses on adventure, deep travel and life experiences. They have visited over 90 countries so have some amazing adventure stories to tell including plenty from right here in New Zealand. They too have a passion for sustainability and this ties to their other passions – personal development, technology, travel and street food. Read more from Daniel and Audrey and follow them on social.
3.      Meander the World
Rachel is the voice behind the excellent Meander the World travel blog. She was inspired to write about her adventures after a near-death experience on the back of a motorbike in India back in 2012. Prior to that, Rachel had already travelled to over 80 countries and decided she wanted to share her adventures with the world – we're glad she did! From a weekend away to a lifetime on the road, Rachel has some superb posts including some from her time right here in New Zealand. Read more and follow Rachel on social media.
4.      Fathom
Fathom is a blog run by not one person but a team including Pavia and Jeralyn. They aim to inspire with their travel blog and they certainly do with some fantastic posts covering the very best hotels, restaurants, cultural experiences and people. Fathom is all about the adventure and the experience and they have some great posts from their time in New Zealand. Get inspired and check out some of their great posts and follow them on social media.
5.      Rexy Edventures
Ed Rex is the man behind Rexy Edventures and he offers up some awesome travel tips and perspectives on adventure travel, unexpected travel and luxury budget travel. He is a hugely active member of the travel blogger community and offers a different perspective. Ed is also the voice behind The Deaf Traveller and shares his thoughts on being a deaf traveller – Ed is profoundly deaf so provides some unique insights on what it's like for deaf people travelling the world and seeking out adventures. Read more and follow Ed on social media.
6.      Polkadot Passport
Nicola Easterby is the voice behind the amazing Polkadot Passport travel blog. Nicola has already featured in our list of top Australian bloggers and now she makes it into our top ten for adventure bloggers too! Nicola has really followed her passion for photography which helps her to fund her adventures. At only 24, Nicola has already visited 54 countries and her inspiring posts are a mix of adventure, experience and destinations guides punctuated with amazing photography. Make sure you give Nicola a follow.
7.      Divergent Travelers
When the welcome message on your website describes you as 'America's Adventure Couple' you know these guys had to make it into our top ten! Lina and David are award-winning photographers and professional travel bloggers behind Divergent Travelers. After living the American Dream for 13 years, they finally decided to hit the road full time and their first destination just happened to be little old New Zealand. This was way back in 2014 and since then, they've not stopped. Check out their amazing blog and follow them on social media to get inspired/jealous about their amazing adventures.
8.      Natural Habitat Adventures
Natural Habitat Adventures has been a leader in responsible adventure travel and ecotourism since 1985. They were ahead of the curve in that respect and they have been a leader in the field of adventure travel ever since. Not only do they have an awesome blog, they are actually focussed on organising eco-friendly tours to some of the world's most amazing destinations. Based out of one of the world's great adventure cities, Boulder, Colorado, Natural Habitat have a large staff of adventure travel specialists who will tailor your adventure for you, Make sure you check them out if you are planning an adventure trip of a lifetime.
9.      Desk to Dirtbag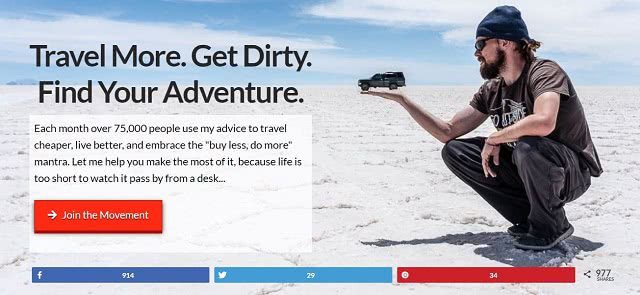 Ryan is the world-travelling adventurer behind the Desk to Dirtbag travel blog. He loves a good road trip, mountains and Mother Nature which makes him a perfect addition to our top ten adventure bloggers. In his fantastic blog, Ryan hopes to inspire people to find more travel and adventure in their day to day lives because 'life is too short to watch it pass by from a desk…'. Make sure you follow Ryan on social media and check out some of his amazing blogs.
10. Bitten by the Travel Bug
Nicole is originally from Adelaide in South Australia but now calls Melbourne home. She is not like a lot of our travel bloggers in the list who have given up everything to live the travel dream full-time. Nicole is actually studying for a double masters but still finds time to travel and blog about her adventures. What we love about Nicole's blog, Bitten by the Travel Bug, is that it's not about top ten lists (like us!!) but it's about her own experiences out in the world. We'd love to see Nicole heading over the ditch to good old New Zealand – make sure you look us up if you do!



So there you go – our top ten adventure travel bloggers from around the world. We hope you find their stories inspiring and they encourage you to get out and explore the big wide world beyond your front door.
When it comes to adventure blogging, we like to think we do a pretty good job so if you're finding us for the first time, make sure you give us a bookmark and check back from regular posts about exploring and adventuring in New Zealand. We also have some awesome destination guides and a pretty cool road trip planning tool for New Zealand.