Embark on an unforgettable winter adventure as you hit the road to New Zealand's snow-capped wonderland! With its breathtaking landscapes and thrilling snowy peaks, the journey promises excitement and adrenaline.
However, amidst the exhilaration, safety must remain at the forefront of your mind. At GO Rentals, we understand the balance between fun and responsibility, which is why we've curated a collection of essential winter driving tips for your convenience. From navigating icy roads to ensuring optimal visibility, our guide will equip you with the knowledge to embrace the magic of snow-covered landscapes while prioritising your safety.
GO Rentals have a wide range of mid to large SUVs and 4WD car rentals to help you complete an epic winter driving trip. With ski racks and snow chains available to hire, our team at both our North and South Island car hire locations are ready to kit you out with the winter essentials you need. Let's make safety fun and get GOing on your winter trip of a lifetime!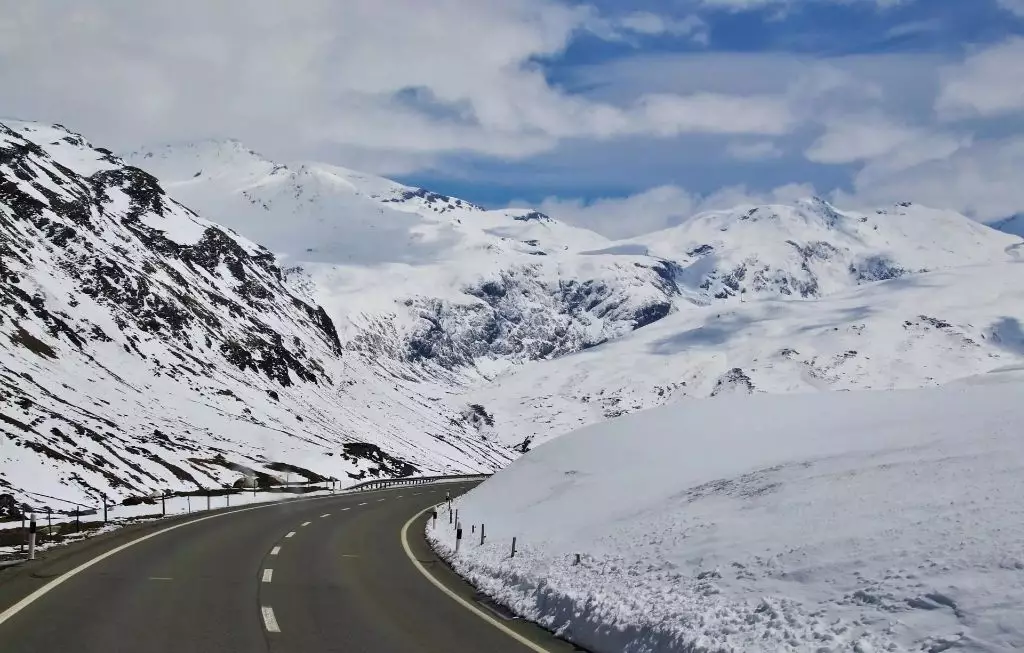 Keep up to date with the weather forecast
When venturing through New Zealand's diverse landscapes, it's essential to embrace its ever-changing weather patterns. Especially if you're headed towards the magnificent mountains, staying informed about weather conditions and highway updates is crucial. To stay ahead of the weather game, look no further than MetService, providing comprehensive weather forecasts. Whether you prefer their downloadable app or their convenient severe weather warning email service. For South Island travellers, dial 0900 999 03 (charges may apply) for quick updates. And for real-time highway conditions, rely on the 24/7 freephone number 0800 4 HIGHWAYS (0800 44 44 49) or check out NZ Transport Agency's live traffic cameras. With these resources in your arsenal, you'll navigate New Zealand's roads with confidence and adaptability.
---
Things to consider
Plan your journey ahead, understand New Zealand roads and give yourself extra time.

Always tell someone where you are going.

It is the coldest early morning or late night, try driving during the day for the best conditions.

Be prepared to change your schedule for adverse weather changes.

Trees and debris can fall onto the road during storms so take corners slowly.

Drive to the conditions.

Adapt for road closures and always follow the signs or directions from traffic controllers.

Allow time for rest stops every 2 hours.

New Zealand applies grit and an anti-icing agent called CMA on some roads in icy conditions. This is not always a guarantee on every road so always drive slowly.

If this is your first time driving here, ensure you understand the New Zealand Road tips as a tourist.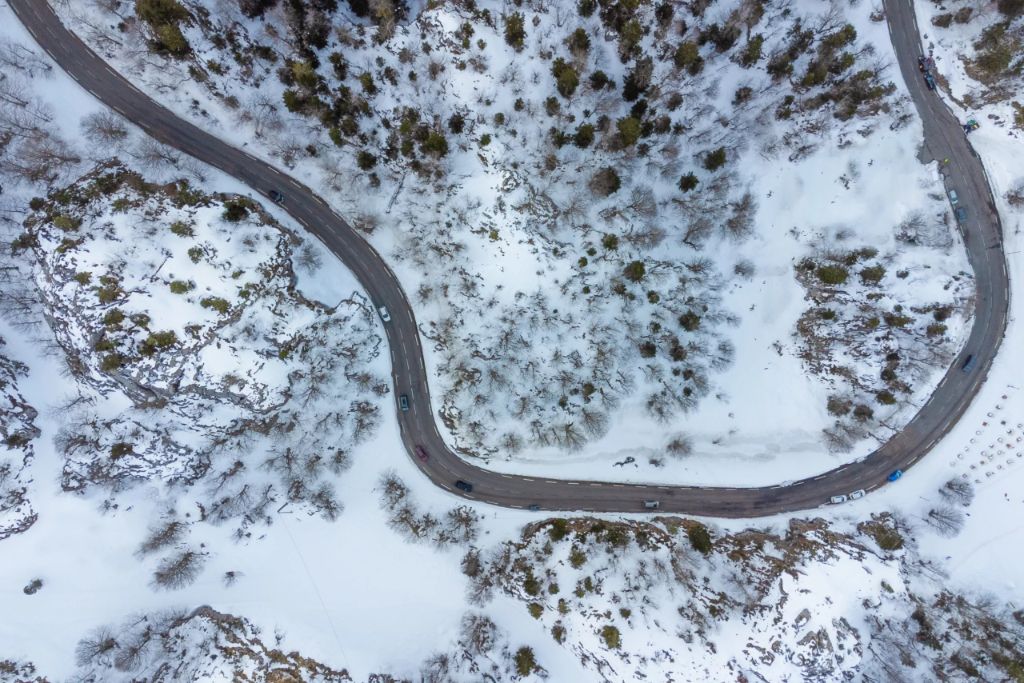 How to prepare your car
Before embarking on your winter driving adventures, it's crucial to prepare your car to handle the challenges that come with the season. If you are hiring a GO Rentals car, the team will ensure the car is safely checked before you hit the road. But remember, you can always hire snow chains for extra peace of mind.
Follow these essential steps to ensure your vehicle is winter-ready:
Lights
Let there be light! A crucial step for all winter driving is to ensure that all exterior lights, including headlights, brake lights, and turn signals, are functioning correctly for maximum visibility on wintry roads.
Windscreen wiper blades
Upgrade to winter-specific wiper blades for enhanced visibility, and use freeze-resistant windshield washer fluid to maintain a clear view. Trust us, you want blades that can pirouette through snowflakes.
Tyre Checks
Examine tyre tread depth and consider switching to winter tyres for improved traction control on snow and ice. Don't forget to verify your tyre pressure regularly.
Cooling System
Ensure your coolant is at the right level and meets the manufacturer's specs. Give your cooling system a thorough once-over for any sneaky leaks. No drips allowed! And while you're at it, a coolant test wouldn't hurt either.
Full tank or battery
Keep your petrol tank full wherever possible. For electric vehicles, charge your battery at every possible stop. The last thing you want to happen if you run out of fuel on a winter road trip.
Equip your ride
When braving the winter roads, it's vital to come prepared for any situation that may arise. Ensure your vehicle is equipped with a range of essential items that can tackle common winter driving challenges and provide assistance in case of an emergency. Some must-have supplies include:
Snow chains

Jumper cables

Spare tyre

Ice scraper

First aid kit

Reflective blankets

Snow shovel

Flashlight

Phone charger

Water & food supplies
---
What to do in an emergency
In the unfortunate event of an accident or breakdown on snow covered roads or bad weather, your main priority is yourself and your passengers. Your safety actions will depend on the condition of your car. These tips are a guide only, always follow the advice of the emergency services.
Breakdown
Stay with your car and keep warm.

Be aware of carbon monoxide poisoning. Clear your exhaust pipe of snow and run the engine sporadically to stay warm.

Ensure you are visible to other cars, put on your hazards, keep the interior lights on and use your flashlight.
Accident – severe damage to the car
Take your supplies and get to safety.

Use your flashlight for visibility.

Call 111 for emergency services.
GO Rentals include basic insurance cover and 24-hour roadside assistance into our rental fees so you can travel with peace of mind during winter.
---
10 Winter Driving Tips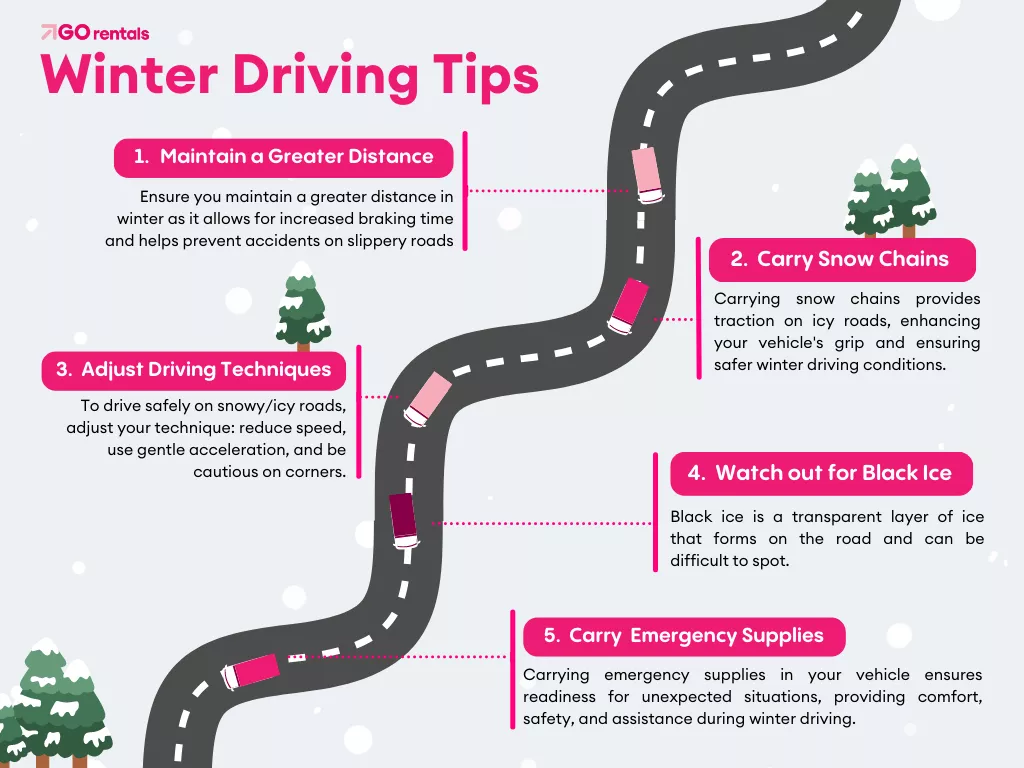 1. Maintain a greater distance
As standard, New Zealand follows the 2 second rule to allow space between your car and the car in front. In wet or icy conditions, it is highly recommended to change your following distance to a 4 second rule. This means, when the car in front passes a landmark, there should be 4 seconds before your car passes the same landmark. It will take you longer to brake in bad weather so always give yourself more distance for safety.
2. Consider snow chains
Some roads in New Zealand, particularly in the ski mountains on the South Island, will require snow chains in winter. However, with all cold weather trips, we would recommend carrying snow chains as the weather conditions can change suddenly. Snow chains can be hired from GO Rentals and our helpful team are trained in fitting chains for your winter road trip. Otherwise, follow our winter guide for everything you need to know about snow chains.
3. Drive slowly
Particularly important in heavy snow or black ice; driving slowly will allow you to remain in control and have time to react to any surprises the wintery weather throws your way. Avoid sudden acceleration on slippery roads as you may lose control and put yourself in danger.
4. Be prepared for black ice
Black ice is especially dangerous as it is smooth and transparent, making it look like the road beneath it. In most cases, you will not see black ice on the road so drivers should always drive slowly and maintain further distance in cold weather. If the road looks like it has wet patches or shady areas, it could be an indicator of black ice so take extra care. If you begin to lose control:
Avoid sudden braking, brake gently only.

Keep your steering wheel steady and slowly take your foot off the accelerator pedal.

Once you regain traction, pull over and avoid driving until warmer weather has melted the ice.
5. Carry emergency supplies
The chances of an accident or breakdown may be higher in adverse weather, even if you have checked everything is working properly before setting off. Packing emergency supplies like reflective blankets, food, water, a first aid kit and snow shovel will make you prepared for any unfortunate situations.
6. Avoid sudden braking
In wet, icy and snowy conditions, your wheels will have less traction on the road. Sudden braking could increase your chances of wheel spin or your brakes locking up. Many newer cars will have traction control or anti-lock brakes, but it is always recommended to take it easy on the brake pedal regardless.
7. Be careful with sudden direction changes
New Zealand roads have a lot of bends and turns which can be enjoyable to drive. However, in icy conditions, they can be dangerous to manoeuvre. Take your time and be respectful to other drivers who are also taking it slow. If you forget about a turning, don't suddenly turn to try and make it as you could lose traction on the road. Continue ahead and amend your route to ensure everyone on the road is safe.
8. Stay in a low gear
A great way to manage your speed control is to always stay in a low gear if you are driving a manual car. Not only this, but the transmission is also gentler on tyres in a low gear, thus giving them more power and grip on the road. When driving downhill in snow covered roads, it is recommended to stay in a lower gear rather than constant braking as you will have more control over your car.
9. Visibility is crucial
You must be able to see and be seen on winter roads in New Zealand. At every stop, make sure your windscreen and rear windows are crystal clear, your headlights are free of dirt and your wing mirrors are so clean you can see your perfect reflection! Always drive with your headlights on in bad weather even during the day, and especially when visibility is reduced. In heavy fog or snow, use dipped headlights or fog lights rather than full beam as the light could be reflected back off the fog and reduce your visibility.
10. Know when to stop
Safe driving is always key. No stunning New Zealand landscape or exciting ski field is worth putting yourself in danger for. When the roads get too dangerous or you find yourself too stressed, stop, take a break and wait for the weather to improve.
---
Do you need a 4WD in icy conditions?
The good news is you do not need a 4WD to get around most New Zealand roads during winter. It is possible to handle snowy and icy conditions in a 2-wheel drive or electric vehicle when following all the safety precautions. Making the switch to winter tyres or hiring snow chains will help you handle the road conditions with confidence.
All 4×4 roads in New Zealand are clearly marked and require an all-wheel drive vehicle, especially in icy conditions. GO Rentals have a selection of great 4WD SUVs to hire if you want that extra peace of mind when travelling to the snow and completing an epic winter road trip.
Book a vehicle for this trip
We recommend: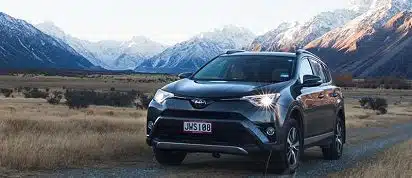 Intermediate 4×4
Toyota Rav 4
Seats

5 seats

Large Bags

3

Small Bags

4

Transmission

Auto trans
---
Hit the New Zealand winter roads with confidence!
Now you have read all of our winter driving tips and know how to be prepared for New Zealand roads, it is time to plan your awesome winter wonderland trip. The mountain peaks, pristine lakes and rolling hills look magical in the snow and absolutely worth the drive to get there!
Whether you are heading to the world-renowned ski chutes of The Remarkables from Queenstown or want to escape Auckland to marvel at the extraordinary glow worm caves in a magical frosty scenery, you can be confident in a GO Rentals car. With free basic rental insurance, 24-hour roadside assistance and snow chain fitting; you can place your trust in GO Rentals for a smooth and unforgettable winter journey.