New Zealand is home to some unbelievable scenic beauty. In order to see the very best of it all, it can be necessary to take on some treacherous roads. During winter months, these roads are prone to build-ups of snow and ice. Driving in these conditions can be dangerous as they reduce a vehicle's levels of traction, increasing the risk of crashes.
That's why all travellers to New Zealand should be aware of snow chains. These devices are extremely important when travelling around the country in winter. Where and when do you need snow chains, and how do you fit them to your vehicle? Our guide will answer these questions and more.
To ensure your safety as you travel around New Zealand, chains are available for hire with your GO Rentals vehicle. If you're unsure how to fit them to your vehicle, you can ask our friendly staff for some assistance.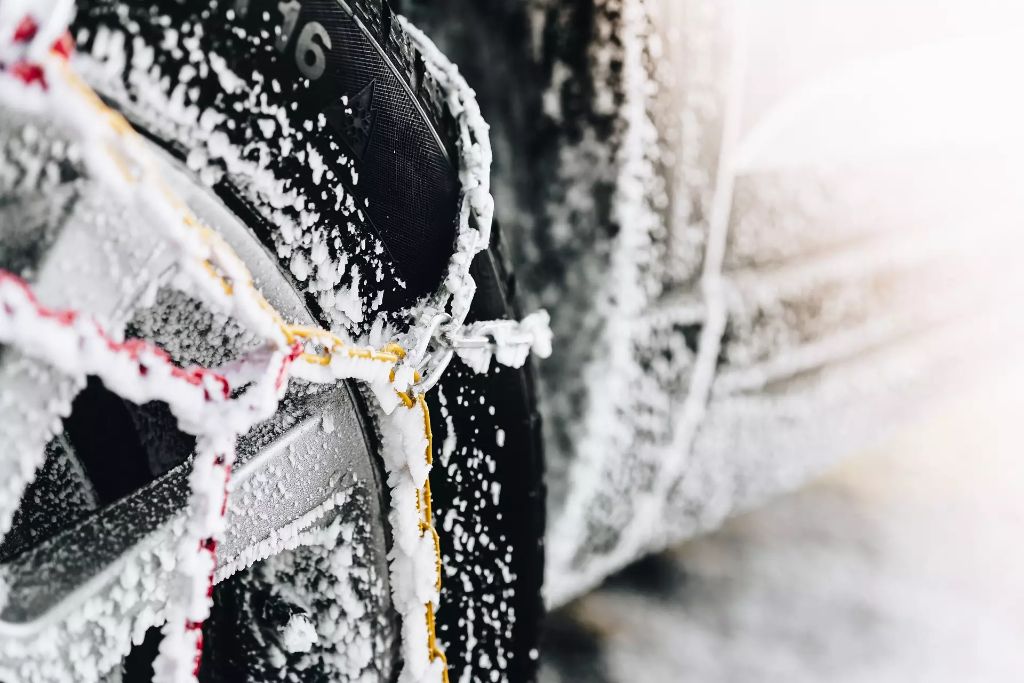 What are snow chains?
Snow chains, also known as tyre chains, are chains that are fixed to vehicles to help maintain traction in snowy or icy conditions. They are placed over the tyre and are usually held in place with tensioners.
Visitors to New Zealand should be aware of these important instruments, especially if they are travelling in mountainous alpine regions in winter. They are a critical road safety feature that can make a huge difference in your travels.
Snow chains vs snow socks
Some vehicle manufacturers may recommend using snow socks instead of chains. Snow socks present a far more limited risk of damage to low-clearance vehicles, are usually cheaper and are easy to install. However, they provide less traction than chains, especially on ice, and are prone to ripping.
If safety is your number one priority, snow chains are a superior option over snow socks. However, some drivers may find snow socks are their only choice as their vehicle cannot support chains without sustaining damage.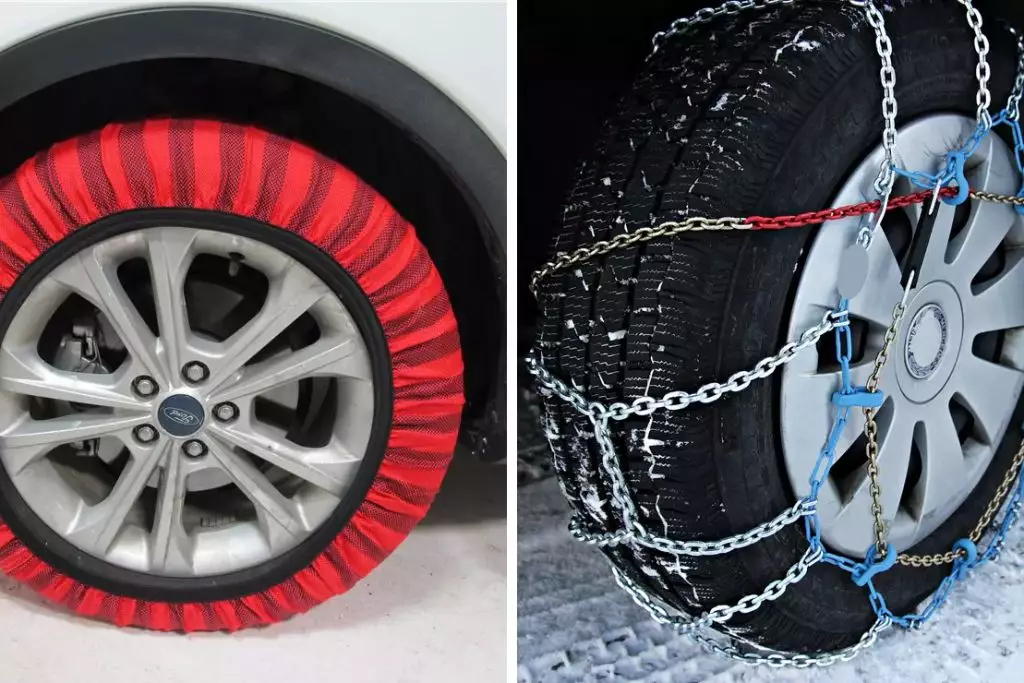 When do you need snow chains?
Chains should be fitted to your wheels when there is a layer of compacted snow or ice on the road. Do not use snow chains if there is only a very small amount of snow or ice on the road, as this can cause damage to the car, the chain and the road.
Snow chains are important to carry if you are travelling on the high country or alpine roads in the winter. Such roads are most commonly found in the South Island. That means if you're in New Zealand for a skiing trip in or around Queenstown or Christchurch, you should ensure you have snow chains in tow. 
Remember that if you are unsure if it is safe to proceed on a particular route, the best thing to do is turn around and try again another day.
For more information, you can check out our complete guide to winter driving in New Zealand.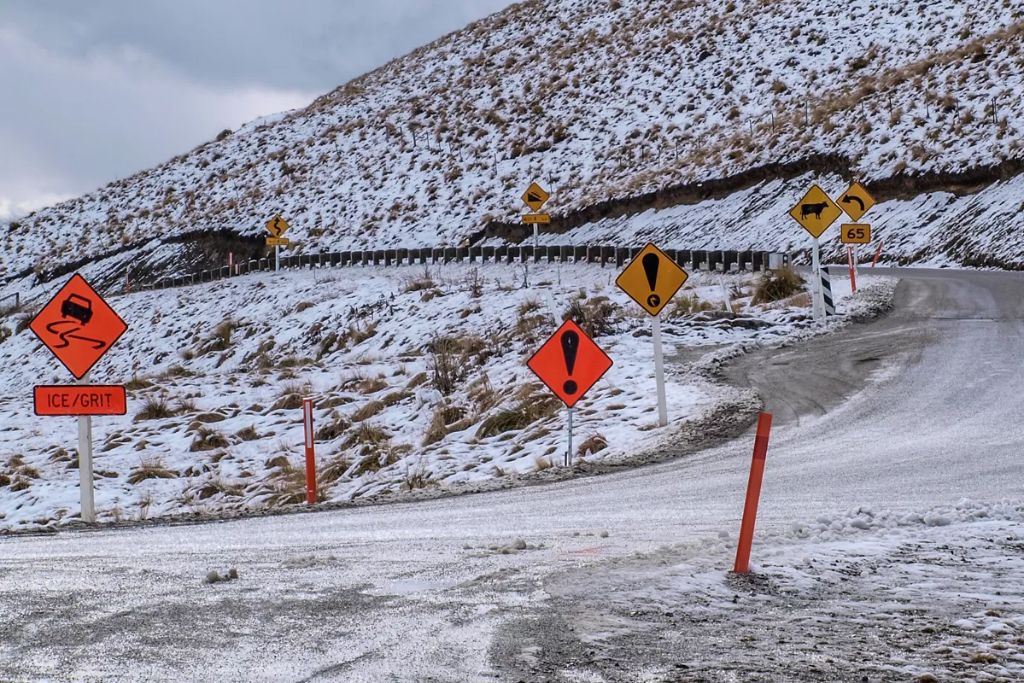 Which roads require snow chains?
In the following areas, local authorities either strongly recommend or mandate carrying chains during winter:
Milford Sound Highway

– Between June and November, road condition signs will indicate where snow chains need to be carried. If you drive past these signs without carrying snow chains in your vehicle, you may be fined up to $750.

Queenstown Lakes District

– The Queenstown Lakes District council recommends snow chains should be carried at all times during winter.
Here are some other locations where you should carry snow chains if you're driving in winter:
Lindis Pass

Arthur's Pass

Lewis Pass

Porters Pass

The Crown Range
Roads that recommend the usage of snow chains will often have bays available on the side of the road for safe fitting.
How to fit snow chains
Different brands of snow chains have different methods for fitting, so seek out manufacturer advice. At GO Rentals, you can consult with our friendly team for instructions on fitting chains to your vehicle.
You can also check out the video below for step-by-step instructions on how to fit Easy Fit snow chains to your vehicle.
Snow chains tips
Appropriate snow chains for your vehicle:

Always ensure you have the right

snow

chains for your vehicle. Most importantly, you'll need to ensure your chains are the correct length. You can check your tyre size either in your owner's manual or on the tyre sidewall and base 

your purchase on this information.

Be aware of closures:

In the case of snowy or icy conditions, authorities will often close down particular roads. You can find live updates on road conditions and closures on the

New Zealand Transport Agency

website.

Correct fit:

Always ensure that your chains are tightly fitted to your vehicle.

Drive safe:

Drive cautiously and slowly, especially if you are new to driving with snow chains. Take great care when accelerating, decelerating and taking corners. Don't exceed a maximum speed of 40km/h.

Traction control:

Turning off traction control when driving with

chains is a common practice, though you should consult manufacturer instructions to find out if this is optimal for your vehicle.

Place on the correct wheels:

Fit

chains to all wheels on driving axles. That means you need two pairs of snow chains for a four-wheel drive vehicle. If you have a two-wheel drive vehicle, place snow chains on the wheels on the driving axle. You can also place snow chains on the idler wheels.
---
When do you need snow chains? FAQs
Do you need chains on four wheels?
If you have a four-wheel drive vehicle, it is considered necessary to fit chains to all four wheels for maximum traction.
There is some debate as to whether two pairs of chains are necessary on a two-wheel drive vehicle. If you only have a single pair of snow chains, fit them to the wheels on the drive axle – the rear wheels on a rear-wheel drive vehicle and the front wheels on a front-wheel drive car.
If you have two pairs of chains, we recommend erring on the side of caution and fitting both sets to your vehicle.
Are snow chains available from GO Rentals?
Yep! Snow chains are available to hire on GO Rentals vehicles. Our team can even help show you how to fit them.
Can all cars have snow chains placed on them?
It is not safe to fit chains to all vehicles. In particular, some newly manufactured four-wheel drive vehicles cannot have chains fitted to the front wheels due to reduced clearance. Check your vehicle manual or contact your manufacturer to find out if your vehicle can accommodate snow chains.
Can you put snow chains on a motorcycle?
It is possible to purchase chains for motorcycles. However, many riders agree that if you encounter conditions that would necessitate snow chains usage, you should strongly consider not riding a motorcycle at all.
Are snow tyres necessary in New Zealand?
Some drivers take the extra step of fitting snow tyres to their vehicles. These tyres have a higher natural rubber content and small grooves which help them offer more grip in winter conditions.
While these tyres work well in winter alpine environments, they are suboptimal for usage outside of these areas, which has led to some controversy. A coroner even called for a ban on snow tyres in 2011.
According to the NZTA, the vast majority of New Zealand motorists do not need snow tyres. If you do have snow tyres on your vehicle, they must be fitted to all four wheels, and have a tyre tread depth of at least 4mm in the appropriate grooves. You should change back to conventional tyres at the end of winter.
---
Prepare for your winter road trip
New Zealand is one of the world's top destinations for a winter road trip. As long as you follow proper precautions, you can be sure you'll have a safe and fun trip in this beautiful country. 
At GO Rentals, we want to ensure you have as much fun on your holiday as possible. That's why we have a range of skiing deals you can take advantage of in locations like Queenstown.
We have 8 car hire locations all over New Zealand to facilitate your journey no matter where you land. If you're travelling to New Zealand to explore all of its natural beauty, you'll be pleased to hear we have a range of climate-friendly travel options for you to choose from.
However you choose to travel to New Zealand, GO Rentals is the perfect companion.