Queenstown is the adventure capital of New Zealand, what better place for the whole family to enjoy? Home to the world's first bungee jump, five fantastic ski areas, and the steepest cable car lift; there are endless thrilling things to do in Queenstown with kids. But don't worry, the adventure capital also has many relaxing family-friendly activities so you can mix adventure and chilled days for the ultimate Kiwi family holiday.
Whether you are jumping into a rental car straight from Queenstown airport or arriving from an epic road trip from the North to South Island; we are sure you will have so much fun with these things to do in Queenstown with kids. Be sure to enter our snap happy photo competition on your family adventures and you could be in with a chance to win $500 back from your rental costs.
Top Things to Do in Queenstown with Kids (Summary)
Walter Peak Farm Tour

Skyline Gondola and Luge

Kiwi birdlife park

Lake Cruise

Underwater Cinema

Horseback riding

Five fantastic ski areas

Queenstown Ice Arena

Frisbee Golf at Queenstown Gardens

Rafting Trip

Thrillzone

Hit up the beach

Hike Queenstown Hill

Lakes District Museum

Arrow River
---
1. Join the Walter Peak Farm Tour
There is nothing more exciting for young kids than an active working farm, right? Well, at Walter Peak High Country Farm, you can take a scenic cruise, see cute farm animals including real sheep shearing and join farm tours to get a feel of a real farming lifestyle. Not only that, the High country farm has daily entertainment shows in their amphitheatre so you can have family fun watching sheep dogs in action! Finish the fun family activities with afternoon tea before jumping on the scenic cruise home.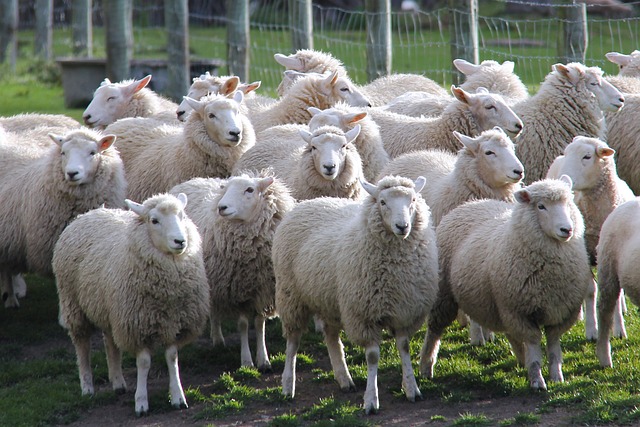 2. Ride the Skyline Gondola and Luge
The skyline gondola is the Southern Hemisphere's steepest cable car lift you can ride, making it an awesome jaw dropping adventure if you are in Queenstown with kids. At just a short walk from central Queenstown, you can ride the skyline gondola up and then jump in a cart and follow the exciting luge track down, enjoying beautiful views of Lake Wakatipu the whole time. The minimum age for a solo luge cart is 6 years old and the minimum age for a tandem cart is 2 years old, so much fun for young kids and adults alike!
3. Go Spotting at Kiwi Birdlife Park
Family-owned and operated, Kiwi Birdlife Park is the best way to spend a day in central Queenstown with kids. Encounter the stunningly beautiful Kiwi bird, only found in New Zealand, and see an awesome native bird show in their theatre to learn and be entertained. Not only this, Kiwi birdlife park's conservation efforts include carbon footprint offsets, caring for rare and endangered species and supporting birds in the wild so you can have a day of family fun activities and support a great cause!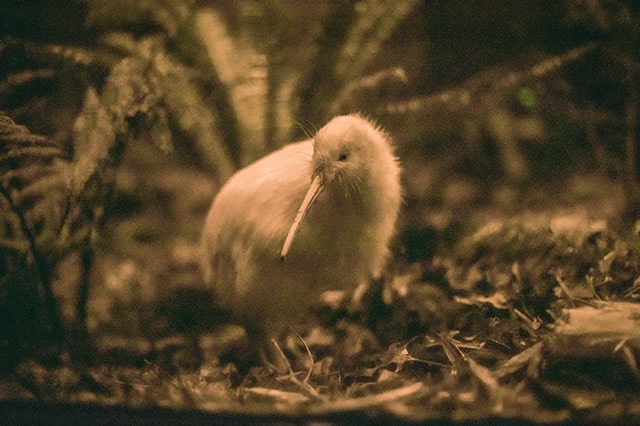 4. Feel the wind in your hair on a Lake Cruise
Lake Wakatipu
Also known as Queenstown lake, Lake Wakatipu surrounds Queenstown, giving the city a stunning backdrop from any view. You can admire the pristine lake Wakatipu from Queenstown waterfront or take a walk through Queenstown gardens which sits right on the lake. The best part? You can join a Queenstown scenic cruise, get your heart racing on a speedboat, balance on a paddleboard or row your heart out in a kayak. Whichever adventure you choose, Lake Wakatipu has something for the whole family to get excited about.
Lake Wanaka
Visiting Queenstown doesn't just mean the centre, there are so many unbelievably beautiful landscapes close by too. At just a short drive or bus ride away, you can visit the outstanding Lake Wanaka for incredible views and a day's exploring. Play pirates onboard as you set sail to a deserted island and even climb to the summit once you get there!
Milford Sound
Boasted as New Zealand's most stunning natural attraction, you will want to take a trip to Milford Sound! The surrounding mountains and ink-dark waters make Milford Sound an unforgettable sight, especially when you learn about the rich Maori history. Look out for dolphins and penguins as you cruise towards the stunning waterfalls and glacier-rocks.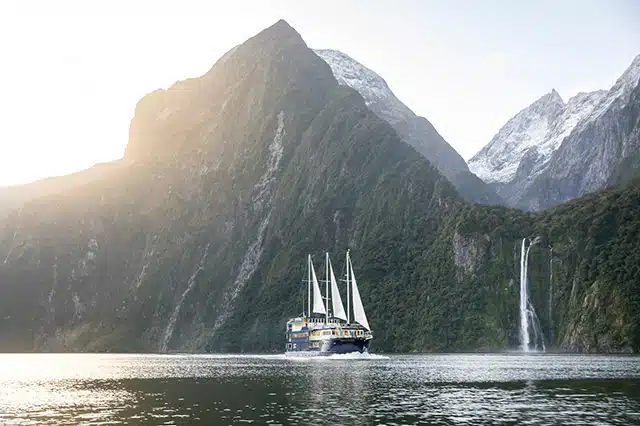 5. Experience an Underwater Cinema
You read that right, a cinema underwater for a truly unforgettable movie adventure! Head to Queenstown Underwater Observatory to watch the animated movie, Time Tripper. Travel back in time to 90 million years ago to learn about a dinosaur's evolution right up to today. Underwater, you can see ducks, eels and trout that live in Lake Wakatipu; but don't fear, you will stay dry the whole time and holding your breath is not required!
6. Say HAY to Horseback riding
With rolling hills and flowing rivers to explore, horseback riding can be one of the best things to do in Queenstown with kids. You can choose from easy 1 hour rides to half and full day trip experiences depending on your skill level and how much beauty you want to see. Minimum age for horseback riding is 5 but they even have pony rides for ages 3-7 so young kids can join in the family adventures. Trust me, there will be no long faces after this family fun day!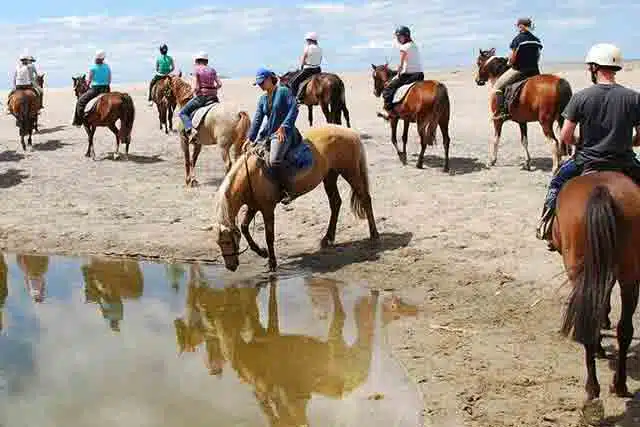 7. Roll through Five fantastic ski areas
Known for its incredible ski fields, exploring the exhilarating alpine playgrounds is definitely one of the best things to do in Queenstown with kids. Getting kids skiing from a young age is the best way to enjoy the sport as a whole family as they grow.
Cardrona
Home to New Zealand's first combined gondola chairlift, Cardrona has world class skiing for all levels. It's the perfect place for newbies to experts to enjoy the different terrains or partake in lessons.
Coronet peak
At just a 25 minute drive from central Queenstown, Coronet peak is one of the most accessible ski fields and they even open for night skiing! Perfect to fit in on even the shortest Queenstown family holiday.
Treble Cone
One of the least crowded ski fields, Treble Cone can be the perfect place if you want some quality family time hurling yourself down the pristine snow terrain.
The Remarkables
The Remarkables is one of the biggest ski fields near Queenstown with multiple sections for all abilities. So whether your family is brand new or seasoned pros, you can practice your skiing skills with kids and take in the stunning mountain views.
Soho Basin
If you want a bit of luxury on your holiday in Queenstown with kids, then Soho Basin could be the place to you. It's a private ski resort and one of the most beautiful areas in the Southern alps with luxurious facilities the whole family can enjoy.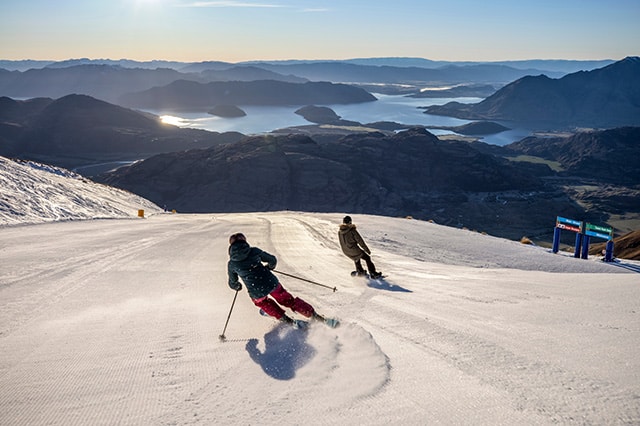 8. Have An' Ice day at Queenstown Ice Arena
Skiing is just the tip of the iceberg! There is a whole arena dedicated to ice offering COOL Queenstown activities, perfect for a rainy day. From ice skating, ice bumper cars, ice hockey to curling, you will not be bored at Queenstown Ice Arena. Why not race your kids ice skating or chase them on the ice bumper cars before enjoying a well deserved adult drink at the ice bar.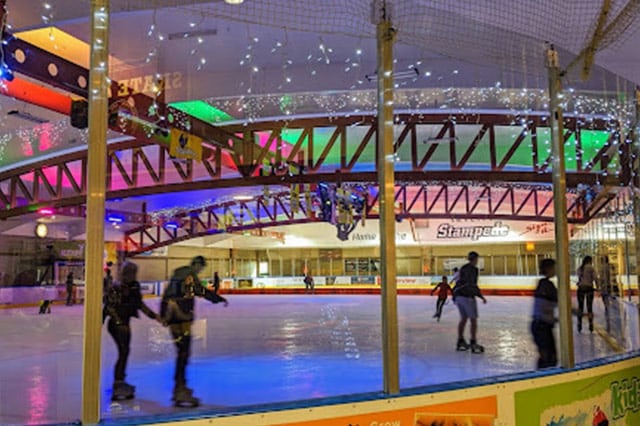 9. Compete at Frisbee Golf in Queenstown Gardens
Where in the world can you play frisbee golf with a beautiful lake Wakatipu and surrounding mountains backdrop? Only Queenstown gardens of course! Try your hand at getting your frisbee into one of the golf flagged cages around the course, it is harder than it looks but so much fun! Pick up your tickets and equipment from Queenstown Ice Arena before heading to Queenstown Gardens.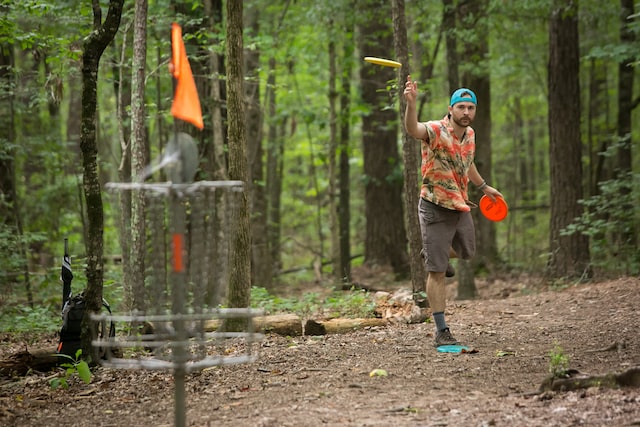 10. A Rafting Trip may Float your Boat
We know what you're thinking, a rafting trip takes courage to hurl yourself down rivers with your kids? Well don't fear, family adventures rafting is for ages 3 and over so your little ones can experience the thrilling adventure sport in a safe but fun way on a grade one route.
For the bigger kids wanting heart-racing adrenaline, try rafting at Kawarau River if you're brave enough.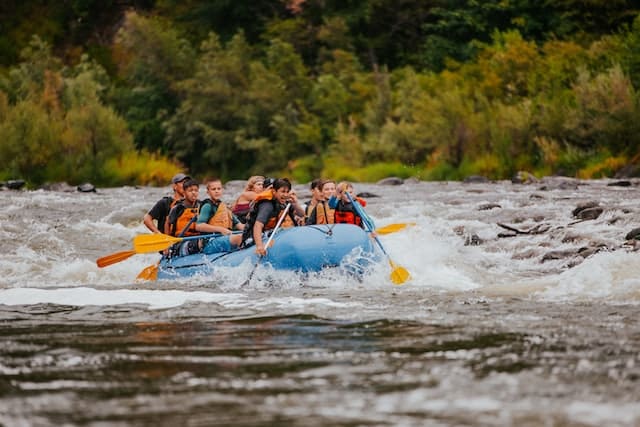 11. Escape as a Family at Thrillzone
With outdoor and indoor escape rooms, Thrillzone is one of the best Queenstown attractions for both a sunny and rainy day. Come together as a family team to act as detectives, solve clues and puzzles and find the scavenger hunt treasure. With impressive AR and geolocation technology, your kids will enjoy code-breaking for sure. Try out their VR escape room too and jump straight into themes from Alice in Wonderland to realistic prisons.
12. Hit up the beach
From skiing to stunning beaches, Queenstown literally has it all. Check out our top beaches on a hot day.
Queenstown Bay Beach
The main beach in Queenstown and the perfect place for families to chill. With a pontoon swimming area, you can relax knowing your kids are safe to explore and have fun.
Kelvin Heights Beach
Unwind on the beach with a view of The Remarkables Ski Mountain in the Southern Alps. With calm waters and a boat ramp, it's a superb place to take kids to play and try out paddleboarding. It is just a short drive around Lake Wakatipu or a short water taxi ride away from Queenstown waterfront.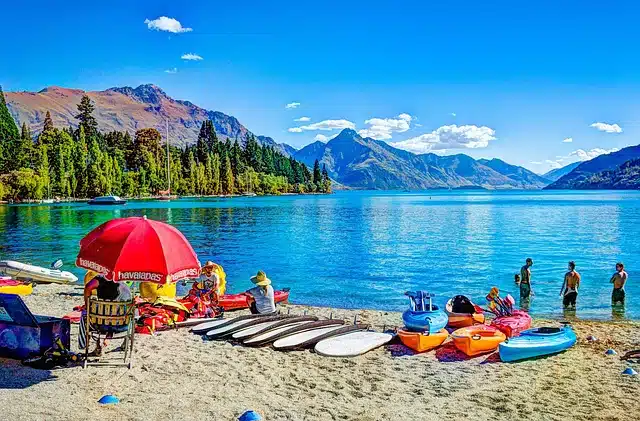 13. Have a Wholesome Family Hike at Queenstown Hill
Nothing screams family time more than fastening up your boots and trekking up a hill. Pack a picnic, feel the wind in your hair and fill your lungs with fresh air, we say! Queenstown Hill is a 500 meter climb above Lake Wakatipu offering dazzling views of the Southern Alps and central Queenstown. An easy pine forest track the whole family can complete.
Check out more great walks in Queenstown if family hiking trips are your thing.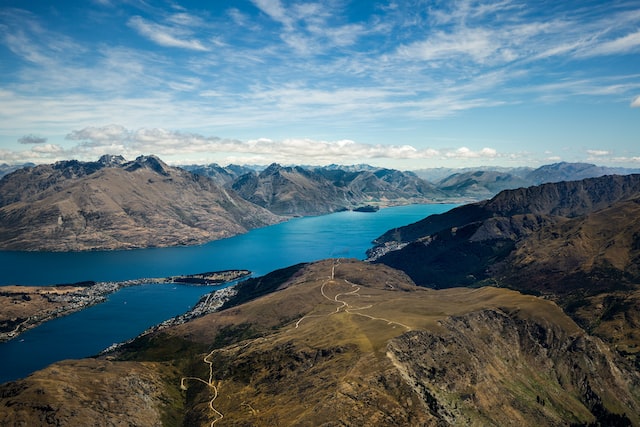 14. Get in some culture at Lakes District Museum
Drive 20 minutes out of Queenstown to discover the quaint gold-mining town centre of Arrowtown and learn the history at the Lakes District Museum. Voted as one of New Zealand's best small museums, you can get a feel of early Maori life, the European settler history and pioneering gold mining days.
Arrowtown is a very beautiful little town to spend the day exploring and features on our list of scenic drives from Queenstown so definitely worth the trip.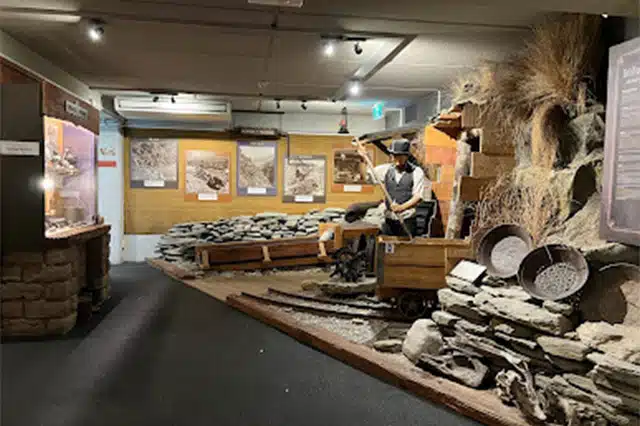 15. See the Colours of Arrow River
Hike the Arrow river trail to see the beautiful blue river contrasted against the picturesque woodland that changes colours from green to yellow and orange throughout the seasons. With easy mountain biking trails to complete too, it's a great way to spend a day enjoying family activities.
So, when will you tick off these things to do in Queenstown with kids?
From beaches to skiing, Queenstown surely has everything you need to keep young and big kids happy and even some adventure for the adults too. To top it all off, Queenstown is one of the most stunning areas in New Zealand so you could unwind every evening with breathtaking views and come back from your family holiday exhilarated yet relaxed.
---
FAQs
When does it snow in Queenstown?
It mainly snows from mid June to mid October in Queenstown New Zealand and the Ski season coincides with this. However, it has been known to fall as early as April and stay until November so if you are lucky, you may get some extra time on the ski fields.
How far is it from Christchurch to Queenstown?
It would take just under 6 hours to drive straight from Christchurch to Queenstown or you could take a flight and be there in 1 hour.
The best Kiwi experience you can have is an epic road trip so you don't miss out on the Lord of the Rings style landscapes, snow capped mountains, blue pristine lakes and Maori culture in between the major cities. Use our trip planner to get GOing on your New Zealand adventure of a lifetime!