Queenstown is a fantastic destination in its own right but it's also a great place to base yourself to enjoy some of the best scenic drives in the country. We thought we'd share our favourite 8 scenic drives from Queenstown for you to include in your bucket list of drives to do in New Zealand.
There's no driving experience more refreshing or exciting than doing a scenic drive in New Zealand. For drivers, the natural scenery on offer is often just as magical as the destinations being driven to. Queenstown is arguably one of the most scenic places in the country and is understandably packed full of scenic drives at every turn. With lakes and mountains all around Queenstown, no matter which direction you head off in, you are pretty much guaranteed some amazing scenery and a pretty stunning drive.
We may be biased (we are, to be honest), but our car rental branch in Queenstown is the most scenic of our eight locations throughout the country (although Waiheke is pushing hard for the number one spot) so if you are looking for car rental in Queenstown to enjoy some of these amazing scenic drives, make sure you drop in and talk to the team first – our branch is located just a one minute walk from the terminal so you can be hitting these scenic drives in no time.
Let's take a look at eight of the best scenic drives from Queenstown:
1. Arrowtown (18 minutes drive)
View this post on Instagram
For a short but sweet scenic drive from Queenstown, you can't beat the 18-minute drive from Queenstown to Arrowtown. Arrowtown is a quaint little town, almost more like a village, with strong roots in the gold mining era of the 19th Century. It's a fascinating place to visit for that reason alone and the drive is a very pleasant one following the route that takes you through Arthurs Point. On the way, you'll pass over the Shotover River (where the famous Shotover Jet Boat operates) and get to see the magnificent Coronet Peak. If you're visiting in the Autumn, the scene that greets you on arrival in Arrowtown is absolutely magical with the autumnal colours in full force.
2. Crown Range Summit (32 minutes drive)
View this post on Instagram
The Crown Range Road has iconic status in our country as the highest state highway in New Zealand reaching an altitude of 1,121 metres. What that means, of course, is that the drive offers some astonishing views once you get to the top. Before that, you'll get to pass the lower part of the Shotover River and do a drive-by of the lovely Lake Hayes. There's a very worthwhile stop at Arrow Junction on the way which is one of the best sunset spots in the region. The view from the Crown Range summit stop speaks for itself.
3. The Remarkables (35 minutes drive)
View this post on Instagram
If you're an avid skier you'll know all about The Remarkables in Queenstown as one of the most well-known and popular ski resorts in the country. You'll also know that the drive to get there is a pretty special one as well. There are a couple of nice stops along the way including one with the humble name, 'Epic Lookout'. It's absolutely fitting too as you see the amazing sight of the Wakatipu Basin before you. You can also do a bit of plane spotting with Queenstown Airport just below. After that, following the road up towards the jagged peaks is equally dramatic and you may even wish to do the walk at the end of it to Dimrill Dale (Lake Alta for the non-Lord of the Rings fans).
4. Glenorchy (42 minutes drive)
View this post on Instagram
The drive from Queenstown to Glenorchy is a beautiful lakeside drive with the wondrous Lake Wakatipu the star of the show. From the minute you leave Queenstown, the famous lake is in your sights as your cruise alongside it towards the small town of Glenorchy. There are some great spots and walks to stop at along the way including Bob's Cove Track which passes through the Ithilien Lookout, another Lord of the Rings filming location. Bennetts Bluff Lookout is also highly recommended with its breathtaking views of the lake and snow-capped peaks on the other side. When you get to Glenorchy you'll be able to gaze out towards the Dart River as well.
5. Kingston (43 minutes drive)
View this post on Instagram
Going in the opposite direction for almost the same amount of time, you'll find Kingston. It's an extremely small town that was once home to the legendary Kingston Flyer train which ran from Invercargill to Kingston. The train station no longer operates but is still there as a shrine to its glorious past. The drive there is also glorious with Lake Wakatipu and the Bayonet Peaks on your horizon. A fantastic stopping point is the ominously named Devil's Staircase Lookout Point which offers panoramic views that will make your eyes pop.
6. Cromwell (50 minutes drive)
View this post on Instagram
There's no shortage of extraordinary destinations within a short drive of Queenstown and Cromwell is another with a fascinating history to visit. Like Arrowtown, it has strong roots in the goldrush era of New Zealand's past which can be fully experienced in attractions like the Goldfields Mining Centre and the Heritage Precinct. The drive is just as rewarding with a route that takes you through the Arrow Junction and alongside the mighty Kawarau River. If you get a chance, you'll want to find time to stop in the Gibbston Valley where you'll find some exquisite wineries and eateries to enjoy.
7. Wanaka (1 hour 3 minutes drive)
View this post on Instagram
Lake Wanaka as a destination needs no introduction as one of the most loved and popular towns in the South Island. What has always helped its cause is that it's a short, lovely drive from Queenstown as well. It follows the same route as the one towards the Crown Range Mountain Summit meaning you get all its spoils as well. Beyond this, it continues on towards the town of Cardrona which has the famous Cardrona Hotel (the most photographed hotel in the country) and Cardrona Bra Fence (the fence with the most bras in the country). The latter has been a great fundraising cause for the fight against Breast Cancer in NZ too which makes it all the more special.
8. Milford Sound (3 hours 23 minutes drive)
View this post on Instagram
Last but not least, the final and most epic scenic drive from Queenstown has to be the drive to Milford Sound. Milford Sound is one of those places that is hard to do justice with words, such is the rare quality of its beauty. At around 3 ½ hours one-way, it takes a bit of driving but can be pulled off as a day trip if you're prepared to start early enough. In doing so, you'll experience a drive that is rich with an incredible range of sights and features. You'll see lakes, native bush, mountainous peaks, rivers, waterfalls and more on your way as a journey of sensory delights for the eyes. The town of Te Anau, about 2 hours into the journey, is a great place to stop as well for a rest and some good eating.
Some amazing scenic drives from Queenstown
As you can see, there are some amazing scenic drives from Queenstown to choose from for your next holiday. Whether you're doing a road trip (hopefully in one of our Queenstown rental cars) or you're a local in the area, we're sure you'll have a fantastic time doing any one of these, creating memories that will last a lifetime.
Related Posts
Book a vehicle for this trip
We recommend: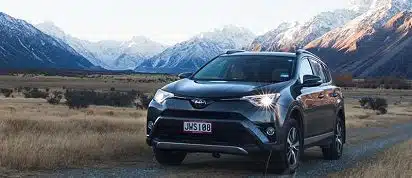 Intermediate 4×4
Toyota Rav 4
Seats

5 seats

Large Bags

3

Small Bags

4

Transmission

Auto trans