New Zealand has a well-established reputation for world class wine. The combination of climate, geography and winemaking talent has seen its wine recognised all over the globe.
Wineries in the regions of Hawke's Bay, Marlborough, Canterbury and Otago have been particularly successful with vineyards there attracting many visitors, both local and international, every year for the sole purpose of sampling and bringing back.
Auckland is more commonly known as the City of Sails thanks to its gorgeous harbour and yachts, but it too has its own share of fantastic vineyards.
To prove this point, we've put together a list of our favourite vineyards in Auckland that you can visit to enjoy some fine wine and food and more!
If you're going to spend the day hitting up Auckland's best wineries, we recommend having designated driver to get you and your group around safely. Check out our Auckland car rental options.
1.      Babich
Babich Wines was established in 1916 and are one of the longest running family owned wine producers in the country. For the Babich family, wine has been a way of life and they have over 140+ years of winemaking experience among them.
The Babich vineyard in Auckland is located in the Henderson Valley and mainly features Chardonnay and Pinotage (they also have additional vineyards in the Hawke's Bay and Marlborough).
They have a great Cellar Door which you can visit to sample one of the eight current vintage and speciality wines they have on offer.
What makes this even more enjoyable is the picturesque setting on the outdoor deck overlooking the vineyard. You can even bring a picnic and enjoy a game of petanque should you fancy it!
2.      Cable Bay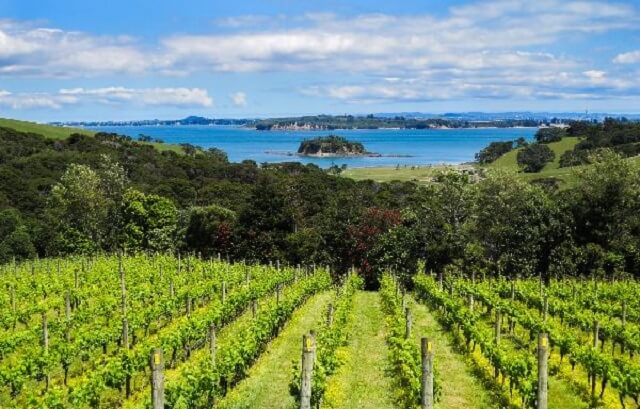 Cable Bay is a well-known vineyard on Waiheke Island which can be reached via a 40 minute ferry ride from Auckland's Downtown Terminal.
Waiheke Island has a number of fantastic wineries based there due to the sub-tropical microclimate, undulating hills and valleys that exist there.
Cable Bay opened in 1998 with their first vineyard on Waiheke Island and achieved success early on winning the gold medal prize for their Chardonnay at the 2002 International Wine Challenge in London.
Since then Cable Bay has gone from strength to strength and have expanded to have a big presence on the Island. They now have a number of vineyards, olive groves, organic gardens, two restaurants and a cellar door.
They've also got a great outdoor lawn area with seating including bean bags which is a great place to sit, relax and enjoy a glass of your preferred wine, admiring the fantastic views of the water and Auckland City skyline.
Bonus: In late June 2022, we opened our latest car rental branch on Waiheke. As well as bringing our award-winning customer service and modern fleet of rental cars to Waiheke, we are also offering bike and e-bike hire on the island – a great way to get around. Check out our all-new Waiheke car rental branch today.
3.      Coopers Creek
Heading back out to West Auckland you'll find Coopers Creek in Kumeu, where they've been for the last 30 years, operating as a family run business with great wine at the heart of it.
Coopers Creek has had a lot of successes over the years, having come from humble beginnings as a boutique mirco-winery they had huge success in exporting winning the 'Award for Excellence in Exporting' at the NZ Export Awards in 1997. They now export to 20+ countries all around the world.
The Cooper Creek Cellar Door is a great place to visit and is open seven days a week for tastings and sales. It's also a great place for a stroll with beautiful gardens that overlook a picturesque pond towards the vineyard.
They've also got an adventure playground for the kids and during the summer they run a popular Sunday Jazz programme for visitors to enjoy.
4.      Stonyridge
Another premium winery on Waiheke Island is Stonyridge Vineyard, specialists in Red Wine, dedicated to producing the finest Cabernet blends in the world. It's a bold statement to make but they do so with authority given their 1987 Larose was declared the greatest red wine ever made in New Zealand.
There's a real romanticism to the way Stonyridge approach wine in everything that they do. Their origins are inspired by the Bordeaux style of red winemaking, so much so that the founder, Stephen White, did his training there.
That was over 30 years ago now, but dedication to that style can be seen in every aspect of the experience when you go there for a visit.
Their Veranda Café is absolutely amazing and has been frequented like celebrity guests like Jamie Oliver, Lenny Henry and Dawn French, but you'll have to book in advance because it's very popular!
5.      Soljans Estate
As you've probably come to realise, there are some fantastic wineries in Auckland with great family heritage behind them. Soljans Estate Winery in Kumeu is yet another example of one that has evolved and excelled through three generations of the same family since 1937.
The vineyard in Kumeu grows Pinot Gris, Chardonnay and Pinotage, varieties that love West Auckland. They have a modern approach to winemaking without compromising on quality, but they still do a few things the traditional way like using French Oak Barraque Barrels for ageing wine.
Soljans Estate is a great place to visit with its Cellar Door featuring its entire range. It's open 7 days a week and you can even book yourself a tasting and a tour of the vineyard in advance for a more intimate experience.
They also happen to have the Soljans Winery Café, widely regarded as one of the top restaurants in Auckland. It's one that features local produce and Mediterranean style cuisine with a Kiwi twist.
With great food, fantastic wine and the opportunity for a fascinating vineyard tour you've got everything you need for a perfect day out.
6.      Villa Maria
The story of Villa Maria is another winemaking classic that starts from humble beginnings and leads to global acclaim. For a winery that is so well known, it's incredible to think it all started from a few acres in Mangere some 50 years ago, but that's exactly what happened with Villa Maria now enjoyed in over 50 countries around the world.
It's in Mangere where you'll find the Villa Maria Winery and Cellar Door just minutes from the Auckland International Airport. There you can opt for a standard or premium tasting and also have the opportunity to go on a tour that provides the background and history of Villa Maria and the winemaking process.
They also have the Vineyard Café which overlooks the beautiful Ihumatao Vineyard where you can enjoy a delicious lunch along with your favourite glass (or two) of Villa Maria.
It's also a popular venue for concerts and events so keep your eyes open for them for the opportunity to visit as well!
Conclusion
We hope you've enjoyed our favourite Auckland Wineries and make the time to include a few visits for your next visit to the city!
Related Posts