Thinking of exploring Goat Island this summer but not sure what you will find there? You've come to the right place. In this guide, we will cover off all the best things to do at Goat Island where you will find some of the best snorkelling in Auckland. Goat Island is a mecca for those who love to dive and snorkel. The marine reserve is one of the best places in New Zealand to get up close and personal with a huge variety of marine life and it's located just over an hours' drive from downtown Auckland.
How do you get to Goat Island?
Whether you are an Auckland local or you are visiting the City of Sails and looking for an amazing day trip, Goat Island is easily accessible. Located just over an hours' drive from downtown Auckland and less than an hour and a half from Auckland Airport, Goat Island is located around 30 minutes off SH1, north of Omaha and Matakana.
Once you leave SH1 at Warkworth, it's a beautiful drive that will take you through Matakana, where you can stop off at the thriving market on a weekend, before you hit the coastline, passing through the small town of Leigh along the way.
Goat Island Marine Reserve
Goat Island Marine Reserve is one of New Zealand's best snorkelling destinations and for many people, it's a place they've never even heard of! If you're thinking Goat Island must be a tricky place to get to, or off the beaten track, it is in fact just over an hour's drive from downtown Auckland and super easy to get to so there are no excuses – get Goat Island onto your bucket list of places to visit. Whilst it's usually a bustling tourist destination, the COVID-19 pandemic has led to a lot less visitors this year to it's a great time to head up there as we head into the summer season when the weather is warm and sunny and the waters are crystal clear.
History of Goat Island
120 years ago, when there were no roads most travelling was done by boat, to prepare for the off chance that they were stranded by bad weather, seafarers began introducing livestock onto many of the small islands dotting the coastline. That way they could be sure of finding a ready source of food if they did find themselves marooned. While pigs learned to escape to the mainland by swimming, goats stayed put, hence the name Goat Island stuck on this little piece of land.
More than just snorkelling at Goat Island
It's not just the marine life that thrives here but also the wildlife on land, with petrels and little blue penguins taking up residence, as well as terns and gulls. In the 1960s, after vast over-fishing by spearfishers drawn to the clear water and plentiful sea life, the land was bought by the University of Auckland who opened a laboratory there. In 1975 the site became an official Marine Reserve, with 5km of coastline.
Things to do at Goat Island
Snorkelling
Seeing as it's one of the best places in New Zealand to snorkel, it would seem rude not to give it a go. Visitors can park on the mainland and enjoy an incredible day of snorkelling and diving. Equally, you can take a swim with no gear and enjoy the marine life swimming in the clear waters beneath you. Hire your diving or snorkelling equipment at the Seafriends Marine Conservation and Education Centre just before the island or bring your own gear.
Because fishing is banned in this region, there's nowhere else along the coast where you'll see so many fish all in one place, including snapper, blue maomao, red moki and rock lobsters.
Glass bottom boat
If snorkelling is not your thing or you have the family with you, then you don't have to miss out on all this underwater action.  The glass bottom boat trip is a fantastic way to explore the marine life that lies just beneath the surface and the crystal clear waters make this a fantastic trip out.
Goat Island Walkway
You will have spectacular views from this walkway which begins from the Leigh Marine Laboratory that sits above Goat Island Beach. At low tide, you can walk to Pakiri Beach. It involves walking across sand, the rocky shore and hopping across boulders to get there. On the way is a beach with pink sand and a small waterfall after rain. Allow time to return before the tide comes in or arrange transport from Pakiri Beach. You can read more about things to do at Pakiri Beach below.
Leigh Fish and Chips
As you have to pass through the village of Leigh to get to Goat Island, we highly recommend a stop off at Leigh Eats Fish and Chips, recently voted in our Top 5 Fish and Chip shops in New Zealand.
Best time to visit Goat Island
The summer months are definitely the best time to visit Goat Island and the water temperatures tend to be warmest in late February and all through March where they can reach up to 22 degrees. Visibility off the island tends to be pretty good all year round, however, it can get a bit murky after heavy rain. The island offers some protection from swells, however northerly and easterly winds can increase the swell and make swimming and snorkelling more difficult. Having said that, there is never a bad time to visit Goat Island so add it to your list.
Pakiri Beach
Just up the coast from Goat Island, you will find one of the most stunning, unspoiled beaches you can imagine. This is another hidden gem which will take you around 1 hour 20 minutes to get to from downtown Auckland but is worth every minute of the journey. The beach has the fine white sand that squeaks between your toes and the warm waters are extremely popular with surfers all year round.
As it's situated just up the coast from Goat Island, you will find the same clear waters here that just invite you to dive in, especially on those hot summer days and whilst it does get busy down here in the summer, the 14 kilometres of beach are plenty big enough for everyone to take up their own little piece of paradise.
Top tips for a day out at Pakiri Beach
Horse Trekking
One of the most popular activities up at Pakiri Beach is to go horse trekking on the beach or in the dunes. If you have always fancied a go at riding a horse through the shallow waters on a white sandy beach, this is a postcard-perfect location to tick this one off your to-do list.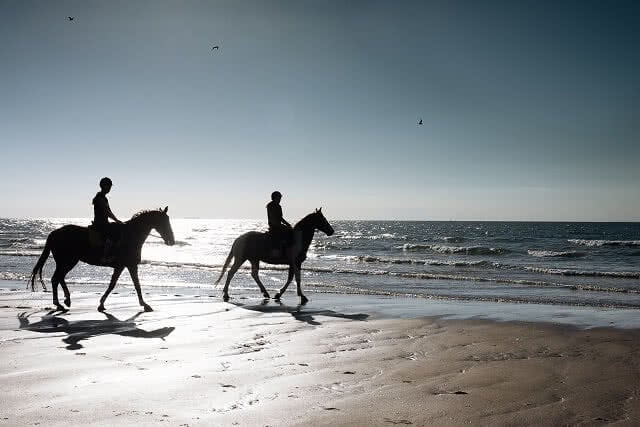 Surfing
We've already mentioned that this is a popular spot with surfers all year round so the next time you're up here, make sure you pack your board and head out for a surf. The reason this place is so popular year-round is the consistent waves and laid back feel – not to be missed if you are a big surf fan.
Walking and relaxing
One of our favourite things to do is take a long walk on the beach. With 14kms of sandy shoreline, it's a truly stunning walk and also a nice place to sit back, relax and soak up the sun.
Day Trip Planning – Goat Island and Pakiri Beach itinerary
If you are looking for the perfect day trip out of Auckland, we recommend combining a trip to Goat Island with a visit to Pakiri Beach. If you are out of the city early enough, there is plenty of scope to fit in both activities. This is our draft itinerary:
9.00am – Leave Auckland
10.05am – Arrive Goat Island
10.15am – Get your snorkelling gear and hit the water
11.30am – Dry off and admire the magnificent views
12.15pm – Head to Leigh Eats Fish and Chips for a cheeky fish and chip lunch
12.45pm – Head off to Pakiri Beach
1.15pm – Arrive at Pakiri Beach
1.20pm – Walk on the beach – love that sand between the toes!
2.30pm – Head out in the water to cool off and hit the surf (fish and chips should have digested!!)
4.00pm – Reluctantly get out of the water and dry off on the beach
5.00pm – Head off and head back to Leigh
5.30pm – Head to the Leigh Sawmill for a delicious craft beer and some tasty food
7.00pm – Head off back to Auckland
8.05pm – Arrive home
Now that's what we call a day out! Of course, if you're looking for a great rental car, we have got you covered in that department as well. With two branches in Auckland, one at the airport and one in the city, we have some great deals on car hire in Auckland.
Updated: 14 December 2021