Updated – 26 February 2019
If you are looking for the ultimate Kiwi culinary experience then you can't look past some good ol' New Zealand Fish and Chips. On every corner next to the local dairy there is the little fish and chip shop that serves the greasy goodness we Kiwis love.
In New Zealand we like to call it "Fush 'n' Chups", and others just like to laugh about it, but New Zealand is home to some of the best fish and chips in the world and we're quite proud of that. Whether you're looking for a meal that satisfies your taste buds and that costs no more than the spare change you find under your couch or you're craving something deep fried and covered in batter – New Zealand fish and chips never seems to fail.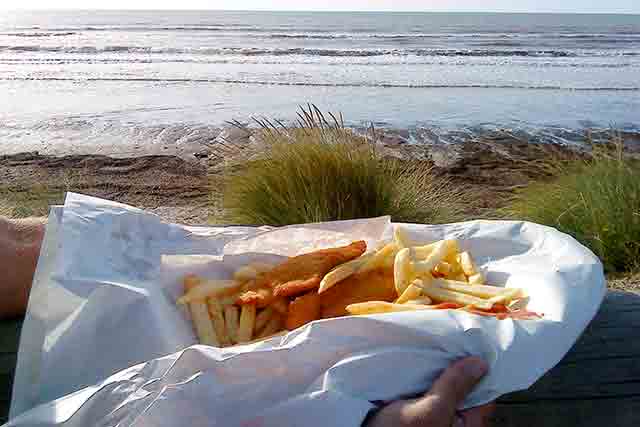 Where are the best fish and chips in New Zealand?
So where are the best fish and chips to be found in New Zealand? Since 2016, we've been asking our fans on our GO Explore Facebook and Twitter accounts to let us know their favourites and every time we've done so we've been inundated – Kiwis definitely love their fish and chips! Our international fans also chip in (no pun intended) sharing their fond memories which usually include a local fish and chip bar, a beautiful New Zealand sunset and the beach!
After lengthy discussions, we've decided upon our top 5 fish and chip shops in New Zealand but we also wanted to present the alternative top 5 New Zealand fish and chip shops as voted for by our GO Explore fans. We had over 125 recommendations so sadly we can't include them all so we have picked out the ones that kept coming up time and time again – there were some definite favourites out there so check them out and let us know what you think.
The GO Explore Facebook Fans Top 5 Fish and Chip Shops in New Zealand
1. Akaroa Fish and Chips – 59 Beach Road, Akaroa
The highest number of votes from our GO Explorers went to Akaroa Fish and Chips and its hard not to agree with them as its easily one of the best places in New Zealand to grab some fish and chips. Here's what a few of our Explorers had to say:
John Proffitt-White – "they are some of the best in NZ and a great setting to eat them sat on the bench at the end of the pier"
Keith Harris – "Great fish and tons of chips!"
So there you have it, not only are they the best fish and chips in New Zealand but you get generous portions as well! They do come with a word of warning though from Dave Mair, "Watch out for the seagulls, they'll take your food from you if you're not careful!"
2. Cooper's Catch – 9 West End, Kaikoura
Kaikoura was another hugely popular place for fish and chips with our GO Explore fans with Cooper's Catch pipping Nins Bin to take out second place on our list. The top tip from our Facebook fans seems to be the blue cod and chips – an absolute winner when it comes to the best fish and chips in Kaikoura. Ann Coe describes the blue cod as "deelish!"
3. Mangonui Fish Shop – Beach Road, Mangonui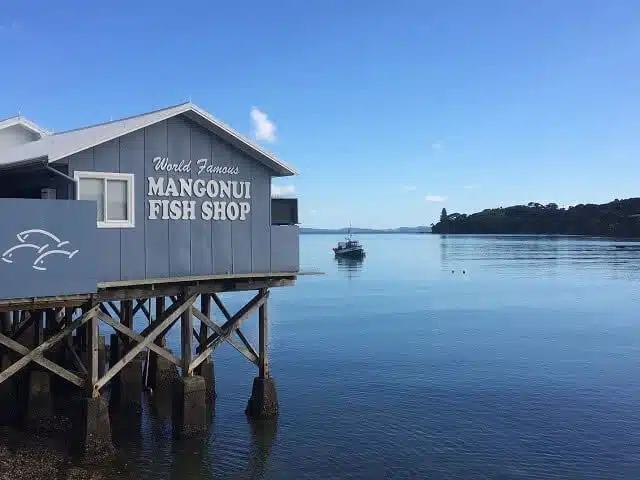 It was a pretty close call between the top three as they are all great with Mangonui Fish Shop and Takeaway coming in 3rd. Jane Lush used her name with her compliments stating emphatically that "The fish from Mangonui was lush!". The Cloud Quest also reckoned these could be the best fish and chips in the world. All we know is that it's a stunning location and they serve up some tasty and fresh fish and chips so they're a winner with us!
4. The Smokehouse – 6 Aranui Road, Mapua
This one was very popular with our international visitors as Mapua is a great stop off point on the way in or out of Nelson. It was an absolute winner with British visitor Abbie Loadman, "We bought bread and made chip butties … 5 very happy Brits!!" Bec Ross also described a visit to the Smokehouse as a "trip highlight" and Frances Clipsom simply says "Yummee!" The next time you're down in Mapua, be sure to call into The Smokehouse!
5. Raglan Fish – 92 Wallis Street, Raglan
Last but not least in our Top 5 New Zealand Fish and Chips shops is Raglan Fish. A hugely popular place with the surfing community, Raglan Fish took out 5th place with our GO Explore fans and is also ranked number 5 on Trip Advisor for the best restaurants in Raglan. Our fans praised the delicious fish and also the salad which is pretty unusual but pretty Kiwi as well so go with it!
Honourable mentions
With so many places to choose from, picking out top 5 was purely based on numbers. Here are a few of the places that just missed out:
So there you have it – the Top 5 as chosen by our fans which is followed by the Top 5 as chosen by the GO Rental's team!
Toyota Rav4 –
Book a vehicle for this trip
We recommend: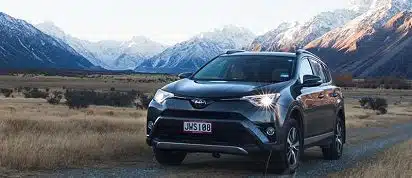 Intermediate 4×4
Toyota Rav 4
Seats

5 seats

Large Bags

3

Small Bags

4

Transmission

Auto trans
The GO Rentals Top 5 Fish and Chip Shops in New Zealand
To get you started, we did some of our own research and whilst it may be a little North Island biased, we think it's a pretty solid list. Let us know what you think in the comments and be sure to let us know if you have any other recommendations (which we'll happily test ourselves!)
1. Oceanz Seafood – Silverdale (north of Auckland)
To be honest, we've still got to agree with that list compiled by the Herald a few years ago! Oceanz has been crowned best New Zealand chippie on countless occasions and whilst there are now five of these outlets around Auckland, the original is still the best in our opinion. Run by two brothers,  where Oceanz comes into its own is providing you with that familiar fish and chip feeling but without the same level of fat and grease. They also cater for a range of dietary requirements making them a great choice no matter who you're with.
Pick up a rental car from our Auckland City or Auckland Airport branch and head north to sample some of New Zealand's best fish and chips in Silverdale or Leigh.
2. Leigh Eats Fish and Chips – (close to Goat Island)
A little bird (our General Manager) said there is only one place that comes to mind when thinking fish and chips – "it's this little corner shop gem". Travel approximately 90 kilometres north of Auckland and you'll find Goat Island. Walk down Cumberland Street and you'll see Leigh Fish n Chips – a little retro-styled takeaway, where they serve your meal with the freshest fish and also have great gourmet fish burgers.
3. Frank's Fresh Fish (Porirua City (north of Wellington)
If you're down in the capital, a regular GO Rentals customer recommended Franks Fresh Fish. Make sure you try the Deluxe Paua fritter – "it's a winner!".  Travel 25 kilometres north of Wellington to find Porirua City (which was judged one of the world's most livable communities in 2010) and you'll find Franks Fresh Fish where the owners are of Italian descent but definitely know how to dish great fish and chips.
If you're craving some fish and chips, pick up one of our awesome rental cars in Wellington and take the 25-minute drive north for some of New Zealand's best!
4. Queen Vic Chippy – Cambridge (just north of Hamilton)
You might think the Queen Vic sounds more like a pub from Eastenders than a chippy, but this little gem situated in the small town of Cambridge just north of Hamilton was named as the best chippy in the Waikato/Bay of Plenty/Hawke's Bay region so they clearly know their stuff as they are not short of competition across those regions. We recently popped in here on a trip south and to be fair, we weren't left disappointed. This is another place that has embraced the gluten-free generation and will leave you ready for a second helping!
5. Oppies Takeaways – Rotorua
The final entrant on the GO Rentals Top 5 fish and chip shops is Oppies Takeaway in Rotorua. Whilst for many, the greasy feeling you're left with after eating fish and chips is part of the experience, there seems to be a shift in the general population towards a 'healthier' brand of fish and chips and no one has done more to embrace this than Oppies chef Michael Huang who drastically changed the frying methods at Oppies to cut the rubbish from Fish and Chips and make them more healthy – every credit!
Now it's up to you!
That's our Top 10 fish and chip shops in New Zealand for 2019 however we do want to make sure we keep things up to date so we will be doing a refresh on the list at the end of the year so we need you! We have a growing army of GO Explore followers who have the experience and knowledge of New Zealand's finest eateries and best takeaways and we want to create the ultimate guide so no one has to be left disappointed by soggy fish and chips again.
Make sure you share your favourite places in our comments or on our social media channels and help us to pick out the best fish and chip shops in New Zealand.
Related Posts