Milford Sound is one of the most popular tourist destinations in New Zealand and was once described by Rudyard Kipling at the 'eighth wonder of the world' – high praise indeed! It's certainly one of the most popular destinations with GO Rentals' customers if our monthly Snap Happy entries are anything to go by.
The big question when planning a trip to Milford Sound though is how to get there. There are a few options available to you depending on where you are coming from. The majority of visitors to Milford Sound will start their journey from Queenstown. Whether this is a direct drive, a stop over in Te Anau or even a flight – Queenstown is the central hub for tours to Milford Sound.
You can of course also approach Milford Sound from the south if you have maybe been on a tour of the Southern Scenic Route from Dunedin to Invercargill and then on to Doubtful Sound and then Milford Sound. Whichever way you choose to arrive, the journey to Milford Sound is almost as spectacular as the place itself so in this post, we're going to focus on Milford Sound tours from Queenstown and talk about your options.
Self Drive
View this post on Instagram
One of the most popular options is a self drive. The AA's Travel Time estimator predicts it will take around 3 hours 45 minutes to drive from Queenstown to Milford Sound, however you should leave a lot longer if you are planning on making the drive yourself. The road itself is always super-busy with tour buses and other day trippers so it's best to take your time. Then of course there are the amazing stopping off points along the way.
Once you get beyond Te Anau (a great stop off point for a coffee and morning tea), the views keep getting better and better until you arrive at Milford Sound. From the stunning Mirror Lakes to the jaw-dropping valley view to The Chasm waterfall just before you arrive at Milford Sound – you are going to want to keep your camera handy and make sure you leave plenty of time to take it all in.
Many of our Go Rentals' customers choose the self drive option – our trusty 4x4s are perfect for the journey – especially when you get into the more mountainous sections of road on the approach to Milford Sound but all our rental cars are more than capable of making the journey and will get you there in comfort. Pick up your own Queenstown car hire and hit the road.
Bus Tour
View this post on Instagram
If you don't fancy the long day of driving (you will probably be on the road for close to 10 hours if you self-drive), you can always let someone else take the strain! There are a number of operators running tours to Milford Sound from Queenstown including the ever-popular Great Sights. Real Journeys and Intercity are two other companies that offer bus and cruise deals which take the strain out of your trip and ensure you can sit back, relax and enjoy your day.
Whilst you're not in control of all the places you stop off along the way, the tour companies do stop at all the major lookouts along the way and give you the opportunity to grab those Instagram-worthy snaps.
Fly and Cruise
View this post on Instagram
One of the most popular packages is the fly and cruise deal. Again there are a number of tour operators offering this deal including our very own exclusive GO Play partner, Glenorchy Air. This is a pretty unique way to experience Milford Sound and dramatically cuts down on your travel time to and from Milford Sound. The tours are fairly personal affairs in small planes. The views as you head over the mountains are absolutely awe-inspiring and the pilots are all very passionate about the area and are full of great trivia about the region and the things you can see far below. Once you arrive, you will get the opportunity to cruise in the Sounds before taking off back to Queenstown with the best view in the house looking down over the magnificent Milford Sound.
Another option is to combine the bus cruise and flight for those looking for an amazing experience and looking to save a few pennies – take the bus tour to Milford Sound where you will see all the amazing sights along the road and then take the scenic flight back to Queenstown – win-win!
Experience Milford Sound
No matter which way you choose to travel to Milford Sound, you are guaranteed a wonderful experience. Whilst the weather can be unpredictable, nothing can spoil your day – when it rains, the waterfalls become even more spectacular and on a sunny day, there are few better places in the world.
Book a vehicle for this trip
We recommend: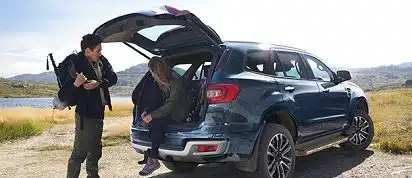 4WD SUV
Ford Everest Titanium
Seats

5 seats

Large Bags

4

Small Bags

6

Transmission

Auto trans