Last month we were pleased to inform you all that we'd been announced as a finalist in the prestigious New Zealand Tourism Awards 2018.
This month we're proud to announce that GO Rentals won the Visitor Experience Award!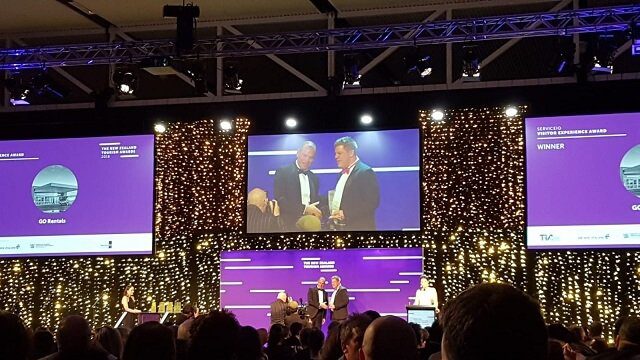 This year's New Zealand Tourism Awards were the most competitive yet, with a record number of New Zealand tourism operators entering and 32 companies and stakeholders shortlisted across the ten categories.
At the glitzy black-tie event hosted at the Air Force Museum in Christchurch, judges praised GO Rentals for being a Kiwi owned and operated business that "has done a phenomenal job of gearing everything it does towards delivering a world-class visitor experience."
It is a great achievement for GO Rentals capping off an already successful year having earlier won the Canstar Blue Award for Most Satisfied Customers for NZ Hire Cars.
Winning the ServiceIQ Visitor Experience Award
The ServiceIQ Visitor Experience Award is one of the most sought-after in the tourism sector and an aspiration for all operators throughout the industry.
The award recognises an organisation that is driving value through an outstanding visitor experience. They must show what steps they've taken to improve the end-to-end visitor experience, as well as providing evidence of the outcome. This gives the organisation the opportunity to highlight the way in which their consistently excellent visitor experience drives value to their customers.
These objectives are ones that have been at the heart of the GO Rentals experience since we were founded over 20 years ago. From booking online via our website, to pick up and drop off, we have worked hard to make every part of our customer journey one that ensures an awesome experience when travelling in New Zealand.
Being recognised through this award is not only hugely satisfying but motivating as well as we look to continue to lead the sector in visitor experience.
Going the extra mile – so you don't have to!
As well as delivering awesome visitor experiences through our knowledgeable and dedicated front-line teams, we help you get the most out of your trips by providing you with all the information and tools you need before you've even arrived!
Through our online road trip itineraries, city guides and blog posts, you'll get all the tips you need to plan your epic New Zealand road trip. When you arrive, our GO App will help you request your courtesy shuttle and the option of an in-branch self-service kiosk brings your pick-up process into the 21st century!
Continually refreshed and updated, you'll save yourself hours of time in research with everything at our one-stop-shop website ready at your fingertips.
Once you've arrived, you'll also be able to enjoy discounts with your GO Play card at one of the 200 local businesses NZ wide that we've partnered with. This means you'll not only experience these must-do activities while in NZ, but you'll also have some great savings.
Looking forward to seeing you soon!
We've welcomed thousands of visitors through our doors over the years including those from overseas here for several weeks on their own epic road trips to those right here in New Zealand on an adventurous weekend getaway.
Whatever your adventure might be, we hope you'll choose GO Rentals and you'll get to see for yourself the awesome visitor experience that awaits.