Like every city in the world, Auckland has some hidden gems that not that many people know about. Those who are in the know tend to keep things under their hats. Well, as much as we feel bad for letting the cat out of the bag, we're all about 'exploring' and we don't want to keep these secret spots all to ourselves.
Here are ten of our favourite secret spots in and around Auckland. Hat tip to some of our amazing GO Explore fans for the tip-offs on some of these amazing places – couldn't have done it without you!
1.      Tinopai
A top tip from GO Explorer Dee Reti, Tinopai is a great place to head if you want to explore the Kaipara Harbour. Safe, sandy beaches, amazing fishing and peace and quiet make this place a great place to spend the day, escaping the hustle and bustle of Auckland life. It feels like taking a step back in time and sometimes, we all need a bit of time out!
View this post on Instagram
2.      Karekare
Located on Auckland's rugged west coast, Karekare is a popular spot with surfers, however, it tends to be a bit of a secret for most people who favour the more touristy beaches of Piha, Bethells or Muriwai. With a number of great walking tracks, picnic spots and black sandy beach, this is a great place to spend the day. Thanks to Roy Hayhurst for the top tip.
3.      Tawharanui Regional Park
Auckland is spoilt for choice when it comes to regional parks. This one is certainly not the closest to Auckland, however as GO Explorer Carol Hood comments, it is one of the most beautiful. Located about an hour and 15 minutes north of Auckland, Tawharanui is set on a remote peninsula and boasts some of the region's most pristine white sandy beaches as well as rolling pastures and coastal forest.
4.      Puhoi
Puhoi is a hidden gem for a number of reasons. The Puhoi pub, one of New Zealand's oldest pubs is one good reason to visit. The cheese is another. However, the best reason to visit Puhoi is to get out onto the river. This little secret spot can be spotted from SH1 as you head north out of Auckland but for many, they never stop to check it out. Error. The Puhoi River meanders its ways from Puhoi to Wenderholm Regional Park and is such a great way to check out this beautiful part of Auckland. It's 8kms and you can take your time cruising downstream. Puhoi River Canoe Hire will even pick you up at the other end and bring you back.
5.      Lake Wainamu
Most people who head over to the west coast of Auckland head to one of the popular black sand beaches like Piha or Bethells. If you want to do something a bit different, park up at Bethells and take the Lake Wainamu Track; a 4km track which will bring you out to the stunning Wainamu Lake. It's a great place to spend the day so make sure you pack a picnic and your swimmers and enjoy a full day out there. This one might not be such a hidden gem anymore after actress Vanessa Hudgens posted some bikini-clad photos back in 2015 but it's definitely still worth the visit. We're not sure Vanessa will still be hanging around though 😉
6.      Bridgeway Cinema, Northcote
Whilst Auckland is definitely an outdoorsy city, there are those who like to spend time inside and of course, there's always those pesky rainy days. If you are looking for something to do that is inside, then the Bridgeway Cinema in Birkenhead is a great place to spend a couple of hours. One of Auckland's best and most vibrant arthouse cinemas, you can watch the latest arthouse movies or commercial releases. They also hold regular special film events and festivals so keep an eye on the website for more details.
7.      Karaka Bay
Karaka Bay is definitely one of our favourites and is definitely one of the city's best-kept secrets. Located in Glendowie, Karaka Bay boasts a stunning, secluded beach with amazing views back across the Waitemata Harbour towards Rangitoto. December and January are great times to visit when the stunning Pohutukawa trees are in full bloom. Cop a spot in the shade of one of these trees and spend the day swimming, playing some beach cricket and enjoying some lovely food.
8.      Rotoroa Island
Not to be confused with Rotorua, Rotoroa Island is located an hour's ferry ride from downtown Auckland but by the time you step off the ferry, you will feel a million miles away from the hustle and bustle of the city. Rotoroa is a very secluded island with very few accommodation options and very few people. If you are looking for a hidden gem, this is it. From bushwalks to lounging on the beach, Rotoroa Island feels like a secret island. There are no shops so you will have to pack everything you need for the day but there is a museum which is worth a look!
9.      Basque Park, Eden Terrace
This park was landscaped with the help of inner-city locals so they are some of the only people who know about this hidden gem close to the heart of the city. Located in Eden Terrace, close to Mt Eden, Basque Park features three fascinating stone circles, one which includes a water feature. It's a tranquil haven away from the noise and traffic in the busy city centre and the flat grassed area is popular for cricket and rugby in the summer months.
10.      Dingle Dell Reserve
Head out along Tamaki Drive to St Heliers and as well as enjoying the amazing views, sandy beach and great coffee shops, you can also take a trip to the little known Dingle Dell Reserve. Described in the 1950's as the forgotten "Cinderella of Auckland's Park's" by the New Zealand Herald, the Dingle Dell Reserve is a relaxing, quiet and peaceful space where you can sit and watch the world go by. There are a number of walks in the reserve, a place to kick a ball around or just take a time out and sit back and relax.
Caring for our country
The Tiaki Promise is a tourism campaign launched in November 2018 and is a commitment to care for New Zealand, now and for future generations. Tiaki means 'to care and protect' in Te Reo Māori and it is up to us to act as guardians of the beautiful country in which we all travel. By following the five key promises that make up the Tiaki Promise, you are making a commitment to New Zealand. Find out more about the Tiaki Promise.
Summary
So there you have it. Our top ten secret spots in Auckland that you need to visit this summer. We'd love to hear more of your top tips to add to our collection. If you have a secret place in Auckland that only the locals know about and that you're happy to share with our GO Explorers, leave us a comment below or on our Facebook page and we will add it to our list for next time!
Don't forget, if you are looking for a rental car for your visit to Auckland, we have two branches (Auckland City Car Rental and Auckland Airport Car Rental) in Auckland so check out our latest deals.
Book a vehicle for this trip
We recommend: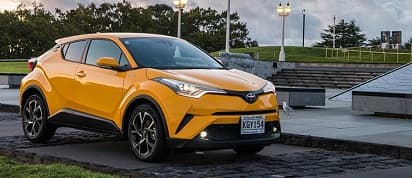 Zippy Auto
Toyota CHR
Seats

5 seats

Large Bags

1

Small Bags

1

Transmission

Auto trans