When it comes to New Zealand landmarks, the first things that spring to mind are places like the Skytower or Harbour Bridge in Auckland or maybe our highest mountain, Aoraki Mt Cook. Tourist attractions such as Milford Sound, the bungy jumps in Queenstown or the bubbling thermal pools of Rotorua are all extremely popular New Zealand attractions and they are found on many lists that will tell you about New Zealand's most famous landmarks. Every year, these attractions bring in thousands of tourists, but are there some New Zealand tourist attractions that are less well known?
We think so.
Some of our tourist attractions are not so much beautiful as they are weird. This doesn't make them any less wonderful and the fact they are considered tourist attractions at all tells you all you need to know about their appeal. This is a list of the best alternative tourist attractions and landmarks here in New Zealand. The ones that don't necessarily get the coverage they deserve. The ones that will easily make your Insta highlights reel on your next New Zealand roadie.
So, take some time out from your regular trip planning and take a look at our Top 10 weird and wonderful tourist attractions that you might just want to add to your trip itinerary.
1. Giant L&P Bottle – Paeroa

There is a bit of a theme to New Zealand's weird and wonderful attractions. We are a very proud nation and our small towns are definitely proud of their successful products. In this case, the town is Paeroa and the product is L&P. For those who may never have heard of L&P (their slogan is 'world-famous in New Zealand), it's a lemon soda drink that is made using water from the small town of Paeroa. L&P literally stands for Lemon and Paeroa and so you can see why they would be so proud. Make sure you check out the giant bottle as you pass through town and better still, grab a bottle from the local dairy and enjoy with some fish and chips. Yum!
2. Bradrona – Cardrona Valley
No one is quite sure where Bradrona came from (and some are not quite sure why it is still there!) but one thing's for sure: it grabs a lot of attention! Located in the stunning Cardrona Valley, Bradrona is a colourful fence that is lined with thousands of bras. That's right. Ladies bras. The bras started arriving here around 1988 and despite efforts to remove the bras over the years, they're definitely here to stay. Rumour has it the first couple of bras belonged to a couple of tipsy young ladies celebrating New Year's Eve at the local Cardrona Hotel. The attraction has now become a tremendous source of charity with Bradrona responsible for donating thousands of dollars to the New Zealand Breast Cancer Foundation so make sure you pay a visit!
3. Hundertwasser Toilets – Kawakawa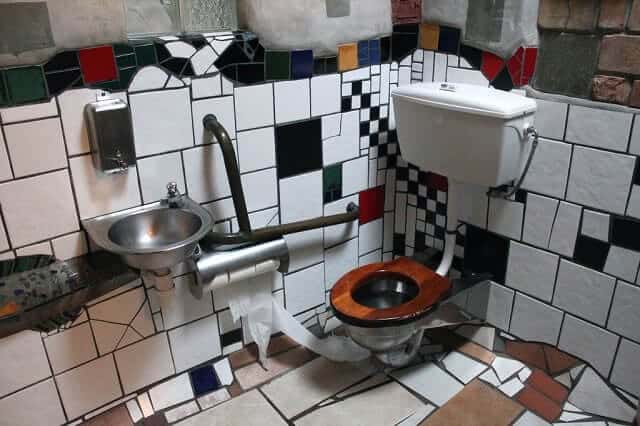 Only in New Zealand could some public toilets be considered a tourist attraction. These are, however, no ordinary public toilets. Located in Kawakawa, which is on the drive north to the Bay of Islands, these toilets are literally a work of art. Designed by Austrian artist Friedensreich Hundertwasser, the toilets are fashioned from recycled local materials including bottles, tiles and a living tree. If you need a pit stop on your way north, make sure you hold it in until you get to Kawakawa and go to the loo in style!
4. Giant Carrot – Ohakune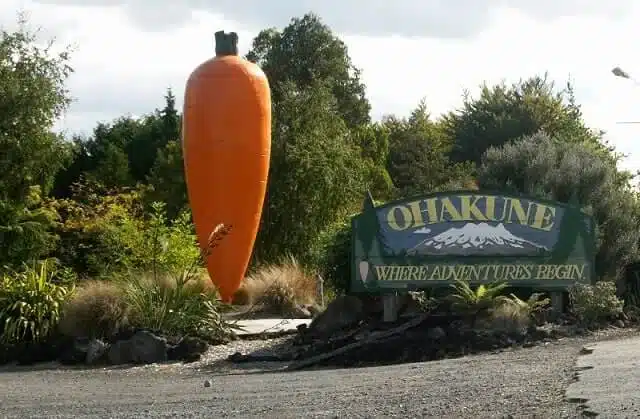 Another town that loves to celebrate its most famous export is Ohakune. To be fair, if your carrots are not from Ohakune, are they really carrots at all? We do seem to have a bit of a thing for 'giant' fruit and veggies in New Zealand and this 7.5-metre sculpture is pretty impressive. Initially, some of the residents of Ohakune thought the carrot was a bit too 'phallic' however they have come to love the giant carrot and it has become a Kiwi icon.
5. Cuba Street Bucket Fountain – Wellington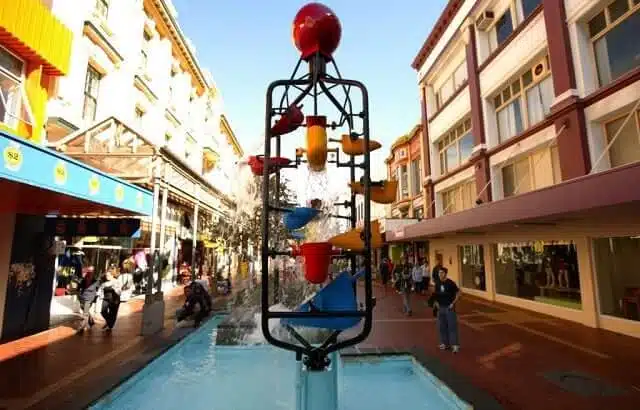 Cuba Street is one of New Zealand's best streets. There is a unique atmosphere and energy on the street and the Bucket Fountain is one of the highlights that is hard to miss. Bright colours define this kinetic structure that sees water pouring from bucket to bucket, falling into the pool below. Problem is, half of the time more of the water ends up on the pavement and over unsuspecting pedestrians which makes it a great place to go and people watch for a while. Naughty students also have a habit of spraying washing up liquid into the fountain after they have had one too many sherberts which is always good fun!
6. Giant Gumboot – Taihape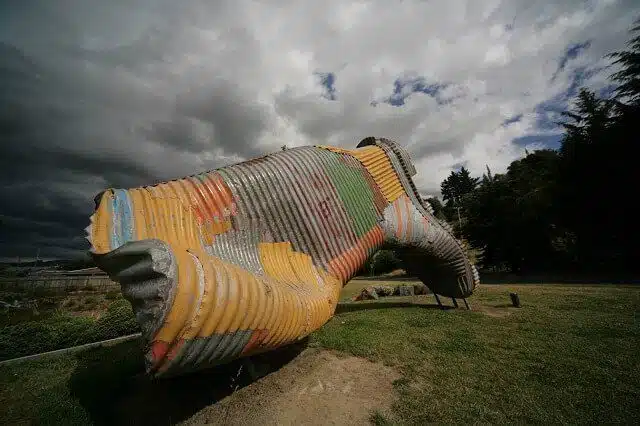 You did read this one right – a giant gumboot made it onto our list. Not only is there is a giant gumboot located in the small town of Taihape (grab a Wellington car rental and drive a few hours north), there is also an annual gumboot throwing competition there. The giant gumboot is another one that's hard to miss – brightly coloured, the corrugated iron boot is pretty iconic in these parts and contributes to Taihape's claim to be 'Gumboot Capital of the World'. No arguments from us!
7. The Kumara Box – Dargaville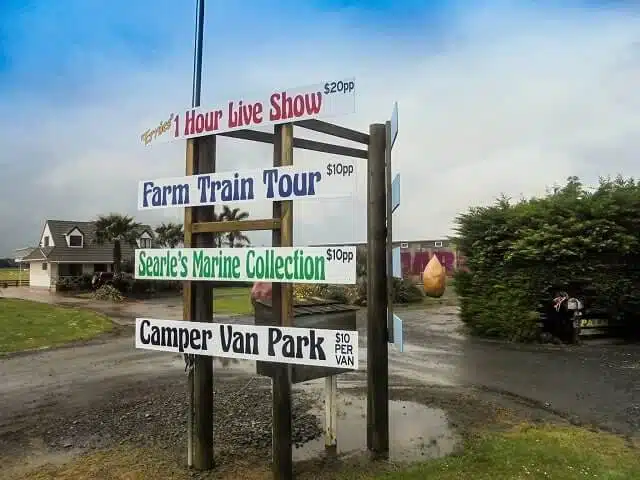 Like the Ohakune carrot, if your kumaras are not from Dargaville, then are they really kumaras? For those who may not have heard of kumaras, they are also sometimes known as sweet potatoes and they grow in abundance in Dargaville. Kumara nut and Dargaville resident Warren Suckling aka 'Ernie the Kumara King' is the man behind the Kumara Box so make sure you call in and check out some of his kumara memorabilia. It definitely ticks the weird box!
8. Shearer Statue – Te Kuiti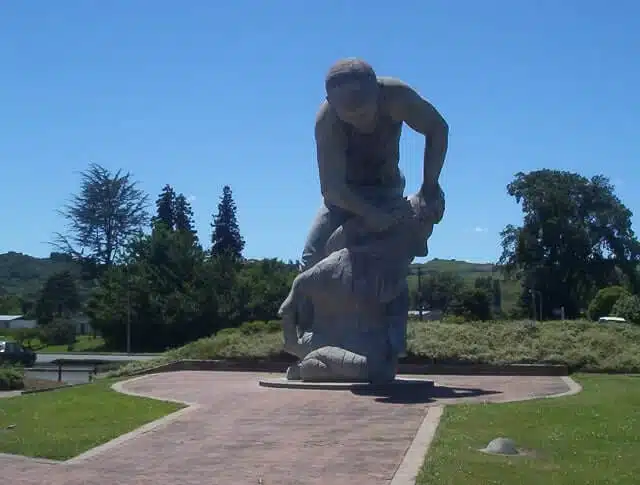 Next on the list is a giant statue of a sheep shearer. New Zealand lays claim to a fair few 'world capitals' and Te Kuiti is another. The 'Sheep Shearing Capital of the World' is home to the six-metre tall statue. It's not known who the statue is based on, however, 10-time world record-breaking sheep shearer Sir David Alexander Fagan hails from Te Kuiti so it seems pretty apt that the statue is located here.
9. Tree Church – Ohaupo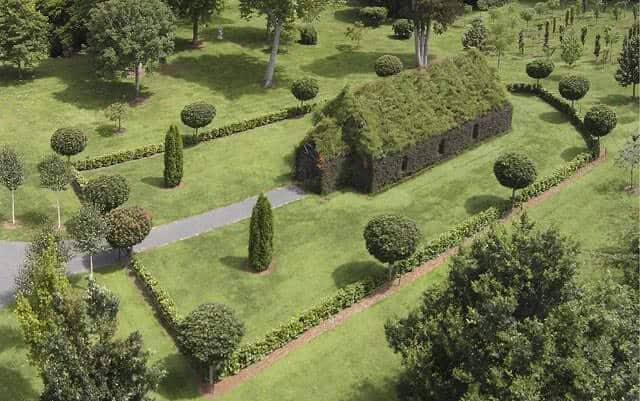 This is right up there with the weird and wonderful. The Tree Church, located in Ohaupo, is quite a sight to behold. Created by Barry Cox and started in 2011, the Tree Church continues to grow and evolve. The church was created by planting trees across an iron frame and letting Mother Nature go to work. The result is one of New Zealand's most spectacular churches which is different every time you visit. It's a pretty interesting place to say 'I do' and there are plenty who choose to do so each year.
10. Giant Kiwi Fruit – Te Puke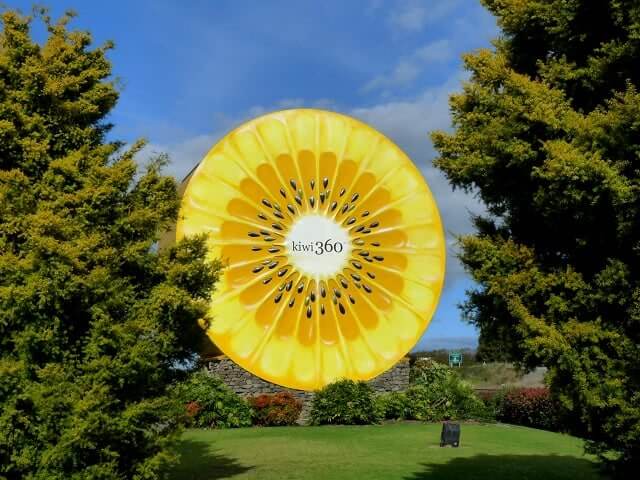 Yet another giant fruit statue! The giant kiwi fruit is found in Te Puke at the heart of kiwi growing country. It's one of the oldest 'big fruit' icons and probably gave the inspiration for some of our other weird and wonderful giant fruit and veg. The bright green kiwi is pretty impossible to miss and makes for a great photo opportunity. Is there anything more Kiwi than having your photo taken with a giant kiwi?
Bonus Attraction
11. Tirau Dog Tourist Information Centre – Tirau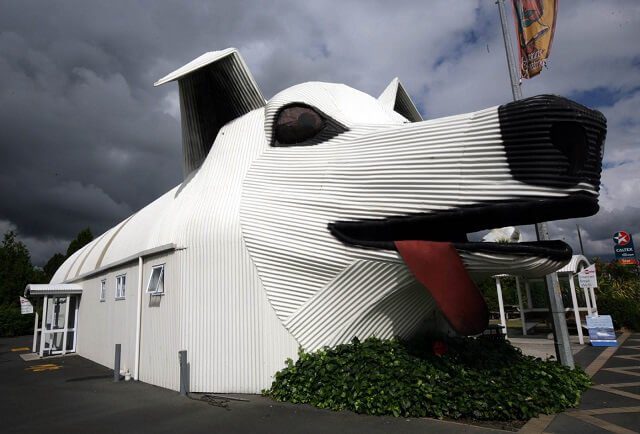 A huge thanks to Jeremiah Potts who sent us this great image of the Tirau Dog Tourist Information Centre. This one is a hard one to miss for anyone taking the road south from Auckland down to Rotorua, Taupo and beyond. As you drive down SH1, you will come across the small town of Tirau where the first thing that hits you is this giant dog! And right next door to it you will also find a giant sheep! Definitely worth a stop off on your way through town.
So there you have it, some of New Zealand's most weird and wonderful tourist attractions and landmarks. Have we missed any off our list? Be sure to drop us a comment below or leave us a comment on our Facebook page and we can look to get it added to our list.
Updated: 11 February 2022
Related Posts
Book a vehicle for this trip
We recommend: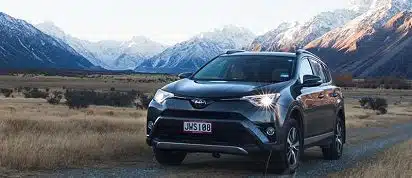 Intermediate 4×4
Toyota Rav 4
Seats

5 seats

Large Bags

3

Small Bags

4

Transmission

Auto trans