We love a good festival here in New Zealand and it's something we like to think we're pretty good at. Over the course of a year, there are literally hundreds of festivals that take place all across the country from huge food and wine festivals to smaller community events that even include gumboot throwing!
In the past, we've pulled together this awesome list of our favourite 13 festivals in New Zealand, however, with COVID impacting on so many of these festivals, we wanted to make sure we updated you with what was going on with all of these festivals in 2020/21 so you can make some plans and keep everything crossed that these amazing festival still take place.
All the information below is correct at the time of writing (22 September 2020) so if you spot something that has changed, drop us a comment and we will get the post updated!
1. Oktoberfest Wellington
When: Friday 2nd and Saturday 3rd October 2020
Where: Wellington Waterfront
Cost: From $35
View this post on Instagram
It is great to see New Zealand embracing Oktoberfest and nowhere does it quite like Wellington! The country's largest Oktoberfest will be returning for a seventh year in 2020 following six hugely successful years. As you would imagine, Oktoberfest is a celebration of all things Bavarian – beers, brats and bands. There is of course a kiwi twist to everything. Beers will be available from a number of German brewers as well as some of New Zealand's finest who will be putting a Bavarian twist on their brews for Oktoberfest. Entertainment will come from hugely popular bands such as Das Steinbenders and the Christchurch Gummistiefels and all in all, it promises to be a pretty great night out in the capital.
If you're sober driving for your group, make sure to check out car rentals in Wellington to get everyone to and from the festival safely.
Website – https://oktoberfest.co.nz/
2. Rhythm and Alps
When: Tuesday 29 to Thursday 31 December 2020
Where: Robrosa Station, 1653 Cardrona Valley Road, Wanaka
Cost: From $169
View this post on Instagram
What better way to see in the New Year than rocking it out at one of New Zealand's biggest and best music festivals. The 2020 Festival will be held over three days including New Year's Eve.
The 2020 Festival is the 10 year anniversary event and due to COVID, this year will celebrate the very best of Aotearoa's music scene, all in the surrounds of the stunning Cardrona Valley just outside of Wanaka. The best way to experience the festival is to camp and whether you dig out your old tent from the attic or you choose to glamp things up a bit, it's all part of the Rhythm and Alps experience.
Website: https://rhythmandalps.co.nz/
3. Auckland International Buskers Festival
When: Friday 29 January to Monday 1 February 2021 (Auckland Anniversary Weekend)
Where: Auckland Waterfront
Cost: Donations to the performers
View this post on Instagram
Another staple on the New Zealand festival scene, the Auckland International Buskers Festival usually sees international street performers from around the world descend on the Auckland waterfront to entertain and amaze you with their wide range of talents. Celebrating its 20th anniversary, this year the festical is going to be a celebration of the very best of New Zealand's street performers and will include acrobats, jugglers, contortionists, hula hoop artists, comedians and many others creating a pretty electrifying atmosphere on the waterfront.
Shows start daily at noon and run through into the evening and it's a great time to get into the city and join in with the fun. The buskers earn their living by passing their hats around so if you love what you see, give generously and think what It would usually cost you to see the same sort of show in a theatre of circus.
Website: https://www.aucklandbuskersfestival.co.nz/
4. Fringe Festival Wellington
When: 26 February to 20 March 2021
Where: Venues throughout Wellington
Cost: Dependant on show
View this post on Instagram
The Fringe Festival has been an annual event on Wellington's events calendar since 1990 making it one of New Zealand's longest-running festivals. For four weeks in late February and March, this annual festival features over 1,100 artists from around New Zealand and across the world. With world premieres, ground-breaking shows and venues throughout the city, Wellington truly comes alive at Fringe Festival time and is a great time to come and visit the capital.
The Wellington Fringe Festival has won a number of awards and accolades and was voted by National Geographic as one of the 10 international 'Must Do in February Festivals'.
Website: https://fringe.co.nz/
5. Coastella – Cancelled
When: N/A
Where: N/A
Cost: N/A
A huge shame for the Kapiti coast but Coastella music festival will not be running in 2021 for the second year running. Whilst COVID has undoubtedly had an impact on the decision not to run this year, it may be the last we see of Coastella which is a real shame after four hugely successful years following the introduction of the festival in 2016. We keep our fingers crossed for a return in 2022.
Website: https://www.coastella.co.nz/
6. Hokitika Wildfoods Festival
When: Saturday 13 March 2021
Where: Cass Square, Weld Street, Hokitika
Cost: TBC
View this post on Instagram
Hokitika Wildfoods Festival is one of New Zealand's most popular food festivals and is a celebration of all the things from the wild west coast. Festival-goers will be able to enjoy all the usual assortment of wild foods including marinated tuna, whitebait fritters, gourmet sausages, smoked salmon, an assortment of game meats and a traditional Maori hangi. If you are looking for something a bit more out there, try the iconic festival huhu grubs, mountain oysters, duck heads, crocodile bites, fish eyes, scorpions, worms, pigs ears and more.
This festival is about getting involved and trying something a bit different. Exploring the West Coast is a big part of any South Island road trip and timing your trip with Hokitika Wildwoods Festival is a good plan of attack!
Website: https://wildfoods.co.nz/
7. iD Dunedin Fashion Week – TBC
When: TBC
Where: TBC
Cost: TBC
View this post on Instagram
New Zealand plays host to a number of fashion shows throughout the year but one of the biggest and best is Dunedin's iD Fashion Week which is a celebration of some of the world's brightest designers but also the chance to emerging talent to shine. The event is run in partnership with Otago Polytechnic and previous festivals have seen some of New Zealand's brightest talents emerge onto a global fashion scene at iD.
This year, due to the COVID outbreak in March and the enforced lockdown, organisers did an amazing job of moving iD online in an amazing digital production which showcased the amazing work on young designers around the world. At the time of writing, there has been no date set for 2021 or confirmation as to whether the event will be a digital one once again so watch this space for more information.
If you are planning a trip to Dunedin for the iD Fashion Week, make sure you check out our brand new branch at Dunedin Airport and get a great deal on car rental in Dunedin.
Website: https://www.idfashion.co.nz/
8. Marchfest
When: Saturday 20 March 2021
Where: Founders Heritage Park, Nelson
Cost: TBC
View this post on Instagram
MarchFest is a unique craft beer and music festival, held in New Zealand's sunniest city, Nelson, at the top of the South Island. Set in the beautiful, traffic-free environment of Founders Heritage Park and as New Zealand's craft beer capital, it promises to be an absolute cracker. As beer festivals go, Marchfest is up there with the very best. The Nelson region is New Zealand's sole hop growing area – and has more craft breweries per head of the population than anywhere else in the country. Unlike ordinary beer festivals, all the beers available at MarchFest have been specially commissioned for the event and have never previously been tasted by the public. Now that does make you feel pretty special about your beer tasting!
If you're picking up your Nelson car rental in March and you're a fan of music and beer (who isn't?), make sure to check out 'NZ's Big Little Craft Beer Festival'. A great event for March in the equally great city of Nelson.
Website: https://www.marchfest.com/
9. Crankworx Mountain Biking Festival
When: TBC
Where: TBC
Cost: TBC
View this post on Instagram
If you love mountain biking, then this is the festival for you. Crankworx Rotorua is one of the world's best mountain biking festivals and brings some of the world's best downhill, slopestyle and endure legends to New Zealand along with the superfans, rising stars and industry innovators. Add to this some of the best-emerging riders from around New Zealand and the world and some great live music and you have all the makings of an amazing 5-day festival.
At the time of writing, there is no information available on the Cranworx website regarding the 2021 event in Rotorua. Sadly, organisers have had to cancel the event planned for Whistler in Canada in August and with international travel still likely to be limited at best come March, we could see a cancellation of this hugely popular event so watch this space for further info.
Website: https://www.crankworx.com/
10. Queenstown Winter Festival
When: TBC
Where: Locations throughout Queenstown
Cost: There are both free and paid events
View this post on Instagram
The Queenstown Winter Festival is a celebration that marks the beginning of the winter season in Queenstown. The 2020 event was unfortunately cancelled due to the COVID-19 outbreak, however organisers are hopeful to come back bigger and better in 2021.
The Real Journeys Queenstown Winter Festival reflects the diversity and vibrancy of the Queenstown community. They showcase why they are so proud of their place and invite you to come and share that with them. 2019 saw over 57,000 people come to the festival and they are hoping 2021 will be the biggest event yet.
At the time of writing, no dates have been set for 2021, however, they do have a banner up saying people should expect updates soon.
The best way to get around Queenstown is with a rental car, allowing you to get to and from the mountains and all the festivals and events in between!
Website: https://www.winterfestival.co.nz/
11. Whitianga Scallop Festival
When: Spring 2021
Where: Whitianga Harbour
Cost: Approx $50
View this post on Instagram
The impact of COVID-19 has meant that the Whitianga Scallop Festival, planned to be held 12th September 2020 has had to be cancelled. In positive news, the organisers are already looking ahead to Spring 2021 and planning to be back bigger, brighter and better than ever – celebrating all of the things that make the Whitianga Scallop Festival so special.
The concept of the festival is a simple one – scallops cooked in loads of different ways by some talented national chefs, local restaurants and the local community. Chuck in some amazing entertainment, some seafood cooking classes and demonstrations and you have all the makings of a classic New Zealand festival.
Website: https://www.scallopfestival.nz/
12. Akaroa French Festival
When: TBC
Where: Akaroa
Cost: TBC
View this post on Instagram
French Fest is a biennial festival that celebrates Akaroa's unique French connection. For one weekend in October, the whole town takes on an even more French theme than usual as they celebrate their rich history which includes a re-enactment of the French landing at the beach, a raising of the flags as well as numerous market stalls and French entertainment. Akaroa has retained its French roots and as the only French settlement in New Zealand, the locals are very proud of their history. As well as the market stalls and re-enactments, there is also a Fete des Lumieres – an amazing light show which includes fire projections.
At the time of writing, the dates have yet to be set for 2021 which is not unusual – we are still over a year out from the festival but expect it to be some time in mid-to-late October.
Website: Christchurch City Council
Website: Akaroa.com
13. Toast Martinborough
When: Sunday 21 November 2021
Where: 7 Kitchener Street, Martinborough
Cost: Approx $90
View this post on Instagram
Toast Martinborough is one of our favourite wine and food festivals and let's be honest, New Zealand has a lot of wine and food festivals!! Everything about the festival makes us happy and for us, it signals the start of the summer season. Held at the end of November every year, Martinborough is about an hour north of Wellington and for one day, it finds itself home to wine lovers from all across New Zealand. As well as some amazing wine, there are also some fantastic food stalls and live entertainment throughout the day.
The 2020 event was all looking good right up until the middle of August when a move to Alert Level 3 forced organisers to cancel the 2020 event. They were, however, quick to lock in the date for 2021 and have given themselves plenty of time to plan a most amazing event next year.
Website: https://toastmartinborough.co.nz/
So there you have it – out top 13 New Zealand Festivals for you to add to your calendar and start planning your road trips. If you know of any festivals we've missed off the list that you think deserve a place on our bucket list, let us know in the comments below and we will add in any beauties!
Book a vehicle for this trip
We recommend: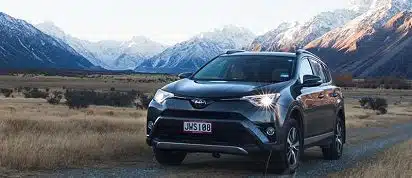 Intermediate 4×4
Toyota Rav 4
Seats

5 seats

Large Bags

3

Small Bags

4

Transmission

Auto trans