A self-driving overseas holiday can be stressful for many reasons. If you hail from a country that drives on the right-hand side of the road, perhaps the most worrisome part of your holiday planning is adjusting to left-hand driving.
Many countries drive on the left-hand side of the road, including New Zealand. To help you prepare for your Kiwi getaway, we've assembled this guide with 10 essential tips for you to utilise to ensure you always stay on the correct side of the road.
For more information on driving in New Zealand specifically, check out our guide with rules for tourists and browse our range of other travel guides. Once you've done the necessary research, you're all set to book your GO Rentals vehicle and start planning your dream New Zealand getaway.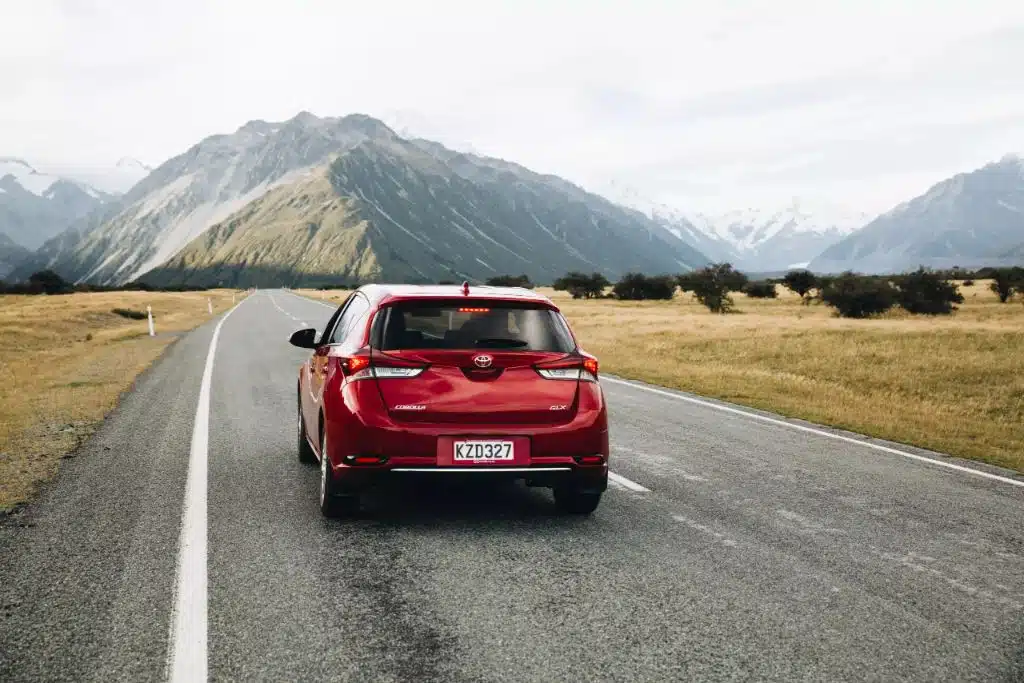 1. Notice your instincts
You should start preparing to drive on the opposite side of the road before you've left on your trip. Driving is such an intuitive activity so it's important to be aware of the role instinct plays in it.
For example, you may notice as you're driving that you intrinsically look on the right-hand side for potential traffic hazards such as pedestrians, animals or parked cars. However, when you drive on the left, you'll have to check on the left side of the road for possible hazards.
As you drive in your home country, take note of such instincts so you can make the effort to reverse them when you arrive in a left-hand driving nation like New Zealand.
2. Choose a car with an automatic transmission
You want to make things as easy for yourself as possible when you take on the task of driving on the left-hand side of the road. For this reason, opt for an automatic car.
Automatic vehicles are simply easier to drive, and it's one less part of the car to confuse you as you adjust to driving in the opposite direction.
At GO Rentals, the majority of our fleet have automatic transmissions, so you have plenty of choices for finding the perfect car for your trip.
3. Take time to get adjusted
There are several key differences to take note of when you first step into your rental vehicle. Ensure that you stop, take a deep breath and take the time to note all of these differences before you begin driving.
Some key things you'll need to take note of are:
Driver's seat:

The driver's seat and steering wheel are on the right side of the car in a left-handed vehicle. Getting in on the correct side of your car each morning is a great way to start things off.

Rear-view and wing mirrors:

Using these mirrors will take some adjustment, as the images they present are flipped from how they usually appear to you when you drive.

Pedals:

A car's accelerator, brake and clutch are in the same positions on almost every car around the world. This in itself can be somewhat confusing, as it might seem like the only thing that isn't reversed. However, it should be easy to fall back into the instincts of using a car's pedals just as you would at home.

Gear stick or shifter:

Mechanically, a car's gear stick is not reversed whether it is a right-hand or a left-hand drive, but there is still some adjusting to do when it comes to using it with the opposite hand and from the opposite side of the car. Opting for an automatic vehicle over a manual (or stick shift) car means you won't need to worry about this.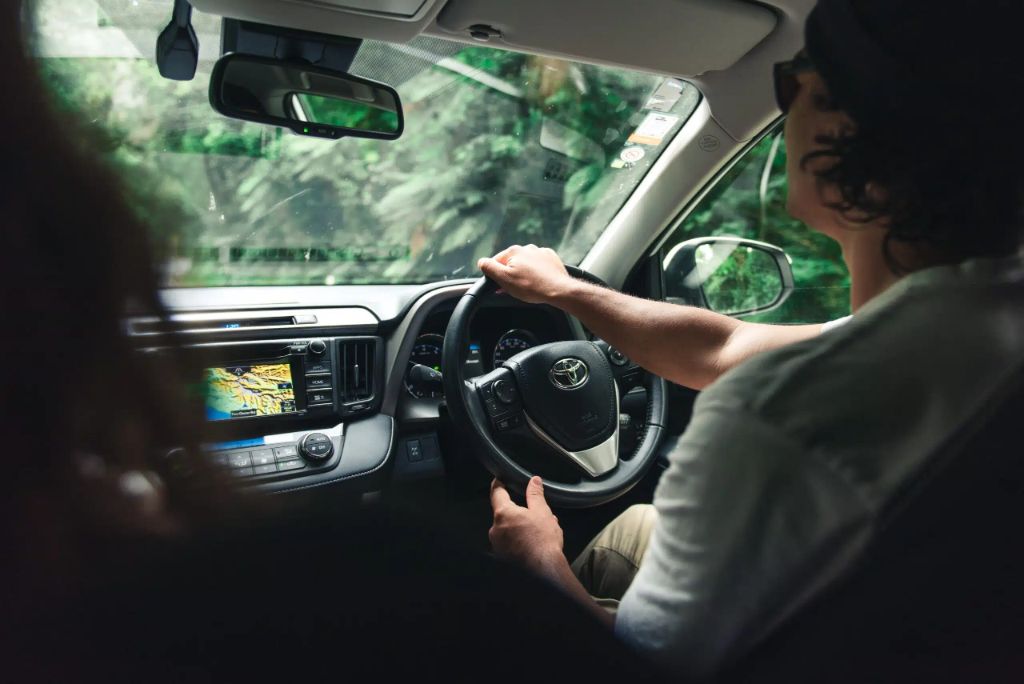 4. The driver's seat technique
Driving on the opposite side of the road will go against many of your instincts as a driver. However, one will be maintained: You will be sitting on the side of the car closest to the middle of the road.
This is a common tip many drivers come across when learning to drive, and it also applies when driving in the opposite direction. This can be a very useful way to always remain on the correct side of the road.
5. Drive with caution
The last thing you want to do when you jump into your rental vehicle is speed off into the sunset. Drive slowly with extreme caution at first. Ideally, you want to find a nice, quiet stretch of road to work on getting your initial bearings.
When on motorways, stick to the left lane and allow others to overtake you. Even as you feel your confidence building, maintain caution at all times.
6. Concentration is key
You should be focused at all times when driving, and especially when driving on the opposite side of the road. 
Here are a few tips to keep in mind:
Ensure your route is established and your children and any loose items are secured before you set out.

Rather than allowing your mind to wander as we often do when driving, force yourself to pay close attention to the road and any possible traffic hazards as you drive.

Do not drive when tired or drowsy, especially if you have just gotten off a long-haul international flight.

Do not allow yourself to become distracted by any stimulus, such as a smartphone.
7. Use memory devices
Memory devices can be powerful tools for remembering crucial information. Something as simple as a sticky note or a notification on your phone in the morning can help you to internalise this information.
Another tip is to use a simple memory phrase. Avoid a complex mnemonic and stick with a short phrase like "Left is best" or "Always drive on the left-hand side". Repeat this to yourself throughout your trip and as you drive so it's always top-of-mind.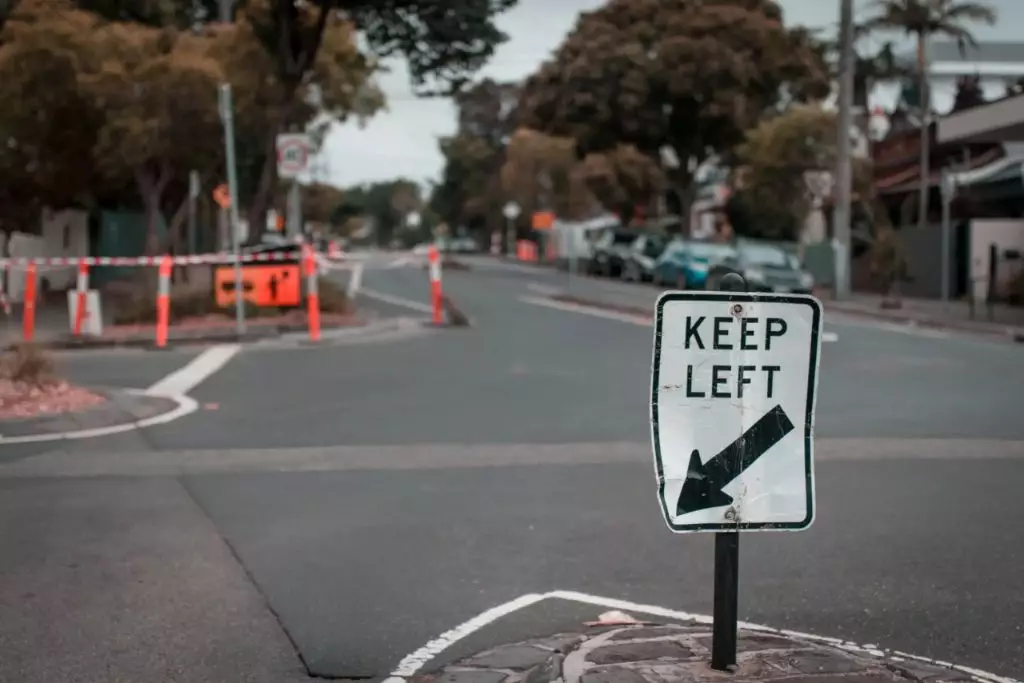 8. Beware of intersections and roundabouts
These are 2 of the most troublesome road features you'll encounter when driving on the left side of the road. They can be tremendously confusing to use in left-hand traffic when you're used to right-hand traffic. Any time you approach a roundabout, intersection or traffic lights, shift into a mode of hyper-focus and deploy your memory devices.
Familiarise yourself with resources from the New Zealand Transport Authority. Seeing images of giving way at intersections and roundabouts can be tremendously useful in understanding your duties as a driver in a foreign country.
Roundabouts and intersections can be most dangerous when they are empty. With no examples around you to follow, it's all-too easy to shift into your old habits and wind up on the wrong side of the road.
You might then find yourself in oncoming traffic because the road wasn't as empty as you thought. Be very careful in this situation.
9. Familiarise yourself with more rules
Driving on the left-hand side of the road is just one of many rules to be aware of as you drive around New Zealand. You'll find it easier to adhere to this rule if you're well-versed in other road rules and tips in New Zealand.
Some of the most important things to note below:
If a New Zealand police officer requires you to stop your vehicle, they will drive behind you with their lights and siren on. You must then stop your vehicle in a safe location as soon as possible and wait for them to exit their vehicle and come to you.

Most roads have just one lane in each direction. If there is a solid yellow line on your side of the road, it is illegal to attempt to overtake vehicles in front of you.

Everyone must wear a seatbelt or child restraint when inside a moving vehicle.

You must not use a handheld mobile phone when driving. All phone usage must be hands-free.

Check the

NZTA website

for updates on traffic conditions and weather updates. Avoid roads that are covered with ice or snow where possible. Check out our

winter driving tips guide

for more information.

You can check out our

guide to safe driving

in New Zealand, including images of road signs.
10. Choose the right rental vehicle
Choosing the right vehicle is essential for a safe and stress-free self-driving holiday in New Zealand. Though we may be a little bit biassed, we think that GO Rentals is the perfect choice for you.
We have a wide array of vehicles for you to choose from. We recommend opting for a car that is similar to the type of car you drive at home to make your adjustment as easy as possible.
GO Rentals also offers unlimited kilometres, basic rental insurance coverage and 24-hour roadside assistance built into base prices. This enables you to reduce external stresses and focus on driving and having fun on your trip.
Though driving on the left-hand side of the road can be daunting, these tips should help you master driving in New Zealand and guide you to a safe and fun journey. Check out our 8 branches around New Zealand and start planning your itinerary today.
Book a vehicle for this trip
We recommend: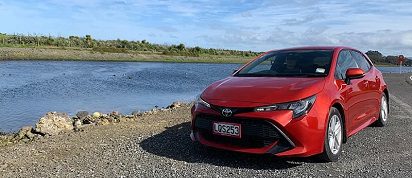 Compact Auto
Toyota Corolla
Seats

5 seats

Large Bags

2

Small Bags

1

Transmission

Auto trans
---
Frequently asked questions
How many countries drive on the left side of the road?
It is often said that 76 countries worldwide drive on the left side of the road, however, this figure depends on how "country" is defined. When including territories and dependencies with varying levels of autonomy, this figure could rise to 85.
Which countries drive on the left side of the road?
85 countries and territories which drive on the left side of the road are Anguilla, Antigua and Barbuda, Australia, The Bahamas, Bangladesh, Barbados, Bermuda, Bhutan, Bophuthatswana, Botswana, British Indian Ocean Territory, Brunei, Cayman Islands, Channel Islands, Ciskei, Cook Islands, Cyprus, Dominica, East Timor, Falkland Islands, Fiji, Grenada, Guyana, Hong Kong, India, Indonesia, Ireland, Isle of Man, Jamaica, Japan, Jersey, Kenya, Kiribati, Cocos (Keeling) Islands, Lesotho, Macau, Malawi, Malaysia, Maldives, Malta, Mauritius, Montserrat, Mozambique, Namibia, Nauru, Nepal, New Zealand, Niue, Norfolk Island, North Cyprus, Northern Mariana Islands, Pakistan, Papua New Guinea, Pitcairn Islands, Saint Helena, Saint Kitts and Nevis, Saint Lucia, Saint Vincent and the Grenadines, Seychelles, Singapore, Solomon Islands, South Africa, Sri Lanka, Suriname, Swaziland, Tanzania, Thailand, Tokelau, Tonga, Trinidad and Tobago, Turks and Caicos Islands, Tuvalu, Uganda, United Kingdom, US Virgin Islands, Vanuatu, Zambia, and Zimbabwe.
Why does New Zealand drive on the left side of the road?
Historically, left-hand driving was not as rare as it is today. According to some scholars, it was the most common practice in feudal societies as it made it easier for right-handed people to use their swords when necessary.
A major shift in global driving habits occurred during the Napoleonic Wars. Driving wagons on the right side of the road became commonplace in France following the French Revolution. This became a continental trend in newly acquired French territories under Napoleon Bonaparte.
One country Napoleon never managed to conquer was Great Britain. Britain therefore maintained its practice of left-handed driving, which is why former British colonies like New Zealand continue to use the left side of the road today.