New Zealand consists of 2 similarly-sized islands, both jam-packed with things to do. This can be slightly frustrating for travellers planning their itineraries, especially if you intend to rent a car for your trip.
When planning a self-driving itinerary around New Zealand, you might think you need to develop 2 separate plans for each island with a flight in between. However, thanks to the Cook Strait ferry, this is not the case. It allows you to complete a full self-drive itinerary around all of New Zealand.
We have assembled everything you need to know about the ferry between New Zealand's North and South Islands. You can take any GO Rentals vehicle on the Cook Strait ferry. We also offer one-way rentals, meaning you don't need to worry about getting back on the ferry to return your car. We take the stress out of travel, allowing you to focus on planning your epic holiday and just having fun!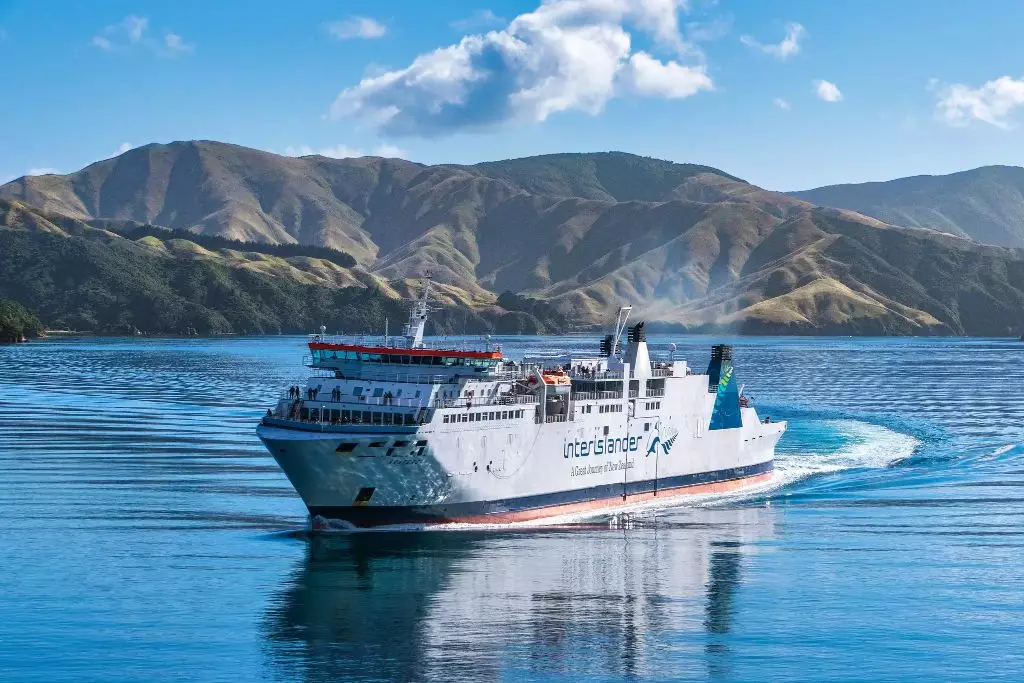 Where is the ferry from North to South Island New Zealand?
The ferry between the North and South Islands of New Zealand goes between Wellington and the South Island town of Picton. This journey generally takes around 3.5 hours and is the only commercial ferry route on the Cook Strait.
There are two ferry companies that operate between the North and South Islands, known as Interislander and Bluebridge.
Wellington ferry terminals
Interislander ferries depart from the Kaiwharawhara Terminal near Aotea Quay. You can get a complimentary shuttle bus to and from Wellington Railway Station to the passenger ferry terminal.

The Bluebridge Wellington terminal is opposite Wellington Railway Station near Waterloo Quay.
Picton ferry terminals
The Bluebridge Picton terminal is located at 1 Lagoon Road, less than a kilometre from the town centre. Its complimentary shuttle bus picks up and drops off customers at a range of stops in the town.

The Interislander Picton terminal for passengers is on 3 Auckland Street, while vehicle check-in is on the nearby Lagoon Road.
Checking in for ferries from North Island to South Island
Here are a few things to be aware of when checking in for Interislander and Bluebridge ferries.
Interislander Ferry
For Interislander ferries, vehicle check-in should occur at least 1 hour before departure. After checking in, you must remain with your vehicle, so get comfortable and have a snack at the ready. When the ferry is ready to board, you will be directed by the vehicle marshal.
If any member of your party wishes to check in as a passenger, you all must check in at the passenger terminal. The driver can then drive back to the vehicle check-in.
Walk-on passengers should arrive at least 45 minutes before departure, head to the check-in desk and receive their boarding pass. You will need to check in large bags including backpacks. Each walk-on passenger has a total baggage allowance of 2 bags weighing no more than 23kg each.
Excess luggage, sporting equipment and bicycles will incur fees of $20 each.
Bluebridge Ferry
Check-in for all Bluebridge ferries closes 1 hour before departure. Drive-on passengers may check in via the kiosks in the passenger terminal if they arrive before the drive-through is open or as a matter of preference.
As is the case with checking in on the Interislander ferry, you must remain with your vehicle after you have checked in. For walk-on passengers, your checked-in luggage allowance is 2 bags weighing no more than 30kg each.
Additional luggage can be checked in at a cost of $10 per bag. Other "awkward-sized items" can be transported at $15 per item.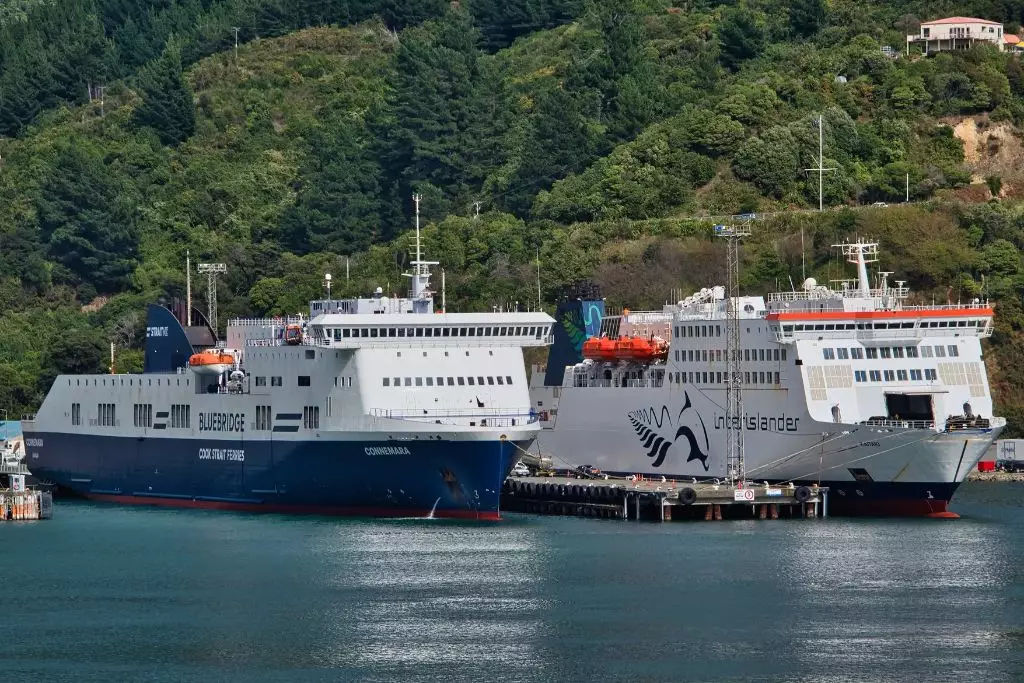 Interislander ferries vs Bluebridge ferries: Which is better?
Here are a few of the key differences between Interislander and Bluebridge, so you know which ferry company is perfect for your trip.
Interislander ferries are larger than Bluebridge ferries, making for a more luxurious travel experience and easier navigation of difficult waters. This means Interislander ferries are less prone to cancellations. If your Bluebridge service is cancelled due to difficult travel conditions, you may be able to transfer your ticket to an Interislander ferry.

Bluebridge ferries have private cabins and an overnight ferry. Only 1 of the 3 ferries used by Interislander has cabins.

Bluebridge ferries are generally considered to have superior meal options.

Prices for ferry tickets vary a lot based on seasonality and demand, so it's difficult to definitively say which is cheaper. Passenger-only tickets start at around $50, while vehicle tickets can range from around $100 for motorcycles up to around $400 for campervans.
---
Tips for getting the ferry from the North Island to the South Island
Book well in advance, as the ferries can fill up very quickly.

Return tickets are generally cheaper.

Consider off-peak or off-season crossings as they are much more affordable.

While some on-ferry entertainment is provided, you should be prepared to amuse yourself for 3.5 hours of travel time.
---
Things to see on the Cook Strait ferry
Wellington Harbour:

As you leave New Zealand's North Island, you'll get a stunning perspective on Wellington Harbour. The nation's capital is a beautiful combination of the urban and natural delights New Zealand is known for.

Matiu/Somes Island:

This historic and conservation reserve is a stunning sanctuary and is a great sight to enjoy as you cross Cook Strait.

Pencarrow Head Lighthouse:

The historic Pencarrow Head Lighthouse is a stunning feature of the rugged coastline nearby Wellington Harbour. The Lighthouse oozes history, as the first permanent lighthouse in New Zealand, operated by the first and only female lighthouse keeper in the country.

Marlborough Sound:

The Cook Strait ferry is the perfect place to get a taste of the Marlborough Sounds including the Queen Charlotte Sound. Make sure this incredible region is on your South Island bucket list for when you land.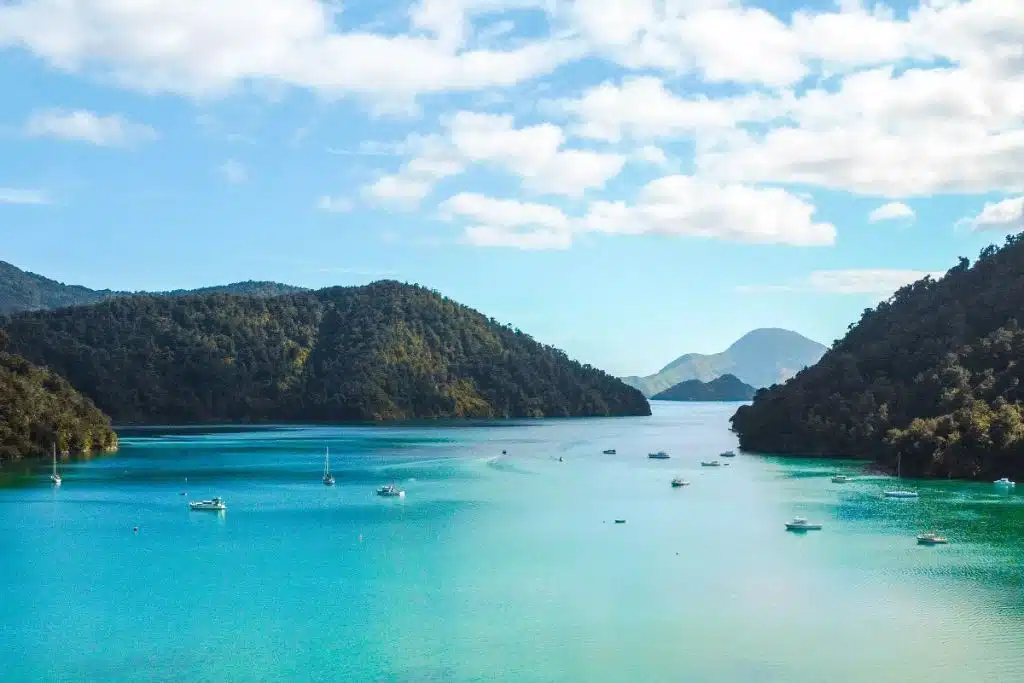 Ferries vs air travel: Which is better?
Now you know about the Cook Strait ferry, how does it stack up against air travel?
Some of the advantages of ferry travel over air travel include:
You can take your

GO Rentals vehicle

on the Bluebridge or Interislander ferries, making your travel plans much simpler. Our friendly team can even

help you make a booking

.

Taking a ferry ride across the Cook Strait is a unique experience. Taking a road trip from the North Island, jumping on a ferry and continuing your trip in the same car is something you won't get to experience in many other countries.

The northern end of the South Island is an incredible region that you might not be incentivised to visit if you don't take the Cook Strait ferry. If you were to take a flight to Queenstown, exploring everything the South Island's top end has to offer is much more inconvenient.

A ferry crossing is usually less stressful than an aeroplane trip, especially if you dislike flying.

Passenger-only fares generally come in significantly cheaper than aeroplane tickets.
That said, you may also want to consider some of the benefits of air travel when compared to taking a Cook Strait ferry:
Air travel is much faster than sea travel.

You don't have to worry about seasickness on an aeroplane.

While travelling from the North Island to the South Island via ferry means you can only leave or depart from Wellington and Picton, you can depart and land at any location with an airport if you travel by air. GO Rentals has 4

South Island locations

, making it easy to carry on your self-driving holiday no matter how you travel.
---
Travel New Zealand with GO Rentals
Many other car rental companies don't allow their vehicles to be taken on the Cook Strait ferry, making GO Rentals the perfect choice for an all-encompassing New Zealand road trip. GO Rentals also offers basic rental insurance coverage and 24-hour roadside assistance to take some of the stress out of your holiday planning.
For more information on exploring the North and South Island of New Zealand, check out our complete 28-day road trip itinerary. Since you'll be doing a lot of driving in New Zealand, we also recommend checking out our tips for driving safely.
Book your GO Rentals vehicle today and begin planning your epic journey. Our friendly team is here to help you every step of the way, including organising your magnificent journey across the Cook Strait.