It's no secret that New Zealand is an incredibly beautiful country, a fact that's obvious to anyone who steps foot on our shores. What you may not know is that one of the best ways to appreciate it is by hot air balloon!
This gentle and romantically nostalgic form of transport gives you an absolutely magical view of our lands and can be enjoyed right throughout the country. To help you decide where to go we thought we'd share our favourite 3 places for hot air ballooning in New Zealand!
1. Hamilton
Hamilton isn't naturally known as one of the premier tourist destinations in New Zealand but one area where it excels is with hot air ballooning. Hot air ballooning has been popular in the Waikato region for decades and hosts the spectacular Balloons Over Waikato Festival every march. The great team at the Kiwi Balloon Company offer flights daily from the picturesque Hamilton Lakes. Once in the air, you'll be treated to glorious views of the wider region which includes the famous farmlands of the Waikato as well as the mighty Waikato River. On clear days, the horizon will reveal the likes of Mount Ruapehu and Mount Taranaki – sights to take anyone's breath away.
View this post on Instagram
2. Christchurch
The Garden City of Christchurch is another place where you can enjoy a scenic hot air balloon ride. Ballooning Canterbury was started by a couple who actually represented New Zealand at the World Hot Air Ballooning Championships. With those kinds of credentials, you know you're in for a great time which is exactly what they deliver. They have 3 different sized balloons which means they can accommodate larger groups (of up to 16 people) while also offering more intimate rides for couples or families. High in the skies, you'll enjoy panoramic views of the patchwork-like Canterbury Plains and the mesmerising Southern Alps in the distance.
View this post on Instagram
3. Queenstown
Queenstown is known throughout the world for its adrenaline adventure activities like bungy jumping, jetboating etc. While hot air ballooning won't quite make you scream your lungs out in the same way, Queenstown is still an excellent place to try it. The amazing landscape in and around Queenstown needs no explaining and the crew at Sunrise Balloons will take you to heights of 6,000ft to appreciate it. As their name suggests, the flights set off from dawn in order to capture the spectacular sunrise on offer. With views overlooking Lake Wakatipu, The Remarkables and the Southern Alps, you've got postcard-worthy sights in almost every direction. You also enjoy so lovely local treats like muffins, cheese, crackers and sweet treats afterwards too.
View this post on Instagram
Wonderful hot air ballooning in New Zealand
As you can see, there are some amazing hot air ballooning experiences to be had in New Zealand. If you're coming to one of the most beautiful countries in the world, it's only fair to treat yourself to views which will help you see it at its best. Hot air ballooning definitely delivers that and more and will turn your great trip into an unforgettable one!
Related Posts
Book a vehicle for this trip
We recommend: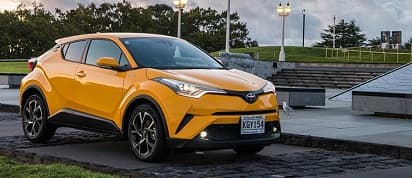 Zippy Auto
Toyota CHR
Seats

5 seats

Large Bags

1

Small Bags

1

Transmission

Auto trans