Zorbing sounds so mundane when you put it like that! Zorbing is in fact, one of New Zealand's finest adrenaline-fuelled adventure activities where, rather than rolling along the ground, you are, more often than not, hurtling down hills and mountainsides in nothing more than an inflatable ball which may or may not be filled with water. Sound a bit more exciting? Read on.
New Zealand is well known as a tourist's paradise and part of the reason for that is the number of awesome adrenaline activities that you can choose to do here. As a matter of fact, we have a great track record for inventing and introducing a whole range of these activities to the world. Jet boating, bungy jumping, canyon swings – the list goes on.
The New Zealand adventure activity invention that we're talking about today is zorbing which is best experienced in the place it was invented – Rotorua.
View this post on Instagram
What is zorbing?
Zorbing is an adrenalin-packed activity that involves an individual being placed in a clear plastic orb and rolled down a hill. As the orb picks up speed, the centrifugal force spins the individual into a virtual anti-gravity form of weightlessness.
Zorbing was invented by two kiwis, Andrew Akers and Dwane van der Sluis, in 1994, who wanted to create a new "off the wall" attraction. They certainly achieved that and more with zorbing which is also now found across the world in countries like Australia, Canada, Japan and the US.
Nothing quite beats trying it at the original place of its birth (in our humble opinion) which is why it's one of the most popular attractions in Rotorua.
How long does zorbing last?
Zorbing in Rotorua can last up to 40 seconds or more, depending on the track you choose and the trajectory your zorb decides to take. This might not sound like much in the first instance but in the context of adrenaline activities (where bungy jumping lasts a few seconds and skydiving lasts a few more), it's actually pretty long.
On your way down you'll also reach speeds of up to 50 km/h while rotating 360° inside the zorb trying your best to keep your stomach in without screaming too much.
View this post on Instagram
Is zorbing safe?
Zorbing has a great record when it comes to safety thanks to thorough testing and development by its inventors. The interior of the zorb is sufficiently cushioned to help you as you tumble your way down.
The trained operators will also have a few other safety tips and instructions to make sure you don't come to any harm before your ride too. With any type of adrenaline adventure activity, you want to, of course, enjoy the thrill but safety should always come first. The great crew at Zorb Rotorua will be sure to keep it that way.
The different types of zorb rides
As we briefly mentioned earlier, there are a number of different types of zorb rides that you can choose from when visiting Zorb Rotorua and here's a quick rundown of them:
Straight Track
The original Straight Ride is a 250 metres descent down the main grassy slope. It is also now a dual-track so you have the chance to race against your friends which is great fun. Another way to do it is to share the ride with a friend and the Straight Ride allows for 3 riders at once!
Sidewinder Track
If you're keen to spice it up a bit then you may opt for the Sidewinder Track. Going by the title, you have guessed that this track is one that twists and turns all the way down. There are 6 corners to negotiate which in actual fact, make this the longest zorb track in the world at 350 metres! Definitely not one for those with a bit of a weak stomach and another that allows for 3 riders at once.
View this post on Instagram
Big Air Track
Another appropriately named track is the Big Air Track which gets its name because it features big air jumps! Three of them in fact which really does test the nerves of even the most courageous. This is arguably the most thrilling and not to be taken lightly at all. The Big Air Track can be taken on with 2 riders at the same time.
Mega Track
Last, but by no means least, we come to the Mega Track, the ultimate descent for the ultimate thrill-seekers. The Mega Track is 300 metres and is the steepest downhill track in the world. This is where you'll easily clock the fastest speeds possible (in a zorb at least). You can take a friend with you on the Mega Track too to share in the exhilaration.
Zorbing with water
Another element you can add to your zorbing experience is to do it with water. The experience is called H²OGO and is essentially the same as regular zorbing but 40 litres of water gets added in with you.
This adds an extra slippery element to the ride and makes it feel like the next-level water slide. A nice little touch is they adapt the water temperature to suit the season as well, meaning you'll have nice warm water in the winter and cool water in the summer.
The H²OGO can be done on all tracks and has quickly become the most popular way to zorb at Zorb Rotorua.
View this post on Instagram
How much does Zorbing cost?
The Zorb Rotorua costs are subject to change but at the time of writing are as follows:
Straight Track: $45pp
Sidewinder Track: $65pp
Big Air Track: $65pp
Mega Track: $75pp
For Tracks with multiple riders, you can save $5 off the per person price for each rider added on.
There are also some great multi-ride combos which you can see on their official pricing page.
Zorb Rotorua Discount with GO Play
If you happen to be a GO Rentals customer then you can use your GO Play card to get an awesome 10% discount. It's just one of many great deals you can get with your GO Play card on your holiday to Rotorua.
Plenty of fun when Zorbing in New Zealand
As you can see, there's nothing quite like zorbing and nothing better than zorbing in New Zealand, the place where it all began. If you happen to be planning a trip to Rotorua it simply can't be missed as one of the top attractions in the city. If you're planning on riding a zorb, be sure to book at least a few days in advance as spots are limited and it's hugely popular.
We hope you enjoy the ride!
Related Posts
Updated: 17 May 2021
Book a vehicle for this trip
We recommend: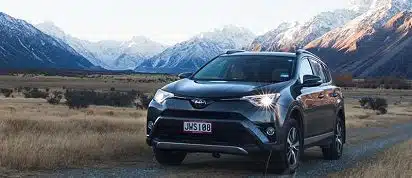 Intermediate 4×4
Toyota Rav 4
Seats

5 seats

Large Bags

3

Small Bags

4

Transmission

Auto trans