New Zealand's highest peak, Mount Cook, is a marvellous place to visit. Not only do you get the sight of the mighty mountain itself but there are plenty of things to see and do there too. If you have never made the trip to visit this magical mountain, add it to your summer "to-do" list this year.
Whether you are an avid walker, a nature-lover, an adventurer or maybe you simply enjoy taking in some breathtaking views, Mount Cook has got a little bit of something for everyone. The mountain is visible from many destinations in the South Island and is the backdrop to thousands of amazing photos, all the way from Tekapo to the West Coast but the best way to see the mountain is up close and personal. Take the Mount Cook road all the way into the National Park and take a stroll on one of the amazing walks that will provide you with the most spectacular views of this stunning mountain.
We've pulled together a comprehensive guide to exploring Mount Cook and the surrounding area so make sure you check it out if you are planning a visit this summer. In the meantime, we thought we'd share our favourite things to do in Mount Cook so you can make the most out of your next visit.
1. Aoraki Mount Cook National Park Visitor Centre
Your first stop when you arrive at Mount Cook should be the Aoraki Mount Cook National Park Visitor Centre. A visitor centre doesn't sound like the most exciting attraction but this isn't any ordinary centre. It's more like a state-of-the-art museum with two levels of informative displays about the flora, fauna, Maori heritage and walking tracks in the area. The staff are extremely helpful and will be able to answer any questions you have as well.
View this post on Instagram
2. Glacier Kayaking
One of the many unique experiences you can enjoy in Mount Cook is glacier kayaking, some 700 metres above sea level. The Tasman Lake is where this takes place which is itself a terminal lake for the magnificent Tasman Glacier (the largest in NZ). What makes the experience even more special is that parts of the glacier regularly break off and fall into the lake, creating icebergs that float on its surface. It's an awesome sight to see and great fun too.
View this post on Instagram
3. Hermitage Hotel
If you want to treat yourself during your trip to Mount Cook then go to the legendary Hermitage Hotel. This isn't just for the guest experience (which is superb) but you can also go there to enjoy their excellent dining establishments. This includes great coffee at the Sir Edmund Hillary Cafe, a cocktail at the Snowline Lounge or a buffet meal with excellent views of the Southern Alps at the Alpine Restaurant. Our favourite has to be the freshwater Aoraki Salmon in the exclusive Panorama Room – a fine dining experience that's hard to beat.
View this post on Instagram
4. Hooker Valley Track
You don't visit Mount Cook without wanting to do some walks and there are some absolute beauties. The Hooker Valley Track, a 3 hour return walk, is definitely up there with the best of them, taking you to the aforementioned Lake Tasman. The walk itself totals 10km and takes you past a variety of terrain and landscapes via paths, boardwalks and swing bridges. The final view of Lake Tasman, its icebergs, the Tasman Glacier and the peak of Mount Cook is nothing short of breathtaking.
View this post on Instagram
5. Kea Point
For a short walk, Kea Point provides a great alternative. It's an easy walk that can be strolled in an hour return and leads to a lovely viewing platform. From there, you'll get to see Mount Cook, Mount Sefton, the Hooker Valley and the Mueller Glacier Lake. It's a great option for families looking to share a fantastic outdoor experience with the little ones. It's also a great spot for avid Instagrammers too.
View this post on Instagram
6. Mountain Biking
If you're a mountain biker of some standing then you can test yourself in and around the mighty Mount Cook. While you can't cycle on any of the hiking tracks, there are a number of roads/4WD roads that you can try. If you want to go for the ultimate experience you can try the iconic Alps to Ocean Cycle Trail. It's a colossal 6 night/7 day itinerary with a package that includes things like shuttles, bike hire, luggage transfers and accommodation. At 310km it's not for the faint-hearted but is one that's hugely satisfying to conquer.
View this post on Instagram
7. Scenic Flight
There aren't many more memorable experiences than taking a scenic flight in and around Mount Cook. There are a number of great providers in the region like Air Safaris and Inflite Experiences that will take you high into the clouds for those picture-perfect views. If you choose to go by scenic helicopter you can even do a glacier landing where you'll get to step foot on the Tasman Glacier itself!
View this post on Instagram
8. Sir Edmund Hillary Alpine Centre
Sir Edmund Hillary spent many years on the slopes of Mount Cook and fittingly, there is an Alpine Centre named in his honour. This is based in the Hermitage Hotel (mentioned earlier) but deserves its own individual mention. The Centre's main feature is its 120+ theatre which shows 2D and 3D films as well as serving as an operational planetarium with a regular programme of screenings. On top of this, they have a number of informative displays talking about the history of mountaineering in the region.
View this post on Instagram
9. Sealy Tarns Track
The Sealy Tarns Track is another fantastic option in Aoraki Mt Cook National Park described by some as the 'Stairway to Heaven'. It's a 3 – 4 hour hike that includes 2,200 steps, climbing 600 metres along the way with some amazing views to see once you're there. If you're really keen, you can add another 2 hours (each way) to go even higher to the Mueller Hut where you can actually book to stay the night.
View this post on Instagram
10. Skydiving
If you're one of the many people that have come to New Zealand to experience the adventure tourism, you won't be disappointed at Mount Cook. That's because you can hop into a plane and jump out of it at 15,000 ft. In case you hadn't guessed, we're talking about skydiving, the ultimate thrill which comes with some amazing scenery. This particular jump includes a 20 minute scenic flight, followed by a 60 second freefall, followed by a gentle 5 minute parachute landing. It's simply awesome.
View this post on Instagram
11. Stargazing
Mount Cook is home to the Aoraki Mackenzie International Dark Sky Reserve, one of the clearest and most brilliant places for stargazing. With strict controls on light pollution in the area, the night sky lights up with literally millions of stars from above. If you're into astrophotography then this will be an absolute must. If not, it could be the enlightening first experience you've been looking for.
View this post on Instagram
Some Incredible Things to do in Mount Cook
As you can see, there are some amazing things to do in Mount Cook as part of your road trip of the South Island. Whether it's after your visit to Lake Tekapo or up from your trip to Wanaka, you'll have no excuse not to stop and spend a decent amount of time here.
If you are looking to explore the wider Canterbury region, make sure you check out our welcome to Canterbury guide for lots of great tips on things to see and do in Canterbury.
Related Posts
Updated: 11 January 2022
Book a vehicle for this trip
We recommend: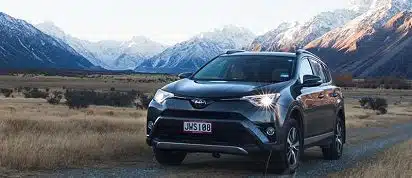 Intermediate 4×4
Toyota Rav 4
Seats

5 seats

Large Bags

3

Small Bags

4

Transmission

Auto trans