New Zealand is a small island nation that is mostly known for its two main islands – the North and the South Islands. What many people don't realise is that there are literally hundreds more dotted around our coastline just waiting to be explored. It is believed there are around 600 islands dotted around the coastline of New Zealand and many of them are perfect for exploring.
Although there may be around 600 New Zealand Islands, outside of the main two – the North and South Islands – only around a dozen of those islands are populated. Waiheke Island off the coast of Auckland is the largest New Zealand island outside of the main two by population with just under 10,000 people calling Waiheke Island home. Stewart Island off the south coast of the South Island is the largest by land mass and is often referred to as the third island of New Zealand due to its size, however, it only has a population of around 400.
If you are keen to get out and explore some of New Zealand's alternative islands, then we have decided to make your island-hopping adventures a bit easier by naming 15 beautiful New Zealand Islands that you simply have to see during your next visit here!
1. Stewart Island
We start with the biggest of them all (besides the North and South Islands) and one that is becoming just as well known around the world. Stewart Island sits at the southernmost tip of New Zealand, clearly visible on our map and is one of the fastest-growing destinations for tourists in the country. One of the main attractions is the Rakiura National Park, an incredible natural wonderland that includes one of New Zealand's 10 Great Walks. People also flock here in the summer months to check out the Aurora Australis (or the Southern Lights as they are more commonly known) which are an incredible and memorable spectacle of light.
View this post on Instagram
2. Waiheke Island
Perhaps one of the most popular islands in New Zealand for visitor numbers is Waiheke Island. Located just a short 40-minute ferry ride from downtown Auckland, visitors to Waiheke are rarely disappointed. There's a bit of something for everyone here from the magnificent vineyards to the beautiful beaches and fantastic walking tracks. Waiheke has a very bohemian feel to it, and you will soon feel as though you are a million miles away from the hustle and bustle of the big city. There are some great local craft stores to pick up a few souvenirs for your friends back home too.
Bonus: Take a car across from our Auckland City branch or pick up your car hire on Waiheke when you arrive.
View this post on Instagram
3. Matakana Island
Matakana Island is a long, thin stretch of land around 20-kilometres in length, making it the largest of the coastal islands in the Bay of Plenty region. The land is split between sheltered orchards and farmland, and thick pine forest on the Pacific Ocean side.
Inhabited by a small population of locals, the island has a combination of pine forests, orchards and farmland. The northern side is popular with keen surfers who travel by boat or jetski to get the perfect wave.
The area is a nationally significant site for biodiversity with a wide range of native species of birds, plants and wildlife. Over 100 species of indigenous New Zealand plants are thought to grow on the small space of land.
You can make your own way over there by boat, or jump on board the Kewpie on one of their scheduled 1-hour scenic cruises and they will drop you off and pick you up later in the day. A ride on the Kewpie is a must-do when you're in the Bay!
View this post on Instagram
4. Rangitoto Island
Rangitoto Island enters our list as probably the most photographed island in the country, sitting in the middle of Auckland's harbour and seen from almost every vantage point in the city. Rangitoto is a volcano that erupted out of the sea around 600 years ago and looks very much the part as a picturesque feature on the horizon. There are heaps of walking tracks on the island including the highly recommended hike to the summit. There are also some great lava caves to explore and the island is home to over 250 species of native plants and trees. A short 15-minute ferry from the Downtown Ferry Terminal.
View this post on Instagram
5. Kapiti Island
Kapiti Island, situated off the coast of the lower North Island, is an internationally renowned nature reserve that protects some of the world's rarest and most endangered birds. The island is one of New Zealand's most valuable nature reserves and you can only visit the island on an official tour. Half-day and full-day tours are available and there is even the option to do an overnight stay in one of their luxury camping tents or nature cabins. If you're looking for a nature experience, they don't get more intimate and special than this.
View this post on Instagram
6. Kawau Island
Kawau Island is a great place to spend a day out with a mix of different sights to see and things to do. It's a historically significant island, formerly owned by one of New Zealand's first governors and the site of an old Copper Mine (which can still be seen today). The impressive Mansion House, an astonishing Victorian-era house, is one of the main attractions with a great collection of furnishings and art and some very pleasant gardens as well. Otherwise, you can enjoy the numerous walking tracks, water activities and even some camping if you want to stay over.
View this post on Instagram
7. Great Barrier Island
One of the largest islands on this list is the appropriately named Great Barrier Island. Not only does it cover a large area at 285 km², but it also has the epic Mount Hobson, a peak that reaches 627m. It's an astonishing sight that looks immense, even from the mainland. One of the best things to do on Great Barrier Island is to take on the summit via the Windy Canyon. There's a whole host of other natural features to enjoy including the Kaitoke Hot Springs and Medlands Beach. It's also known for its incredibly clear night skies – perfect for stargazing.
View this post on Instagram
8. Tiritiri Matangi Island
Another great island in Auckland's Hauraki Gulf is Tiritiri Matangi, a stunning wildlife sanctuary a short ferry ride from the Downtown Ferry Terminal. It's a relatively small island at 2 km² which makes it a very manageable one for walking for all members of the family. Tiritiri Matangi was actually known for having one of the most powerful lighthouses in the world. The lighthouse, which is still in operation today, had the strength of 11 million candles and could be seen from 27 nautical miles. These days, the island is known for its predator-free grounds which are home to kokako, takahe and kiwi!
View this post on Instagram
9. Secretary Island
Secretary Island isn't the most well-known island in New Zealand but it's certainly up there with one of the most important. Situated on the edge of the magical Fiordland National Park, Secretary Island is one of the largest restoration projects in the country. Over the course of its existence, it somehow managed to remain free of rats and possums which enabled it to become a safe haven for native invertebrates and birds. It is also the third-highest island in New Zealand with the impressive Mount Grono (611m) whose summit is a popular one to conquer for avid hikers.
View this post on Instagram
10. Chatham Island
Chatham Island is the largest island of the Chatham Islands which lie 800 km off the east coast of the South Island. Despite its distance from the mainland, tourism has really kicked off in recent years with more and more travellers seeking out the more unique and isolated destinations in the world. One of the most popular attractions on the island is the Maunganui Stone Cottage, built entirely from local stone in the 1870s, which sits before the impressive Maunganui Bluff. Another is the Henga Scenic Reserve walk which includes a stroll through the bush, along the coast and past some giant sand dunes. The Chatham Islands have become one of New Zealand's most popular tourist destinations for locals, especially during the COVID-19 pandemic. You can read more about the Chatham Islands in our recent post.
View this post on Instagram
11. Pitt Island
Pitt Island is the small sibling of Chatham Island located about 20 km southeast of the larger island. It is much smaller with a population of around 40 people and sustains a mixture of conservation, farming, fishing and tourism. It's a great place to do a day tour with some fascinating history to learn about and see but there's also accommodation available for longer trips. One of the most charming attractions there has to be Glory Cottage, an old lodging built in the 1860s for shearers to live in, now managed by the Department of Conservation.
View this post on Instagram
12. Great Mercury Island
Great Mercury Island is the largest of the Mercury Islands that sit 8 km off the coast of the Coromandel Peninsula. It's thought to be one of the first places that were inhabited by Maori some 700 years ago. The island is now privately owned by two of the wealthiest individuals in the country (Sir Michael Fay and David Richwhite) who allow public access to the beautiful coastal beaches that it's blessed with. There's also been a multimillion-dollar pest eradication project there in recent years which has allowed the amazing native species there to flourish once again.
View this post on Instagram
13. Auckland Island
Auckland Island is the largest of the group of subantarctic islands named the Auckland Islands, some 460km south of Stewart Island. The Auckland Islands are recognised as a UNESCO World Heritage Site and are home to rare species of bird, invertebrates, flora and fauna. It has a fascinating history of Polynesian and European exploration which is incredibly intriguing. The real drawcard, as you might imagine, lies in the land itself. Mountainous and naturally rugged, this untouched wilderness provides a real opportunity to experience something truly unique. To enjoy this privilege you'll need to apply for the required permits through the Department of Conservation.
View this post on Instagram
14. Campbell Island
Further south still is Campbell Island, the most southerly of all New Zealand's subantarctic islands. It has a somewhat tragic past as far as humans go with its discoverer, Captain Hasselborough, drowning in its harbour along with a woman and a boy shortly after making the discovery. It became a haven for sealers and whalers in the 19th Century, decimating the marine life there but a halt to this activity has allowed those populations to recover. Now, this protected island is home to some magnificent bird species (including the world's rarest duck) and has some amazing plants and wildflowers, described by botanist Joseph Hooker as "having a flora display second to none outside the tropics".
View this post on Instagram
15. D'Urville Island
The idyllic place known as the Marlborough Sounds is home to an equally idyllic island. We're, of course, talking about D'Urville Island, a remote island paradise known by the locals as the Sounds' best kept secret. Named after French explorer Jules Dumont d'Urville, D'Urville Island offers a plethora of things to see and do. Many of these revolve around water activities like stand up paddleboarding, kayaking, swimming etc. The waters around the island are also rich with blue cod, snapper and kingfish with a number of local fishing charters that can be booked. For the land lovers, there are coastal walks, ridgeline walks and strolls to waterfalls to enjoy.
View this post on Instagram
Some amazing New Zealand Islands to discover!
As you can see, there are some incredible New Zealand islands to discover during your next visit here. Some are easily accessible while others require a bit more effort and determination but whichever you choose to visit, we promise you won't be disappointed.
Updated: 2 November 2021
Related Posts
Book a vehicle for this trip
We recommend: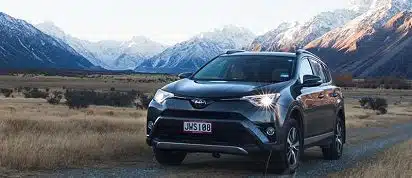 Intermediate 4×4
Toyota Rav 4
Seats

5 seats

Large Bags

3

Small Bags

4

Transmission

Auto trans