Looking for things to do in Wanaka? Look no further – we've got you covered.
There aren't too many destinations like Wanaka in New Zealand, or anywhere in the world for that matter. We say this because it's pretty much the perfect holiday destination. Picturesque, peaceful and with plenty of things to see and do.
No matter what time of the year you choose to visit, Wanaka is always a popular tourist destination. The lake is a great place to cool off in the summer months and there are lots of amazing walks and bike rides in the area. As we head into autumn, the whole town turns into a multicoloured delight thanks to the changing leaves and in the winter, it is a great place to base yourself for skiing on the South Island. One of the hardest things about heading to Wanaka is deciding what to do. With so many amazing things to do in Wanaka, we called on the help of our GO Explore family to come up with their favourites and we have curated these below – if there is anything we have missed, please drop us a comment and we will make sure to add it as part of our next update.
From getting the perfect snap at the top of Roys Peak to enjoying the serenity of the famous Wanaka tree, Wanaka is not short of fantastic attractions and sights. It's also great to support all the amazing local cafes and restaurants – GO local this year and help to get these amazing tourist town back on their feet and ready to welcome the world back in 2022! There are so many fun things to do in Wanaka that it's difficult to squeeze them all into one post.
In order to get you excited about a trip to Wanaka this year, we thought we'd share our 13 favourite Wanaka attractions to convince you to make Wanaka the next place you visit.
1. Jet Boating
New Zealand is responsible for inventing some ingenious tourist attractions like the bungy jump and canyon swing but the one that started it all was the jet boat. Highly manoeuvrable and designed to skim across shallow riverbeds at very high speeds, a jet boat ride is one of the most exhilarating things you can do. On the waters of the iconic Lake Wanaka and Clutha River, you'll also enjoy some spectacular scenery if you're able to catch your breath and take it all in.
View this post on Instagram
2. Lake Wanaka
This list wouldn't be complete without paying tribute to the attraction that Wanaka was founded on – Lake Wanaka itself. Lake Wanaka is the fourth largest lake in New Zealand and is the central lake of the Otago Lakes. Words scarcely do Lake Wanaka justice as it's simply a stunning sight to see. There are a number of water activities you can enjoy here (some of which are mentioned in this post) but its pristine waters and the peaks of the Southern Alps in the background make it worth it for the views alone.
View this post on Instagram
3. Mou Waho Island
The stunning Lake Wanaka has a number of islands within it and a great one to visit is Mou Waho. You can get there via water taxi or enjoy a tour of the island and you can even camp there if you wish. There are a couple of pleasant walks to do when you're there including a 3 km walk to a viewing point at 450 metres. There's also plenty of native wildlife to see like Weka (native bird), Weta (native insect) and the South Island Gecko.
View this post on Instagram
4. Mount Aspiring National Park
New Zealand is blessed with some incredible national parks and Mt Aspiring National Park is definitely up there with the best. The remoteness of the park has meant the wilderness has been allowed to naturally flourish – a rare treat in the modern world. The park also has a stunning glacier known as the Rob Roy Glacier which you can see via the Rob Roy track, a highly recommended excursion. Exploring the peaks of Mount Aspiring National Park will also offer up some spectacular views of simply stunning Wanaka.
View this post on Instagram
5. Mountain Biking
Wanaka has an astonishing 750km worth of biking trails in and around it with people travelling from all across the country (and abroad) to experience them. The trails come in all shapes and sizes from beginner tracks to technical hill climbs. For something casual, you might try the Hawea River Trail or Newcastle Track. For something challenging the 38km Grandview Ridge Track or a trip to the Sticky Forest will be the ones to make. There are some great bike tours to join as well.
View this post on Instagram
6. Puzzling World
An incredibly fun and amusing way to spend an afternoon is to go to the Puzzling World. It's a great attraction for all ages and is one that includes illusion rooms, an outdoor maze, tilted houses, a hall of following faces and more. Their brain teasers will test the sharpest minds with their unique, bizarre and interesting challenges. A great option to get to on a rainy day too. Puzzling World is definitely one of Wanaka's best attractions so make sure you add it to your list.
View this post on Instagram
7. Roys Peak
There are so many amazing natural attractions in Wanaka and Roys Peak is certainly a great example of one. You may not have heard of Roys Peak but chances are you'll recognise its photos thanks to the amazing lookout point that people queue to get snaps from. You can get there via Roys Peak Track, which is an amazing experience but quite the hike at 5 – 6 hours return so a decent level of fitness/preparation is required. The views definitely make it worthwhile.
View this post on Instagram
8. Snow Farm
This particular part of the country is renowned for its great skiing and Snow Farm is one of the best places to hit the slopes. They cover a range of different snow-related pursuits including tubing, snowshoeing and cross country skiing. You can also choose to stay overnight in one of their fantastic backcountry huts. If you want to make it a truly memorable experience give dog sledding a go which can be arranged through Underdog NZ.
View this post on Instagram
9. SUP and Kayaking
For those who aren't afraid to break a bit of a sweat when on holiday, the team at Paddle Wanaka can help you out with a range of paddling activities. They offer a range of SUP and Kayaking tours with knowledgeable guides that take you along the most picturesque parts of Lake Wanaka and the Clutha River. They have different tours to suit a range of abilities so you can enjoy it with the whole family or other experienced paddlers.
View this post on Instagram
10. Wanaka Lavender Farm
One of the more unique attractions you can visit is the Wanaka Lavender Farm. The farm produces a variety of different lavender-based products like honey, soaps, cosmetics, teas, ice creams and more. These products are great (and make for perfect souvenirs for friends) but the real treat is the sight of the farm itself. The rows of blooming lavenders in front of the mountain peaks are about as picture-perfect as it gets.
View this post on Instagram
11. That Wanaka Tree
Wanaka has no shortage of Instagrammable spots but the most well-known has to be That Wanaka Tree which sits alone on the waters of Lake Wanaka. For years it went unnoticed by locals and visitors alike but some talented photographers saw its potential and the rest is history. You'll find That Wanaka Tree walking south along the shores of Lake Wanaka. It can take a while to get to, but you'll soon spot the crowds of people lining up their shots.
View this post on Instagram
12. Treble Cone Ski Field
Wanaka is a skiers and snowboarders' paradise thanks in no small part to the Treble Cone Skifield. Treble Cone is the largest ski field on the South Island and is known for its amazing off-piste terrain. Much less crowded than the neighbouring ski fields of Queenstown, you'll have plenty of space to enjoy and be able to take in the breathtaking views peacefully. If you're lucky you might even see the odd Kea, the world's only alpine parrot, flying about too.
View this post on Instagram
13. Wildwire Wanaka
Whether you're a climbing enthusiast or someone who's always wanted to give it a go, Wildwire Wanaka is the place to be. As one of the newer attractions in Wanaka, tickets here are highly sought after and for good reason. It gives you the opportunity to experience some great climbing alongside an amazing waterfall. As a matter of fact, it's the highest waterfall cable climb in the world, reaching 450 metres!
View this post on Instagram
Some amazing Wanaka attractions to keep you busy for days
As you can see, there are some great Wanaka attractions to keep you entertained for days. If you're flying into Queenstown (and collect your Queenstown Airport car rental from us) you'll get there in just under an hour and the fun can begin! We always love to hear from our GO Explorers and any tips you might have to help us to build up our list of things to do in Wanaka – send in your comments below or comment on our Facebook or Instagram pages.
GO local this year and plan your trip to Wanaka – we promise you won't be disappointed.
Updated: 4 May 2022
Related Posts
Book a vehicle for this trip
We recommend: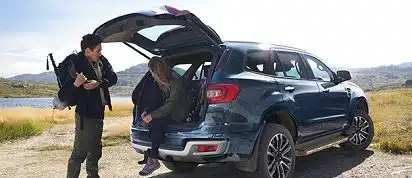 4WD SUV
Ford Everest Titanium
Seats

5 seats

Large Bags

4

Small Bags

6

Transmission

Auto trans