October sees the start of the Rotorua Bike Festival and it promises to be another action-packed week full of thrills and the occasional spill! Now in its seventh year, the Rotorua Bike Festival promises 10 days, 10,000 wheels and some serious spring fun.
Sound good?? Read on…
What's happening in 2019?
The Festival kicks off on Thursday 24 October with the Opening Ceremony which is run alongside the Rotorua Night Markets and will feature great food, live music and some fun bike activities.
All the events of the festival are taking place in and around Rotorua, arguably New Zealand's biking capital and everything is in easy riding distance whether it's mountain biking in the Redwoods, speeding around the lake or defying gravity at the Skyline Gravity Park. There are over 25 events taking place across the 10 days and you can see them all on the official Rotorua Bike Festival website.
Here are our top 5 things to do in 2019:
Giant 2W Gravity Enduro
Whakarewarewa Forest Trail Network, Saturday 2 November, 9:00 am – 5:00 pm
The main headline event of the opening weekend is the Gravity Enduro – a chance to get out into mountain bikers' paradise in the Whakarewarewa Forest with your mates and ride the trails at your own pace. There are a series of timed 'race stages' and anyone is in with a chance of winning.
Climb the Caldera
Omania Farm, Monday 28 October, 10:00 am – 2:00 pm
If you've always wanted to cycle around a caldera (who hasn't) then you'll be able to fulfil your lifelong ambition here. The Climb the Caldera event will be a EMTB/pedal inclusive event around the stunning heights of the private Omania farm. The climb winds through 430 metres of elevated farmland to the caldera and back!
Te Manawa Trick Comp
Te Manawa, Thursday 31 October, 4:30 pm – 6:30 pm
Everyone loves the skill and entertainment that comes with bicycle tricks and theis year's Rotorua Bike Festival hosts the first Trick Competition at Te Manawa. If you have a few bike tricks up your sleeve, make sure you bring your bike along to see if you can impress the judging panel and maybe make a name for yourself!
Skyline Ride the Luge
Skyline Rotorua, Friday 25 October, 6.00 pm – 9.00 pm
Now, this is definitely one for us! For the first time ever you get to cycle on the world-famous Skyline Rotorua Luge Tracks. The luge tracks will be open from 6 pm and open for all to cruise up the Intermediate Track and bomb down the Scenic one – as many times as you want! Tickets are limited so get in quick!
Emerson's Whaka 100
Whakarewarewa Forest Trail Network, Saturday 26 to Sunday 27 October
This is a biggie! Known as one of the toughest mountain bike marathons in the Southern Hemisphere the Emerson's Whaka 100 is the ultimate challenge with its 3,800 metres of vertical climb throughout the 100 km course. If that sounds a bit too extreme then there are other options to try like the 50 km, 25 km, 10 km and even a 5 km one for the kids!
Make 2019 your year to get down to Rotorua Bike Festival
Rotorua is easily accessible from both Auckland and Wellington as well as flying in from other parts of the country so this should definitely be your year to get on down to the Rotorua Bike Festival. There are heaps of new events this year and there is plenty for people of all abilities as well as supporters and people who just want to see some crazy mountain bike riding.
This is known as one of the busiest times down at the Rotorua Hospital as there are plenty of spills as people hurtle downhills as death-defying speeds but that just adds to the fun and excitement of the weekend.
To find out more, check out the official Rotorua Bike Festival website.
Related Posts
Book a vehicle for this trip
We recommend: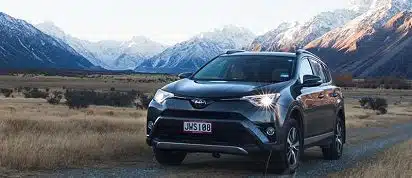 Intermediate 4×4
Toyota Rav 4
Seats

5 seats

Large Bags

3

Small Bags

4

Transmission

Auto trans