Just a stone's throw from Wellington is the spectacular Kapiti Coast, one of New Zealand's most stunning unspoilt coastlines, home of striking sea vistas, glorious sunsets, untouched native forest and dramatic hillscapes. The Kapiti coast is just a 40 minute drive from downtown Wellington making it the ideal day trip if you are planning a long weekend stay in Wellington.
Kapiti Island
Just off the coast you will find Kapiti Island, home of an internationally famed nature reserve which protects some of the world's rarest and most endangered birds. The island is one of New Zealand's most valuable nature reserves and sits 5km offshore. It is possible to arrange half and full day tours to the island as well as overnight stays which include luxury camping tents and nature cabins.
Queens Elizabeth Park
One of the most popular spots on the Kapiti coast is Queen Elizabeth Park, one of the last areas of natural dunes on the Kapiti coast. Set within 650 hectares and edged by a stunning sandy beach, Queen Elizabeth Park is a popular places for visitors who want to swim, fish, walk, horse ride and cycle. It's a popular picnic spot for those who live in the city and a great place to enjoy the summer sun.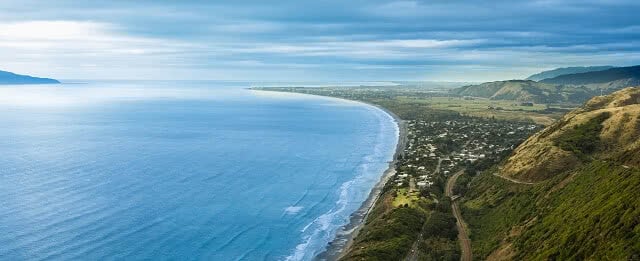 Paraparaumu Beach Golf Club
If golf is your thing, the Kapiti Coast is home to one of New Zealand's top ranked golf courses which will provide even the best golfers with a true test. The course is a traditional links course and has hosted 12 New Zealand Opens. It has hosted some of the greats of the games including Gary Player, Tiger Woods and our very own Michael Campbell. The course is consistently ranked as one of the top five in New Zealand and has featured in the world's top 100. This should be a must for any golf lover who is down in the Wellington region.
Southward Car Museum
As well as being host to some pretty awesome outdoor activities, the Kapiti coast is also home to one of the best vintage car collections in the Southern Hemisphere at the Southward Car Museum.  From Marlene Dietrich's Rolls Royce to a gull-winged Mercedes Benz to a Chicago Gangster's armour plated limo, this museum has a fantastic collection of veteran and vintage cars. One to add to the list for car enthusiasts.
Walking Tracks
As you would imagine, on such a long stretch of coastline, there are some fantastic walks in the Kapiti region. Queen Elizabeth Park is home to many of these walks but there are some other great tracks including the Water Tower Walk, Mataihuka Track and Maungakotukutuku Valley walk. The of course there is the simple joy of beach walking. Enjoy the stunning views and the endless miles of sand – the perfect place for a romantic sunset walk.
Cheese and Ice Cream
As if we could forget, another great reason to pay the Kapiti coast a visit is the ice cream. Famous throughout New Zealand, Kapiti ice cream is truly stupendous! It is our favourite thing on a summer's day (or winter for that matter!) and something everyone should try at least once! We love the boysenberry ice cream but you can't go wrong with any of their flavours. They also make a pretty wicked cheese too!
However you choose to explore, the Kapiti coast is a true playground and one of New Zealand's most beautiful coastlines. On your next visit to Wellington, make sure you make the drive west and explore this beautiful place.