Planning a trip to Christchurch and looking for some inspiration when it comes to things to do and places to go? We've got you covered. In this post, we're going to give you the lowdown on 10 destinations that are all within 3 hours' drive of Christchurch and you are going to be surprised by how far you can get!
We've all been there. Get to a new city for the first time or even just looking for inspiration when you're at home and turn to Google with a 'places to visit near me' search. Well, hopefully, Google came up trumps and led you to this little post about the amazing city of Christchurch.
Christchurch is an awesome city but it's also a great place to do some fantastic day trips from. That's why we wanted to share some of our favourite places to visit near Christchurch that are all within 3 hours' drive of the Garden City.
1. Lyttelton – 20 mins
First on our list is the port town of Lyttelton, a mere 20 minutes' drive from Christchurch and a great place to get started. It's a historically significant town as the entry point for visitors journeying to Christchurch by sea for over 150 years. There are lots of quaint buildings to look at and the Lyttelton Farmers Market every Saturday morning always has some great treats to enjoy. The Ohinetahi Garden is another lovely little hidden gem that is well worth your time.
View this post on Instagram
2. Waipara – 54 mins
Waipara, often more commonly referred to as the Waipara Valley, is a paradise for food and wine lovers. Although its name actually translates from Maori to mean "Muddy Waters" it is also an area that's proved itself to be perfect for producing world-class Pinot Noir and Riesling. The wineries you can visit in the area include the likes of Pegasus Bay, Waipara Hills, Waipara Springs and Greystone Wines. For something a little bit different, the nearby Weka Pass Railway also gives you the chance to ride a vintage locomotive!
View this post on Instagram
3. Ashburton – 1 hour 15 mins
Ashburton is one of the larger towns near Christchurch serving a predominantly farming community of over 20,000 residents. It has several features and attractions that make it quite unique, the main being the Canterbury Plains and the two rivers that cross through it (Rakaia and Rangitata Rivers). The rivers are rich with Salmon and Trout which will please fishing enthusiasts and diners alike. They also have several museums (including a vintage railway museum) and it's also home to the internationally renowned and incredibly beautiful Trott's Garden.
View this post on Instagram
4. Akaroa – 1 hour 22 mins
Another great little port town in the heart of Banks Peninsula is Akaroa, a popular spot for holidaymakers across the Canterbury region. Like many of these spots, it has a fascinating history with strong French roots from the early settlers who made it their home. This can be experienced at the French cafes and restaurants they have there – even more so if you attend the Akaroa FrenchFest. The harbour itself is stunning and is also home to the rare Hector's dolphins and there are operators there who will take you out to swim with them!
View this post on Instagram
5. Mount Somers – 1 hour 28 mins
For those who like to stretch their legs, there's a great opportunity to do exactly that at Mount Somers. It's a small village that is the gateway to an envious number of natural features like the Ashburton Gorge, Lake Heron, Lake Clearwater and Mount Somers itself. A lot of people travel here to do the Mount Somers Track, a 26 km, 2-day walk that takes you past some amazing sights including some old historic mines. As we're talking about day trips in this post, there are plenty of shorter walks to do too like the 45 minute Sharplin Falls Track.
View this post on Instagram
6. Hanmer Springs – 1 hour 48 mins
For a day of undeniable fun, a trip to Hanmer Springs will be one that ticks a lot of boxes. Famed throughout New Zealand for the soothing waters at Hanmer Springs Thermal Pools and Spa, the town has also developed another side to it. We're talking about its adventure tourism scene with everything from bungy jumping, jet boating, river rafting and quad biking on offer there. These high adrenaline activities and relaxing waters complement each other so very well and will leave you with a smile on your face for days after.
View this post on Instagram
7. Arthur's Pass – 1 hour 53 mins
Arthur's Pass is another small town that is a base for exploring one of the country's most revered national parks. The drive there alone is reason enough to make the effort, superbly engineered through the breathtaking wilderness of the region. The Devils Punchbowl Waterfall is right there on its doorstep as a great reward when you arrive. The Arthur's Pass National Park itself has some great short and half-day walks where you can see some amazing flora and fauna. If you're lucky, you may even spot a cheeky and inquisitive alpine parrot called the Kea.
View this post on Instagram
8. Timaru – 2 hours 17 mins
A great coastal stop a few hours south of Christchurch can be found at Timaru, the second-largest city in the region. Timaru has a unique geological history as it was built on deposits of old lava flows from a volcano called Mount Horrible. The place itself, however, is very nice with one of the main stars being Caroline Bay Beach, which is very popular in the summer. There's plenty to fill your day with here including museums, gardens, art galleries etc. The Te Ana Maori Rock Art Tours are a great cultural experience to add to the schedule too.
View this post on Instagram
9. Kaikoura – 2 hours 38 mins
Heading the other way up the coast you'll find Kaikoura, known throughout the world for the amazing marine inhabitants that call it home. These are the Sperm Whales with Kaikoura being one of the few places they can be spotted year-round and close to the shore. The good people at Whale Watch Kaikoura will get you your once-in-a-lifetime close encounter that will be just as magical as you've always imagined. If that wasn't enough, there are also albatross and dolphin encounters to do there as well.
View this post on Instagram
10. Tekapo – 3 hours
Last but not least, we end with Tekapo, precisely 3 hours' drive from Christchurch and one of the premier destinations in the country. If you haven't heard of Tekapo, chances are you've seen stunning photos of it. These photos might feature the Church of the Good Sheperd against the incredible backdrop of the Southern Alps. They might also feature the colourful fields of lupins before the calm waters of Lake Tekapo. Whatever photos you might have happened to see, nothing compares with these sights seen in person. They are truly astonishing, in every sense of the word and Tekapo is definitely one of the must-see spots of the South Island.
View this post on Instagram
Some fantastic places to visit near Christchurch
So there you have it. Ten amazing road trips from Christchurch that you can enjoy for your next holiday there. Hopefully, you'll book your Christchurch car rental with us where our team will be able to tell you about all these destinations and more to get you going on your adventures!
Related Posts
Updated: 9 August 2022
Book a vehicle for this trip
We recommend: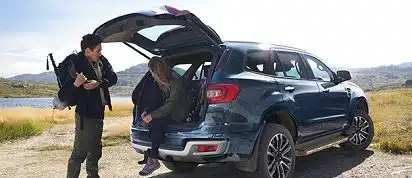 4WD SUV
Ford Everest Titanium
Seats

5 seats

Large Bags

4

Small Bags

6

Transmission

Auto trans