Situated in the heart of the South Island, Christchurch is a heritage city home to some of the oldest buildings in New Zealand. It is known as an explorers city and is a great gateway to the beautiful views in Banks Peninsula, Canterbury plains and Southern Alps.
Whether you are looking to save for an epic road trip or a quiet getaway, we have found the most interesting free things to do in Christchurch! From free live music gigs to museums and walking trails with amazing views, Christchurch has many hidden gems for you to enjoy a relaxed and budget friendly trip. So let's get GOing with our fun free things to do in Christchurch.
Free Things to do in Christchurch (Summary)
Christchurch Botanic Gardens

Air Force Museum

Walking Tracks

Christchurch Art Gallery

Live Music Gig

Canterbury Museum

Best beaches

Riccarton House

Brockworth street art gallery

185 White Chairs
---
10 Fun Things To Do In Christchurch For Free (Full Breakdown)
1. Stroll around Christchurch Botanic Gardens
Christchurch has earned the title of "Garden City" for its stunning public gardens including the botanic garden which is one of the largest public gardens in New Zealand. Each section in the 52 acre garden is dedicated to a different season so you can walk through blooming daffodils in spring or beautiful orchids in winter.
With 6 conservatories, a children's playground and paddling pool, and art and sculptures to discover, you could pack a picnic and spend a whole day at Christchurch Botanic Gardens. It is great in any season, making it one of the best free things to do in Christchurch.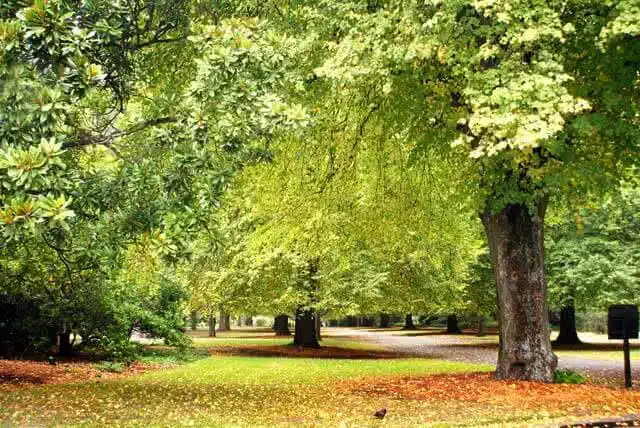 2. Have a plane awesome day at the Air Force Museum
Explore over 100 years of aviation history at the base of New Zealand air force, completely free! With huge hangers of pre WWI and II planes and artefacts and regular museum treasure hunts, the Air Force Museum is an awesome free day out. You could sit in the iconic skyhawk cockpit and feel what it would be like to be a pilot, or learn about the Kiwi stories and history of aviation including the Wāhine Toa, historic women in defence roles.
With a cafe on site and many events and exhibitions throughout the year, the Air Force Museum is one of the best free things to do in Christchurch for the whole family. There are so many things to do in Christchurch with kids, so whether you are here for school holidays or a family holiday, you will not be bored.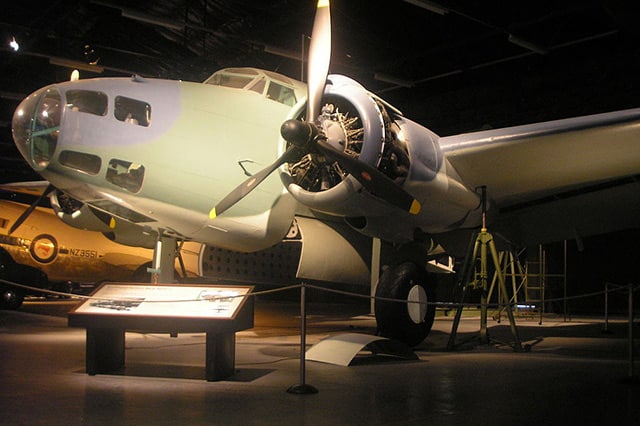 3. Accomplish the walking tracks
Hiking and strolling walking trails are one of the best free things you can do anywhere as you get stunning views and pride from completing them. Christchurch New Zealand is home to many impressive walks making it a natural playground for all ages and abilities. Spend a few hours roaming some of these walks:
Hagley Park
British settlers set up their huts along the Avon River in what is now Hagley Park, one of the biggest city centre gardens running since 1850. At over 400 acres, North and South Hagley Park is home to over 3,000 trees, native birds and is a beautiful natural playground to enjoy a stroll.
Sign of the Bellbird
Hike for 4 km (approximately 3 hours duration) and you will be rewarded with one of the best views in Christchurch. You can even see out to the natural landscape of the plains and Lyttelton Harbour.
Godley Head
Starting at the carpark of Taylor's mistake beach, you could complete an adventurous 10 km hike to Godley Head. With WWII historic sites along the track and views of Christchurch, Banks Peninsula and Kaikoura ranges, it is one of the most fun free things to do in Christchurch.
Bridle Path
Starting at the base of the Christchurch Gondola, this steep 2.4 km walk offers incredible views on a sunny day. The path also boasts mountain biking trails, making it one of the most adventurous free things to do in Christchurch.
Mount Sunday
It you are a Lord of The Rings fan then this hike at just over an hour drive from the inner city must be on your list of free things to do in Christchurch. The Mount Sunday landscape and Hakatere Conservation Park was the backdrop for "Edoras City" in the Two Towers movie but is so stunning, you will want to visit even if you are not a LOTR movie buff.
There are many more incredible views and walking trails within just a short drive and without a doubt should be on the list of best free things to do in Christchurch.
4. Admire Christchurch Art Gallery
For free admission, you can peruse local and international artists work in Christchurch Art Gallery. With over 9 exhibitions and events run all year, the art gallery is one of the best free activities you can spend a few hours enjoying. Located in the heart of Christchurch City, it is perfect to fit in a morning or afternoon of culture supporting Kiwi art and stories.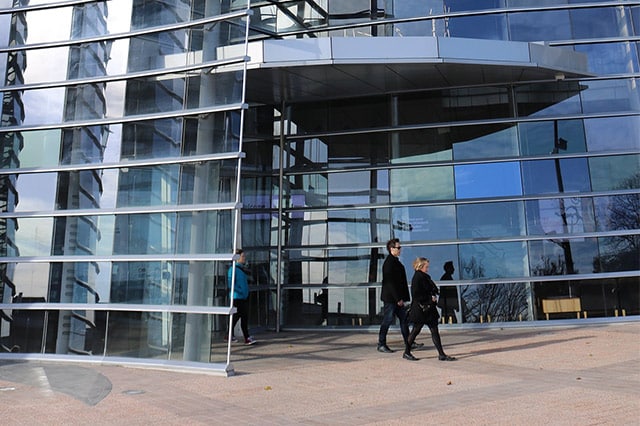 5. Finish your day with a Free Live Music Gig
Situated on St Asaph Street in Christchurch Central, the Darkroom is the perfect place to end a day ticking off free things to do in Christchurch. With open mic nights, local live music gigs and trivia all for free, you will be sure to have fun and love the vibe of Christchurch City. Their music ranges from Jazz to Rock and they even host comedy nights so there is always something for everyone.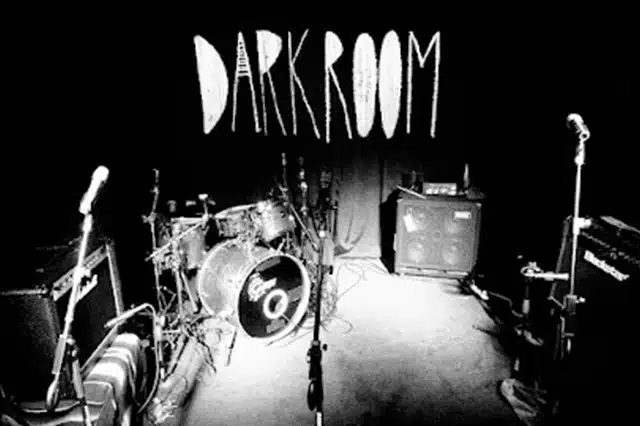 6. Get your culture fix at Canterbury Museum
Learn about Maori stories, the tropical treasure trove of fossils in North Canterbury, the early European settlement and stroll down a Nineteenth Century Christchurch street. With incredible exhibitions like Quake City (telling real life stories from the Christchurch earthquakes), Canterbury Museum is the place to go to really understand the heart of Christchurch.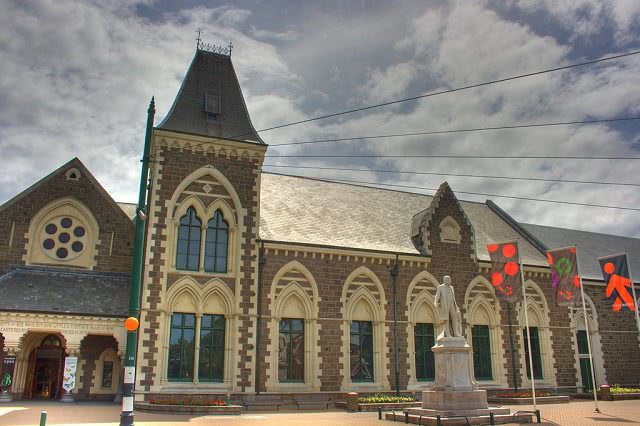 7. Relax on the best beaches in Christchurch
A holiday to coastal City is not complete without a visit to the beach, right? A day of sand and surf is one of the best free things to do in Christchurch so hit up one of our top picks:
Scarborough & Sumner Beach
Two beaches in one, what more could you want? Well, the Avon river estuary meets the sea, creating a large sand bar to play in and Cave Rock provides opportunities to explore rocks and marine life. Visit Sumner beach for family chill or great surf.
New Brighton Beach
A stunning place to enjoy the sunset due to its amazing New Brighton pier taking you closer to the horizon. Not only a great beach, New Brighton Beach has a children's playground and paddling pool so the whole family can relax here.
Taylor's Mistake Beach
The best beach for surfing, Taylor's Mistake Beach is a bay that provides excellent waves for a full day of adventure. Why not finish the Godley Head walking track and jump in the water to cool down?
These are only the start of the highlights, check out the top 10 best beaches in Christchurch and surrounds.
8. Explore the Heritage Riccarton House and Bush
Step back into Victorian and Edwardian history in this beautiful homestead dating back to the 1850's. With 12 acres of native bush to explore along the Avon river, the historic sites of Riccarton House are one of the most relaxing things to do in Christchurch. The grounds are also home to the free Christchurch farmers market every Saturday so spend a sunny day perusing fresh produce, local wine and craft beer.
9. Admire Brockworth Street Art Gallery
Street art is always impressive and brightens up a community. Created by artists Damian Holt, Courtney Brown, and Zac Harding, Brockworth street art gallery is full of fun and quirky murals of beaches, slogans and cartoons. Situated in Christchurch central, you can easily fit this into a day of free things to do in Christchurch.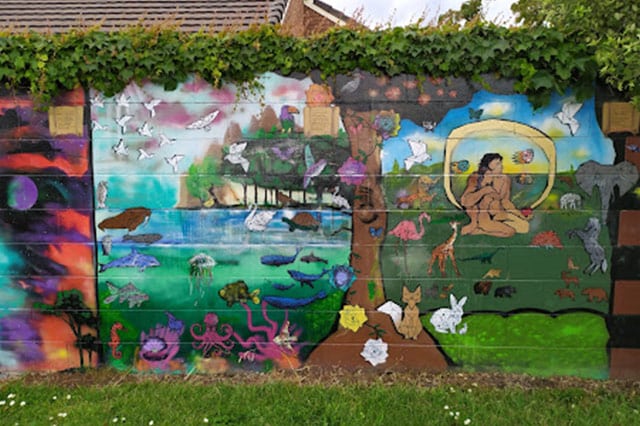 10. Be moved by the 185 Empty White Chairs installation
185 empty white chairs, one for each person that lost their life in the 2011 Christchurch earthquake. It's a very moving installation located in the inner city centre by artist Peter Majendie and you can get a feel of the impact the earthquake had on the city. The chairs used to be set out like a graveyard but are now in a community style semi circle, highlighting how the community has come together to heal and grow.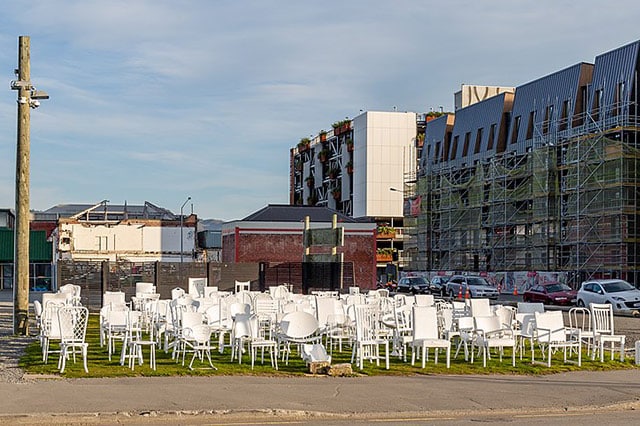 ---
FAQ's
How big is Christchurch?
The second largest City in New Zealand, Christchurch is the largest city on the South Island. With an approximate population of just under 400,000 and 1,567 acres just in the Urban city centre, Christchurch can be your gateway to Akaroa Banks Peninsula and Arthurs pass village and National Park.
How far is it from Queenstown to Christchurch?
It would take 482 km and just under 6 hours to drive straight from Queenstown to Christchurch. But, why would you do that and miss out on all the beautiful views inbetween like Crown Range, Wanaka, Lindis Pass and Mt Hutt. Use our New Zealand trip planner to make sure you don't miss out on any awesome spots in your itinerary.
Where to stay in Christchurch?
Christchurch has a full range of accomodation options, from a real jail house to Heritage listed hotels. Check out our full Christchurch travel guide to plan your accommodation, travel and itinerary.
Some of the most stunning accommodation with the best views are a little further out of Christchurch in the Canterbury surrounds. To make the most of your trip, discover our car hire deals from Christchurch airport so you are not limited in your adventure!