Looking for things to do in Whitianga? You've come to the right place. The small coastal town of Whitianga is a great place to visit and base yourself during your travels around the Coromandel Peninsula. We thought we'd talk about some of the best things to do in Whitianga to get you excited about your next trip there!
Whitianga is an absolute favourite with Kiwis and international visitors alike. Located just a three hour drive from our Auckland CBD car rental branch, you will soon feel like you are a world away from the big smoke once you arrive in this sleepy Coromandel town. There are plenty of activities to do in Whitianga itself, but within an hours' drive, you will find some of New Zealand's best tourist attractions which is all the more reason to plan your next trip down here.
Without further ado, let's get stuck into the best things to do in Whitianga.
1. Cathedral Cove
One of the most idyllic places in New Zealand can be visited when staying in Whitianga and that's Cathedral Cove. If you've not heard of this marine reserve, chances are you've seen it, either via Instagram or in the movie 'Prince Caspian' which filmed a scene there. It takes a bit of getting to (1-hour walk from the carpark) but the sight on arrival is nothing short of mesmerising. On a beautiful summer's day, it's as close to paradise as you can get. A lovely place to kayak or take a glass-bottom boat or banana boat tour as well!
View this post on Instagram
2. Cooks Beach
Another great beach to spend a day at near Whitianga is Cooks Beach. It's one of those postcard-perfect beaches with a long stretch of white sand and crystal clear waters. This makes it a great beach for all the usual activities like swimming, sunbathing, kayaking etc. They also have a nice sheltered BBQ area that you can use to feed your friends and family with a nearby playground for the kids to play. It's a 30-minute drive from Whitianga, or you can get there via the Whitianga Ferry and a short stroll.
View this post on Instagram
3. Fishing Charters
The waters around Whitianga and the Coromandel Peninsula are rich with sea life making them great for fishing. There are a couple of knowledgeable local fishing charters like Epic Adventures Fishing Charters who will happily take you out on a fishing expedition. You'll be taken to all the best fishing spots on the water for some unbelievable game fishing where, if you're lucky, you'll get the chance to reel in a mighty Kingfish. It's an awesome day of fun whether you're a beginner starting out or a proper enthusiast.
View this post on Instagram
4. Hot Water Beach
Another epic beach a short drive away from Whitianga is Hot Water Beach, one of the most unique beaches found anywhere in the world. What makes it so special is the hot geothermal river of water that runs beneath its sands. When the tide rolls out, locals and visitors will get their buckets and spades and dig holes for themselves in the sand. These holes quickly fill with the heated waters from the heated river below creating mini spas all over the beach. This is without a doubt one of the must-do activities on any trip to New Zealand and that why it makes in onto our list of things to do in Whitianga.
View this post on Instagram
5. Mercury Bay Estate
If you're after a special wining and dining experience, then the place to head to is Mercury Bay Estate. This boutique vineyard is situated just over Cooks Beach and offers a lovely range of wines, complemented by a wonderful menu featuring locally sourced produce. They also have a great cellar door (the only one in the area) where you can enjoy an informative wine tasting (or two). It's worth the visit for the stunning views alone and they're also known for making an especially good pizza too.
View this post on Instagram
6. Mercury Bay Museum
There are some fantastic small museums to be found in New Zealand and Mercury Bay Museum is one of them. The museum has some great collections that explore the region's past and those who have played important roles in the history of our country. This includes the likes of the Polynesian navigator Kupe and Captain Cook. The museum has many unique artefacts, interactive displays and photos that share incredible insight which will enrich your trip.
View this post on Instagram
7. Mill Creek Bird & Animal Encounters
There are some awesome wildlife experiences in Whitianga and one of them is at Mill Creek Bird & Animal Encounters. Situated in an area of lush scenic greenery, the sanctuary has 45 bird aviaries that are home to over 400 species of birds like Kereru, Ruru, Canadian Geese, Macaw and more. They also have a wide variety of animals like horses, goats, pigs and reptiles. A popular camping site, there are plenty of great picnic spots to relax and enjoy the day.
View this post on Instagram
8. Shakespeare Cliff Scenic and Historic Reserve
If you're after a great lookout point when visiting Whitianga, the Shakespeare Cliff Scenic and Historic Reserve won't let you down. There are two lookout platforms at its peak which provide magnificent panoramic views of the surrounding area. The hike there does get a little steep in places but you can also drive more or less all the way up. The walk down to Lonely Bay is also very much worth your time.
View this post on Instagram
9. The Lost Spring
One of the most highly-rated attractions in Whitianga is The Lost Spring, a wonderful retreat with geothermal mineral pools, spa facilities and a great restaurant. You'll find yourself completely relaxed in the soothing waters with temperatures that range from 32°C to 41°C. The poolside cocktails and platters go down very well and the day pass you can buy represents great value. The setting and atmosphere have a great tropical feel which is lovely for couples and fun for groups alike.
View this post on Instagram
10. Whiti Farm Park
A great day of family fun and activity can be had at Whiti Farm Park just 10 minutes drive from Whitianga. It's a farm founded to care for and introduce a whole range of animals to members of the public. They have over 40 different types of farm animals, exotic creatures, birds and reptiles to see and interact with. They also have some fascinating mechanical relics from the past like farm machinery, a fire engine and even a train. It's a great one to get to with the bush walk to the Secret Garden a notable highlight.
View this post on Instagram
11. Whitianga Scallop Festival
Another great thing to do in Whitianga is to attend the Whitianga Scallop Festival that takes place every September. A favourite amongst locals and those from across New Zealand, the festival is one of the biggest and best celebrations of scallops in the world. You'll enjoy scallops cooked and presented in just about every way conceivable and be entertained by some awesome live music throughout the day too.
View this post on Instagram
Some great things to do in Whitianga
As you can see, there are some awesome things to do in Whitianga that take advantage of the best the region has to offer. The summer in New Zealand is long but don't leave it too late to make your plans to visit as it's one of those places that is getting more and more popular by the day.
Related Posts
Updated: 26 June 2021
Book a vehicle for this trip
We recommend: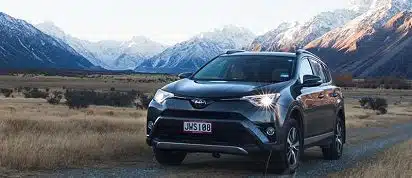 Intermediate 4×4
Toyota Rav 4
Seats

5 seats

Large Bags

3

Small Bags

4

Transmission

Auto trans