If you are looking for the best hot springs in New Zealand, you've come to the right place. Don't just Google "hot springs near me". Instead, check out the top tips from Kiwis and international travellers that have enjoyed some of New Zealand's best hot springs, located all across the country.
New Zealand is an absolute gold mine when it comes to hot pools. The country sits on a geothermal fault line and this causes a lot of geothermal activity, creating hot pools in the North and South Islands. That's why you will find hot pools all the way from Auckland to Christchurch and plenty in between.
We reached out to our GO Explorers to find out some of their favourite hot springs located throughout New Zealand – if anyone knows the best hot pools in New Zealand, it's our locals and as well as identifying some of the most popular hot spots throughout the country,  they've also unearthed some hidden gems, hopefully making it easier to find a cool hot pool near you.
New Zealand has a great mix of free thermal hot pools as well as some great paid resorts. From digging your own hot pool on the beach to kicking back in the luxury of world-leading spa resorts, here is a run-down of 10 of New Zealand's best hot springs and pools.
1.      Polynesian Spa – Rotorua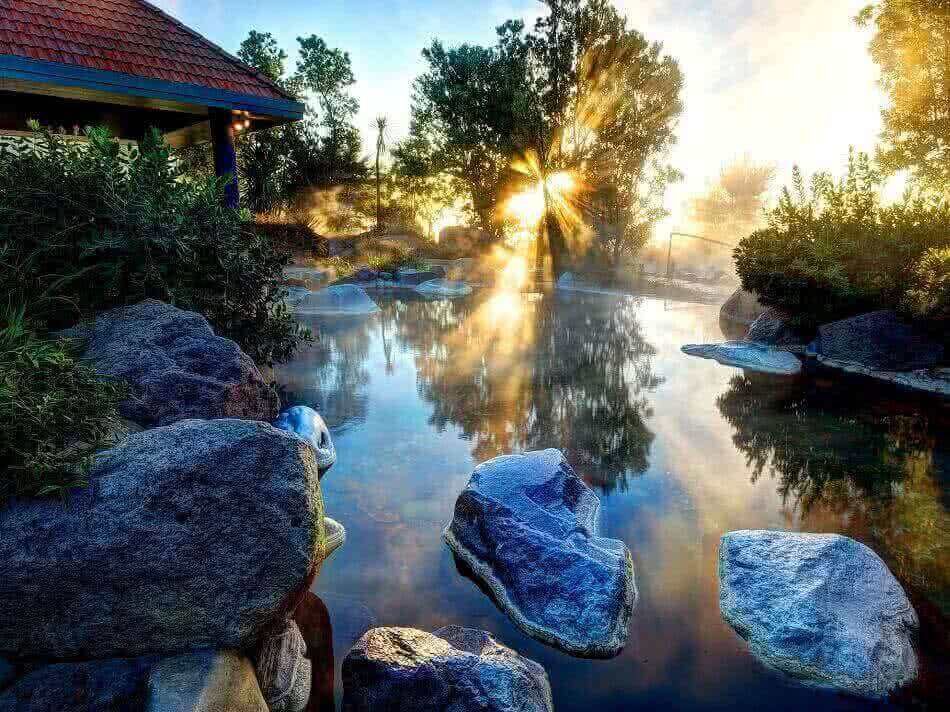 The Polynesian Spa in Rotorua is one of the finest in the country and includes world-leading spa resort facilities. Restore the body and mind with a weekend break to Rotorua this winter and experience wellness sourced from Rotorua's very own geothermal backyard. With 28 hot mineral pools, Polynesian Spa's award-winning facilities include the world-leading acidic and alkaline pools – perfect for relieving tired muscles, aches and pains. Rotorua is widely known as New Zealand's geothermal capital and if you love a hot pool, this should be one of the top destinations on your to-do list.
2.      Parakai Hot Springs – Auckland
If you're in Auckland and looking for something to do on a rainy day, take the 40-minute trip up north to the Parakai Springs resort. It's a great day out for the whole family and includes large indoor and outdoor pools, two thrilling hydro slides and a beauty spa.  There's also a great BBQ and picnic area as well as a café and dining area so no matter what the weather, they've got you covered! Not many people know about hot pools in Auckland so this one is a bit of a hidden gem, even for Aucklanders.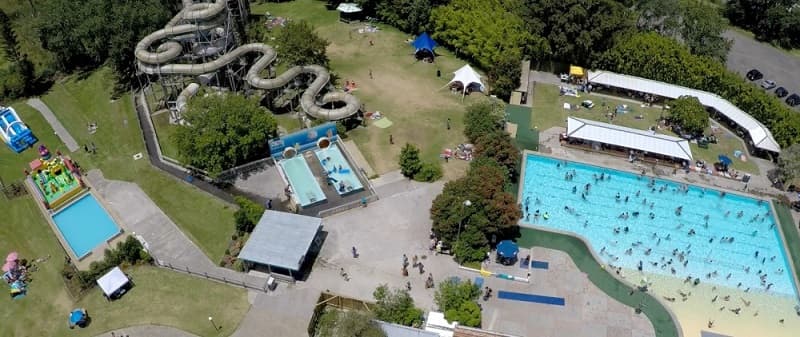 3.      Hot Water Beach – Coromandel
View this post on Instagram
Perhaps one of New Zealand's most famous hot springs, Hot Water Beach, is a must-do on any visit to New Zealand. Located in The Coromandel Peninsula, Hot Water Beach is not only an awesome experience but it's also free! Simply head down to the right spot on the beach at low tide with your spade and get digging! The water from the natural hot springs that runs from a rocky outcrop out to see can get pretty hot but you can always use some seawater to cool things down.
4.      Kerosene Creek – Rotorua
View this post on Instagram

As New Zealand's geothermal capital, it's perhaps no surprise that there are hot springs aplenty. If you are on a budget and don't want to splash out for the world-class treatment at Polynesian Spa, you can always take a trip down to Kerosene Creek. Located out near Wai-O-Tapu, Kerosene Creek is definitely a great option if you prefer something a bit more 'au naturel'. The geothermally heated creek features a really cool 2m high waterfall which is great for bathers to sit under.
5.      Hanmer Springs – Canterbury
View this post on Instagram
One of our favourite hot springs is located down in Canterbury in the beautiful town of Hanmer Springs. Located about two hours from Christchurch, Hanmer Springs is nestled in the Southern Alps and the thermal pools and spa enjoy the stunning backdrop of the snowcapped peaks as you sit back and relax in the warming waters. Hanmer Springs resort has a range of pools at different temperatures as well as private pools, saunas and steam rooms and is a great place to kick back and relax.
6.      Spa Thermal Park – Taupo
View this post on Instagram
Another one of New Zealand's amazing free hot springs, the Spa Thermal Park in Taupo, is a great way to spend the day, no matter the season. Located near the Taupo bungy site, the spa is a popular spot with locals and tourists alike. The free pools feature mini waterfalls which are great for the full-body submersion experience. For those brave enough, try dipping a toe in the crystal clear waters of the freezing Waikato River – a great way to start the day!
7.      Welcome Flat Hot Pools – West Coast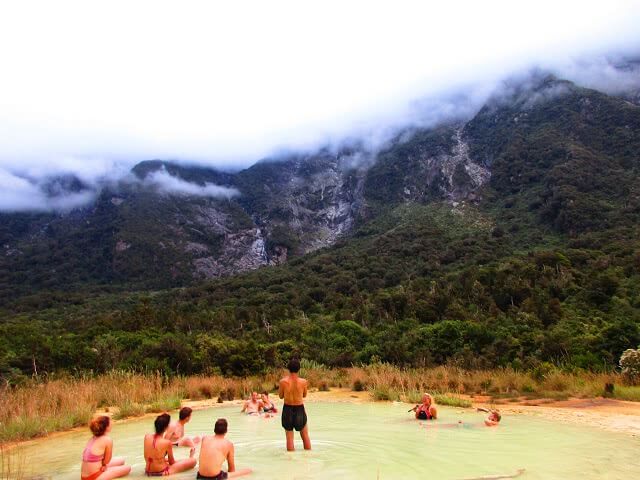 These hot pools are definitely not for the faint-hearted! Located on the Copland River near the Fox Glacier on the West Coast of the South Island, the Welcome Flat Hot Pools are only accessible via a tricky and at times dangerous hike. It can take up to 7 hours to get there and can be extremely tricky during the winter months, however, those who do make the hike are well rewarded. Overlooked by the towering Southern Alps, you might even have the pools all to yourself!
8.      Tekapo Springs – Tekapo
View this post on Instagram
If you are into stargazing, then Tekapo Springs is probably the best place in New Zealand to sit back and plot the night skies. Located in the Aoraki Mackenzie International Dark Sky Reserve, you will find some of the world's clearest skies above the beautiful Lake Tekapo. Imagine sitting back in the warming waters of the Tekapo Springs and having the stunning night canvas laid out overhead – it's pretty magical! They also have an ice rink during the winter months which is great fun!
9.      Glacier Hot Pools – Franz Josef
If you are heading over to the West Coast and you don't fancy the 7-hour trek to the Welcome Flat Pools, then you're in luck. Head to Franz Josef Township where you will find the aptly named Glacier Hot Pools. Nestled in lush rainforest, the Glacier Hot Pools are a great way to relax and unwind after a day of exploring up high on the Franz Josef Glacier. With three main hot pools as well as a selection of private pools, there are plenty of options to kick back and relax and rejuvenate aching muscles.
10. Kawhia Springs – Waitomo
View this post on Instagram
The final hot springs on our list are the Kawhia Springs which are located just outside of Waitomo. We recommend taking a trip to the magical Waitomo Glowworm caves first and then heading to the town of Kawhia. Here you will need to pack your spade just like at Hot Water Beach and once the tide is out, get digging! Another one of New Zealand's awesome free hot springs, Kawhia Springs are a great alternative if you can't make it over to the Coromandel.
Round-Up
Well, that brings to an end our top ten hot springs in New Zealand. There are around 110 hot pools and springs located throughout New Zealand so let us know if we have missed any hidden gems off our list. You can also check out our Top 5 Free Hot Springs post for a few more ideas.
Updated: 26 October 2021
Related Posts
Book a vehicle for this trip
We recommend: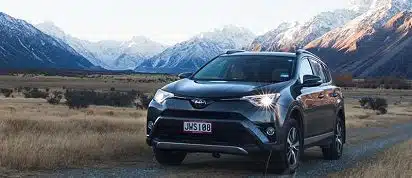 Intermediate 4×4
Toyota Rav 4
Seats

5 seats

Large Bags

3

Small Bags

4

Transmission

Auto trans