One of the best ways to cap off a great day out in New Zealand is to drive to a beautiful spot to appreciate a glorious sunset. We think our sunsets are pretty hard to beat and to prove it, we decided to create a list of the best New Zealand sunset spots that are good enough to rival those found anywhere in the world!
1. Anawhata Beach
Auckland's west coast beaches feature a few times on this list with good reason. They catch absolutely stunning sunsets and have a lot going in their favour. Their beaches have deep black sands, strong crashing waves and naturally rugged coastlines. They also have fantastic elevated vantage points like the one at Anawhata Beach which is absolutely breathtaking.
View this post on Instagram
2. Bethells Beach
Another lovely way to enjoy a sunset is while strolling along a beautiful beach and Bethells Beach is the place to do exactly that. It's a longer than the nearby Anawhata Beach making it more suitable for strolling and also offers a few different types of landmarks along the way. This includes its sand dunes, wetlands and Ihumoana Island which sits quietly just off the coast.
View this post on Instagram
3. Castlepoint Lighthouse
Lighthouses are romantic relics of a bygone era and New Zealand is a country that relied on many of them throughout its history. Despite the fact that most are no longer functional, many have been preserved and look especially great against the backdrop of a sunset. Castlepoint Lighthouse is a wonderful one to visit if you're travelling around the lower half of the North Island. Isolated on rocky cliffs and basking in the golden light of the setting sun it makes for a particularly dramatic sight.
View this post on Instagram
4. Hobbiton
For the Lord of the Rings fans who are visiting New Zealand, Hobbiton will already be on your list as your top must-see attraction. What you might not have thought about, however, is when to go. We're telling you right now, sunset is the time to be there. The Instagrams alone will be more than enough to convince you and visiting at that time will make you feel completely immersed in the world of Middle Earth.
View this post on Instagram
5. Lake Wakatipu
The tourist hotspot of Queenstown has the best of all there is to offer and New Zealand, sunset spots included. The waters of Lake Wakatipu stretch out before a magnificent mountain range which simply turns magical when the sun starts to set. While it's a beautiful sight to see from the shores of the lake, the view from Queenstown Hill is also pretty special.
View this post on Instagram
6. Lake Wanaka
New Zealand has some magnificent lakes but there are none more lauded than Lake Wanaka. We simply couldn't keep this one out and we scarcely have to explain why. Its tranquil waters, the snow-capped peaks in the background and, of course, that Wanaka Tree. It's beauty in its purest form and the colours you'll experience with the setting sun are as wondrous as they get.
View this post on Instagram
7. Mount Eden
The highest peak in Auckland is an excellent place to be for a lovely sunset in the City of Sails. The summit of Mount Eden offers panoramic views across all of Auckland. From there you'll be able to watch the golden light fall upon the CBD while seeing the sun disappear behind the Waitakere Ranges. There's some lovely little cafes and restaurants to enjoy in Mount Eden village afterwards too.
View this post on Instagram
8. Mount Maunganui
Mount Maunganui, on the East Coast of New Zealand, is known affectionately as "The Mount". In a country full of mountains, that's significant. It gives you an idea of the iconic status it holds as a beautiful peak above an equally gorgeous beach. The summit offers awesome 360-degree views making it the perfect place to be when the sun goes down.
View this post on Instagram
9. Mount Taranaki
One of the most picturesque active volcanoes in New Zealand is Mount Taranaki and there's no better time of day to see it than at sunset. Mount Taranaki is so picture-perfect it was cast as Mount Fuji in the Tom Cruise film 'The Last Samurai'. You can get a great shot from almost anywhere but if you want the best shot (like the one below) you'll need to get your hiking boots on and head to the Pouakai Tarn.
View this post on Instagram
10. Raglan
Raglan is New Zealand's equivalent of a surfer's paradise famous throughout the land for its great surf. In our opinion, it should also be famous throughout the land for its picturesque sunset. With its view facing the vast expanse of the South Pacific you can't help but be mesmerised as you watch the sun disappear behind the never-ending sea.
View this post on Instagram
11. Te Mata Peak
Te Mata Peak sits on an amazing ridgeline and is the highest peak in the Hawkes Bay region. The views on offer speak for themselves with its rolling hills and the beautiful Heretaunga Plains that extend out towards the horizon. On the clearest of days, you can even see the peak of Mount Ruapehu in the distance.
View this post on Instagram
New Zealand Sunset Spots That Can't Be Missed!
As you can see, we've covered some incredible New Zealand sunset spots that you won't want to miss during your travels here. The exciting thing is that there are even more great spots that you'll discover when you arrive which are sure to put a smile on your face.
Related Posts
Book a vehicle for this trip
We recommend: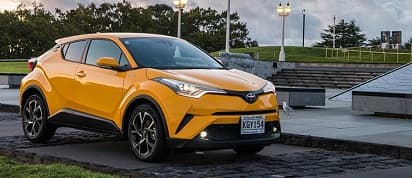 Zippy Auto
Toyota CHR
Seats

5 seats

Large Bags

1

Small Bags

1

Transmission

Auto trans