Looking for the best white water rafting spots in New Zealand? You've come to the right place. New Zealand is well known as a global leader in adventure tourism. One of the main reasons for that is the number of high-adrenaline activities people can do here, one of which is the thrilling, fun and popular pursuit of white water rafting.
Whether you are looking for white water rafting in Auckland, Taupo, Napier or white water rafting in Queenstown – we've got you covered.
There are a good number of options for doing a bit of white water rafting right throughout the country so we thought we'd highlight a few of the best (in our opinion) that you can consider no matter where your travels take you!
1. Vector Wero Whitewater Park – Auckland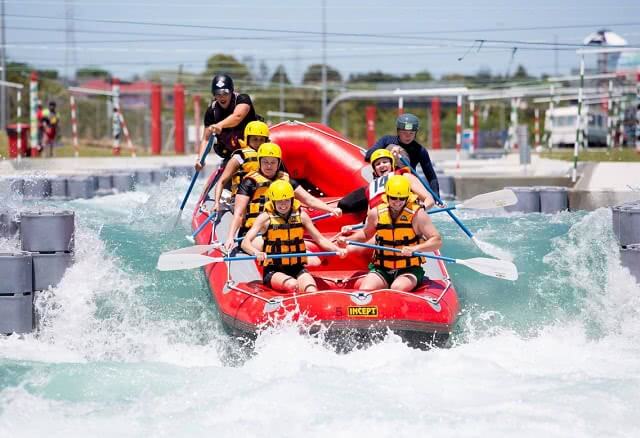 Auckland is not necessarily the first place you think of when you think of whitewater rafting. With no major rivers in Auckland, the city didn't want to miss out on all the fun so created a man-made white water rafting park in Auckland. That's right, New Zealand loves white water rafting so much it has created a world-class facility called the Vector Wero Whitewater Park in Auckland for locals and visitors in the city to enjoy.
It's a facility that allows you to enjoy not only rafting, but kayaking, paddle boarding and other lake activities should you so please. Since the focus is on rafting, however, we'll concentrate on that.
There are two great courses to choose from, the Tamariki River (recreational level) and the River Rush (advanced level). The Tamariki River is a Grade 1-2 so is a good one for beginners and those starting out whilst the River Rush is rated a Grade 3-4 river and will definitely give you the adrenaline rush you're after.
If you're looking to up the ante even further, you can add The Pump Waterfall to your experience which will add a drop down the world's largest artificial waterfall (at 4.5m) to your River Rush experience.
It's great fun and the ultimate way to finish your experience at the Vector Wero Whitewater Park.
If you are planning a trip to Auckland, make sure you check out our great deals on car hire in Auckland and discover why we're New Zealand's favourite car rental company.
2. Black Water Rafting Waitomo – Waikato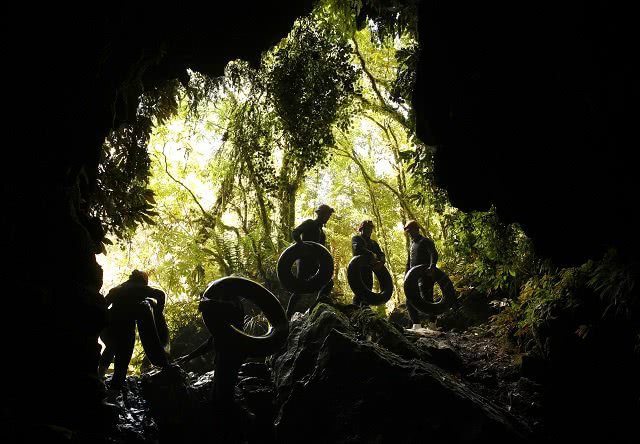 We're being a bit sneaky including this on the list but it's so good we can't help it. The rafting at Waitomo Caves isn't white water rafting but black water rafting, an incredible subterranean experience through an underworld of water-filled caves and taverns.
The good folk at the Black Water Rafting Company have been offering tours there for over 30 years and currently have two great choices to consider. The Black Labyrinth and Black Abyss.
The Black Labyrinth will place you on rubber tubes as you float down the underground river beautifully lit by the community of glow worms from above. The journey includes some amazing cascading waterfalls along the way.
The Black Abyss is an extended experience (at 5 hours) that not only includes tubing but climbing waterfalls, abseiling as well as a zipline through a gallery of glow worms making for a truly wondrous and memorable experience
It's a great amount of fun and a slightly different take on the traditional whitewater rafting experience.
3. Kaituna Cascades (GO PLAY Discount) – Rotorua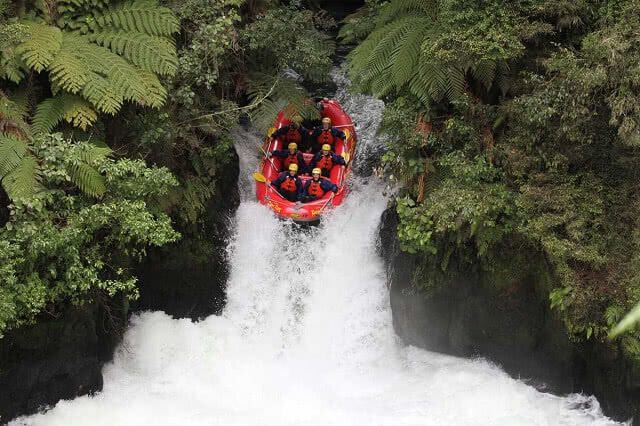 Rotorua is a city of attractions and is one of the most popular places that tourists will visit in the country. Geothermal wonders, natural scenery, cultural experiences – there's not much it doesn't offer.
It comes as no surprise that you can also enjoy a whitewater experience in the city via Kaituna Cascades who have been operating on the Kaituna River since 1991.
Kaituna Cascades offer a number of options in the area but the main draw is the unbeatable Grade 5 experience that takes you along Kaituna River and down the mighty Tutea Falls, the highest commercially rafted falls in the country (at 7m).
This is one that's definitely made for the thrill seekers as the 50-minute experience also includes jinking your way down 14 fast and challenging rapids.
That being said, no experience is required as full and comprehensive training is given on the day by knowledgeable rafters at the top of their game.
An excellent option and an added bonus is that Kaituna Cascades are a GO Rentals partner which means you get a 10% discount using your GO Play card!
4. Tongariro White Water with Rafting New Zealand – Taupo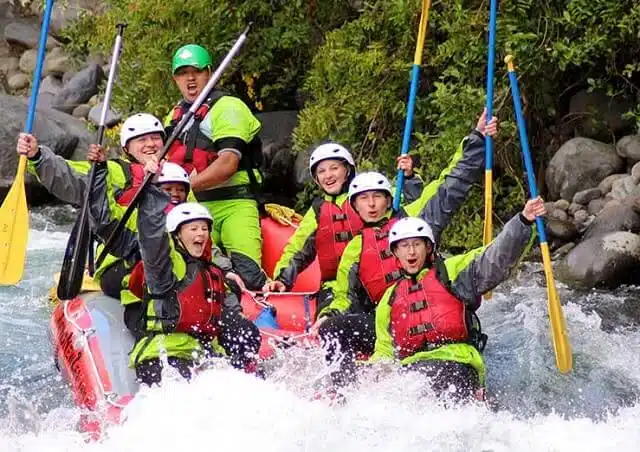 Rafting New Zealand is one of the most acclaimed rafting companies in New Zealand and operates one of the most popular experiences with the Tongariro White Water Grade 3 Adventure.
The adventure itself is a half-day experience which will take you down 14km and 60 free-flowing rapids down, the most you'll get in any half-day trip in New Zealand.
The surroundings are incredible to say the least. Surrounded by beautiful native New Zealand scenery the river runs down an incredible volcanic gorge unlike any you would've seen before. Weather permitting, you may also be able to add a waterfall jump into the experience, should you be able to pluck up the courage as well.
There are lots of nice little bonuses with this adventure like on-river apparel provided, on-river hot chocolates and snacks, solar powered showers and changing rooms, a River Dog (hot dog) or vegetarian option plus beer or soda.
Another nice initiative is that part of the proceeds from your ticket price goes towards a fund to help preserve the Tongariro region making it a winner for all!
5. The Mohaka River Gorge with Mohaka Rafting – Hawke's Bay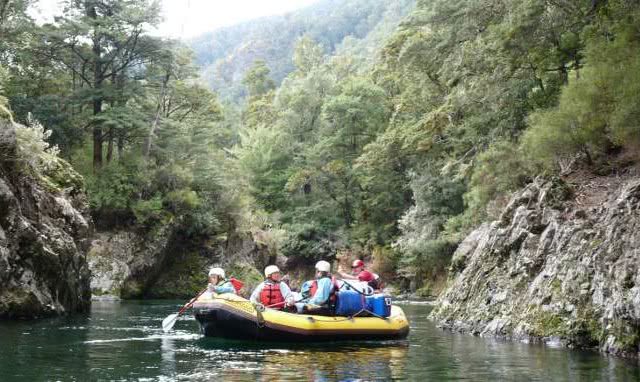 The Mohaka River is located in the east central region of Hawke's Bay and is one of the best places in New Zealand's North Island to experience white water rafting.
'Mohaka' roughly translated from Maori means 'place of dancing' which is a great metaphor to apply to the river given how much fun it has turned out to be for visitors.
Mohaka Rafting takes full advantage of this offering a number of different white water rafting experiences from Grade 2-5 day trips and multi-day expeditions up to a week.
One of the highlights is 'The Big One', a Grade 4/5 experience that takes you down a beautiful and less travelled route through the most spectacular canyons and gorges in the North Island. It's called the big one because the immense scale of the gorge can make you feel very small by comparison.
There's also a bit of cliff jumping to fit in which is a good deal of fun!
6. Landsborough River with Queenstown Rafting – Queenstown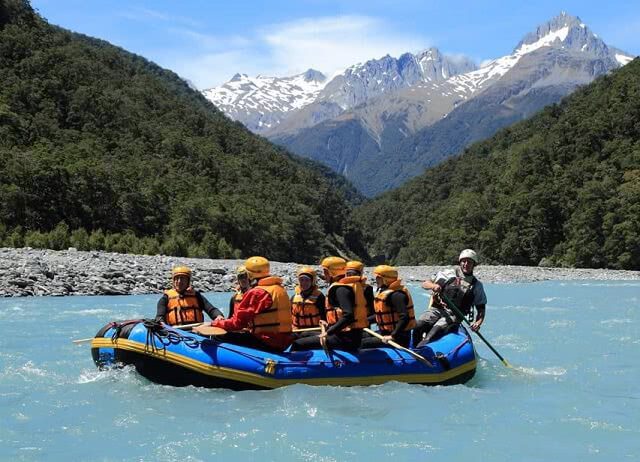 If you're visiting New Zealand on holiday, be it road trip or otherwise, chances are you'll be going to Queenstown and if you are, then you should definitely consider including an experience with Queenstown Rafting on the Landsborough River.
If you are planning on whitewater rafting in Queenstown, the Landsborough River experience is one of the best premier options available. It is a 3 day wilderness white water rafting package that includes paddling Grade 3-4 rapids past dense rainforests, hanging glaciers and wildlife.
Despite the wilderness surroundings, you'll also have the comforts of three-course meals with wine and beer, excellent camping equipment, full wetsuits, rafting clothing and safety equipment.
You'll also have the added highlight of helicopter transfers, to and from the location.
This is absolutely one of the best options money can buy and should be near the top of your list as an unforgettable experience.
7. Rangitata Gorge with Rangitata Rafts – Christchurch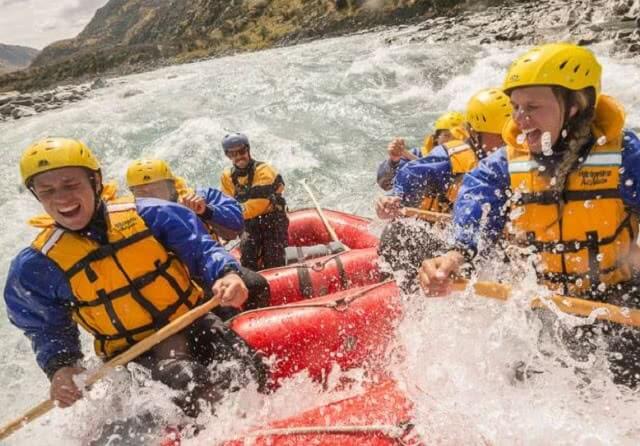 The Rangitata Rafts experience is about capturing the spirit of New Zealand and they do so by prioritising three things. Fun, laughter and thrills. Nothing better describes the Kiwi attitude than that!
There's a mix of Grade 1 – 5 rapids on the Rangitata Gorge and its completely up to you whether you want to take on the mightiest thrills or go for a more casual experience.
Either way, you'll be spoilt from start to finish during every part of the journey. Your knowledgeable and friendly guides will show you the ropes, the Lord of the Rings type scenery will continually amaze you, you'll get at least 3 hours of river time so you won't be rushed and you'll have nice hot showers and BBQ dinner waiting for you at the end.
Situated a few hours drive from Christchurch it makes for a great day out!
8. Whataroa River – Franz Josef
Whataroa river helicopter access rafting full day from Eco Rafting Adventures NZ on Vimeo.
A massive thanks to GO Explorer Nic Dale for this great addition to our list. Eco Rafting offers some really amazing rafting experiences down around the Franz Josef area on the West Coast of the South Island. The most popular trip is a heli-rafting trip on the Whataroa River, just 20 minutes from Franz Josef. Rated as one of the top 10 rafting experience in the world, you can only access this amazing section of the rive via hike or helicopter. If you are looking for a true white water rafting adventure, this is right up there.
As well as the heli rafting adventure, Eco Rafting also have family adventures, multi-day rafting trips as well as catering for Hen and Stag parties with overnight camping included.
Conclusion
Whatever rapid you ride in New Zealand, you will be in for a wet and exhilarating experience. If you are up for the challenge, be sure to prepare your trip in advance, choosing from the vast array of operators to give you a wild and memorable adventure!
Looking for the perfect rental car for your adventure? Make sure you check out our latest deals at all of our branches throughout New Zealand.
Related Posts